Huawei Ascend W2 finally set to launch; officially announces availability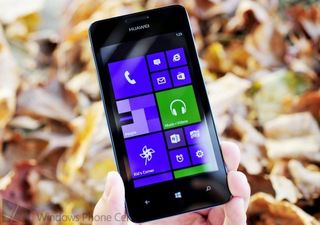 Huawei has officially announced the availability of Huawei Ascend W2, their new Windows Phone 8 device. The device will be available in Russia and Netherlands from November, and while the press release doesn't specify availability for other countries like India, it should follow soon.
Also, the press release does not indicate the pricing for the phone. The device has been available in China since a while, where it sells for 899 Yuan ($150). It will be available in four color variants – black, red, yellow, and blue.
We recently reviewed Huawei Ascend W2 at Windows Phone Central, and Dan was impressed with this solid, budget phone. It packs a punch, and can be a good competitor for Nokia Lumia 520 and 620.
In case you aren't aware, here are the specifications:
Colors: Black, Blue, Yellow, or Red
Windows Phone 8 (build 10492) with Update 3
4.3-inch IPS WVGA LCD with TFT Magic Touch technology
Qualcomm Snapdragon™ dual-core 1.4GHz processor
512MB of RAM
8GB of built-in memory; microSD expansion
1700 mAh battery
5 MP rear camera (no flash); no front camera
5.28 x 2.64 x 0.39 inches
5.64 ounces (160 g)
For a $200-250 price range, is Huawei Ascend W2 a phone that you'd pick or recommend?
Source: Huawei Press Release
Oh well, the more the merrier, and they are almost doing a better job than HTC at this point.. I still say that it would be better if Lumia devices continued their volume, but others owned 50% of the WP market combined.. That would mean that many more devices are making it into peoples hands.. But, other vendors are too pussy, and naive, to understand that WP is very much worth it.... IMO I would like to see more from ZTE, and LG, but WP needs it's own competitor within itself. WP needs a vendor who can compete with the Lumia lineup, and push innovation across all WP devices.. That company needs to be Sony.. In my opinion Sony's Experia hardware rivals Lumia devices, and I think if Sony put that same effort into WP devices then that would make for that healthy competition that we need to insure the Lumia brand doesn't fall asleep under MS control.. Not, that I doubt the Lumia brand will continue as is, but it's never good for any company, or brand, to own over 90% of a specific market.. Just my opinion..
I'd probably still only by Lumia devices though.. Lol❕

Sony probably has no interest in helping MS with their phone OS when they already work as competition in gaming hardware especially when windows phone has apps that work specifically with Xbox thus helping Xbox more.

But Sony makes W8 computers, and tablets that have Xbox music, games, and Smartglass apps that work specifically with Xbox.. I hear comments like this all of the time, but the industry simply just doesn't work that way..
Also, do you think XB on WP is a threat to anyone❔Lol.. That's what our dream was,, we dreamed that XBOWP would differentiate the platform, and that ever XB gamer would just have to get a WP device.. That was back in the early WP7 days.. It's really sad, and depressing if you think about it,, but there's still plenty of hope left.. Nevertheless, this is besides the point, and Sony could give Lumia devices a run for their money if they would pull their heads out their a$$es.

For if it't WP it has to be nokia lumia, their carl zeiss lens are superior since their N-series

Huh❔You lost me.. Are you saying that Nokia's are superior, or Sony's❔

This!. Currently only Sony can pull off a near Nokia if it really wants to. Even back in the heydays, the contest was mostly between a Sony Walkman phone and Nokia MusicXpress. Now since WP is in the big hardware league anyways, I have a hunch they might be considering a WP device. That would really be a big impetus to the platform in general.

Have you actually played with those new Experia devices❔ A coworker has one and man is it designed, and built, well.. I love it,, besides the boring OS.. But, the attention to detail is amazing.. Other recent devices that are designed really well are the HTC One, and the 8X.. My GF has a 8X and she loves it.. The other day she told me that people are always asking her about her phone, and I was like wow❕ When I told her about 6snap yesterday she was jumping for joy❕ She wasn't that excited about Instagram because she'd already Ben using 6tag.. LOL... But, other companies are capable of making WP devices just as good, if not better than Lumia devices, and some if those companies need to realize that Samsung is killing it on Android, and focus more on WP where the market has much more room to expand.. This is what those foolish iDroid fans don't understand.. iDroid is at it's peek, and while that's good for the consumer in the short term it's horrible for the industry in the long term, so the industry will shift where there's more opportunities for profit.. That's why I agree with you that Sony will eventually follow suit.. But, they need to hurry up..

I'm confident and that HTC will make some strides with windows phone. They haven't released any phones for a while now, except for the plus-sized HTC One, which didn't take many resources to produce.

Price ok if it stays below $150

Wait, its a windows 8 build? Not windows phone 8?

India is like Nokia's home ground, good luck fighting on their own turf. It probably would go the path of HTC.

If it stays at around $150 or lower, then yes. However, the Nokia Lumia 520 has the same specs, except for the screen size, and it is sold for only $100. I'm not sure people would think it's worth it to pay $50 for that. Not to mention missing out on the myriad of Nokia exclusives. I'm not sure how this phone will sell. :/

This has a dual core 1.4GHz CPU and is way faster than the 520. Also better display.

Sorry, you're right. I must've been thinking of the W1. Yes I think its worth it.

I used the W1 for a few months. Worked very well in every way. The ridiculously low on board storage was the breaking point for me, though. More windows phones by more OEMs can only be a good thing.

Add a front camera and it'd be fine.

so it's around lumia 620 price?
Windows Central Newsletter
Thank you for signing up to Windows Central. You will receive a verification email shortly.
There was a problem. Please refresh the page and try again.