Review Huawei Ascend W2 - a budget Windows Phone with a few surprises
By Daniel Rubino last updated
Huawei's second Windows Phone is a budget device with a ton of perks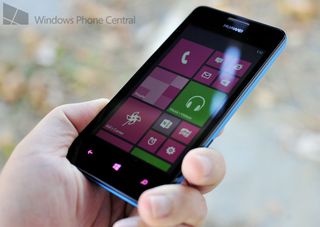 When it comes to budget Windows Phones for emerging markets (or those with limited financial abilities), Nokia comes to mind. However, China-based Huawei knows a thing or two about low-cost smartphones and with the recently announced Ascend W2, they're carving a nice niche for themselves in the East.
While many in the West will dismiss Huawei as "cheap" or not worth their time, our exposure with the Ascend W2 may change your mind. Sure, the device falls on the low-end for features but it's a solid budget offering that Window Phone fans should be proud of. It represents the brand well and we think it's an excellent choice for new and aspiring shoppers.
Head past the break for our video tour, high quality photos and thoughts of this phone.
Huawei Ascend W2
Colors: Black, Blue, Yellow, or Red
Windows 8 (build 10492) with Update 3
4.3-inch IPS WVGA LCD with TFT Magic Touch technology
Qualcomm Snapdragon™ dual-core 1.4GHz processor
512MB of RAM
8GB of built-in memory; microSD expansion
1700 mAh battery
5 MP rear camera (no flash); no front camera
5.28 x 2.64 x 0.39 inches
5.64 ounces (160 g)
Full SIM tray
2G Network: GSM 850 / 900 / 1800 / 1900
3G Network: 850 / 1900 / 2100
4G LTE: No
Keep in mind, this phone sells for around $200-250 USD with no contract and no strings (Update: it's actually around $150/899 Yuan, in China (opens in new tab)). That's a rocking price for such a well put together Windows Phone.
Layout
The device has the usual assortment of Windows keys, including the camera, power and volume. The layout is a smidgen different though with both the power and volume keys falling on the left side of the device and the camera by itself on the right. The micro USB port is on the left side as well (lower area) and it has a 3.5 mm headphone jack on the top left.
The volume and power keys to the left is a bit odd, but it was hardly distracting or disappointing.
The bezel is mighty large on the W2, no getting around that. Some will find it a turn off from thinner designs of recent, but it's not a deal breaker.
Speaker is on the rear, next to the 5 MP camera. Speaking the speaker: super loud and surprisingly crisp. We weren't expecting the speaker to that good, but in reality it is. We're not shy in saying it's one of the best speakers we've heard on a Windows Phone. No joke.
Build Quality
The W2 surprises with how solid it is. At 160 grams, it's similar in weight to the Lumia 928 on Verizon (it's less than the Lumia 920, more than a Lumia 925). It's probably unnecessary weight since the W2 includes only a 1700 mAh battery. But between that and the curved edges, it really feels good in the hand. It's not too heavy, but it's not light either. The W2 doesn't creak or feel flimsy in the least.
The vibration feature is really strong on this device and you can even disable the vibration for capacitive keys in the Settings.
Display
With a 4.3 inch IPS display, on paper the W2 won't set the world on fire. But still, it's actually a really good screen for this range of phone. Colors are bright and vibrant, the viewing angle is high and it has TFT Magic Touch technology. What's that, you ask? It's basically Nokia's Super Sensitive Touch technology. Now before you Nokia fans get the pitchforks and yell "thieves!" let's recall that Nokia did not invent Super Sensitive Touch, they simply licensed it from Synaptics. That means anyone can do the same and Huawei presumably did just that. Kudos to them for it as it's a great feature.
It does attract oil from your hands easy enough, so make sure you have a rag handy. Overall though, we're pleased with the screen on the W2.
Performance
The device features a Qualcomm Snapdragon™ dual-core 1.4GHz processor with Adreno 305 GPU. In short, it's rock and roll time on Windows Phone. The device performs admirably and we've noticed no lag. What's weird is seeing a budget phone with such a CPU—a welcome change.
Camera
At just 5 MP, no flash and no front facing camera, the bar is set low for the W2. As it turns out, it's actually pretty decent, or rather, what we would hope for in a budget 5 MP shooter. Colors are a little dull and it's not super contrasty, but photos look respectable to our eyes and are more than suitable for casual sharing.
Under the camera settings, the default image is set for 4 MP (5:3) though users can bump to 5 MP (4:3). There is no 16:9 setting. Users also have a noise reduction option to help make up for the lack of flash.
Memory
The W2 only has 512 MB of RAM, putting into a small category of devices. That means it can't run a handful of high end video games. It's a knock against the device, but in order to keep costs down, things have to be cut somewhere. It has zero impact on the OS performance.
Storage
The W2 comes with 8 GB of internal storage, which works out to exactly 4.5 GB of actual space. Users can add a micro SD card (up to 64 GB) for photos, music, videos and documents. While space is limited, this is a budget phone. For your average user who wants a few games and a large amount of apps, they should have no problem using the device.
Bonus features – Color changing capacitive keys, Call blocker, settings and more
The big "cool" thing with the Ascend W2 is the color changing capacitive keys (Back, Start, Search) at the bottom of the display. What we mean is they change color based on the Accent color of the Start screen, changed under Settings (see our video above to see it in action). If you pick Blue for your display, the keys change to blue as well. Likewise for green, red and orange (yellow didn't work for some reason and was orange instead).
Gimmick? Sure. Pretty awesome though? Definitely. Look, Windows Phone is about design and colors. The W2 gets that with these keys and we think it's pretty fab. Shoot, we'd like to see Nokia and other OEMs add some color to their keys as well, why not?
The W2 also features the 'Huawei firewall' under settings. This is basically their call and SMS blocker. It's similar to that on Samsung and Nokia devices with notifications and a way to add/remove/view blocked contacts. It's not earth shattering but a nice touch.
Under 'Others' in settings we have on/off for key vibration and on/off for glove mode (Magic Touch technology referenced above). You can also rename your Bluetooth entries and manage your public land mobile network (PLMN) here as well.
Huawei also included 'storage management', allowing you to see your free space, delete temporary files and—get this—delete app installation packs. We've never seen that before on a Windows Phone and some of those packs were the cause of the "Other storage issue" found in Update 2 devices (before Microsoft fixed it). Once again, hat tip to Huawei for adding that.
Finally, under 'Additional phone settings' you get access to Call forwarding and Call waiting.
Conclusion
Call us crazy, but we're really surprised at how much we like the Huawei Ascend W2. The speaker is loud, the display is great looking, the device feels right in the hand and those colored capacitive keys makes this device stand out from the crowd.
Toss in glove-mode for the display, a decent 5 MP camera, call blocking and a processor that's above-average for this range and the W2 gets our approval.
Those in the West may not appreciate it (or ever get to touch one), but for those eager to try Windows Phone in the East and other countries, the Ascend W2 is worth considering.
Daniel Rubino is the Executive Editor of Windows Central, head reviewer, podcast co-host, and analyst. He has been covering Microsoft here since 2007, back when this site was called WMExperts (and later Windows Phone Central). His interests include Windows, Microsoft Surface, laptops, next-gen computing, and arguing with people on the internet.
heehee, curious how well these models sell from Huawei.

From what I hear they're doing OK.

The W1 phones at my local Walmart seem to be sold-out (two hangerfuls empty) and then refilled pretty frequently. I don't notice that with the other phones on the Straight Talk display.

Tbh the only advantage I see over the 520/521 is the build qualify, bigger screen and faster soc, not really worth the extra $100 for me

Exactly what I was thinking. Why would anyone get this instead of the 520? Especially considering the fact that you get HERE Maps and a lot of other exclusive Lumia apps with the 520.

I dunno, I have both and think the W2 looks better--faster processor, crisper, larger display, etc. Mind you, I think in China this fetches for around $150 (899 Yuan) or less. Regardless, it's about options for users. To suggest that the 520/521 and this are interchangeable overlooks a few things, imo. HERE Maps, Transit and Drive are all available on the W2. You just don't get HERE Drive+, but then again, neither does the 520/521 ;)

Given the recent announcement of the Moto G, do you think the next round of low-end WP8 devices are going to bump up their specs and keep the same price point to stay competitive in those emerging markets?

Good point, I was over at android central last night and read up on the Moto G. Motorola is definitely setting the bar a tad bit higher for low end. I believe the 8GB version of the phone is going for 180$ It will be interesting now to see how Nokia sets the bar higher than Motorola, if there is one thing they can do is match the Moto G in specs and just maintain the SD card option of the next gen 520 and they will have a winner, Motorola left out the SD card lol -__-

Yes, I was reading about the Moto G and quite intrigued. I already have an Android phone as my primary, and I like having a WP8 because it's different. I like the FM radio. At least the Moto G has a FFS and rear flash, better apps (IMO for my needs). The price will certainly go down from $179 for the 8GB model after a few weeks/months. If this Huawei is $250 (although article says $200-$250), you can get a Moto G 8GB AND a Lumia 520/521 (if you catch it on the common $80 sales) for just $10 more.

Now that you mention it... HOW THE HELL did Motorola release that phone so low? lol including a front camera and flash for the rear, hmm it might be tougher for the next gen L520 than it looks. I got my mom the L521 so I am familiar with it, incredible how smooth that little guy is. I got the L925 and I compare it with my moms phone and that 400$ cheaper phone does almost everything mine can do lol technology I tell ya. (we HAD to leave Sprint for Tmobile, coverage was getting ridiculous and the family is saving 40$ per month) I used to have an EvoLTE on Sprint, I do miss that app availability you mention. But all the social sites I use are here and I just grew out of downloading so many games I basically use my phone for pictures, sharing, and school (office) I make Word files with reviews upload it to skydrive and study before my exams lol (I only cheat sometimes) Whats your primary Android phone if you don't mind me asking btw?

I have a Nexus 5 32 GB. I had a Galaxy S3, but sold it a few months ago. It was great, but had this battery plummet issue that I could never get rid of (I'm on AT&T & probably was a firmware problem). Also, the mini USB port failed. AT&T sent me another, but I just decided to get rid of it. I really like the 92X series Lumia. I saw the 920 when it first came out at the AT&T store. My L520 is very nice. I carry it around at work where I just get wifi, and it's great for checking email and my Google Voice texts. Nokia will have to up the ante by improving the hardware (and software by MS) on it's next entry level phone. The rumored 525 with 1 GB RAM may not be that much difference in performance from a 520/521. Maybe a better display, FFS and camera flash will be what people want. Also, an improvement in WP8 and better app selection will keep it competitive. Otherwise, people may choose a Moto G for a little bit more. If the price drops like the 521 (started at $149) did, the Moto G may be <$100 after just a couple months.

I'm quite impressed by the Moto G except for the "non expandable memory" part.

I hate to be snarky, but what got overlooked should be in the review.

Why comment if all your going to say is "first hi". Anyways, I love the color changing feature...wish my Lumia 920 could do that

I stopped reading after 512 RAM.

Good, this phone wasn't meant for you.

Wait for nokia lumia 525 glee. It will have 1 gb ram.

Awesome device, but I wonder how well it'll do against the Moto G :I

Gee, if I only mention that in the article or video...

It's somewhere in the article. Below the color choices for the phone.

And I quote under the phones specs:
"Windows 8 (build 10492) with update 3"

Update 3 = GDR3 which added an array of new features.

Um, I was referring to the fact that the OS is referred to as Windows /8/, not Windows /Phone/ 8.

Wow. No need to be so pedantic. Insert Peter Griffin "Who the hell cares" gif.

Lol! If you'd quoted it then it would've been more obvious :P I also thought you were asking if it had update 3.

Wow I didn't expect this phone to have so many features/setting Nokia is lacking, really wish Nokia catches up on some of these things

Most of that is due to Update 3, Nokias will get them too.

I just hope Nokia does not leave out support for its lower end devices like the 520/521 and include all the features possible else they would really lose out in the emerging markets where the bestsellers are the lower end devices.

Sounds good but i am sure you will get more apps than 15 i have about 100 apps and 5 or 6 games with 2gb spare on my lumia 820 8gb

Some people are very strict in price differences. And Nokia got it's many Nokia Center, i don't remember seeing one for Huawei in my area or other province. If my memory serve me right, it is a carier bundled Smartfriend CDMA on $200. Nokia 520 is a lot leas than that and GSM unlocked.

You mean Indonesian smartfren bundle? That's W1. I agree, with $200 I prefer 520 over this. Simply because of nokia service center availability, not sure about huawei.

Ascend W1 still dont have the GDR2 update...so Huawei never ever

well at least this phone ships with update 3.

I have to agree with that - its a shame, because quality of W1 as a device is truly great... But total lack of local updates and user support just ruined whole thing... Next phone will be definitely not Huawei...

wait - no 4G?? I picked up my 521 on best buys deal of the day for 84.99, and you can now catch it for 99.99 mostly everywhere else. I don't see buying this for 200.00 when you have the 521 out here with mostly the same specs.

Lumia 521 doesn't have 4G either, unless you have a magic 521 with LTE on board ;) (Hint: '4g' actually means LTE, not HSPA+)

True. But I think if you are on AT&T, HSPA shows as 4G on the phone.

4g is 4g, hspa and hspa+ are types of 4g connecting at 14Mpps and on the hspa+ 21-42Mbps. LTE is a type of 4g as well. Don't let those verizon ads fool you. T-Mobiles hspa+ network beats out verizons 4g lte speeds in numerous markets. think of it this way, 41 mbps is 41 mbps - no matter what you call it (hspa or lte). its the same speed. thats like saying verizon fios hd 1080p is better than comcasts hd 1080p. 1080p is 1080p (now wether it is compressed or uncompressed is another store, and thats per market too). I guess the main point on this Huawei phone is that its 100-150 more than the 521! do you really think its worth the xtra $$$?

Actually, in China the phone goes for around $150 (899 Yuan), so the question is it "worth it" becomes even tougher. (I updated the story) If I had to choose? I'd go with the W2.

This is all I really wanted to know. :)

4G = LTE is totally different from any 3G bullsh*t
The operators have a major scam going on world wide
Fraud is a felony

I dig the changing colors on the capacative buttons. I was kinda hoping that Huawei would also put out flashing LED on the windows button for notifications. But I guess that comes later.

I like that the capacitive keys can change color, that's pretty cool. Thy're using a really cheap LED, that's why they only support a few colors. Still, I've told myself to never get another 8GB device after the 520.

I'm using one (520) after I sent my 920 to my mom, from 32 to 8 I had to manage all apps n games and now works fine. But I bought for 85 with 8gb microsd, so I can't complain

I would like color changing capacitive keys on all windows phones !! This should be an option to make it white or accent colors on all phones !!

It's been almost a month since the Surface 2 and Pro 2 came out. When is the darn review coming? Grr!

Here you go: they're both excellent devices. ;-) In all seriousness, there are plenty of reviews on the web, many of which are filled with bias against Windows, Surface, Microsoft or all three. But they do tell you what you want to know about the hardware changes.

Love how the 3 buttons match theme...super cool

I'm afraid the newly announced Moto G blows this and the 520 out of the water - 720p screen, quad core processor, colorful design and at a comparable price.

I'm not sure "blows..it out of the water" is accurate. The Moto G is fine, but it lacks expandable storage and goes for around $216 (the W2 is around $150 in China). In other words, Moto G seems like a fine phone for its price range, but I'm not sure how it's just so much better than this phone. Plus, it's Android and not everyone wants that.

Xiaomi's Hongmi is for 800 yuan in China with much better specs but then again its android.

Moto g blows all the hobos under the bridge for a cheeseburger

I am waiting for nokia respond to moto g. Htc 8x unlock cost two hundrd fifty dollars and it has 720p hd screen plus 8 mgp camera. The only thing it does not have is quad core.

There are only a couple of Windows Phones that have a quad core processor so far, and one isn't released yet, and the other is still just (very strongly) rumored/leaked. I wouldn't be too quick to blame Huawei for not throwing something faster in the W2. My current dual-core devices scoot along well enough, and I tend to believe Dan when he says that it is more than adequate.

Good value for it's intended market. Here in the states we're lucky to have the HTC 8X for $250, which is a better value for the time being...

I paid 99$ for my 520 and unlocked it for 9$. Way cheaper than 200$ and, its a Lumia.

You also have a smaller, lower quality display and a much slower processor. If the W2 goes for 899 Yuan ($150) in China, I'm not sure how the 520 is necessarily a better value?

This is actually a good phone for the money. I had the W1 it was really good. Upgraded to the 1020 but the os and doing day to day things are no different.

Please please somebody challenge Nokia's phones.

Exactly. Not because they are altogether horrible, but because competition is good for everyone. "High tide raises all ships."

Lool :P
"Freed up 1.53M MB of space." What is "M MB"? "Freed up 158.4K MB of space" What is "K MB"? Damn this is what I call "Smart"Phone

I noticed that to, made me chuckle.

Well, at least Wuawei is still with us unlike Samdung and HTC . I don't even know if they'll ever produce another wp device anymore

Pretty sure that's an incredibly inaccurate statement. Thanks for playing.

Ah, I was wondering when the Lumia Hipsters would crawl out of the woodwork!!

And? Does it phone home to the Chinese secret service often?

I'd be more concerned with the NSA...

Loving the color led buttons. I wish I could have that on my Nokia.

Can I buy this and use it on Verizon? Sadly i think I know the answer that's coming.

Had a good laugh as I just checked how much it is here in Europe - 219€ (incl VAT) :D
The pretty same Lumia 720 goes about 190€
Do I miss something?

Agree on the colour changing keys. Not a major, but it would be cool if Nokia did the same thing. It would be even cooler if eventually those coloured capacitive keys could be used for custom notifications.

I think we're at the point where a FFC is a necessity for all phones. It's a deal breaker for young people, for selfies.

Maybe. Maybe not. My 13 yo daughter gets along just fine without an FFC on her 520, although she wishes for it. I have no need whatsoever for one. Even my Skype calls are without it. It is moving towards the category of "standard equipment", but it isn't quite there yet.

It's a differentiator, to get people to buy more expensive phones. It's more than a "nice to have", but not quite a "must have". It's the one thing I really miss on my Lumia 521, as it makes Skype virtually useless without it.

y cant nokia add an option to disable vibration feedback from the keys?? :/

I've got a suggestion on how any WP manufacturer can save even more cost.... just don't include that stupid Bing Search button. Not only does it save you money, a lot of people will pay top dollar to have that removed.

+1. I so very hate it. It gets pressed so very often accidentally. Especially when playing games. Instead Nokia could have included backlit keys on Lumia 520. I so very love it.

Definitely. It's a useless, annoying button. At least give us the option to disable it during games and video!

For $250 the price is expensive for this phone. I can buy htc 8x for $250 so thats a deal for wp8. Moto g is facing off nokia entry level phones and that includes nexus 4.

Read the article. It's $150 in China.

I did read the article. Sorry, I mistaken the price range.

Is it just me, or does this phone look a bit like the Lumia 810 with the cyan charging cover minus the colored capacitive buttons?

Don't be supprised, if someday you find out, that your Chinese phone has spying chip/software in the device. This is just another Huawei copycat product. They just took Nokia device, copied it. Changed some minor things and added capacitive key colors... Copying is more habbit, than exception for this OEM.

dude the htc 8x sooooo much better and at a better price :-/ ?

The hard thing is changing people's perceptions of Chinese products, this device probably will struggle to gain market share in the west. I just wish that they did a proper price comparison in the review, not just state $200 but give the prices of several budget Windows phone devices so I can compare, because prices per device differ per county. phones are generally cheaper in the USA than RSA.but at least with a comparison I can visualise how much it would cost in my country.

I hope that the upcoming Lumia 525 for $190 will be released next month. And hopefully it'll be like that iPod Touch model from 2012. Yes, I know it'll weigh more because iTouch is not a phone and the design is different (although I like the build materials and the look of that iPod), I also know that the iPod 32GB costs more (because it's Apple) but if that device was a phone last year it would have been great. Lumia 525 with better display (probably not hi-res), LED flash and front facing camera would be a nice 4" inch contender.

I used to own a Huawei Smartphone, The specs sound promising, but the actual perform isn't better but bitter and the quality is bit low. -Gautham, http://www.techlurk.com/download-ninjump-for-pc-free-windows-78xp/

in what world is $250 a bargain for a huawei phone ? huh ? $250+90 and i can get the lastest flagship in the market and no strings attached, the Nexus 5.

I bought this device for less than 100$ in Russia (brand new). This is the cheapest Windows Phone ever! Even new WP market players like Prestigio and Fly offer phones for more!
Windows Central Newsletter
Get the best of Windows Central in in your inbox, every day!
Thank you for signing up to Windows Central. You will receive a verification email shortly.
There was a problem. Please refresh the page and try again.