Quick Comparison: Huawei MateBook vs Surface Pro 4
Let's see how Huawei's brand new 2-in-1 stacks up against Microsoft's latest and greatest.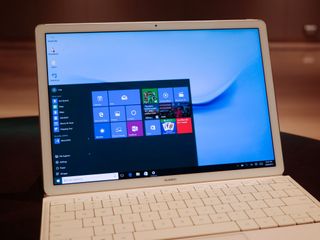 At Mobile World Congress, Huawei jumped back into the Windows fold with its very first Windows 10 product, the MateBook. It's a premium 2-in-1 targeting people who want to get stuff done while still having a full day's battery life and something that looks and feels great to use.
Sounds familiar, right?
Microsoft's Surface Pro 4 is a premium 2-in-1 that offers long battery life, high-end design and specs and a full-sized physical keyboard. The Surface was always supposed to act as a yardstick and kick start the ecosystem, and here we are.
The MateBook is a gorgeous piece of hardware, with perhaps only its brand value in question compared to the relatively strong appeal that Surface has built up. Nevertheless, the MateBook is firmly in Surface Pro territory.
We'll need to spend a lot more time with one to really dive deep, but what we can do at least right now is see how the raw hardware stacks up. Which is exactly what we've done in the table below.
Category
Surface Pro 4
Huawei MateBook
Operating System
Windows 10 Pro
Windows 10 Pro
CPU
6th Generation Intel Core m3, i5, or i7 (Skylake)
6th Generation Intel Core m3, m5, m7
Display
12.3-inch PixelSense Display
2763 x 1824
12-inch IPS TFT LCD
2160 x 1440 (QHD)
Storage
128GB, 256GB, 512GB or 1TB SSD options
128GB, 256GB or 512GB SSD
RAM
4GB, 8GB or 16GB
4GB or 8GB
Rear Camera
8MP
Full HD (1920 x 1080)
None
Front Camera
5MP
5MP fixed focus
Windows Hello
IR Camera for facial scanning
Single touch fingerprint scanner
Dimensions
11.50 x 7.93 x .33 in (292.10 x 201.42 x 8.45 mm)
10.97 x 7.64 x 0.27 in (278.8mm x 194.1mm x 6.9mm)
Weight
i5/i7: 1.73lbs (786g), m3: 1.69lbs (766g)
1.41 lbs (640g)
Ports
Full-size USB 3.0, microSD card reader, 3.5mm headset jack, Mini DisplayPort, Type Cover port, Surface Connect
3.5mm headset jack, USB-C, Keyboard docking pins
WiFi
802.11ac WiFi wireless networking; IEEE 802.11a/b/g/n compatible
Wi-Fi 802.11 a/b/g/n/ac MIMO,
Battery
Up to 9 hours
Up to 10 hours
Pen
Surface Pen
1,024 levels of pressure sensitivity
Magnetic storage
Optional Mate Pen, 2,048 levels of pressure sensitivity
Laser pointer
Other
Stereo microphones, stereo speakers with Dolby audio, ambient light sensor, Accelerometer, Gyroscope, Magnetometer
Dolby Audio, optional keyboard cover with LED backlighting
While the Surface Pro 4 pulls away at the high end on specs, the MateBook, for the most part, keeps up. Of course, spec sheets tell only a portion of the story and we'll be looking forward to spending more time with the MateBook in the future to see what it's really all about.
So, what do you think of the Huawei MateBook? Let us know in the comments below! Or head to our main Huawei MateBook news page for all the latest info.
Richard Devine is an Editor at Windows Central. A former Project Manager and long-term tech addict, he joined Mobile Nations in 2011 and has been found on Android Central and iMore as well as Windows Central. Currently you'll find him covering all manner of PC hardware and gaming, and you can follow him on Twitter and Instagram.
The specs are impressive, the rest will depend on pricing. However I can't shake the feeling that 'matebook' is a ripoff of 'macbook', only cheaper and f lesser quality. I think that a completely different name would be better.

You'd have to compare build quality with an iPad though.

The keyboard is totally different. Is white and not black. The color is not silver is white (or rather very white yellow-ish) color. Is plastics for the most part, with a metal going around. Seriously, this is nothing like a Macbook. The only thing that comes close is the name. Matebook sounds. Read. SOUNDS close to how you would say Macbook.

Huawei seems like a competition for the Surface 4. If its priced right, it will definitely outdo S4.

The video is meh. Waiting for a full review because this video lacks. I really want to see how the matebook open and close (as compared to the surface pro 4). At the moment it doesn't seem like it can be adjusted.

It can't be. It's a case with one position, not a built-in adjustable kickstand. The Windows Central Universal Application for Windows 10 Mobile on a Nokia Lumia 830

Cant be compared to surface pro 4 then

I'd argue that it still can, despite not having that particular functionality. I believe the keyboard comes with the tablet (someone correct me if I'm wrong) which is an advantage over the Surface Pro. Besides, people compare any high end large-screened device to the Samsung Galaxy Note 5, but none of them except the Note have styluses. The stylus is a defining feature of the Note. Does that mean they can't be compared? No, it's simply a pro for the Note. The Windows Central Universal Application for Windows 10 Mobile on a Nokia Lumia 830

I will still take the Surface

I guess if you're looking at a low-end SP4, this is a viable alternative... at that point, you're basically trading windows hello for a usb-c port and more sensitivity in the pen (although how the pend actually performs remains to be seen)

Charges via usb-c, which means you can use a portable battery when traveling. That's fantastic.

I'm only missing a microSD card reader and the kickstand. The rest fits perfectly for my needs.

No SDCard reader really ?! :'( Posted from Windows Central for Windows 10

They have a dock which has all sorts of ports. Maybe theres one there.

As comment on the comparison table: "Optional keyboard cover with LED backlighting" is also true for the Surface.. I got a Surface Pro 4 and I like it. No, I love it! And as I see for now the things I really like about it are not available for the Huawei. Think about the extra ports and sensors. Although I think the Huawei looks like a very great machine, the back stand will be annoying. I really like the back stand of the surface which can be used it several ways and without keyboard.

I'm still very interested in hearing more about the stylus performance on the MateBook.

Wish it had a rear camera. How'd the service be? Will it be available in India?

It's a good start for them. Brand name will surely limit their chances. Still, is it better than the SP4?

They are working hard on the brandname. I see and hear their ads all the time.

Microsoft's Surface Pro 4 is a premium 2-in-1 that offers long battery life

Uhh, maybe if you go by what Microsoft claims and not what happens in the real world.

As is with any laptop, battery life is dependent on the software being used. I don't expect my SP3 to last long when using graphic intensive desktop software.

It drains almost just as fast sitting idle on a table. Sp4 needs more firmware updates. 3-5 hours max.

That sucks', I don't have that problem on my SP3

I think I like it and I won't compare it to anything that exists today. I only look at what I could do with the device and how it fits my lifestyle. I don't buy based on the opinions of bunch of talking heads that live off demo loaners trying to decide why I should like or ignore a product. I could care less about how close or how distant the spec is from another device I can't even dang afford anyway. It runs Windows 10, it looks great and for the applications I run, it's run them. That is what matters to me. Now, how much?

its great to have CrApple killer choices. Love it. BOTH prods are amazing, and will poop in iMAXI-PAD and MacCrap anytime.
Windows Central Newsletter
Get the best of Windows Central in in your inbox, every day!
Thank you for signing up to Windows Central. You will receive a verification email shortly.
There was a problem. Please refresh the page and try again.