Huawei MateBook first look: A gorgeous new Windows 10 2-in-1
By Richard Devine published
Huawei is now a part of the Windows 10 family, and it isn't messing around.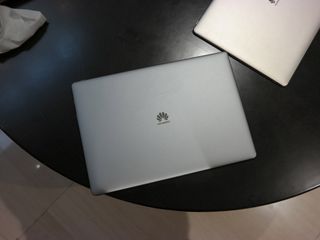 This is the MateBook. It's Huawei's major announcement at Mobile World Congress and it's running Windows 10. What you're looking at here is a high end tablet with a keyboard, a pen, even Ethernet and Windows Hello. The keyboard and pen may be optional, but there will also likely be bundles in some regions that include them.
While reports had surfaced in the run up to the event, the MateBook still caught us a little off guard. What we're looking at here is a super nice 2-in-1 by any standard.
While Huawei hasn't made a Windows Phone in a while, elsewhere the Chinese manufacturer has been producing solid hardware the past couple of years. It's now brought that to Windows 10 with a healthy dose of its recent design language carried over into its new 2-in-1.
The sample we've had chance to spend a little time with in Barcelona has given us a feel for it and ultimately left us impressed.
So, what do we get? Quite a lot.
Image 1 of 2
Image 2 of 2
The MateBook is an all metal unibody design that weighs just 640g and is a crazy 6.9mm thin. To put it in a clearer context, it couldn't be any thinner and still have a 3.5mm headphone jack. Which it does.
Out the front we have a 12-inch QHD 2160x1440 resolution display and it looks fantastic. Colors are vibrant, text is superbly sharp and it's a real pleasure to look at. You'll also notice the bezels aren't exactly, well, large. Slim bezels have been a hallmark of Huawei's recent Android phones and the MateBook follows that tradition. You're getting an 84% screen-to-bezel ratio that keeps the overall size down, but doesn't impact on the experience with unintended touches. More on that below.
Inside the MateBook unit we saw was an Intel Core m5 processor, 256GB SSD and 8GB RAM, all powering Windows 10 Pro. The internal storage options will top out at 512GB SSD, we're told. Other notable hardware includes a single-touch fingerprint scanner for Windows Hello, a single USB-C port for power and data and the usual power and volume buttons.
Along the bottom edge you have the magnetic docking connector to attach the MateBook to the optional keyboard cover. And good lord, they're strong. You can feel the tablet being pulled towards it which becomes a little awkwards when it's as light as it is. We missed a few times hooking the two together.
The keyboard is best described as Huawei's take on Microsoft's Type Cover. There's no battery inside it, but you do get a full-sized keyboard, a multitouch trackpad and LED backlighting. The latter of these has a neat trick where it'll sense the ambient light in the environment around you and come on when it thinks you'll need it.
However, typing isn't quite the experience you'll get elsewhere, though, perhaps just due to the nature of how the whole ensemble is designed. There's a fair bit of flex, which takes away from the experience.
Image 1 of 5
Image 2 of 5
Image 3 of 5
Image 4 of 5
Image 5 of 5
Where the Type Cover just covers the front, though, the keyboard on the MateBook is a folio case. It looks very 'business-y,' since after all, that's the play Huawei is making with the MateBook, a killer device for people who want to get stuff done. The keyboard case is leather on the outside and comes in four different colors.
And as this is a 2-in-1, Continuum is fully enabled when you dock and undock the tablet to the keyboard, switching between tablet and desktop modes as required.
The MateBook itself is available in a couple of finishes. You have one with a black front and one with a white front. If you were to make us choose, we'd go with the black one, since the dark gray finish on the back and the black bezels look pretty great together. And black bezels are way less distracting than white ones.
Above we mentioned that the experience of using as a tablet isn't hampered by the slim bezels, and that's true, even when using the optional Mate Pen. There's some solid palm detection built in, and no matter how hard we tried while doodling on the display, nothing happened. Which is exactly what you want if you're going to be using a pen.
Speaking of, the Mate Pen isn't at all like the Surface Pen. It's a chunky old thing, which frankly, is fine. Those of us who still actually use a pen will enjoy the added size. It actually feels like a regular, old fashioned pen. At one end you have the pressure sensitive tip which has 2048 sensitivity points, and that the other you'll find a laser. Yes, the Huawei Mate Pen has a frickin' laser.
It's all part of that business play. If you're using your MateBook at work to drive a presentation, you can use the end of the pen as a laser pointer on your slides. You can use the other end and one of the buttons as a 'clicker,' to advance your Powerpoint presentations without touching the device.
Driving your presentations, or anything else for that matter, happens through that lonely USB-C port on the side. Huawei has a dock to expand its functionality quite significantly, adding in HDMI, ethernet and some additional USB slots to plug in displays and what not. It's a pretty uninspiring piece of hardware, looking a lot like a portable battery pack. Functional, though.
Image 1 of 2
Image 2 of 2
Also with the USB-C port comes a tiny charging brick. The MateBook uses a pretty ordinary looking charger like you might find bundled with a smartphone. In one hour you can get yourself a healthy 60% charge, with it taking a further 60 minutes to fill up completely. And Huawei says it should be good for 10 hours of real world use, as well, so you can take it out of the office all day and not worry too much about running out.
So, wrapping up, then. The Huawei MateBook came a little out of left field and it certainly took us by surprise. Anyone familiar with Huawei's recent mobile products won't be shocked by the quality of the hardware. The MateBook is superb on every front. It looks fantastic, it's slim, it's light and it's every bit the premium product you might be looking for.
Richard Devine is an Editor at Windows Central. A former Project Manager and long-term tech addict, he joined Mobile Nations in 2011 and has been found on Android Central and iMore as well as Windows Central. Currently you'll find him covering all manner of PC hardware and gaming, and you can follow him on Twitter and Instagram.
I read it everytime as MacBook

That's the purpose of Huawei I think. Which is shame since the engineers work hard to come up with a great device and marketing ruins it with a cheesy name.

No. Mate is the name of their phone line-up, akin to Galaxy or Lumia. MateBook comes from that.

Mate goes well with the form factor and look.

LumiaBook
GalaxyBook
MotoBook
XperiaBook

12 inch, the article says.

How come looking at one or two picture is enough for some ppl to have courage, question out of it and ask for the answer which they already avoided?

What a great looking device with specs to match. Watch out Surface!!

The purpose of Surface brand was/is to set a high standards for OEMs to follow. Microsoft will be happy that such devices are coming out. :)

That's the marketing and business spirit of msft!

But it's running Windows right? Surfaces' can only benefit by having more W10 devices out in the market! Do you understand this? It's been MS way of business since ever, and Nexus with Android!

Agree. This is a very very nice device with fingerprinting scanner feature, plus so many more. Job well done. What i really like about this device and Surface, ............is that one more device to poop all over, the worlds most overrated, Hyped-Up, Childish toy, Extremely overpriced so ppl think its something spacial, absolute garbage,.......................CrApple and their wannabe devices, they rip ppl off with. Every time i see a killer device like this with Win10 on it, is like someone slapping CrApple, and those who server this EVIL comp, "BLINDLY". LOVE IT. Now that HP cameout with that AWESOME Elite x3 unbelievable phn, I'll expect DELL, LENOVO, ASUS, LG, SAMSUNG,..........................all fallow suit and come-up with some top of the line Windows 10 phns/devices that will put CrApple to shame once and for all.

Windows 10 is really bringing out cool hardwares Posted via the Windows Central App for Android

What is with 6.9mm? First Apple, then Microsoft and now Huawei!

Everyone is obsessed with 69. I'd you know what I mean. :P

Galaxy TabPro S is 6.3 mm. Even thinner.

Methinks that went your head.

Methinks you forgot to type the word "over."

CrApple is NEVER EVER NEVER EVER, its 1st on anything. They COPY EVERYTHING and knows how to fool, mislead, lie, brainwash, and pretend,......that they did it 1st. But if ppl search, thy can see someone, like SONY, SAMSUNG, MS, TOSHIBA, ASUS, LENOVO, ................... had it 1st long before CrApple could even know to copy it. For exp: MANY of the CrApple's iJUNK 6S phn were used by many brands 4+years ago. On top of that they still at 750 screen resolution, while many top brands used QHD AMOLED 2.5K screen resolution for past 3 years or so(Lumia, LG, Samsung, Sony, Oppo, Sharp,.............just to name a few). In addition, what technology many brands use today(like my Lumia 950XL), still no IJUNK offers/has it to this date(Removable battery, Waterproof, Turbo Charging, wireless Charging, QHD, 20 Pix camera, High Capacity Battery, Glance Sensor, Full NFC, USB-C, MicroSD slot, Dual SIM slot, Iris scanner, Stylus, .....................and so many more to list, that no iJUNK phns has to this date). Although ppl have been brainwashed by CrApple's BS marketing to think they have invented the universe, NOOOOOOT. Please do NOT fall for their trap"We Invented everything 1st". CrApple=COPY

Not trolling or anything, ........... but I wonder what's the user of all those repeated punctuations?????????????????? Have a nice day !!!!!!!!!!!!!!!!! :)

Would be great of there's a cheap version of this for students

If only i could get the nexus 6p running windows phone,it would be awesome

I wouldn't want the Nexus 6p if it ran Windows Phone but I would want it if it ran Windows 10 Mobile.

Actually i meant windows 10 mobile and if i remember correctly windows phone 8.1 doesn't even support snapdragon 810,so it's impossible for 6p to run it

I would rather see the Mate 8 running W10 mobile

Have you look at the Lumia 950XL """specs""", with Continuum??????????????????? How about the Killer Windows 10 HP Elite 3X?????????? This HP phn puts every phn out ther to shame with its unbelivable ""SPECS""" watch the Video on WC posted yesterday. This is the Flagship Win10 phn everyone is been asking for. JUst don't know what the price will be. However, it is the BEST phn in the world as of right now.

It's a great device. Good to see OEMs making hardwares to use all windows 10 features :D

Your are correct, but i would be even nicer to see them make windows 10 mobile phones that look this good too! This would spark developer interest.

Yeah. But mobile are in baby steps, so, i keep my expectation level in low profile

Yeah loving the look of that, shame about the keyboard for, but hey for a first W10 a great start

I understand you comments about the keyboard, however, this will compete directly against the ipad Pro since the keyboard folio thing is basically the same

In that case... W10 alone on this will wipe the floor with the ipad-Pro

Oh come on now, PLEASE do NOT use CrApple and its COPY devices to anything as magnificent as this or Surface,............ This keyboard is close to Surface, which well liked by millions of people, NOT iMaxi-Pad COPY Pro.

The keyboard is similar to "Surface", which is really awesome and well liked by millions.

You forgot to mention, there's no way to attach the Pen to the device.

Man, this device looks beautiful. MS, may the Surface 4 (not pro) follow these Win 10 tablets (the MateBook and Tab S). If the Surface 4 can as slim and beautiful as these, added with the current improvements of the type cover, they'll have the best win 10 tab. Please MS! With that said, looking forward for the reviews of the Tab S and Matebook.

M3 Surface 4 would be great, but using Atom X7 (even the new version) bring a hole in performance... Also, I doubt they will make as thin as 6,9", they probaly will stay using usb 3.0.

All the while sending your data to the mothership. ;)

They can have all my data, I wonder what they'll do with it though.. Pay me a visit on my birthday??

More likely send you 15 crdit card offers, call you during dinner, and send you special e-mail offers to make your junk bigger.

That happens even without owning a computer. Don't be paranoid or naive to think it's Windows

Name-calling, mature as can be. Just because others do it does not mean MS does not.

Honestly, you don't have to worry about Microsoft doing it, all of your social apps are doing it now! Google is even small beans compared to the amount of data social sites and apps are collecting about you these days. I wish all of you paranoid skitzo's would get over it! The only way no data will be collected about you is for you to live in the windernes without any electronics or contact with the outside world.

And I wish people could take the time to put a bit of logic and sincerity into a discussion, rather than name-calling and ignorance. You're assuming I hand over personal information to everything left and right and live on social media. Facebook, Twitter, all of that, I barely touch it. The most personal of information on me there is my name and my birth date. I don't have pictures of myself, my address, or most any of that. To say "give up all information because they have some" is nonsense. To say MS and Google aren't a problem becuase there are bigger problems is nonesense. I never called data collection bad. It can be of benefit, if used in proper ways. I made a joke, and folks have resorted to name calling, blanket statements, overreactions, and general ridiculousness. I'm not sure why I'm saying this as if I'm surprised, it's standard Internet behavior.

Already happens, I'm pretty sure I can live with that.. Practically all grocery stores are guilty of this! Heck even amazon will constantly send you offers..

Sins by others do not excuse other sins. It's still terrible.

Not just personal data from your social network sites, basically all of your phone conversations can be retrieved from the carrier also. For an ordinary person like myself ( not a spy, not a gang member, not related to any drug lords, not have millions in my bank accounts) , just relax.

1. This is 3 months old, why bother posting to it? 2. Giving up personal freedoms and privacy without a thought is never smart. It's easy to say "just relax" until you realize this stuff isn't limited in scope. "Give and in and they'll take a foot." 1984 covers this stuff as well. If you keep saying "I have nothing to hide, let it happen," then you'll likely come to a day where you DO have something to hide, and you won't be able to. Look at McCarthyism in the past, spying on neighbors and creating conspiracies. Now, think about that where everyone can watch you and pin whatever on you with ease. Yes, it's an extremist mentality, but only until it isn't. I'd simply like to keep my personal life personal, rather than giving everyone access to it.

Google is not involved in making this computer.

Any idea on the technology behind the pen? Is it Wacom? I'm assuming it's an active digitizer/stylus

Nobody can denied it. Windows 10 got the job done for all. Therefore, we were supposed to getting the best of in rollout of hardware and software products of esthetical dreams.

Tell that to the stuborn guys that still stick to Win 7 like there`s no tomorrow :) That are so narrow minded they can`t see the future is towards slim devices and mobility, the days of bigh clunky computers are gone. I would like to have the power of my R9-290 into a tablet but still i`m enjoying my 2 in 1 tablet for the mobility it provides me.

I hate that. There's only a few more years of Win7 support, might as well upgrade to Win10 for FREE and get constant updates and security instead. Besides, 10's not that different to 7, and the 'data mining' is kept in house to actually improve the product!

a kick stand would have been great.

I really wish we could get one of these with a number pad. I'd gladly pay more for a bigger screen/body to accommodate such an addition.

Huawei Mate Pen has a frickin' laser. Really?

I guess that it is quite smart for presentations. It's a good package. A Tablet Computer with a pen that you can also use for pointing at things. Posted via the Windows Central App for Android

..and a good 'weapon' for audiences that don't pay attention to your presentation..lolz

I thought most presentation software had an on screen pointing device so you didn't need a laser pen? Posted via the Windows Central App for Android

I don't know what is the future of windows phone but windows is going to be big in tablet market because people are started realizing that iPad and many android tablet are expensive toys ! But to be honest, in budget I think still android is good since it's made for mobile

Exactly, MOBILE. Android, on the whole, is a lot worse on tablets. So many apps don't scale. Same with iOS, too though.

I'm not getting the notifications.

I am looking forward to hearing about some windows mobile phones soon in mwc.

The hardware looks great, though the back of the 2 in 1 looks similar to a MacBook.

A question to proponents of the fixed angle concept, what is the advantage? There have been many premium hybrids that pass through R&D with this design but I really can't understand.

The tablet itseld looks good, but the keyborad looks cheap.

Why don't other manufacturers make tablets with Core i3/5/7 like Microsoft does? Samsung, Alcatel and now Huawei all are going for less-powered chips. Why?

HP has a more elegant solution in HP elite X3 but great to see Huawei embracing Windows 10 nevertheless. The more OEMs join windows 10, the merrier it is for windows 10 ecosystem.

2 in 1 devices are really starting to gain traction. People are starting to realise how limited they are with Android and iOS tablets when you can do much much more with a Windows powered device running full apps and not being reliant on mobile versions of apps.

Its gorgeous and I m getting very very interested. Huawei make gorgeous devices, and this is even a premium offering. Well well well. Time perhaps to retire my Notion Ink Cain !!

Rohit Aware. Have you ever owned an Atom based Windows tablet .? They are cheap, do whatever U throw at them and more. I don't think top end processors and Surface like premium pricing is for everyone. Its just not needed.

I'm super happy to see all of these devices running windows 10 talking the surface pro's lead! I have the PRO 4 and I'm in love with it, but it's good to know that there are more options out there. Also creating more awereness outside of Apple's MacBook world. For me personally I love these types of devices because my surface pro 4 truly replaced both my MacBook air and my nexus 9 tablet. I also love the form factor of the pen because it's less distracting to take notes during my meetings as opposed to typing on my keyboard and the clicks breaking everyones attention. Can't wait to see the in depth hands on review!

I hope Huawei decide to make a W10 Smartwatch as good as the one they made for Android.

I can see this replacing my third gen iPad, the last bit of APPL kit I have
Windows Central Newsletter
Get the best of Windows Central in in your inbox, every day!
Thank you for signing up to Windows Central. You will receive a verification email shortly.
There was a problem. Please refresh the page and try again.