Insteon for Hub finally picks up an update for Windows 10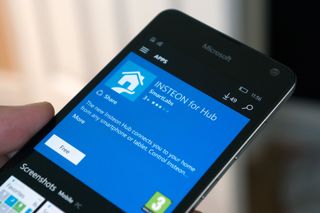 Should you be among those who have been trying to get Insteon for Hub working on Windows 10 Mobile and ultimately failing, you may wish to check for an update as a new release has been spotted in the wild. Insteon, the company behind the app offering and wider home automation solution of the same name, received some complaints from consumers who couldn't get the app to work on Windows 10 Mobile.
Here's a list of highlighted features of the Insteon for Hub app:
Control your home from your Windows device
View / Control INSTEON IP Cameras (SD and HD)
Easily create schedules for lighting and devices
Instant alerts from sensors
No monthly fees
Works with the INSTEON Hub
Easy to follow onscreen wizards for fast setup
Quick status of sensors with the Quick View page
If you happen to spot anything else that's new, be sure to hit us up in the comments!
Thanks Read N. for the tip!
Rich Edmonds is Senior Editor of PC hardware at Windows Central, covering everything related to PC components and NAS. He's been involved in technology for more than a decade and knows a thing or two about the magic inside a PC chassis. You can follow him over on Twitter at @RichEdmonds.
Hooray!! I was wrong, and an update actually came!!! My poop smells like rainbow sherbet and is a lovely shade of violet! BRB, I'm going to consult with a physician...

Shenanigans.......eeeevil shenanigans!

I'm so glad there are people who understand this reference. Thank you!

Unfortunately, just as I thought, it's exactly the same mostly broken app from Windows Phone 8 that they've finally allowed to be installed on Windows 10 Mobile. I really wish they would just go back to the build they had back in March 2015. That one worked great. This one, the Cortana integration still requires additional taps and it tells you twice that it's doing something... right before it does absolutely nothing except leaves you on the page you need to be on. Just don't issue a second voice command without first killing the app...

I'm afraid it's too little too late, after two years of horrible software and even worse customer service.

I have only needed "customer service" once, but I thought it was above average.
The Insteon software on Windows and Windows phone 8.1 seems fine. The only comparison I have is with the Homeboy Insteon software, which is faster. Best Wishes

Well, I was told an update was coming soon for two years. I'd say that's poor service.
Also, the first several times I called them while trying to do initial setup, they told me that I needed to use an iOS device - even though the box had a Windows Phone on it and I bought it at the Microsoft Store.
Another example is when I continuously complained about broken features and told them how many thousands of dollars I'd spent, they didn't care at al - even when threatening o move to a competitor.

I set my initial setup using the Insteon app on my SurfacePro2. (Windows 8.1) The first device took several attempts, but subsequent devices were reasonably straight forward. Each device acts as a repeater and uses two forms of communication. The more devices, the better the communication.

I understand how it works, or rather doesn't.

It's hard to disagree. They shipped me free stuff to try out when I was first looking into home automation, which sounds really cool... And it was. But it came with the promise of good app support, and in the past year I've not had that. The app worked for 1 month on 8.1, and had taken over a year to get ah update to support 10. Meanwhile, I've seen countless iOS updates and promotions and even an Alexa Update for Amazon Echo, but very little even for Android let alone Windows. They are slow responding to communications too. Even so, I have this stuff, and for the first time in a year, it works, so I'm gonna put it to use!

when someone end a comment talkign poitive about a product taht doesnt work you you have got a marketing mole in coment!

Or it could just be that I'm willing to consider that if they finally take an action it could represent a change in priority.

Anybody else have an insteon camera? Does it work with this app? I don't see the camera device. It used to work with 8.1.

Confirmed. Works with W10M RS now too.

Yes my light switches, lamp switches and cameras are all working again. I was worried they'd disable Cortana in this update but that still works to. It really seems like they just fixed the bugs, no new features

I don't know if it was available before but I can use insteon on the lockscreen (not the detailed status but the quick status)

Still can't view HD camera stream, and when I try to click on the camera the app crashes. I like INSTEON's product for its dual communication features, wide range of devices available on the platform and especially the ability to wire in controllers instead of only having plug in modules. But, this is ridiculous and becoming old! I love Microsoft, but why are they not pushing INSTEON to improve their Windows support - especially since they supposedly have a partnership with each other!

I had the same issue. I had to remove and re-add my HD cameras.

Insteon is a joke at this point. You install their products in your house and they don't care after that because they've already made the money, and after all the trouble you go through installing it, its not like you're going to rip it out and again they don't care because the sale has been made.

Previous version of the app that they testing 1.2.1.14, had sport for HD cabinets. I posted some screenshots on my cameras at the Insteon forum.

Do we, as Windows/3rd-class citizens (per every company in the world) users, have another choice for home automation and security?

Really/You have to ask? You're new here? Look it up yourself. Ok, a couple of examples. Vera/Zwave. Doorbell. Tado. Just check app/service availibility first/before you buy a device/solution. Then you will also feel 1st class citizen again ;)

Make sure you are willing to let your whole setup depend on connectivity to your hub. The nice thing about Insteon is that the settings you apply are stored in the device. I set my living room up with an Insteon KeypadLinc scene selector along with plug in devices that would ramp up my floor and table lamps to the % brightness to make the perfect scene. I created 2 scenes. One for movie watching where the lights are at a really low dim level and a normal setting where the lights are brighter and I bring in a hard wired overhead can. I can't do that with any zwave switches because I can't find any that will control a local load and scene selections. I can do this with Insteon because they sell a scene controller that also controls a local load. So Smartthings doesn't have the concept of scenes, where I decide which levels I want on each light and then assign that to a button on a scene selector switch with a local load control. My perfect system would combine the Insteon level of control and flexibility with the abundance of device manufactureres. And by the way, I disconnected my Insteon hub when I bought the SmartThings hub, I returned the SmartThings hub because they had no concept of room scenes or a way to control it from a button on my wall switch. But my Insteon scene selector still works even though the hub is not connected any longer.

Update was slow to come in. I did speak with a service representative this week and they said. In addition to the update that they were currently working on a Windows 10 UWP. I didn't ask them that they volunteered that information. The Rep that I spoke to said that he didn't have a Windows Phone, but he did see it in action. At this point, I'm wondering if it was this app. My fingers are crossed for you, WP Xbox One support.

It is nice to have though no complaints here. Thank you for the update. One suggestion that I did post to them and everyone else should suggest is direct Tiunda Cortana if possible. You should be able to say Cortana dim the lights. Without needing to say Insteon similar to the way lexa works.

The PC app is not updated :(

I hope Insteon folds soon so no one else gets fooled into buying their garbage products.
Windows Central Newsletter
Get the best of Windows Central in in your inbox, every day!
Thank you for signing up to Windows Central. You will receive a verification email shortly.
There was a problem. Please refresh the page and try again.