Insteon for Hub Windows 10 Mobile update set to be released soon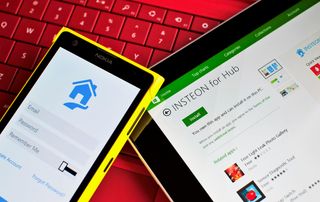 Insteon is looking to release an update for its official Insteon for Hub app on the Windows Store. This was confirmed by the social team on Twitter in response to a customer. The home automation kit has received some slack for its Windows offering, largely due to issues with Windows 10 Mobile.
But how long will we have to wait for this upcoming Hub update? The tweet in question stated that a new releae will be rolling out within the next few days, so be sure to keep an eye out through this week.
Thanks Lucas B. for the tip!
Windows Central Newsletter
Get the best of Windows Central in your inbox, every day!
Rich Edmonds was formerly a Senior Editor of PC hardware at Windows Central, covering everything related to PC components and NAS. He's been involved in technology for more than a decade and knows a thing or two about the magic inside a PC chassis. You can follow him on Twitter at @RichEdmonds.
Hopefully just a few days. Managing my Insteon Hub by WP81 phone and Windows 10 tablet. Was about to get rid of my Insteon stuff and going ZWave. Now I will wait a little bit longer.

Is there some ZWave software?

Sure.
Like the Grasshopper app (PC and Mobile)
+ Vera controller

You should have left a long time ago. I was trying to start my smart home system, but all the reviews of this app proved it's inadequacy. Add to that the missing features, lack of HD video support... Then Vera released a beta app. They are good, and the experience has been better than expected.

I've been using the Vera Plus for the last month and it's nice that they support windows. However, my suggestion would be to only get the supported products. Just because it supports Zigbee, Zwave, Wifi and bluetooth does not mean that it'll work with your connected devices. At the moment, I am using a Vera Plus controller for the windows app. But connecting a Wink hub to control my various zwave and zigbee lights.

I haven't had any issue with lights, cameras, switches, or locks using a Vera Edge - all Wifi or Z-Wave devices. If you don't mind me asking, what type of devices do you need your Wink to operate? I thought about the lates Vera controller, which supports Z-Wave, Zigbee, and Bluetooth.

I just wish Zipato would build an app for the Zipabox, even though the web-controller is pretty good.

This is seriously about time. They first mostly broke a lot of the Cortana functions in the Windows Phone 8.1 version about April last year. And then it didn't work at all in Windows 10 Mobile. I really hope they have put in the work to make this return a success. Insteon was fantastic before this mess. I could literally say Hey Cortana, Insteon, it's Bedtime and all my downstairs lights would turn off and just my bedside lamps would turn on. I really miss that.

I'll believe it when my poop turns purple and smells like rainbow sherbet.... They've been promising this for over a year now. First time they promised me this was last July, it was a few weeks away, they added me to beta team (of which I've seen nothing but two minor android betas), and they even sent me a bunch of free stuff. And I was told at the time by others on Twitter that they've promised this to them too. I hold little faith in this company to deliver on their promises.

Hey there, fellow beta team member! I take it guy also have a list of ticket numbers for all the issues you've reported that have been completely ignored. I really hope they get it back to what the app was like 1.5 years ago.

I don't know about anyone else, but it's too late for me. I switched to smarthings after a few weeks of not having a working app. Smarthings has consistently worked for me, and support is awesome

SmartThings app has stepped up quite a bit. I emailed support and they are apparentlyworking on going universal.

The only reason I'm not using Smarthings is because they were having issues with the ability to control my Chamberlain Myq garage doors.

The hardware is really nice and looks and feels high quality. But the software sucked. I'll be shocked but really pleased if they do a good job. Actually I'd be shocked if they actually have new software at all and if it works well.

Screw them.
It's been two years that I've been waiting and thousands of dollars wasted on equipment.

Hopefully I get my house remodel completed and I can start playing with this stuff! Glad Insteon finally updated the app. Will be watching to see if they keep it updated.

I'll believe it when I see it. Not only have Windows 10 Mobile users been left out in the cold by a company that supposidly had a partnership with Microsoft, but after years of waiting for them to even fix simple things like IP camera control on the Windows desktop and mobile apps, I don't have a lot of faith that this will be released for one, and two; that it will actually function as well as well as the iOS or Android apps. Even those aren't that great. At least they update them more than once a decade though.

And Insteon also released a new a hub instead of a firmware upgrade of the current hub. Hopefully the new W10M app will give Insteon some new credit.

Expensive investment to just bail on them, but insteon hardware hasn't been unboxed since I moved last year. Anything we can consider standardized yet? Zwave I thought was the standard all the brands used but then they had their own proprietary encryption attached to it so it would only work on their platform? v10

Do you know Zipabox? It is a modular system, so you can expand to support "all" platforms + more :) No app yet, but the web-interface is good.

No standard yet unfortunately. Zwave looks like the most compatible.

Insteon's limited support for Windows users is part of what led us, Homeboy Control, to develop our app. If you're looking for fast, simple control of your lights and appliances, Homeboy works on Windows 10 Mobile. Here's the link to the app: http://windowsphone.com/s?appid=16ee02f3-38b4-4840-aada-4b18a25087f7

I use Homeboy on WP 8. Thank you for supporting Windows Phone/Mobile. A great app.

Love the Homeboy app. I would be enough that it actually works on W10m, but it's actually faster and works better than the real Insteon app ever did. It doesn't have all the features the Insteon app had, but it does switches and scenes, and that's all I really need. Glad you guys picked up the ball when Insteon dropped it.

Looks like a nice app, but I can't use it because I use the previous version of the Insteon controller. It would be great if you guys could add support for the older controller.

What about Schnieder and the Wiser App. Heard that is pretty good. Posted via the Windows Central App for Android

I searched for Schnieder and Wiser and only found energy managment/temperature related apps that had extended names like "Wiser Air"?

Wiser air is the app they use. Posted via the Windows Central App for Android

I am setting up Insteon in my home and I'm pleased with it so far. The one niggle is that the Windows Phone app won't recognize my time zone so I have to set on/off times based on another time zone. Just basic math, so it's workable.
I like the duel channel communications and the fact that most of the devices act as repeaters to communicate the commands.

Version 1.2.1.16 is tested right now.

i initally considered Insteon but recently i found Samsun Smartthings andwill definitely go with them. they have more devices from different companies, Insteon would need to expand more and have devices form other companies. https://www.smartthings.com/compatible-products

Like many of the others, i'll believe it when it actually happens. They've been saying its coming for Win10 for nearly a year now. This company has a terrible track record for software support. The WP8 app was extremely buggy and featuring lacking. Even their Android app barely works.

I checked out the Insteon forum, it appears someone already got their hands on an update. Its just a small incremement (as noted by lachutm above) and there were some screenshots posted. Looks like its just the old WP8 app, with the launch issue fixed. So it definitely does not look like it will be a real WINDOWS 10 app. So basically took Insteon a year to fix a launch bug it seems.

Hearing this confirms that I made the right decision going with zwave/zigbee devices.

I don't expect zigbee and zwave to factor in Cortana support. I do however expect Insteon to debut an Xbox one app with Cortana integration this year.. Edit. You can also add some of that functionality to Insteon by swaping the controller for an isy one. And as an added bonus now u can control Insteon from a harmony remote. Finally if u get controol pads then the apps are not your only option. Really really finally. Control basic commands via the homeboy app. Also I just called this out on twitter, posted to feedback hub, called Insteon and boom 3 days later......of course it has nothing to do with me or my tin hat. Lol

Just checked on the Lumia 735 of my daughter. And the Insteon Hub app works. App version 1.1.3.3. She uses a W10M official Retail Build. Confused. No go still on my RS Fast Insider Build Lumia 950.

I've probably spent about £1000 on lighting, sensors and the like... none of it is insteon because of the chappy app... I wonder how many other tens of thousands of windows users went the route of Philips hue, Nest and Samsung SmartThings... there are great apps on windows for hue (third party) and SmartThings and everything works a treat with Amazon Echo even in UK.... Alexa, turn on lounge light, set lounge light to 70 percent haha.. love it! Posted via the Windows Central App for Android

Ugggg!! I hope this really happens. The current app does not work with my Win10 PC. I have spent so much money on Insteon products. I would love to just tell them to go ef themselves but I don't want to loose the money

Well, what do you know? The Insteon app actually opened on my Lumia 950!!! First time I've been able to launch the app since I picked up this phone last November!