INSTEON home automation for Windows and Windows Phone (Hidden Gems)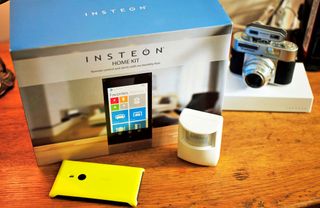 Insteon (often written as INSTEON) has been in the home automation business for a few years, going back to 2010. The company has apps on iOS and Android, but starting a few weeks ago, they released a universal app for Windows Phone and Windows. Even more, they teamed up with Microsoft to sell special kits in the Microsoft Store, complete with Windows Phone branding on the package.
Whether it is controlling your temperature, dimming the lights, watching the world through a Wi-Fi camera or getting an alert when your door opens, Insteon does it all. Because of the completeness of their system, their partnership with Microsoft and the overall coolness, Insteon is today's Hidden Gem. Watch our video review to see it all in action!
Remember, by leaving a comment on this article, you stand a chance of being one (of two) winners to earn your own Insteon Home Kit ($299) as seen in our review!
Insteon – What is it?
Home automation is finally hitting its stride in 2014. With the abundance of smart devices (phones, tablets, computers, watches), Bluetooth 4.0 LE, and ubiquitous Wi-Fi signals, having a connected home is no longer limited to programmers or those with abundant incomes.
Insteon (www.insteon.com) makes a huge line of various accessories that you can purchase for your home to control or monitor the behavior of appliances and services. The Insteon system all starts with the Insteon Hub (~$100 USD), which connects up to your router through and Ethernet plug and is powered by plugging it into your wall. Once enabled, users can then connect up the Insteon app on their phones or tablets to the Hub. Of course, the Insteon Hub is useless without sensors, so you need to pick those up in order to start building your automated empire.
Insteon has no monthly service fees. You simply buy the hardware, and that is it.
When you setup the Insteon network, you can leave it local or setup your router for to port-forward the Insteon Hub. The latter option allows you to monitor and operate your Hub remotely from your phone or tablet.
Insteon Kits and parts
Although you could buy Insteon parts bit by bit, the company has created numerous starter kits to give you all the basics. At the Microsoft Store, they come in three different levels:
Starter kit ($199 – Link

(opens in new tab)

– INSTEON hub, on/off module, motion sensor, Wi-Fi camera
Home Kit ($299 – Link

(opens in new tab)

- INSTEON hub, on/off module, motion sensor, Wi-Fi camera, plus thermostat and open/close sensor
Business Kit ($499 – Link

(opens in new tab)

- INSTEON hub, on/off module, 2 motion sensors, 2 Wi-Fi cameras, thermostat, 2 open/close sensors, 3 leak sensors
If, however, you do not want to go through Microsoft, Best Buy and even the Home Depot sell all the parts and other starter kits, including $119 'Start Here kit' that features the Hub and 2 Dimmer modules. The modularity to me is the beauty of Insteon: you buy what you need, and for just over $100 you can get a pretty snazzy kit to start the process. Do you have an extra $60? Now you can pick up an extra sensor.
Indeed, Insteon has accessories for everything, including in-line wiring if you really want to customize your house. Such optional sensors include:
Ceiling Fan and Light Control
Garage door kit (open, close, monitor)
Insteon bulbs
Smoke Bridge monitor for First Alert
Water leak sensor
Wireless phase coupler
Plug-in Appliance On/Off Module
Wireless Outdoor IP Security Camera with Night Vision
Sprinkler Controller
…and the list goes on and on. The point is, with Insteon you can wire up virtually anything in your home to fit your needs. You can spend $200 or run it up to $5000, depending on how many items you add, but the modularity is certainly impressive.
INSTEON for Hub app – Windows Phone and Windows 8.1
Insteon has two apps for Microsoft produ cts, including Windows Phone 8 and Windows 8.1. The app is universal, so the similarities between them are not by accident. The apps are, of course, free and I have had little issues with them. The Windows Phone app on occasion makes a popping noise and it does not resume so well when sitting in the background (I presume it needs to reconnect to the server). However, both apps are easy to operate and work very well, especially with the wireless camera. Considering they are 1.0 versions, I am satisfied with them so far.
Cortana is coming
As we previously reported, Insteon and Microsoft are bringing Cortana support to their app later this summer. The Cortana integration allows you to tell the Insteon system various commands, including:
Ask Cortana to dim the lights for movie time based on specially created scenes - "INSTEON, turn on 'Movie Time."
Instruct the thermostat to reduce the temperature to ensure that the house is cool upon returning home from work - "INSTEON, adjust 'Living Room Thermostat' temperature down."
Tell Cortana that you're ready for bed - "INSTEON, turn off all of the lights."
Adding Cortana to the mix is sure to make Insteon even more fun to use.
Installation
What about setting up the Insteon system around your home? From my experience, installing Insteon is a lot easier than I anticipated. The door open and close sensor was "installed" within three minutes, and the Hub required even less time. Any problems I ran into were usually my own fault i.e. skimmed over the directions, ahem.
To set up each sensor, the user launches the app, picks the room (or creates one) and adds items from the pre-selected list of available Insteon sensors. The app then walks you through the process, including helpful videos. Overall, Insteon could not have made it simpler. If you do run into a problem, there is tech support to walk you through the process.
My only problem to date is the thermostat. My thermostat is a 4-wire system whereas Insteon's is 5-wire setup (the Insteon thermostat gets power from the AC unit, not batteries). The problem is allegedly solvable by picking up a $35 Venstar wiring kit from Amazon (opens in new tab), which is arriving this week. Alternatively, Insteon Hub does work with the Nest thermostat too.
Additionally, you have 'Scenes,' which you can think of batch scripts for Insteon. In other words, you can set it up so that when you walk through the front door (open and close monitor) the lights come on (on/off module) and the HVAC system sets your desired temperature (Insteon thermostat). Although they are fun, Scenes do take some thinking ahead to plan out, but they do offer plenty of customization for the tinkerer.
Wrapping it up
Watch our video tour of the Insteon Home Kit to see some of the system in action. Overall, I am very pleased with the Insteon system. It does not break the bank, lets users configure their system according to their needs (and budget), and it is a lot of fun to setup. Seriously, grab a kit and take a few hours on a Saturday and have a blast.
What do you think of Insteon and home automation? Is it there yet or are you still waiting for it to get better? Let us know in comments and don't forget to check our other Hidden Gems!
Thanks to Mark Guim for the work on the video review
Daniel Rubino is the Executive Editor of Windows Central, head reviewer, podcast co-host, and analyst. He has been covering Microsoft here since 2007, back when this site was called WMExperts (and later Windows Phone Central). His interests include Windows, Microsoft Surface, laptops, next-gen computing, and arguing with people on the internet.
Remember: Leave a helpful comment about INSTEON, you're entered into our daily contest! Helpful comments include what you like, what you don't like and how it could be made better. Winners will be announced next week, so you can enter in at any time. Multiple comments allowed, but only one will be picked. Contest is open worldwide and the prize will be an INSTEON Home Kit ($299). Need more info about our Hidden Gems series? Read our announcement post here.

I'd like to be able to check on my dogs with a system like this. It would be helpful ;)

I have been looking for something like this to monitor my home and dogs as well. I saw the post about these being in Home Depot and the ability to just go purchase additional pieces makes this much more appealing. I have had to pass up other systems because they don't support Windows/Windows Phone.

The camera has audio output you can connect to an. External speaker, so your dog can hear you talking.

That's not helpful... Tell us why you like INSTEON home automation, and what it, and WP, means to you, and your family... :-)

Is it sometimes pronounced DOG.

Awesome!!! Goodbye ADT... NO thanks AT&T ( I'm a Customer) .. Am I allowed to name Companies??? Ha ha ha. They have been good to me, but Windows has been better( smile)

ADT is more than this. You can't compare.

I'm torn between going simple with something like Insteon and their kits or going all out with something like the HS3Pro Software. Winning this kit will help out :) Thanks!

I seem to remember there was that system called 'X11' or something for Apple devices for switching lights on and off, and also those Philips lights. This looks like an improved version of those, really. Worth 300 USD? Well, we'll have to wait and see.... ;p

X10, which has been around since the 1970s. It is a bit surprising that home automation hasn't been more popular, as most transmission problems that plagued earlier versions of the technolgy was resolved by the 90s. (X10 is a powerline technology, where Insteon is a dual RF and powerline technology making it even more reliable.) In 1997, I automated all our company locations and buildings with X10. It worked brilliantly. I could pick up any extension or even call the system from my cell phone and punch in touchtone commands to open locks, open doors, open windows, turn on/off lights, adjust heating cooling, sound alarms, control music playing (CDs), etc. There were also remote and computer software interfaces to control everything. It is great to see a company like Insteon work with Microsoft to make automation technologies more common and affordable to the average home user. When you think about it, it is silly that our cars have automatic locks and power windows and our homes have virtually no basic automation. Especially when the automation level of technology available rivals what seemed far fetched in even the "New Generation" era of StarTrek. Beyond the kits Insteon is offering, be sure to take a look at the complete range of products and what is possible to automate your home at Insteon's website or even other Home Automation sites that have additional devices that works with Insteon technology.

You would make good salesman. For serious, I could picture you being the genius behind Gilette's intitial pitch to an alien race. "Hey, you could go to the barber, but why do that? The potential for the "huemon" to knick you is too great. Instead, you could do it yourself with our best ever slice, the single blade razor!" Then you'd be lined up for at least 100 years worth of innovative sales. Now who's building that spaceship?

I never automated things to that extent, but I agree that x10 was a great system. This gives me hope for something practical and affordable. I was always so envious of Bill Gates' automated house.

This would be perfect for the new house I'm buying LIKES: I love that it'll work with Cortana, buy hardware and you're done, works with Nest Thermostat
DON'T LIKE: Home kit seems a bit bare, would love for it to include more sensors
IMPROVEMENTS: Have it work with various connected appliances (Refrigerators, Ovens, Washer/Dryers, etc)

Speaking of Cortana, why do we have to state "INSTEON" before using a command. I thought Cortana was supposed to be intelligent enough so I could just say: "Can you turn it down in here a degree?" "can you" = Cortana control
"turn it down" = recognize insteon app
"a degree" = background adjust -1 degree based on measurement setting Fahrenheit or Celsius without opening app Cortana responds, "A bit too warm? Alright, let me turn that down for you." While displaying a glance of current settings adjusting to new settings. Then quickly resuming whatever it was we were doing. Feels too much like Google... Not like what I imagined Cortana to be.

This does not work with today's location technology (one been used commercially) if you have separate thermo controls in different rooms as there is no way to know which room you are in.

Actually, yes, you can get individual room/zone temperature sensors and HVAC vent actuators that allow one to create individually controllable temperature zones. http://www.insteon.com/thermostats.html This Insteon stuff looks really interesting, especially for our new home in the forest. perhaps we can setup one of the cameras as a squirrel-cam?

If you had music playing 'turn it down' could be perceived as the volume as well, it's better to be more specific then have it not work half the time.

Haha, I like that, guess soon it will be implemented like that. Cortana is getting better day by day. I like the concept of home automation but unfortunately both Insteon and cortana not available in India, but there are WiFi lights and cameras, so can build something similar on our own.

I'll love it this can control my shower, flush toilets n control all the appliances ( i know it can control lights n fans) to save energy cost (monthly bills).

And also your toilet paper to clean your ass as soon as you ask Cortana "INSTEON I am all done with shits happening around"

I think INSTEON needs devices with non-specific functions that can be assigned... A simple example would be a door sensor bit give the ability to add a custom label if you use it on something other than a door (more advanced examples would be like water level/pressure switches to operate a pump, etc). My house is in a rural area without access to traditional utilities so i have a number of non standard devices to control.

Not sure about the Hub but with a Controller you can name a device whatever you want

This looks incredible. My dogs might be able to be left alone finally!

I originally started dreaming up home automation plans with arduino. But forget all of that work, insteon made it easy and for a lot less than I thought. I'm on board with any company that is on board with the windows ecosystem!

Yea, I looked into Arduino as well, but that is alot of customization that I dont have time to do. Plus they dont look very aesthetically pleasing.

With a baby on the way this would be super useful!

It would be great to add the option to go wireless, for us apartment dwellers.

I'd love to see the entire system work flawlessly with my Nest, but also am curious if the cameras can work with my Synology Diskstation.

Insteon is a front runner for me. I looked at several disparate systems to create automation, but yeah, this is kitted and slick.

Sounds better than SimpliSafe, in that it seems to allow off-site monitoring without paying a monthly monitoring fee to anyone. BUT, Question: Will Insteon handle outgoing off-site monitoring of alerts (for example to WP 8, 8.1) without an active computer connection, for example via EITHER transmission to WP 8.1, OR transmission to my e-mail, OR transmission / accessing the internet through my wifi hub to my usual nearby (friendly) neighbor??? (Because it is not practical to leave a computer hooked up and running when I am away.)

INSTEON is the gold standard networking technology for the connected home. It is a dual-mesh control and sensing, remote control technology. Lighting control, leak, door and motion sensing, garage door control are amongst the most popular applications. INSTEON's sister company is Smarthome.com. In business for over 20 years, INSTEON's creators have more experience and customer feedback than any other team in the world. INSTEON uses a unique, dual-band approach to provide reliability not attainable by single band technologies. Using both the existing wires (power line) in the home and radio-frequency communication, INSTEON adds remote control and automation to lighting, appliance and home control applications of all types. From lighting control to integrated security systems, INSTEON allows you to manage your home the way you want. Easy to install and set up, INSTEON offers the flexibility and dependability to make life more convenient, safe and fun. Over 200 INSTEON products mean that virtually any control or sensing solution in a home or business can be accomplished. Millions of units in the field and the INSTEON's team's passion for perfection have led to the highest quality and most reliable product line available.

Wow. I have been thinking about getting at least a home security camera and other security type sensors. My whole gadget ecosystem is Windows and to see someone dedicating efforts to the platform like this is awesome. Great idea about the MS partnership also. I'd love to have one of these kits! With 4 kids and both myself and my wife working this would be the perfect way to keep an eye on the home during the day, especially once school starts again. Though I'm sure I won't win a random drawing, I'll have to try and fit this into the budget soon!

One nice feature to have would be access control such as door locks. But it sounds like a great start and a smart partnership.

There's been some neighborhood kids threatening to damage my girlfriend's house since her family won't let them drive their trucks through their backyard, so this would help keep an eye on them!

I've always wanted to get into home automation, but the entry price has been too steep, not to mention not supporting WP. This has me interested.

This is absolutely perfect for me as an avid WP8 and Windows 8.1 user. I'm moving house shortly and am looking for a security camera system to monitor the back yard.... was planning to get a IP camera and hadn't really thought about the rest, but this is ideal!!! :)

Hi, Is the solution global or just confined to the US? Different countries have different power standards - in terms of voltage, connectors, etc. - so is the kit equipped to handle those differences?

The Windows Phone version of the app will not work with NEST. That is a feature only avaiable to iOS right now. :-(

Finally! A home automation system for Windos Phone has arrived. I've been waiting for one for quite some time. Insteon did a realy great job on their app, considering it is a 1.0 version, and the fact that they made it availabe on windows phone and windows makes that much easier for user to control their chosen "appliances" (i.e. Ligths, Garage doors, Sprinklers, Ceiling Fan, etc.). Can't wait for Cortana integration, that will just improve the useablity of the whole system and will aslo make everything more fun. Maybe Insteon does need to make a few tweeks here and there (on the thermostat mostly) but overall nobody can say that this system is not good, when in reality, it genuinely is a very good home automation system.

Hi Daniel. Have you announced the Hidden Gems 2: Hardware winners yet? I had a good look around the site but couldnt find it. thanks.

Looking at this to replace my DropCam since they don't support Windows Phone. Wonder how useful as a baby/toddler moniter their cams are

The Insteon cameras do have microphones built in with audio in/out port too. It's pretty crazy and you can add as many as you want.

Are the INSTEON cameras just relabeled Foscam-type cameras? They look almost identical, and wondering if the hub will work with my 2 Foscams at home.

They are basically relabeled foscam ones. I picked one up and the interface was almost identical.

Can you clarify though? Were you able to use another Foscam camera (like the FI8910W) within the INSTEON ecosystem, or are they only supporting that one specific camera (which I believe is a rebranded FI8918W, which doesn't have an IR Cut Filter)?

I have the hub and have two foscam cameras and they work with the hub perfectly. You can use them as motion sensors to turn on the lights.

I contacted Insteon support to ask about this as I was hoping to use some of the newer Foscam cameras and their response was that they may or may not work depening upon the specific model and firmware version. They said they didn't have a compatibility list to say what works so I would just have to try it. (I don't have any of the equipment yet, I was just trying to figure out my options)

I'm currently using this as a baby monitor so I can give you some feedback. For the most part it works great. The night vision is awesome, the picture is very clear even in the pitch black. It's also really nice being able to move the camera using the controls. With that said it lacks a few features of dedicated baby monitiors (we've used two different dedicated video baby monitors in the past). The audio is either on or off, it doesn't have a mode that mutes the background noise and only comes on when the baby cries. This is a great feature of a traditional baby monitor but this unit lacks. Also, if you navigate away from the app sometimes the video freezes when you go back. So you just have to go back to the main page and then reselect the monitor to get the live feed again, it's a minor annoyance. Finally, it sucks down the battery of my Nokia 920 pretty bad so you can't use this for a long time with your phone. I've also tried using it while my phone is plugged in to charge and the phone gets super hot and the battery will contine to drain. Hopefully they'll optimize the app so that I can use it overnight when the baby is sleeping. Hopefully this helps.

You can use the (unofficial) BUDCC Dropcam app from the Windows Phone Store. I use it, works like a charm. Developer did a great job on it. Edit: Sorry, not being too helpful here towards Insteon ;)

Won the first Hidden Gems and now about to enter this one. Am I too greedy? Lol :p

Yes! :P Still hoping to win one...

Making home automated or remote controlled is great idea... I like to be able monitor my house from somewhere else.. I also like to be able turn on/off stuffs though being away from home. And I all I need to do that is in my pocket! That's awesome! Just imagine a frosty winter afternoon when you come home, you want a hot shower, but wait! You forgot to turn on the water boiler before leaving! So what now? It's time to let remote controlling do its job, right? Nice product, comes with quite affordable price, however, regional availability is a problem. :/

Yes yes! You're banned from commenting here...hahaha

Lol XD *sneaks away from Hidden Gems 2*

I am really interested in the part about controlling thermostat so definitely the home kit. I think it is a great idea that these are being marketed particularly for those of us that feel no inclination to buy a product owned by Google.

Controlling anything in your house via a mobile device (Windows Phone in this case) is incredible. Also the fact that its available on this rad OS I another amazing fact. Thank you Insteon for being such s cool brand/company. Hope one day I may work for you :)

Controlling everything online is cool, but is it secure from hackers. Just imagine you are not allowed to get inside your house unless you pay the ransome. You are screwed! LOL

I more interested in home lighting automation of the Insteon... It's good to ask Cortana to switch off all the lights of my home when I get to bed... Insteon really makes a home smarter to live in...

Now that's an awesome idea!!!

I'm interested in the thermostat part too. It would have been great if Daniel would comment more about the setups needed for the system to work. One problem I have is that my appartment has too few electrical outlets and the Insteon switches are good just for one appliance per switch. Multi tap would be great for me.

Buying a new house here soon and was thinking about decking it out in automation. This makes me happy to see a higher integration with MS products. May end up going this route instead of rolling my own. And I'll definitely go this route if my comment is chosen for one of those two packs. :)

A very well idea for hone automation with Cortana... Just hoping that ghosts in my house doesn't take control of my phone... It would be scary... Lol...

Just tell Cortana to get rid of the ghosts with home automated anti-ghost machine-guns lol :)

You will want to make sure that your house has modern wiring, not sure what you are looking at. most Insteon deivce require the white Common wire. Also pay attention to how many three and four way lights the house has. It is supported with Insteon but can be a bit tricky to setup at first.

How is this a "Hidden Gem"? It's very prominently displayed and promoted by Microsoft at their Retail Stores.

Because chances are, many people don't live near a Microsoft Store. Likewise, until you see it in action or how it all works, you may not know that this kind of stuff exists. I never heard of Insteon until we wrote about it.

I've noticed it on the store before but never really knew what it was untill you guys wrote about it. Agreed though, nearest MS store to me is about a few hours away lol.

Yeah... India has got no Microsoft stores till now... Shouldn't Microsoft rebrand all the Nokia Stores to Microsoft Stores... Would be so awesome...

I pop into my local Microsoft Store nearly every time I'm at the mall, and I had no idea what Insteon is. Thanks for the review!

Netherlands doesn't even have a MS Store...

I'm pretty fond of my Insteon hardware, but my biggest beef is that the Windows 8/Windows Phone 8 apps only work with the Hub, and the Hub is a cloud-connected thing. Which makes all of it worthless to me. I expect privacy and control over my home automation hardware. Thankfully, Insteon has other control software, like HouseLinc for my PC. But no good mobile solution to connect to it.

Then you should switch to using the ISY994i which is a controiller and supports port forwarding. I almost went with the hub first but decided that the ISY was way more powerful for my needs.

There's no reason it shouldn't be possible to offer this through a PC. It makes no sense to spend $300 on another device.

To me it makes sense because I love the idea of a stand alone device to do its job and nothing else but that is just me. You can also do it from a PC. The same PowerLinc modem that is connected to the Controller and plugged into your outlet can be connected to a PC. Then just use the HouseLinc Desktop software to control devices. There are also a group of guys building a Windows 8 app to control your devices directly from the PC. I can't remember the name of the app they were creating but if it comes to me I will respond with it.

Right now I have a PowerLinc modem connected to my PC. A standalone device isn't ideal, because it's limited. In a best case scenario, well-written apps on a PC should allow you to connect your Insteon stuff with other stuff. For example, by starting a script you wrote based on an INSTEON trigger. Standalone devices aren't flexible enough. Also, as I build new computers, the old ones get relegated to lower power tasks. So, for instance, my home automation stuff is run through a machine that I used to use for other things, but no longer need to.

That is a very valid use case with connecting to other scripts that you have on your PC. I use SnapSwitch to connect my PC and Phone to my controller. I would check with those guys and see if they can add HouseLinc or if it is already supported.

Just remembered the guys making the Windows 8 app are Homeboy Software. Not sure where they are in the develoment but it sounded pretty cool what there were doing. And they were using PC to powerlinc modem for control.


Looks like Homeboy is going the "cloud account" method. :/

Ouch, my bad. Check with the cats at SnapSwitch.

It would prove a very nice alternative to some other costly solutions. Nice way to keep your home with you always.

Two not so obvious things with this: the hub is just a bridge from IP (including your phone) to the world, so you can use it with the HouseLinc software to trigger if-then type automation, and do advanced programming. Also, switches, keypads and other controls continue to function even if the hub dies - and in fact you don't even need the hub, you can just use the switches, dimmers and keypads on their own. The hub just makes them mobile and remotely controllable.

It all went overhead... Just let me get me an INSTEON...

Program it yourself? That's sick! :D

if the hub dies how would i control my devices than the old fashion going up to device? maybe a silly question but for me its not

They sell switches and remotes. You pair each remote with each device by the button on the side of the plugs. I use the remotes as light switches that don't have to be wired. No hub needed. I have the hub plugged in so I can use my Lumia 1020 to turn on the lights.

Sounds like a really good idea. Connected living is a thing that I'm very interested in - if only I could get my mitts on one of these!

As the w8 app is nice id love to see a whs 11 dashboard app

Looks like they have quite a few different sensors. I wonder if they support any other IP camera's other than the insteon branded ones, as it doesnt look like they support PoE.

I wonder if they have warranty on their devices... No detailing about the warranty of the products in app or in article... Or maybe I didn't read it carefully enough...

They support a couple of different ones I am using two foscam ones with the hun

oh Vaya! excelente aplicacion y me causa demaciado interes al sable Que se integra estafa Cortana: D! uno de los Puntos de Encuentro interesantes es que se puede adaptar a los Ingresos de cada persona ! Vamos porción esos Hidden Gems ^ ^

I've never used it before, but I could think of a few situations where it could be handy. I probably would never spend that kind of money out of my own pocket but if given as a prize I would put it to use.

Well... would it help me catch a ghost or a poltergeist???

You can find the starter pack for $99 two plug in dimmers and the hub.

This is definitely helpful for those people who have a simple house setup (no garage doors). The modularity is what makes this system phenomenal. Both low end and high clients are cared for.

There is an insteon kit for the garage door.

It's also great for the renter! When you pull up stakes and get a new pad the system moves with you.

First thing I do when I buy a home, make it smart. Anyway, how good is this wireless? Can it be repeated? Article was a little vague on size of home this will work with.

I have't had too many issues, but if you do run into a problem they do have extenders to boost the signals to the rest of your home.

Awesome thanks... I've had luck with repeaters for everything but wifi. That's why I ask.

Additionally, INSTEON's "mesh" network has every device acting as a repeater -- receiving and sending every message to all other devices on the network. So instead of stressing the network by adding more INSTEON devices, you actually strengthen it.

Most devices use a combination of RF and power line communications for extensive reach. Each device can relay the signals.

Guess I'll throw my hat in the ring, too. I'm surprised that a smart home system this mature is also compatible with WP/W8. It always seems like Android and iOS get this stuff first. I'm not sure I'd need stuff like leak sensors but, man, in the winter, I'd love to be able to remotely turn up the thermostat before I get home. That way the apartment is toasty so I can defrost!

Hope it is easy to remove... Renting can be a pain for us future dreamers.

I'm a renter ;) Even thermostats are easy to swap in and out in 10 minutes. I mean, you don't want to be doing inline switches, necessarily, but most of it is super easy to add/remove.

How about the National Electrical Code !!!

I don't think you will have a problem doing so... Coz You are #manofsteel

The kits include plug in dimmer modules. You can buy led light bulb that include the modules also.

Looks to be very well thought out. I could definitely use something like this. Would be especially cool when you're away on vacation; check on the home, turn on lights and ac before you get home, etc...

Now I could definitely use this, I like the integration with MS products. Being able to check the thermostat and all would be useful.

If you think you can win with these "comments", I have real bad news for you...(including you're terrible at reading directions).

Is this just an American thing, Home Automation that is? Don't really hear much about it in the UK, especially it all being connected and controlled by your phone.

I know right. The idea of home automation is still very new and kind of novel-ish in my country too. But as a technology geek, the ability to control things in my house remotely via my smartphone is super cool. I mean, how awesome is it for us to be able to do the controlling using our voices via Cortana?

It's all very cool, but the old man in me wonders how secure is it all, with everything being connected at home to WiFi. Also lending your phone to a mate could end with you coming home to a house like an oven.

Honestly, it's not particularly huge in the States either. The systems have been around for decades now, but only in the last year or two has it really started to catch on in any sort of noticable fashion. It's certainly a growing field, as evidence by the popularity of Nest, but right now it's definitely quite small. I think part of the more recent adoption is related to the fact that everyone has smartphones now. It'll be interesting to see how that changes in the future.

Wow I would love this, controlling your thermostat from your bed. Never have to feel too cold in the Canadian winter again.

I can't wait to try this out.

Well,I wrote pretty long reviews on all the hidden gems articles previously and didn't win anything(not complaining). Would have reviewed this as well but looks too complicated for me.Sorry but maybe I'll try again next time :)

We never did ask for reviews ;)

I know,we had a long discussion about this before and I even made it in bold letters that I'm not complaining.I'm not angry about it at all,at least not now(maybe I was before).I just commented here just to let you know(if you remember our previous encounter) that I'm still very much interested in hidden gems, prizes or no prizes. Just cant review this one because it seems too complicated for me and something I probably don't need. No hard feelings, I'll be there in the next hidden gems, if the app interests me, have no doubt about that. :)
Always there, prizes or no prizes.WPC FTW! :)

This looks nice. Maybe I should get into home automation. Posted via Windows Phone Central App

I have no experience in home automation, but I sure would want to dive into this stuff! Furthermore, they support Windows Phone! Awesome!!

app has a beautiful design. And kit is just awesome you are going to be able to control your thermostat with Cortana just Wow

I'm a big fan of the different bundles. Haha I wouldn't mind one for my room, my brothers are always "borrowing" things

With all this talk about Apple, its refreshing to see other companies supporting WP. The nice thing about modular systems though is you don't have the replace everything it if breaks. Some vendors out their combine everything so parts become twice as expensive and have to be replaced twice as often.

A friend of mine just started to use Insteon and he is loving it so far, one thing he noted that he would love from the app was the option to schedule different time for the motion sensor, but he is happy with it so far and the app is working on his 920 and his Surface 2. I'm just waiting to get mine from the microsoft store in about three months.

Futuristic but a little lazy. I hate to tell an app to turn off lights instead of going to turn it off by myself.. Anyway it's great for those who are lazy and can't move.

That's where you hook it up to a motion sensor :P But yeah, there is a "lazy" element to all of this too, lol

Just to turn on one light, yes. But instant access to certain times away or other group settings can be handy.

You can use these with remotes that are basically one big switch. No hub needed. Great for adding a light switch with no wiring needed.

I really would love to have one of these. It is very innovative and seems like a great deal. I would definitely use this if I won it

I'm looking forward to changing to INSTEON from Nexia when my current subscription with them is up. Seems like they have most of the devices I need except front door locks.

This would be great! My wife is often freaks out in the middle of the night because she thinks there is someone in the house, and this would go a long way to increase the amount of sleep I get. I like how you don't have to pay a monthly fee. That is a HUGE bonus for me. And with Cortana support coming it just keeps getting better. Now if I don't win all I need is to find some $$ and then I'll be set. Thanks for the contest WPC!

I would love to deck out my home with an Insteon kit. Can't wait to get my hands on one of these sets.

I would love to win this kit. Have been looking for a way to cut costs with electricity and this is a perfect way to do it. Please help a growing family out WPC.

I'm most excited about the Cortana integration. Hopefully, it is seamless and develops as the product gets more mature.

Wifi camera can't wait for the Cortana integration. Technology is taking us forward. Would love something to take and do for me stuff and INSTEON is the way forward

I really like the Insteon setup and their partner with Microsoft. I'm looking to get it for my new home here soon. Price isn't bad at all, but still something I have to wait on. Unless I win it from WP Central of course! I've seen so many good reviews about it and I'm excited to try out soon. Good review WPC!

i would love to have such kit and utilize it for kids safety/monitoring. shall look into more details about it

By chance do the sensors (or any home automation system for that matter) use sensors like iBeacons? I know article explained batch trigger but that's just basic motion sensing, I'm talking Bluetooth\ device sensing.

I am actually looking into developing a device for this exact scenario... Already bought an Insteon shield for Galileo to play around! Now just need some motivation.

Hub app only works with Insteon hub controller and not the popular ISY controller. Wishing the app could play nice with ISY so I don't have to choose between the two.

Wow this is awesome, love all the Windows compatibly!

Been reading about insteon for years now, glad ms started is supporting it, would be great to win a starter set, to get me started

This would make sense for people heavily invested in techie stuff for their house, but I'm not sure if it would help someone who prefers to water the plants, turn on the lights, etcetera manually.

I'd like to see this in action after the Cortana integration.

Looks neat, would work really well controlling my house

Home automation, in our near distant future everyone will have this!

Wish they had a door lock, so you could lock and unlock the house from the from phone.

Cortana integration incoming is also huge!

Snap switch app already has it!!!

The only thing that I'm not a fan of is the price.

Non standard and closed source is my biggest concern with Insteon.... If Apple/Google teams up with an open standard.... How long will Insteon be relevant in consumer home.

It's not cheap, but also not expensive. It's one of those things where you can get nickel and dimed to death if you can buying accessories. And those LED bulbs aren't cheap if you have a big house.

I stay in South Africa. Emagine the shipping costs I would have to pay to get a system like thisgoing in my home. Its not impossible, but for the avarage Joe living outside the US, this system is very expensive.

All of the features demonstrated are well and good but I would like to see some stuff that simulates what you do with house keys. It would be really cool if they made replacement locks or something so that you wouldn't need to carry your house keys and enable you to open your doors with your smartphone. Although if you run out of battery... best keep your house key as a backup. hehe Also, integration with IFTTT could also be interesting for numerous reasons.

Take a look at the INSTEON Morning Industry RF Doorknob/Deadbolt Controller. It allows you to use INSTEON-controlled devices to lock and/or unlock Morning Industry RF Deadbolts and Doorlocks.

Any info, if the interfaces are working for all countries? The thermostats work different in US, then in The Netherlands.

That sounds pretty awesome, tbh. I can't wait for a future where we can control everything in our lives through not only a single device, but from any single device. Microsoft's making their services cross platform and is expanding their impact in the internet of things. I wonder what happened to that home automation start up they bought though.

Moving into a more and more connected world, it's nice to see how well INSTEON integrates with Windows Phone. Kudos, guys!

So happy to see this come to our platform! Now we just need Nest!

The cortana integration will definitely add more value to insteon and work great with it

I would love one of those kits. Especially the thermostat control. Mine is junk. It would be nice to be able to change it on the fly like that.

Looks like a great bit of kit. It reminds me a bit of this kickstarter from a UK startup - https://www.kickstarter.com/projects/815934496/lila-the-ultimate-in-blue...

This seems like a Great way to control your home. I mean who wouldn't want to turn off the lights without getting up or watch your security camera through your mobile phone. Sure other apps can do one of these things. But one app that can do both and a lot more for me is a must have. Its clear that if you want to make the most out of this app you'll have to spend a pretty big amount $500 for the full thing. But I like how the starter kit is a much more reasonable $200 for those who don't want to go all in right away. And the upcoming cortana feature should be great and will definitely let you show off to your friends. Posted via Windows Phone Central App

I would really like to try this things, they look pretty nice

I can't wait to replace my Nest thermostat with this. Nest app for Windows phone is following Google apps suit. Looking forward to jumping ships on home automation to a Microsoft friendly environment.

This could come in handy to protect my animals in my backyard since we had problems earlier when our goats were stolen and also in Belgium there is a person who abuses horses for soms sick reason so any motiondetector and camera could record that situation and perhaps even scare those people off with bad intentions!

Insteon as cool led light bulbs - http://www.insteon.com/267x-led-bulbs.html

Thanks Daniel I may get this for my office and home.

This would be interesting: especially with a 5-yr old & a 2-yr old. Not sure what my landlord would say about it though! xD

Hope that comment enters me in contest

Can it control any window AC units?

If you use the plug in on/off module, sure...

Mi casa and Grasshopper app!

I love Insteon, had a fairly large setup in my previous house but lost it when I sold and the buyer insisted on keeping it... Fully loaded with dimmers, keypads, isy99 controller, console controllers, media center and harmony remote integration, and my own self built web service... Will come back to it soon I think!

Likes:
-Support for windows and WP.
-upcoming integration with Cortana.
-I can use it to see my home from anywhere in the world.
-And the best of them: You guys are giving two away for free. Dislikes:
Not so easy to install I think.

How is it not easy to install? The $99 starter kit is two plug in dimmers and the hub.

Yes but the sensors aren't and in a house where you have kids anything could break easily.

This would be really handy with our birds, especially with our unpredictable island climate...

I think they do have a door lock, just check on smarthome.com

I stopped by Best Buy today to get a hands on with the components. I noticed the stock they had on the shelves mentioned compatible with ios and android. I hope this applies only to the software. I'm tempted to purchase the home kit online just in case.

Yup, only software. Their hardware is all the same part numbers.

Wont it be awesome when the lights are Off in a room where no one is and On where people are so that energy can be saved. Ofcourse that can be change via the app when u want to dim or turn out the lights. The appliances should also detect how much power is consumed. That would be cool. Go Green!

"The appliances should also detect how much power is consumed. That would be cool."

I'm pretty sure they have that, or at least the monitor bit.

I too agree that this seems like a great Internet of Things innovation! INSTEON looks promising and I look forward to use it :)

This is defintely something I would look into. I honestly never thought of home automation, but with rising electricity and water costs, I would love to put something like this to work. Monitoring the sprinklers, setting timers on our porch lights, and our interior lights for when we are on vacation so people think its occupied. I could finally replace my shoddy garage door opener from 1927. So many times when I pushed my garage door button to close it ended up going back up, only to find out 10 hours later when I got home. With this I could see if it was open or closed! However I am not a huge fan of Wi-Fi for security, and would like the option of wired networking for the security cameras.. The fact that you can buy components individually is an awesome feature. I may not have looked into home automation, but home security has always left me wanting to try it out. Especially with crime rate on the rise in my neighborhood. In fact someone tried to steal my 1990 Dodge Ramcharger, got it halfway into the street and what I will assume was left there because they didn't know how to drive a manual. Cops said they couldn't do anything as nothing was stolen and no witnesses to the attempt.

The INSTEON camera's support wired networking.

Wish this kind of stuff was more affordable. Looks awesome.

Ok, I seriously want to win! It would be really cool if MS made a Cortana Jibo like device for this. I would so buy that in a heartbeat.

Very happy to see MS support. Hands down ny favorite part is how modular it is. I am not sure if was stated in article, but are all parts accessible remotely? Looking forward to installing this.

"are all parts accessible remotely?"

Yup. And they can be put on schedules with SMS alerts.

I would love to install a system like this in my apartment. Having the camera should help me catch the jerk who steals deliveries from my building. WPCentral, help me catch the perpatrator and get justice! :)

Technology is moving at such a fast pace! I would not mind once of these they look sweet! Kudos to the WP central team for supplying these for is for free, good luck to all entries!!!

Love this setup.
friend has it and it works very well

Home automation is the future! I'm really excited to see products like this begin to pick up steam. And finally windows phone support. I'm gonna have to get one of these kits yo! Also, excited for Cortana integration!

Pretty Cool. I wish they had some pool control equipment.

Will this kind of technology ever come to my country. Maybe if I get first prize on contest.

I am currently remodeling my house and have been looking at Insteon and MiCasa, better windows phone support is a major factor in my decision. This certainly leans me toward Insteon.

I really like the fact that you can turn on lights and devices remotely. A few things that bother me are the fact the app is slow to resume and Cortana hasn't been integrated yet. Also, it is somewhat difficult to set up if you want to be able to control your devices when you are away from home.

I've been looking at the Insteon stuff for a few months now. I wish there were some lights like the Hue that were out of the box compatible with the system, but that's a small complaint that I'm sure Insteon will address in future accessories.

Yeah, Hues are on my to-buy list too.

I've been looking for a solution with an app that supports my ecosystem. If I don't win, I'll just get a kit myself. Great stuff!

I am super glad that finally Windows Phone is getting noticed in the home automation space with Insteon. Since we had a break-in a few months back, our only response was installing grills which makes the house looks "very confined". We have been scouting around for some solutions but most are iOS-centric and doesn't offer WP compatibility. Thus, this is really good news indeed and the zero-monthly makes it even better! Just hoping that Insteon scales faster and start looking at outside of the US market by allowing international shipment for their products. There's a vast WP audience that is clamouring to make even better use of their WP and Windows devices within their home ecosystem

They already offer products for the UK.

I was trying to remember the name of this system yesterday while talking to me dad, an obsessive security freak

I'd like to see integration with my Nest. While ill eventually replace the thermostat, the ability to connect to other company's tech would be awesome. (Well insert foot in mouth, just read it does support nest)

Yup! Already works with Nest.

Not yet, only the iOS and Android version supports NEST. INSTEON did say NEST support is coming soon for the Windows platform.

I like the fact that the system is affordable- $500 for peace of mind for your small business is a pretty small price to pay. The only thing I wish this had was a workaround for people who don't have a lot of customizability in their space, like apartments or dorms.

i want that shirt so bad. :(

This would be useful for the garage door sensor. I get halfway to work some days and wonder if I closed the garage as I pulled out of the driveway.

I wouldn't mind having a camera at the front door with this system. I live in a 3 bedroom townhouse. I'm kinda lazy, so having to treck down three floors to get the doorbell is a pain when its just the UPS man dropping off a package.

I'm renting a house right now and don't see myself staying for very long so these systems don't really apply to me yet. But I am excited about the amount of development and availability in the home automation catagory. I'm especially interested in being able to remotely control the HVAC system, that would be awesome. I really like the way INSTEON has setup the equipment and apps to be simple yet very customizable (at least from what I've seen, since I don't have the equipment I can't speak to how well it actually performs). I can't wait until I get a more permanent living situation and can start tinkering with this stuff.

I'm so happy we finally have support for connected products, like this one! Thank you devs who made this and people of this company! The app UI is clean, and has lots of features!

It looks very nice. Also a good home package for starters. I would like it to have more security features, like compatibility with perimeter, and other type of alarm sensors, event-driven triggers and support for strobe sirens.

I Currently have ADT . I have had it for over 20 years with no break ins( Thank God) . I am a Windows Phone Devotee . 1520 32 GB Current devcie . THIS!!!!! is what I have been waiting for. I love Cortana . That is the icing on the cake. I and everyone I know will own this system.Ha ha ha ha!!!!! Gimme Gimme Gimme ...lol Detroit ( SuperCity) USA!!!

Will these products be available in the Benelux/ Netherlands shortly? I've been waiting for ages for WP8 support.

It would be pretty cool if they could make some of this open source, so developers could add on they own products or own automated code. Also, would like to see the addition of an automated coffee pot

They do. You can buy a kit so you can program yourself.

I previously used an open laptop and remote desktop to monitor my dogs while I'm at work. They used to make a lot of noise and actually got me evicted from my last apartment. Using webcam and remote desktop, there's just too many steps and potential for one thing to fail and the chain breaks. With a system like thus, I could monitor my dogs with peace of mind that I have a reliable system. In addition to streaming and monitoring, does the insteon allow recording, either due to a sensor (e.g high noise) or on command from the app?

"In addition to streaming and monitoring, does the insteon allow recording, either due to a sensor (e.g high noise) or on command from the app?"

Sadly, no. Not sure why they haven't implemented something like that yet, but I'm sure it could be done at some point.

Disappointing, but still a very useful service

Actually I've been looking into the same idea: using the webcams to record any motion detected. A rep said that any sort of scene can be made, therefore I can have the motion sensor trigger the webcam to turn on and then the webcam to record. The webcam is able to save those clips into a folder onto your computer (unfortunately no cloud). I figure I can configure the webcam to save into my dropbox folder and have it accessible that way.

If there is or will be a way to communicate to your house through your phone/tablet microphone while you are gone...that would be awesome. I would love to try out the starter kit.

I think that it's interesting how we're getting closer and closer to the "internet of things" many have already talked about. I wonder what will come after home automation. It would be pretty Amazing to have something like Smart clothing, that sense heartbeat and stuff like that.

Technology is moving at such a fast pace! I would not mind one of these they look sweet, also the Wi-Fi camera would be so handy for me because recently(month or two) someone tried to break into our house(failed :D) and he used the one insecure window so I would love to set up a camera here for when our family is out, we can rest assured some idiot won't break in and if he does it'll be the last house he breaks into! Kudos to the WP central team for supplying these for is for free, good luck to all entries!!!

Which is the insecure window lol jk. Good to you too my friend :D

Going to buy one of these, but getting one for free would be even better.

Wow this is incredible, smartphones are becoming so much more in todays age. Over here in the UK, British Gas has an app for controlling boiler systems, so you can control temperature. Insteon reminds me of this and how incredible the potential of Windows Phone, and by extension Xbox and Windows will be. Imagine telling Kinect, 'Xbox turn heating off' before leaving for work. *mind blown*

"Imagine telling Kinect, 'Xbox turn heating off' before leaving for work. mind blown"

Agree. Not saying I know anything (I don't) but Xbox One is being opened up for developers, and Insteon has a partnership with Microsoft...so they'd be crazy not to be thinking of this too.

I am really excited to get this, but I really wanted to get a hands on before buying. I am hoping they have a simple display at the Microsoft store for me to check out our in person.

I would use this for my home office.

It would be cool to get it. its not listed on the microsoft canada website yet. so it may take some time to roll out to canada. as uaual good luck to the winners :D

Next purchase for this guy! Or maybe not...

there are so many customization options! thats great! ive never thought about automating my house's sprinkler system through my phone, among other options. how clever. :P

Impressive technology although I don't find to be useful for me. The camera looks fun.

I have a very useful comment. I want to know when will it be available in the Dutch Windows Store (we all speak English so no problem if thats the only available language) and will the thermostat work with my type of device because I want to buy one. I am not a thermostat tech guy so it is good to put some information of the kind of equipment that will be supported in the Netherlands because I heard equipment in other Countries might be different. So when I buy one I want to be sure it works.

Since seeing these come up, I have been quite curious to try them out. I like that you can build to suit, I would want to start with a couple pieces and build it as I see fit. Also, since I work in the insurance industry, I think that the smoke/fire?/carbon monoxide?/garage/water leak sensors + security cameras are fantastic and hope that more people take advantage of this tech - it can help save lives and your stuff! I also wish I had something like this a few years ago when someone broke into my place and took my KONA hardtail (still angry about this).

I'll love to own one #INSTEON

Home automation is a definite factor in the future (and now!), I can picture an open standardised format, as some companies are using now, so you can mix and match to use exactly what you want and at your desired price point. Having said that, INSTEON have got a hell of a lot going for them by making a slick collection that runs smoothly together and backing it up with w8 and wp8 support makes it get my support over others! IMO, the security side that INSTEON covers is far more useful than dimmers etc, although they become useful when combined with 'if this then that' commands A.K.A. Scenes. Most of all having a wireless system like this that is easy to install makes me want it, but despite it being relatively cheap I find it hard to justify! I reckon that will be what holds these system back from the mainstream.. for now.

Thanks Insteon! Because you're the only one actually supporting the platform, I will finally get some home automation. If you weren't on WP/W8, I would continue to ignore these tools much like Nest/etc.

I think the concept is really interesting at the moment and see quite a few uses at the moments. However, what will be much more significant is how this will develop in the future in terms of interacting with other components of our life - especially if it will be possible for 3rd party appliances to be integrated into this. It's a good start, with great potential.

I bought the home kit about two weeks ago fro. A MS Store. This has been available on IOS and Android. I have experience with the old X10 setup. Anyhow, the system is ok so far. Some devices were easy to setup amd some weren't. I had lots of trouble getting the hub to connect and had to move it out of my office into a room with less electronics. Everything worked ok for a few days. I decided to go on vacation and could connect for 4 days. As of yesterday, I can no longer connect to the hub. Probably needs some type of reset. This really sucks!! I now have my thermostat set to 82, and was planning on lowering it before returning home. Now I cant even connect!! I had to call my neighbor and have him manually lower my thermostat. Oh well, more troubleshooting when I get home. I can still access my ip camera which is not dependent on the hub. If anyone has any questions, feel free to ask.

How are you securing your connection when you are away from home? If you port forward, any brute force can get to that port and it is not secured. Are you using a personal VPN and if so which?

I beleive the Insteon Hub uses thier cloud service while a controller would use port forwarding. But not a %100 on how the Hub connects.

If i have ever had a communication issue I just reset the device that usually fixes it.

I'm in Australia and have been using Insteon devices for the past few months which has been great with the following 2 exceptions: 1. Their new windows app won't accept AUS numbers for alerts - major drawback - 2. If you've used anything other than the hub (eg. HouseLinc) to configure devices, particularly schedules, you'll need to wipe all devices and start setup from scratch.

I'm just happy we can get it here in Australia at all, just found out myself after all these announcements. I'm all for something that can use my existing Windows infrastructure....

I need to make my way into the modern world and this would certainly get me start.

I think it is awesome that there is a system such as INSTEON available for the Windows Phone platform, and I believe it speaks volumes about the direction that the platform in general is heading. I love that the fact that with the INSTEON system you can implement either a simple or very complex system based off of your own personal budget, but for me the cherry on the cake would be the ability to view/control a wifi enabled cctv camera....that would just give such piece of mind when I am away from home and my young ones are here. Great product and reasonable prices matched with Windows Phone = win.

Bret , I swear I did not steal your post( despite how it looks) Great minds think alike. You my friend have put it very eloquently !!!!

It's all good my friend :) Great minds do indeed think alike.

About 6 months ago we put in a security system with vivent which includes a mobile app with alarm.com and has many items it can control. Can insteon interface with my vivent. It has modules you can by to expand the system from Lowes and maybe home depot.

I was about to buy the At&t system then saw Insteon a few weeks ago. Leaning towards it now but feel one piece is missing.. The front door push button with phone access. Is there a compatible front door setup that connects with insteon? Also is there any drawbacks to using nest with Insteon over there version?

You can definitely control your front doorlock today with the Morningstar RF keypad and an Insteon RF device. I havent looked deeply into using Nest with Insteon however i have heard there was a way to do it.

I dream a house in which everything from the thermostat to the wc flush is controlled by a smartphone or, why not, a ring: My precious! :-)

What sells this for me is the Instant On plug. While the thermostat controls will be helpful in the winter, I am more interested in switching my AC on when I'm ten minutes away from my apt during the stifling NYC summers.
The only real concern I have at this time is the possibility of the signal from the main hub not reaching an add on located some distance away.

Insteon devices communicate over the powerlines as well ass wirelessly and each device acts as a repeater so this is something you will not have to worry about.

Controlling the thermostat would be a biggie for me. I have two zones of heat and A/C so it would need to be able to handle more than one thermostat, but I can imagine saving plenty on energy costs being able to just kick on the heat or air an hour or two before I get home.

They actually have two types one is wired and one is wireless. You chooses which one is the master!


Way to many people commenting on here when they should be at work LOL

Looking at this the other day, winning one would be cool

Im getting this!! Thanks for the information WPC!... Finally, some aftermarket accessories for WP with good support!!

This looks like a GREAT product. Regardless if I win the prize, I will be checking this out to see if it can both make my life easier and save me a little money at the same time...

Garage door opener sounds like the best feature to me. The ability to close the garage from my bedroom if I forget sounds awesome!!!

I agree. Garage door combined with Cortana would be excellent.

now that I have custody of my bipolar/schitzophrenic niece.... this could be VERY useful... for insurance and my protection!

Seems like a pretty capable system; although it's still too expensive for me. What I would really like is the integration with Cortana, I've never seen anything else that does that and I think as a personal assistant, Cortana should have the capabilities to do these things to help you.

Very awesome. Have been reading more and more about this system since i cant get support for my honeywell thermostat on WP. The security feature would be an awesome add in. I know what my next purchase will be that gets a head shaken at me.

Some time ago I thought that this was just impossible to do. Now that you made a post and show to the world what INSTEON can do, I just cant believe that. The thing I like the most is that insteon have pretty much any gadget (if we can name it like that) for pretty much anything. I like the one who detects when you come to one room and can do something like turn on the light and I like so much the camera too. What I change on insteon is some visual design of gadgets, I think they look little robust, maybe a little thinner. This is just a thought because it look great anyway. I really could use this, I hope luck is in my side today, =D

I want to Purchase this, I'm waiting to see if they come out with better looking / more "nest like" design first.

Now this is another Game changer... Batter Up !!! I'm in . This will provide increadible ' Peace of Mind".I appreciate INSTEON working with my Smartphone OS of Choice Windows Phone ( 1520 ) It's so crazy to recollect reading in the past that things like this would be in the future.I think I'm showing my age.. ha ha ha

This would be incredibly useful at my house. I could monitor the dogs, set up schedules for my thermostat to kick on when I'm getting close to home (as well as turn off when I leave for the day), and turn off all lights in the house when I'm going to bed. The possibilities sound endless!

It looks great and useful when keeping check on the house when being far away, like on holiday. I would love to have this when i go to France :)

This is awesome. Nice to see great tech like this being compatible with Windows/Windows Phone.

I have been using Insteon for about a year. Overall, I like the product and all the devices. I have been using the Insteon for Hub on Android and recently loaded the Windows 8.1 version on my Dell Venue. I like the app more that the one for Android. I especially like the way that the status of each device is represented with the multi-color tiles. But I cannot figure out how to adjust the fan speeds using the fanlinc device in Windows 8.1. If anyone knows please post. Thanks

Oh... the fun I could have messing with my wife and kids... man do I wish I had some disposable income right about now!

Thanks for reminding me of this kit. I remember when they were first announced and haven't heard anything about them ever since. These should be promoted more. Great review also!

Well, it's nice to see after all these years, the "smart home" concept finally coming to life. I started nearly 20 years ago wtih this powerline system sold at RadioShack, that let you turn lights on/off/dim from a central remote. Then they added more powerful "appliance" modules, then an alarm clock, that turned into an alarm system. Every couple years a new method of control comes out, and now it seems like wireless via phone/tablet is the thing. Lets see how this morphs into something even more powerful next year :)

Wow! I think is a great idea to be able to control the gadgets in your home with a smartphone. I would love to definitely try that out

I want this really bad, but I'm worried it won't compliment/interface with my existing thermostat system that came with my house. It has a website you can log in to manage the temperature/solar information/air venting.

Looking at getting one of these kits for my house. I also plan on getting the new Staples Connect hub to integrate with my current Z-wave based setup and see which one works better.

With Nest and Westinghouse already well established it begs the question of whether or not this system is compatible with those products. Obviously you could have the operate separately, but as the Thermostats are a part of the Kits, you would be paying for something you get no value for .

Insteon is compatible with nest not sure about Westinghouse.

Im not sure how it could het better. Theyve got the bases must-have covered and made plans for all can-have features. Nice to see such an important app supporting Windows. With such apps I think the term application is deserved.

Does anyone else think of those old cartoons about the house of the future? Still, pretty cool.

This insteon kit is very very cool, is there a part that make me receive a notification if someone breaks into my house (and gets caught by any of the sensors)? That would be awesome!


Looking forward to their upcoming backward compatibility with the old X10 protocol (which is badly unreliable but has been around since CP/M was state of the art)

How does this compare to other solutions out there, to be honest I have disregarded all these products because none really supported windows platforms but now that we are gaining traction I need to catch up. Before making the investment in curious what/how it compares to others.

It is very useful that you can check all your rooms when you are outside

I am very interested in this, any word on if it can lock or unlock doors, or tell you if doors are locked properly? I have been thinking about getting this set up.

This is very interesting for mechanical engineers. But, I would like to see details of how they (sensors) work in different homes.

Saw this at Menards. I was tempted to buy one and try it out.

Tried the Windows Store app. While it is probably very nice with the actual hardware, I would add some info about the portfolio. Because some might download the app, likes the design, and with the catalog there, they might decide to buy the gadget.

Does the lights have several colors, like the Philips Hue? I absolutely love the apps for the Hue, where you can make them change color according to the beat of the music etc. I'd love to see that for INSTEON, since Philips Hue doesn't really support WP. Looks very promising though!

I'm excited for where these products are going. Unfortantly there is a bit of overlap with my current security system (FrontPoint) and I'm not sure which way I should move forward with home automation.

I think it's great that you can smartify your own home without having to spend tens of thousands with other proprietary smart home products out there. Would definitely love to hook this up to my one bedroom when I move out.

Actually looking to build early next year. Cortana support just may tip the scales in Insteon's favor on adding home automation.

I could have used this system when I had teenagers living at home. I would have know what time they snuck out and what time they snuck back in!

Looks like a great system. Thanks for the video

My biggest concern is security. Does it have encryption, does the hub has security audits and bug fixing? There was already a big uproar with Philips HUE system security flaw and several security experts commented on makers not paying enough attention to security.

I like the ability to remotely control the thermostat. We are out of town quite a bit for short weekend trips so it would be nice to turn up the heat about an hour before we get home and come home to a warm house! I would also like the ability to see if I closed the garage door when I left the house, because some morning can be quite rushed...

I have a few Insteon devices in my house working with the HomeLinc software, instead of with the Hub and, overall, they are great. I'm interested in seeing how well the hub works, too, especially with my Windows Phone and with Cortana coming up. As a homebrewer, the Leak Sensor helps put my mind at ease to know that none of my beers are exploding or anything while fermenting away. I've also got some lighting linked up with motion sensors and it works really well. There are a few things I would love to see come to the Insteon lineup though, such as door chimes to pair with the Open/Close sensor and maybe even a doorbell.

I would love to try this. I was especially interested in having my lights come on as I come home, brilliant for my pokey little hallway, especially when I have my hands full. Also, the thermostat controls. The camera would also make a brilliant baby monitor for people with kids. And of course, the whole home security aspect is very cool too. All in all, it looks like a brilliant, very innovative product, whilst at the same time it seems very simple to use. Right up my street. :-)

I really like the modularity and easiness of installation! I've been looking for a home automation system, if not to buy one yet, but out of curiosity. Insteon seems wonderful, but to be honest, I don't have any opinion or development idea before I've actually tried it. I still want to take part in this competition!

So, how about availability overseas?

The future apartment seen in Her may be closer than we thought. It may exist right now! The GUI of app looks Live-tile great, but would love it if they adjusted the spacing of the icons and buttons.Only concern I have is security. How secure are the servers to prevent a bored hacker to turn on all my lights in the middle of the night? Things start to have a real-life effect when we link our digital realms to our tactile world.

This capability is just in it's infancy at present. INSTEON is one of the leading companies to interface home control from afar. I have done quite a bit of reading on this system and on the NEST system. This is something that I will try to install in my home over the coming months. We are about to replace both of our AC units and that'st the time to start. Home is 12 years old and live in AZ so they are at the outer limit of their expected lives. It will be very interesting to see WPCentral follow this over the next few months.

We have a GIRA-controlled door-- with which we're very satisfied-- but a Windows Phone app doesn't seem to be coming. Would it be remotely (yes, pun intended) possible to incorporate our door system into an Insteon installation?

Any other home systems work with win phone 8?

Not too shabby! I would love to see my friends' faces when I use my phone to turn on and off fans and lights. Sprinkler system control and garage door control are both very handy as well. I also really like the 'scenes' feature. Would be very easy to turn off the A/C when I leave the house and have it automatically turn back on. Easy installation is a must to get the masses to adopt so hopefully it is as easy as it sounds.

This is awesome. The future is now.

This is really something I am going to consider for my home. I really like its simplicity. They appear to have done as much as possible to make this work with a very low level of complexity. I can't really say yet what I do not like about it, everything seems pretty solid. It would he nice if there was an in box solution for the wiring issue Daniel mentioned, but seems to be able to be solved with a few other solutions.

I would set this to watch the sidewalk and see if I can capture the fool who makes his dog defecate on the run. Then I would print flyers to shame him into cleaning up the mess his dog makes all around the neighborhood.

Looks very promising. I have a few questions regarding sensors: 1. Can the monitoring sensors initiate recording? 2. Can the system send me an email based on motion sensing and can the motion sensing be setup based on height for people that have pets? 3. Can Cortana alert me on my Lumia 1520 or diall 911. (In case of fire or home invasion)

No on the recording, which is lame...would very much like that too. Not an email for motion detection, but it can send an SMS alert. You can't set it for height per se, but you can control the intensity/range and with the wall mount/bracket, angle it which ever way you want to avoid pets. Also no to #3.

If there's a way to get something free, who wouldn't want to miss out? Greed fills the world but honestly, this should go out to someone who needs it... Weather they use it, sell it, or donate it. It should be put to use in a reasonable way.

This is great. I love the fact that it uses an universal app. Should make the updates occur more often.

I love the idea of Home automation and being able to instantly make the devices around my house smart. One thing is that I would love to see more hardware based around my entertainment system. For example insted of just telling Cortana that it's movie time and having her adjust the lights what about her adjust the lights, turn my TV, turn on my surroud sound, and change my input to my Xbox for Xbox Video, or whatever your platform of choice is. I think that home automation is for sure awesome I just wish it would do more things with one command making it worth it for me to unlock my phone/tablet and click a button in the app or say a voice command instead of reaching over to a switch in my house which kinda feels more convient. I'll deffiently be picking up a Starter kit for these Insteon's though seems awesome.

This looks like a great system! I'd love to play with it at the Microsoft Store :)

Very interesting.. We are currently renovating our home so this looks like a nice thing to incorporate. Stuff like this makes me wonder how long it will be until we get to control our households Minority Report-style haha!

I have been meaning to dabble in home automation, but I never liked the idea of a company knowing exactly what is going on in my house. The local setup appeals to me, especially since the system comes without any subscription fees. If I win this I think I will set up a bluetooth system like I have in my car where I can press a button located in a common area (next to a light switch, on an endtable, etc.) and tell cortana (on a dedicated phone just for this purpose) to perform a certain task.

nice to see a company like insteon supporting wp, once this has cortana integration i might acually pick one up

I would love to get a system like this. However, It seems like a large investment, both in time and money, for me when I am only renting an apartment. I would have to "downgrade" the place upon leaving not to mention the feeling that I am modding something that isn't actually mine (the apartment itself). Does insteon have a way to control standalone A/C units? (simply controlling the power won't work.) If so, it may be worth the investment, as that could actually bring a lot of savings off of my electrical bill over the summer. I love projects, but with this it's hard to shake the feeling that things will finally be standardized soon after investing, and that isn't a situation I would want to have bought my way into. It just looks like it would be so cool! ... oh well.

This is a perfect device for pet owners! I would feel safer leaving my cats home alone when I could check in on them on my phone.

glad to see this arrive on this platform. I have some aging x10 products that are due to be replaced with something newer.

This a great idea being able to remote manage your home and security, but I would like to be able to use my home server instead of insteon's.

I like that INSTEON doesn't charge monthly fees. I recently seen a service similar to this by Lowe's which does a monthly fee option to get you to open your wallet more. This would be an EXCELLENT addition in my new home.

Looks like a well-designed app... and Cortana integration is just icing on the cake! Home automation is finally becoming more of a reality, and that's exciting.

INSTEON sounds amazing, especially since they will be supporting Windows Phone. However, don't know how much use one would find when living in a NYC closet studio apartment where everything is at arm's reach! I guess it'd still be cool to control and watch the apartment remotely. But really, it is excellent that such a company is truly committing to this platform and hopefully other's like them will join as well.

Insteon, interesting! From where I come from, things like these are seldom and you won't see it around AT ALL. Still this is awesome especially the thermostat, but does the thermostat controls the air conditioning unit that are of different brands in my home? Just wondering...

Door lock would be nice addition.

I have tried many systems from the old days, e.g Zenith Heathkit etc etc. After dabbling with them, I stopped using them since they never worked well enough. Last year went back in the market for wireless switches to light my outdoor landscape lights from a different location. WOW. Things are getting better. Having key parts of the house hooked up would be grand upgrade that I can control from whereever and whenever!

I appreciate the features, but the aesthetic design is bland and gives off a "cheap" vibe. Maybe I don't like it because the white color gives off an Apple vibe, but each component looks to me like it was made by Westinghouse and can by foound at your local Target clearance section. Maybe I could be proven wrong if I see an actual unit but when you look at the thermostat for example and you put tat next to a Nest, you may see my point....

Can it do things like auto turn-on your Xbox or something? Any programming features. Thanks in advance for your help :)

I've been checking out Insteon for a couple of weeks now. I want it but I'm not sure I need the items they include in their starter kits. I'd like to just start off with the Control Module and a couple of Wall Switches. Maybe one On/Off Switch as well. This is really interesting to me and I hope to start an integration soon.

Nice. It's great that there is only an upfront cost and nothing else, a big plus.

it's good but i would love to see something a long the lines of this my wife is 100% disable we have a nurse that comes in three times a day to see if she needs Demerol injections sometimes its not needed but in between there is no way of knowing how she is doing. i have a cam set up in each room. that i can look at from my work to make sure all is well. what would be nice is a system where as it can tell her time for this med or that rather than her trying to remember because her pain level goes high she tends to forgets what she is taking or when seam to me that this application if fine tuned could be a benefit

Looks like a good product, glad windows isn't left out of this growing home technology market.

Very interested in their sprinkler controller. Wonder of this works with any existing system?

Very cool. Looking forward to automating my house using Insteon through my Windows Phone!

i've been curious about home automation but haven't delved too deep with my research because i still live with my parents. but i think this could be an awesome gift for them especially considering i upgraded both of them to Windows Phones. this would make them feel super futuristic. regarding the product, it seems easy to use and shockingly VERY affordable. i like how everything is a la carte and you can mix and match the sensors and cameras you need. the app also seems great and obviously will improve with updates. i'm definitely interested, i'll check it out next time im at the microsoft store

Hmmm, it seems quite interesting. Can you lock/unlock home doors with these tools?

Yes there are insertion lock sets. Mi locks is one brand.

Been looking for a good home automation system that would work with WP. There aren't many out there that combine the whole lot into one accessible system. This could be a winner.

Looks pretty cool! How does it work outside the US? I live in Sweden. Just thinking about the thermostat thing... Not sure we have the same stuff here. Would still be awesome to try it out, send me one and I'll surely "sell" it to all my friends who uses Windows Phones.

I just built a new home, and I was quite interested in buying a Nest thermostat (and smoke detectors, natch), when they got bought out by Google, killing my enthusiasm. This looks like it's a much more complete (and affordable) solution. With the Cortana support, that just makes this the killer home automation system for me, with no other system that can compare.

Good to see such a great product available with Windows Phone support. I have quite a few legacy X-10 devices and have recently started integrating & replacing them with INSTEON. Looking forward to this app and it's future development.

Gonna check this out. Especially now that I just landed a job at Best Buy and I'll get a great discount in the items.

home automation is the future i can see it been used in every house in the near future it makes your life easier than ever sadly i see Microsoft investment in insteon pointless for me if its not available world wide just like surface Pro 3 / surface 2 / xbox one / xbox music/video subscription . . Note: Don't include me in this contest because its not Lumia or windows tablet ... congratulations to the winner

Is the promotion to win the kit US only?

Sounds great and I would really like to try out something like this. However, to do more than just a couple of things you need to lay out a lot of money. I appreciate that they are supporting Windows Phone but I would like to see a system that is interoperable with other systems so you can mix and match parts. I know there are systems like this out there, but of course being a Microsoft user they are not readily available to me like the Insteon system now is.

I am interested in this, as the current windows phone apps that hook in to wireless ip cameras aren't too great. I do like the scenes feature which can be really useful. Too bad it doesn't record or auto record on motion ... etc. By the way does this work with non insteon wireless ip cameras?

I've been eyeing this system for a while now, and it looks really cool. I'm really curious to see how well it works vs some of the other big players, but the availability of kits seems like a fantastic idea!

Does anyone know if this INSTEON hub is compatible with Windows Media Center and Windows Media extenders? Still using WMC and XBox 360 for cable for DVR and video distribution.

I actually went into my local MS store this past weekend to check this out since I read that they were carrying them in store. This would be a great solution that works with my WP and Win8 laptop so I can monitor the pooch while I'm at work (he's diabetic so I like to check on him as much as possible). Also I rent, so the easy installation is a plus for me since I would think it would ne just as easy to uninstall.

Looks great. Hope it's available in the UK soon. I'm not personally worried about the thermostat integration so the starter kit would be ideal. Any idea what the range is? Wondering if a motion sensor could be installed in a shed/garage? I haven't converted my partner to Windows Phone yet, would she be able to connect her iPhone to the hub?

I'm considering dumping micasaverde for this, but honestly it works well with the grasshopper. I'm just having trouble learning to program the damn thing. I can't even get it to turn on my light at sunset.

Wonder if the Insteon system will be natively supported at some point by the new Almond+ router I have on the way from Kickstarter, with its built in home automation features. Even if not, looks like the Windows/Phone apps are excellent. Sold!

Finally, something that's compatible with Windows Phone (and not just iOS/Android)

I've had X-10 devices for ages and switched to Insteon when the Windows Phone App launched. Insteon seems a bit more reliable than X-10, where for a large house I had to have multiple transceivers. With X-10 I had some really nice wired in switches which I left installed when I moved and had a infrared to X-10 device so I could control lights and blinds in a theater room with a harmony remote. Living with Insteon for a month, a couple issues came up, but overall I'm happy. I picked up a hub starter kit, several light and appliance modules, a Fanlinc for a ceiling fan, an 8 switch mini remote with wall adaptor and several mini remote rocker switches with wall mounts, an outdoor camera and an LED light bulb which I haven't installed yet. The application control the devices except for it's missing full fanlinc support. The Windows Phone app only controls the light kit of the fan, it's missing fan low/med/high/off control that are present on the ios application. Insteon support confirmed lack of fan controls and couldn't give an ETA for a fix. Auto logon to the hub from the app takes severs seconds which is a bit annoying to control a light, and I don't see a way to pin a device to the home screen. Overall it's mostly functional and useful. I also didn't see a way to add a new device from the WP app, but I could have missed it. Their apps seem to have slightly different functionality between platforms and I find myself using WP, iPad and Windows PC for various settings. The devices seem to be good quality for the most part. The mini remotes have a funky click and they don't always fit solidly in the wall mounts. Two of the remotes were defective (wouldn't charge) and I'm waiting for replacements. A support call didn't take long and the RMA process was painless. The 8 way remote could use some labels or pre labeled replacement buttons like the non-mini remotes have. I ordered a suggested button replacement kit with fanlinc buttons, but it wasn't compatible with the mini switches. I like that a timer/schedule is built in. I have a couple lamps that are setup to turn on and off at different times. I also like that it controls X-10 devices as far as on/off/brightness can be controlled so I can repurpose some of my old devices.

I saw a kit the other day and was tempted to pick it up... I think the initial cost is still too high for this to go mainstream, but I love that they have a windows phone app!

I'm a huge fan of Insteon simply cause they are one of the first big home automation manufacturers to support Windows Phone. That definitely have some of the greatest variety of equipment options. The only downside is that everything is proprietary - I just wish they also supported z-wave technology too.

Wow, been waiting for something like this.. I think the thing I would use most and really like is the Wireless Outdoor IP Security Camera with Night Vision. I've been looking into getting an IP cam, but it looks like it almost always just has an app for Android and IOS. This is really awesome!

This certainly has a lot of appeal. The risk you run obviously is investing in a particular bunlde of items and then something better comes along which isn't compatible. The Cortana integration is obviously the best part about their approach and it's nice to see that kind of support for the Windows Phone platform. Guess I'll be picking one up at somepoint (or winning one!).

I would love to be able to monitor and yell at my dog via this system.

I really like the idea of putting a camera and leak detection on my large home aquarium, and being able to check that on my phone from anywhere!

I wouldn't mind controlling everything in my home via internet/WP, but I do not think I would feel comfortable having cameras going over the internet from the inside of my home. Too much has been revealed recently.

This product is AMAZING! It definitely does what home automation should do. I dont own it, but have seen it in live motion and it worked flawlessly. These folks have thought of everything and made it really easy to use. You couldn't ask for a better, more complete solution than this.

I've been waiting for this...Awesome! Thanks for the article.

These systems are cool. My fear is that this is the type of system that you could buy into but if it fails to gain traction you could be stranded without support or have limited support in the future. These are awesome systems, and hopefully there is a shared standard set so that the whole idea is pushed forward instead of big companies fighting over establishing a single proprietary set up

Got an Iris system for a self-monitored alarm system with home automation capabilities. It's a nice system, but unfortunately they lack a Windows Phone app. Luckily I haven't invested myself much in the system. Insteon sounds like a great setup, with even more automation options available. And having a Windows Phone app just makes it even better, in my book. I need to check out the site, but I wonder if they offer things like door locks, or an alarm system (self-monitored, of course). If so, it sounds like they would be an absolutely worthwhile investment for what I want to do with at home (as soon a the budget allows me to, at least).

LIKE: It looks very helpful, and it won't bust the bank, great for people like me who can't be bothered to turn lights off manually! Also, it is great to check if the kids have left their rooms for 'snacks' in the night! DISLIKES: The actual hardware doesn't look to appealing... IMPROVEMENTS: opening doors? Also, be able to adjust temperature on ovens and fridges from your phone maybe? Looks very good, would love to win the pack!

Awesome kit :D, I feel it is very useful to make us feel in home

This home kit would be very good for energy saving purposes. Turn lights off when no movements in the room. I am not sure but is there any location based scenes in the app? For example if i will arrive home in 15 min the termostat turn on. That would be great.

Was looking for a weekend project to spruce up my house and I think I have a winner! Hopefully the garage opener isn't too expensive!

I love the concept of keeping an eye on my property without monthly service fees.

When I told my wife about this system, the first thing she asked was "how much is it monthly?" I'm glad there isn't any subscription fee.

The app itself is great, has a lot of controls, usable on windows and windows phone, allows certain level of customizations. This home automation kit is really nice, but I think it would cost a fortune if you want your whole house hooked up. The kits don't give you much, you will probably have to buy extra sensors etc if you want some automation in every room.

It's funny, I was just looking at this in-store. I am SO glad companies have finally started offering private wireless based monitoring. Now that home-monitoring and automation is freed from prohibitively expensive monthly subsciptions I may finally get something like this (it wouldn't hurt to get started by winning it too!)

I think this system would be perfect as a very good baby monitor/security system. i have a need for both I wonder how the system works for motion camers, and IR cameras. Even to have the ability to look at a monitor and see who is at the front door and not getting up if its a unwated visitor would make this system well worth the cost.

This is really cool! I would say Home automation is where it needs to be. I like the fact there is no monthly fee. Just buy what you need and set it up. I like the option to get the Garage door opener. Also the thermostat would be an awesome feature to save money during the day. So many cool features to this. You're right Cortana would make this awesome and enjoyable! I would be willing to give this a try esepcially when the Cortana features become available. I wonder if it is possible to setup up multiple accounts? So you know who opens what and turns off what. That would be a nice feature to have.

A water leak sensor acutally has me interested. I have this irational fear that my Sump Pump is going to die one of these days and flood my basement.

Waw this is amazing ! Was just thinking of getting a security camera at home but i think this will do ! So impressed with all these connected accessories \o/

This is so amazing. George Jetson eat your heart out!

Woowww I like the idea of controling my house that way ... Exelent !!!!

Finally we can join in on home automation and Cortana is going to be a game changer. If you are thinking of picking it up try Costco's website they have some good deals on the kits.

I'd love to win this! I've been in the market for a way to automate my house. I'd love a way to be able to set the temperature of my house from my phone! That way I could start to cool the house a couple of hours before coming home.

OK lets get this started! I still can't believe I missed ALL of the previous Hidden Gems! Anyway I would like to have a smart house and Insteon may be the one that jumps start me. One of my concern is my thermostat is relic, I may need to buy some converter like Daniel mentioned. Other than that, hmm.. the Windows 8 app seems bare looking. If that's due to universal app, then I hope OneCore will fix that.

I find it fascinating that we, as a society can really use these devices. I have a big family and safety is of the utmost concern, for me. Being able to monitor my dwelling efficiently is a must. Using these services can and will cut out the middleman, like ADT. Using my phone when I am away to see what is happening in my household would bring me peice of mind. :)

I will love INSTEON alot it will make my all life so easy and without getting up but it have one major disadvantage I will get even more lazy because I will do everything by sitting on my couch or bed but it will be awesome to have my whole house Automatic. It can be better if it have burglar alarm which will ring on our mobile phone instead of on my burglar alarm with that burglar won't even know I know that he's in my house and I can confirm that it's thief on my camera and call the cops.

I think this is probably one of many that aim to provide a similar but tailored service I like the fact its here on windows where it belongs because it safe and secure and needs only few secure permissions which means surely there is less to go wrong!? Updates will be few and far between due to sheer volume of products and complexity in the build and my god we've waited for fluency in control like this since Clifford fired up my car from the college window many many moons ago I must say im excited :)

Seems cool. I like the kit idea to give you a reasonable base of accessories from which to start.

I love the idea of these systems. I thought the Xbox one would have it as a feature. Being able to set up themes and scripts is top quality. How safe and secure are the web cams? I hope they are hack proof.

Looks promising. I hope the extend this out to more modules and keep the cost down.

I love these products. X11 was all the rage in the 80's but it's really dropped out. Insteon looks like a worthy successor. Awesome they have WP support!

Though having everything connected to the internet may be a good thing, it might be risky as well considering everything has some or the other security holes in it.

I am REALLY interested in these. Question/suggestion: Do these scenes or any automated actions work via location based initiation? So will a scene start based on your location?

This sounds pretty cool, congrats to the upcoming winners.

This looks awesome! One question about the cameras... I have foscam at present. Will this work with the cameras I already have?

I can see the thermostat adjustment very handy for when you come home from work early, sick, or a vacation day. Anything outside a normal daily program. Also turning the lights on and off during vacations would be very helpful.

This would be perfect as I work away from home lots, would be great to be able to check on home and have a comfortable atmosphere to come home to.

This looks really cool. Kind of a shame that the wireless camera is indoor-only, it really begs to be used as a security camera outside the front door. I suppose it should be easy enough for Insteon to eventually add an outdoor camera module, given the modularity of the system.

I started using the App for my foscam webcams. I am so cloe to pulling the trigger on thea kit in the next few weeks.

No monthly fees seals it with me. Plus they partnered with Microsoft, even better. We should get great support and we won't be left out in the cold like EVERYTHING else that has applications for the other app stores. Very refreshing. And the price is a great selling point along with the add more items on as you go. I'm very happy.

This sounds like it would be great. Just being able to adjust lights as people are using the rooms would be a huge win for us. Add in the door sensor (for other reasons than turning on lights), and things like the water sensor and ceiling fan controls and this could have a lot of potential to save us money on electricity. I don't know that we'd break even, but the concept is really cool.

Sounds awesome! I'd like to have some new high-tech gadgetry in my house! No more low-tech, get up to adjust the temperature, mumbo jumbo!

I have been researching their products for a bit now and am quite impressed with what I have seen. I am saving my pennies to get this setup in my home. I can't wait. I love that they have jumped on boared with Microsoft. I can't wait for Cortana integration as well. I am excited to see what else they come up with next.

Sounds like a really interesting product, who pretty neat to try

Insteon is great, not even because it supports WP but the modularity lets me get only what I need. I really would like to win this kit. Starting I could use it with my pets, I have 3 dogs and the temperature in my city is too hot I would like to set up my thermostat remotely also the open/close module might work for me.

I have been actively using Home Automation solutions since Windows Media Center, HomeSeer, Nexia and happy to see Insteon come on the seen with a Microsoft solution. However, it seems all the modern solutions are all missing one piece of the puzzle. In the case of Nexia its home irrigation since they added the Garage Door solution this week. In the case of Insteon, its a major one with the lack of door lock solutions that prvide two way communication/status to the portal. Sadly, they are all 'almost' complete solutions.

This is the product I've been dreaming of. The ability to check on the pets when away on holidays and being able to check if an appliance is on and turn it off when out when my girlfriend freaks out she may have left the iron or stove top on is a big life saver, she worries all the time about this stuff.

I could use this for a cocktail maker....

I'm sorry, Dave. I'm afraid I can't turn on the air conditioner. (Noooooooooooo!)

This could be one of the best tech gadgets to come out in a while! Especially on Windows phone!

The Cortana integration sounds awesome to have along with the home automation.

Good to read the hands-on. I went to a Microsoft Store (Costa Mesa, CA) a couple weeks back and asked about the product. I was told they had it in the back (they actually brought it out for me), but they had nothing on display. How are they going to sell the product without a store display??? Maybe soon... I have my home wired with Lutron Radio RA2 for lighting, and HVAC (no WP or Win 8 support). Since I dont' have security cameras, I was thinking of checking out Insteon. Daniel, did you test the security camera with night vision? You did make a mention in your review. How clear were the daytime and nightime displays on your Surface?

I have always dreamed of having my home automated. I love the fact that you can turn P of the lights and adjust the temperature. Things I don't like is the home kit seems a little bare I would love to have this!!

I love the partnership with Microsoft. So it can be integrated in my whole family. And I would really love to see Cortana in act