Huebrix shifts to Windows Phone after 1.6 million downloads on other platforms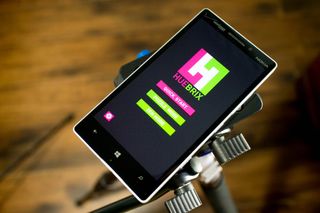 It's better late than never. Another puzzle game from iOS and Android has just made its way to Windows Phone. Huebrix by Yellow Monkey Studios is a color puzzle game about filling spaces on a grid with paths of blocks. It has over 1.6 million downloads on other platforms, and now it's ready for Windows Phone users.
Head past the break to watch our gameplay video with the Nokia Lumia Icon.
Huebrix has over 400 levels, separated by skill level for your convenience. Solve the levels by dragging paths from blocks to fill out the puzzle grid. The blocks only give you paths of a specified length, so it's going to require your brain to do some hard work.
As you progress, special blocks appear to determine the orientation of paths, acting as clues and challenges at the same time. For example, an arrow block forces you to go in one direction. A colored block, only accepts specific colors. A block with an X ends the current path.
Huebrix appears easy at first, but it gets challenging. There's a timer on the top right corner that stops when a level is solved. It does not reset back to zero if you retry a level. We think that's a great idea because it encourages players to solve the puzzles as fast as possible.
While we enjoy occasionally playing Huebrix, we found a couple of annoyances. Pressing the Windows Phone back button exits the game. It does not properly go to the previous screen. Another problem is the screen orientation. Huebrix allows you to play the game in landscape view, but you'd want to avoid it. Huebrix will shift to one side of screen, causing two-thirds of the display to be empty black space.
Huebrix costs $1.99 from the Windows Phone Store. Unfortunately, there's no free trial in this initial version. We like this game, but the annoyances we mentioned need to be fixed. Does this game look interesting to you? Let us know in the comments!
Windows Central Newsletter
Get the best of Windows Central in your inbox, every day!
You mean like alot of things in life

Because it is free on iPhone and Android. Why should we pay for everything.

There's a free version with "dozens of levels" and a paid version with 400 levels. For me the paid version is showing as $2.50 on the App Store, and $1 on Google Play. The free version is ONLY on Google Play, with limited levels (possibly ad-supported too).

there should be Trial version...

Yup this is WP we buy if we like the trail.

There's a free online trial at huebrix.com.

Game posts bring out all the moronic comments:
1. "It's not free/Make it free/It should be free"
2. "No Xbox. No download."
3. Next up, "Oh my god, its raining official" as the cult of official collectively wets themselves in a euphoric loss of control over their bodily functions.

Also forgot, "Another app/game not available in "

Also WHEN IS IT COMING TO INDIA???!!!!!!!?!?!?!?1?

Hahaha so very well said..

You forgot "No 512 mb support!?!", "Not available in Brazil", "No trial, no buy"

Not forgetting no sd card no glance blah blah I'm going to buy an iSheep but wont actually

Seriously??? 110/- INR for a doodle??

Just becoz it's an app ios already had..... Now its bound to sell in higher rate??..... Developers plz seek cost for ur program....and not opportunity cost!

It's $2... It's not expensive -_-

That's 2 scoops of ice cream at rite aid, or 2 Arizona drinks, or 2 slim Jim's, or 2 types of candy, or 2 $1 apps..

I wud rather spend that 2$ on some poor or some education app...or burn that much fuel to go to a blood bank and donate blood.....but not on that stupid app....coz u see i am not an american!!

There's far too many Americanisms in that sentence to understand if that's good or bad :P I don't know what Rite Aid, Arizona Drinks or Slim Jims are! I could get 2 x $1 apple pies from McDonalds :P

Whoa whoa whoa, you don't know what a slim jim is?!? How are you even breathing?? And Arizona's are only the best canned drinks for 99 cents on planet earth but that's not a big deal or anything /s
:D but seriously how do you not know what a slim jim is lol

Maybe *shocked face* he isn't american

I've heard the name, but I never knew what it was... after searching on the Internet it seems that they're pretty standard beef jerky but shaped into sausages. I've had normal beef jerky before (flat strips), but nothing quite like those. I've never had a Twinkie either... although I do know what they are!

Slim Jim's are disgusting. I wouldn't feed that sh*t to a homeless dog. They basically take cat food, put it into a tube and season it. @sclubadub - It's supposed to be a sausage snack.

That's hella expensive for a simple game like this and because it's free on other platforms. Not cool.

Nope, on Google Play there's one free version with "dozens of levels" but the paid version has 400 levels. There is no free version on the App Store. It's $1 on Google Play and $2.50 on the App Store... so $1.99 sits in between.

I'll get excited when I see Target, Sony, McDonald's, WalMart, Samsung, DFW Airport, Subway, Bell Helicopter, NASA, The city of Arlington, TX, Fort Worth Community Credit Union, Capital One, Discover, American Express, and so on......
...................
IMO these are the apps that lend credibility to the platform in the long term.... Sure, popular games make WP look "in the mix", but when the spotlight on those games fades what is WP left with❔❔❔
WP is left with the apps that really matter, that's what.... I hope this coming week brings more official releases from large companies, restaurants, and services, than games.... WP's just gonna have to be considered the adults platform for now.

A 5th/3rd bank app and NOT a wrapper app would be awesome

The BBVA Compass app was pretty sweet when it came out, but now it lacks a ton of features found on iOS and Android. I'm an avid WP user, but the app gap is a still a big problem.

It's almost like there's an app gap, and there isn't at the same time.

I hate wrappers... But, they do shut up the majority of critics... I don't mind them as a temporary fill in...

Definitely want a Target app, specifically the Cartwheel one. I shop there all the time and they say "you should get the Cartwheel app" and every time I tell them "it's not available for Windows phone". I want my coupons, darn it!!

Those are the kind of apps that make a smartphone smart.

That cartwheel app is dangerous. I end up getting more than what's on my list.

I can't believe Target hasn't supported WP yet.... Us WP users must be way ahead of our time...

Games account for the vast majority of app revenue. Here are some numbers for Android, and iOS is very similar. Sure, they might not be useful strictly speaking, but it's what people do with their phones. Big name game releases on Windows Phone say more to me for the health of the ecosystem than banking apps.

Yes, I do agree that they are very important.... But, my point is that they only bring short term gains for WP's app perception by pundits!!.... Apps like the ones I mentioned will give WP more credibility in the long run, which to me is more important....
..............
So, the average consumer isn't going to remember when WP finally got Angry Birds back in 2012, or 2011,, but they will appreciate when an important IT app, Instagram, or Targets Cartwheel app is available.... Whenever you hear reviewers down WP because it doesn't have the apps they use on a daily basis you never hear them list games... Lol!!!
...................
Seriously, we should be more specific... There's the app gap, and then there's the game gap.

Another game not available here in Brazil...

But Brazil got some of the finest women in the world. Why choose games over the honeys?


I thought you prefer playing football so why do you care?

Not really worth the download IMO. If this is the standard of games from iOS or Android we ain't missing anything!!! I'm sure that if all the apps of this standard were removed from iOS and Android stores, the app count would probably only reach 800 or so..... Dear God!!!!

Don't hate on the devs that put in work to bring this to the platform. Besides it hasn't arrived until its playing on Windows Phone.

I feel the same way you do. People fawn over all these clone w and simple games. Phone games can be so much more, but everyone continually gets duped into paying for these games.

Back button exits game? Microsoft certification must be getting very sloppy since correct use of the back button is a requirement.

People go to change.org and sign a petition to change the process of making a game Xbox

I prefer FLOW FREE instead of this game. It's the same logic, and its free... don't forget it has also flow bridges ;) (play and download flow free :D)

Thanks, Wabelo I will try it.

What the hell??? 2$ when it is completely free on iPhone and Android?????... Sigh...

I want windows phone to make serious shit like gears of war and halo this what they shouldput if they wanna talk about competition Posted via Windows Phone Central App

doesn't have to be free, but a least release a trial version

The developer of Huebrix is a friend of mine. I have passed on your feedback regarding the game. Both the orientation big and the Back button functionality will be fixed in the next update.

How about trial mode? Seriously, it's not that difficult.

This game isn't available in Africa, I don't live in Africa, but... I won't download it.

I wont buy games with the letter H in them that are not available in Antartica

Windows Phone is not an omnipotent being. Is a collection of developers. These comments are just ridiculous.

Landru, I mean Cortana, speaks: You are not of the body. You will be... absorbed.

Not sure if Borg joke or..

Folks, there's a new build of Huebrix available in the Windows Phone Store addressing the orientation bug and Back button issues. Go check it out.