The Hunger Games: Mockingjay Part 2 now available on the Windows Store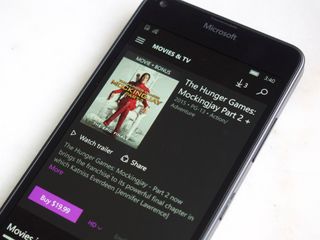 Fans of The Hunger Games series can now get their hands on the final entry in the franchise's movie lineup with the digital release of Mockingjay Part 2. The finale, which follows protagonist Katniss Everdeen as she leads a group of rebels in the final battle for Panem, is now available on the Windows Store (opens in new tab) for $20 in HD or $15 in standard definition.
Bundled with the movie are bonus featurettes, including a "making of" documentary, along with a deep dive into the land of Panem and a look at the Mockingjay Armor. Finally, fans of the whole series can also pick it up in its entirety with The Hunger Games 4 Pack (opens in new tab), which also includes plenty of bonus content.
Are you planning to grab the latest in The Hunger Games series on your Windows device? Let us know in the comment below, and be sure to chime in with your favorite entry in the series.
See at the Windows Store (opens in new tab)
Dan Thorp-Lancaster is the Editor in Chief for Windows Central. He began working with Windows Central as a news writer in 2014 and is obsessed with tech of all sorts. You can follow Dan on Twitter @DthorpL and Instagram @heyitsdtl. Got a hot tip? Send it to daniel.thorp-lancaster@futurenet.com.
No Thanks, YTS/YIFY always save the day :)

I think YIFY is still offline

It's not them. The real YTS is down and is not coming back. Do some google search.

Its not Arrived yet. From Windows Central For Windows 10.

You know what will really save the day? Legitimately renting or purchasing movies. How would you like it if you didn't get paid for your hours spent working?

I don't support piracy but that argument is flawed. The people who worked on the film all get paid regardless of sales from Blu-ray renting/purchasing. Sometimes they do get a percentage, but not all the time. If anything it's a bonus. --
Sent from the Universal Windows Central app, running on a Microsoft Lumia 950XL.

If no one paid to watch none of it would exist, except for free local free theater. And it is not flawed. The actors and production staff may get paid but the investors do not.

In this instance we are talking about rentals and purchases. People who watch via torrents or very unlikely to pay for the product anyway, otherwise they would have gone to their local cinema to watch the film. Most the money that us made by movies I'd within the opening week. About the investors not being paid. They're usually paid first. Below you can see a snippet from 'yourmoney: "Typically, any revenues garnered are first used to repay any debts incurred during the production phase, followed by repayment of investor's initial investments. After the investors get their initial investment back, the profits are shared out. Often, the split in the returns is pretty even between" investor and producer, with the stars, writers and director getting paid directly from the producer's profits. --
Sent from the Universal Windows Central app, running on a Microsoft Lumia 950XL.

Sorry for the grammar and word choices, the auto correct on Windows Phone seems to be getting worse, I think you can still make out what I wrote. Can't wait for the Windows Central app to allow editing posts. --
Sent from the Universal Windows Central app, running on a Microsoft Lumia 950XL.

Actually, video (including rentals) frequently brings in more cash than what was made from the theater run.

I don't know if that's true, I'm not doubting what you wrote I have know knowledge of the inner workings of movie production but I based my posts above on very little research (but still, some research). This is what i gathered from conducting a few searches. I only included 1 & 2 as they're relevant. 1. Ticket Sales The primary way that movies make money is through theater ticket sales. While there are exceptions (such as movies that blow up on DVD sales after flopping), the average movie is going to make the majority of money through the tickets that we buy at our local movie complex. A common misconception is that only a small portion of movie ticket sales actually go to the movie studios. This is not true. Actually, only a small amount of the ticket sale goes to the theater. Movie theater make most of their money off of concessions. 2. DVD Sales The next highest grosser for movie studios would come in the form of DVD sales. While a movie studio might only make a handful of dollars from each DVD sale, the number quickly add up since some movies are purchased in the millions. 3. Merchandising 4. TV 5. Video On Demand --
Sent from the Universal Windows Central app, running on a Microsoft Lumia 950XL.

Not in the NZ windows store version. Cant wait to buy it when its avaliable! Been buying heaps of movies and tv shows of the windows store (since i can view my purchases on my lumia 640,laptop and xbox one). Helping the windows store to bloom buy supporting and buying apps/games and movies etc.
Windows Central Newsletter
Get the best of Windows Central in in your inbox, every day!
Thank you for signing up to Windows Central. You will receive a verification email shortly.
There was a problem. Please refresh the page and try again.