Hurricane Season on your Windows Phone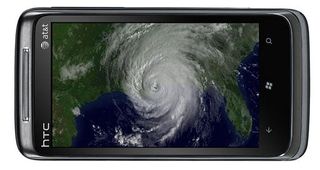 With Hurricane Irene knocking on the East Coast's door, we thought we would take a look at two hurricane tracking apps for your Windows Phone. Two apps stood out when we searched the Marketplace, Hurricane Tracker and Hurricane Software.
Granted if you're already using the Weather Channel app, there is a Tropical Summary within the app's Severe Weather Center that will give you a decent amount of information on hurricanes. You also have other weather apps (here's our roundup) that will also touch on tropical systems. But these two apps focus solely on global tropical systems.
To read more on Hurricane Tracker and Hurricane Software, blow on past the break.
Hurricane Tracker: Hurricane Tracker provides you with information on hurricane activity in both the Atlantic and Pacific regions. It spreads the information across multiple pages that includes an Active Page that provides links on any active storm system.
The Satellite page offers you an active satellite imagery from the various Pacific and Atlantic regions. You also have a hurricane outlook page and National Weather Service discussions page to help you understand where these massive storms are heading as well as information on what could be forming. There is a settings page but it is still under construction.
In drilling down to the specific storms you get access to track projections, current position and animated satellite imagery. The volume of imagery Hurricane Tracker provides is probably the app's strength. It is a nice app but feels like a work in progress. For example, you can't pull up the National Hurricane Center's discussion to full screen or zoom in to make the text readable. Polish it up a little and Hurricane Tracker will be a much nicer app.
Hurricane Tracker is running $1.29 with no trial version available here (opens in new tab) at the Marketplace (link opens Zune).
Hurricane Software: Hurricane Software puts considerably more hurricane information on to your Windows Phone but the interface isn't as clean as Hurricane Tracker.
Hurricane Software opens up to Bing Maps with three buttons along the top and three along the bottom. Up top you have buttons to "open" individual storms, "clear" the map of any storm information and change the different map "views" (satellite/road). You can view current and past storms for the current hurricane season. Storm tracks aren't labeled on the map but in tapping on a point in the track will pull up a information box identifying the storm and displaying the current/projected vital stats of the storm.
Down low you have buttons to pull up various satellite views, current warnings and information about the app. One nice feature of Hurricane Software is that in the "about" screens you can sign up for email notifications on newly formed storms.
The interface takes a bit to get used to but Hurricane Software does offer a lot of information. Oddly though, there isn't any radar images or animated images available. The still images are updated with regularity but there's something about an animated image that's tough to beat.
Hurricane Software will run you $2.99 and there's not a trial version available. You can find it here (opens in new tab) at the Marketplace.
We've only tinkered with these two apps for a short time but both provide a respectable amount of information on tropical systems. I can't say that one app offers more information than the other, instead it may be a case that they provide the information in a different manner. I like the appearance of Hurricane Software but wish it had animated imagery. I like the animated imagery of Hurricane Tracker but wish it didn't feel as a work in progress. Not having a trial version for either, makes the choice even more challenging.
To those living on the coastal regions, are you content with your current weather app or do you prefer a more focused app for your hurricane info? Any additional recommendations?
George is the Reviews Editor at Windows Central, concentrating on Windows 10 PC and Mobile apps. He's been a supporter of the platform since the days of Windows CE and uses his current Windows 10 Mobile phone daily to keep up with life and enjoy a game during down time.
why the he1l do developers keep offering their apps without a trial?

I agree; I don't understand why anyone would do that. I have bought dozens of apps so far but I never bought any without a trial first. I may well have went for one of these if they had a trial.

Just tossing this out as food for thought...The only thing I can think, with respect to these two apps, is there might not be a way to scale it back for a trial version. Unless they can put a XX-day timer on it, what do you do? You can only see active storms?Games can be limited to levels and some apps can restrict features (e.g. can't save, can't share to twitter, can't email, etc.) but it may just be impossible to restrict some apps for a trial version without ruining the overall experience. I like trial versions just as much as the next person but it may not be a viable option for some.These two apps are a coin toss but if I was forced to choose one over the other, I'd go with Hurricane Tracker and hope the developer updates it soon with the custom settings features. I was all thumbs with Hurricane Software and I like animated weather images.

Agree, Hurricane Tracker is the slightly better one here.

A trial for x number of days would work. Though I did download one trial that expired before I got to run it once because I was waiting until the next time I visited a certain friend so I could see how she rated on the Love Meter lol. It would be better if the timed trials started on first use.

Thank you for reviewing my app, Hurricane Tracker! I really appreciate it.There will be an update shortly to add personal settings. In addition, there will be a way to view the whole 'tropical discussion' text with a larger font. I know the font size is quite small right now.If you have any more suggestions for improvements, please let me know. They will be implemented.

Here is explained how to track hurricane. I like the post to much. hurricane windows
Windows Central Newsletter
Thank you for signing up to Windows Central. You will receive a verification email shortly.
There was a problem. Please refresh the page and try again.