Weekend Entertainment: Listen to HXLT and watch Oscar-nominated The Big Short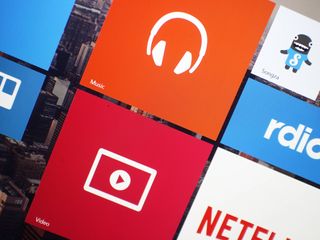 Every week, lots of new stuff drops on Groove Music and Movies & TV, and it becomes hard to keep up. Well, that's where we come in. Every weekend we'll highlight some of the hottest albums and singles on Groove Music.
We'll also let you know what movies and television shows just dropped on Movies & TV for your viewing pleasure. It's the weekend, and we'll help entertain you.
Groove Music
HXLT (pronounced Holt) is the self-titled debut album from rapper Hollywood Holt, who goes by the name HXLT when he performs punk. The album comes from Kanye's G.O.O.D. Music label and features 12 songs for your listening pleasure.
My favorite songs from the album so far include Together, Down, and Reaper. Although the album is considered to be punk, you can tell that some tracks are hip-hop inspired such as these. If you gave the album a listen tell us what you think about it in the comments.
Listen to on Groove Music (opens in new tab)
XYLO - America
XYLO is a new group on the scene that is made up of a brother and sister duo out of Southern California. America is their first EP and only features six songs but it gives us a look at the groups potential.
After giving the EP a quick listen to, the songs America and Afterlife stood out the most to me. They have that soft-deep vibe that goes perfectly for driving around the greater LA area. Give the album a listen for yourself and let us know what you think.
Movies & TV
The Big Short
The Big Short is a comedic drama based on the book of the same name by Michael Lewis. The film is about a group of guys who somehow notice that the global economy is heading towards a collapse before the media, government, and big banks do so. The men in the group played by Christian Bale, Steve Carell, Ryan Gosling and Brad Pitt all bet on the collapse and end up making a fortune in the process by putting money into credit default swaps.
The Big Short is also nominated for no less than 5 Academy Awards including Best Picture, Best Supporting Actor, Director, Writing, and Editing. So, it has to be good, right?
Damn, Xylo sounds pretty good. I'll rent The Big Short, not sure about buying. I like the director though.

I really liked The Big Short. Unique storytelling choices, strong cast...it's just well done, in my opinion. I hope you enjoy it!

Watched the Big Short its a great film

I feel the same way as revans!
Windows Central Newsletter
Get the best of Windows Central in in your inbox, every day!
Thank you for signing up to Windows Central. You will receive a verification email shortly.
There was a problem. Please refresh the page and try again.