The iBall Slide i701 Windows 8.1 tablet launches in India for just Rs. 4,999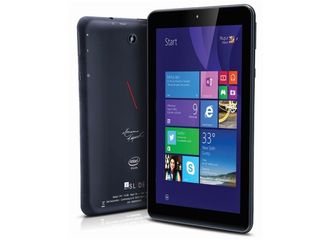 Just a few weeks after India-based Micromax launched its Windows 8.1 2-in-1 notebook, the Canvas Laptab, in that country, another local OEM, iBall, is joining the party. This week, it announced a new Windows 8.1 7-inch tablet, the Slide i701, that should go on sale later this week for Rs. 4,999 (about $79).
The iBall Slide i701 has 1GB of RAM and 16GB of internal storage, according to NDTV Gadgets. iBall has not revealed the resoltion of the tablet's 7-inch display, but it's likely to be on the low end of the scale. It has a quad-core Intel Atom processor inside, but again there's no word on its clock speed. The tablet does have a 2MP rear camera but only a 0.3MP front-facing camera. The tablet comes with a free one-year subscription to Office 365 along with 1TB of OneDrive storage space.
The iBall Slide i701 will come with a few extras, including an engraved signature of Kareena Kapoor, the well-known Bollywood actress who also serves as a spokesperson for iBall. The tablet will also come with a free HDMI cable and three covers.
Source: NDTV Gadgets; Thanks to Faisal for the tip!
Windows Central Newsletter
Get the best of Windows Central in your inbox, every day!
Engraved signature? Probably that's why its so cheap..

Kereena Kapoor❓
............
I'm Rodney from Dallas, TX, and if she's so well known then why haven't I heard of her❓

Because she is an Indian actress (Bollywood)...

But, they are calling Dallas the new Hollywood.... What's your point...... ❓

Have you heard of Priyanka Chopra, Rodney?

Paprika Pork Chops❓ Yes. Yes, I have..... Famous Texas dish... What are you asking..

Nope.. He is talking about Priyanka Chopra, a singer and a lead actress in ABC's new thriller tv show 'Quantico'

Wow❗ Yall have ABC❓ That's cool... Do you have Fox, or NBC❓

We dont have fox or abc or nbc.. But we have internet and torrent

we have fox channels na, star sports is taken over by fox too long time ago

Hey rodneyej its okk buddy.... You don't need to panic.... We too don't know the names of actresses or actors from your area. Its natural. Ne ways to know about them you have to read movie or music related news.... You don't read them you don't know them.... Simple.... It's not your fault...

Lololol! Nice one there! Guess you'll have a hard time pronouncing them well :P

Damnit... What's the most popular TV channel there❓

Bittorent is the most popular TV Channel

Errrr... That's kinda hard to tell LOL... it's quite diverse... but from what I know, Star Plus (an entertainment channel) has been the most watched channel over here, for a long while (well over 2 decades I think!!) and has its influence over some parts of Europe too. Sony channels are also popular. Colors TV, is yet another popular channel that recently got traction because of shows like 'Comedy Nights with Kapil' and such, I think.

I actually was hooked into Indian serials until the cable company removed Zee TV. I really like the tradition of this country and it's lovely to see some people living in an old-fashioned way. I'm a Filipino.

If you had Sony TV channel instead then you wouldn't have had any problem with it. Bcoz, it's the only channel which broadcasts sensible shows and not all kind of Mother-in-law and Daughter-in-law focused shows.

Launches India where? Space? :P

Good one man. Did not even notice it. Launches India for just $79. Lot cheaper than MOM.. xD

Shit this is just too much ..LOL lmao... Filled wid errors this article

Resolution... Not resoltion.. Heehee

Nice tablet. At least for that price, you could have a tablet that is Windows!

Microsoft should put a memory limit up to 2 GB or RAM; Windows 8.1 works nice with 1 GB of RAM, but that was the amount of RAM used in the so popular-not-anymore-and-before-the-tablets-boom netbook, and a couple of years has passed from those days and devices; if Microsoft wants to have nice Windows Tablets, they need to put a real lower limit to the OEMs, or things are going to happens just like Google, Android and all the OEMs selling cheap Android Tablets with the worse hardware ever.

Agreed. 2GB should be the minimum requirement.

They'd rather have market share and people buying 8.1 apps than insisting on higher end specs. That's the route to giving low end buyers nothing but Android to work with.

The HP Stream 7 is an amazing device with just a few buck to invest on it, but it's gonna have a lot of trouble kepping up the race in no more than 1 or 2 years at much. Another GB of RAM I believe was not that much more expensive than, what, 10, 15 dollars? Are actually quite cheap nowdays. Marketshare is a mayor thing they need to solve, but you also are gonna have a strong point in your favor by bringing a great device.

Signed by Kareena Kapoor.... I guess that is cool, somehow. LOL

A 32 gb version would be fine

Instead of bundling it with THREE covers they should have gone with minimum of 32gb. SD too is not mentioned here

Not a big deal when priced 1-1.5 k more :)

Yeah, if it's just 1-1.5k more, then it's fine!

Windows 8.1 experience on Tab at this price is something noteworthy

Just expecting Indian OEMs to build devices equivalent to at least mid-range...

2gb, 32 internal, 1.5-1.7 quad core. Display 720P, make it ₹6500-₹7000.

iBall ! *giggles immaturely*

*chuckles so loud*
*see the name again*
*ROTFL*

Hahaha...
But they do make good stereo systems here.. Adn besides some phones here and there.. They have a low end windows phone too!

Man my phones specs are better
NOKIA Lumia 1520

And also costs more too.....

Think I'm gonna buy this just for the price.....but why the h!ll did you put dumb kareena's name in there.....

I also think about it. Browsing on PC is Much better than phone. Just for browsing.

I'd love it have Satya's name embedded instead <3

Kareen Kapoor's signature made this device undesirable for me........its uselesss!!!

office 365 70$
This tablet costs 80$.
I only pay 10$ for this device. Wow an amazing deal. Rather than buying an office 365 subscription better to buy this which comes with office 365 for free.