Micromax to launch Canvas Laptab Windows 8.1 notebook in India for Rs. 14,999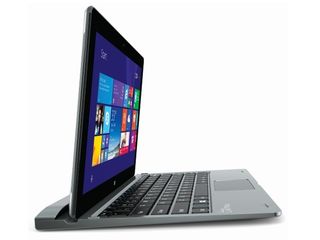 After previously launching two Windows Phones in its home country of India, Micromax is expanding its hardware partnership with Microsoft with today's announcement of the Canvas Laptab Windows 8.1 notebook.
The announcement, which was teased by Microsoft's Facebook page earlier this week, represents Micromax's first ever entry in the PC market. The company did announce plans to launch a dual-boot laptop, with both Windows 8.1 and Android, at CES 2014, but those plans have apparently been abandoned.
The Micromax Canvas Laptab is a 2-in-1 laptop, with its 10.1-inch 1280x800 display able to detach from its keyboard dock to be used as a tablet. NDTV has some of its other hardware specs:
1.33GHz Intel Atom Z3735F quad-core processor
2GB of RAM
32GB of internal storage
2MP front and rear camera
7700mAh battery, lasts up to 10 hours
The Micromax Canvas Laptab will go on sale May 6 for the price of Rs. 14,999 (about $236). It will be sold exclusively, at least at first, via Amazon's India website.
Source: NDTV
FoneArena says it supports 3g as well http://www.fonearena.com/blog/139249/micromax-canvas-laptab-with-10-1-in...

Is it safe to invest ₹15000 in a micromax product without reading the reviews first?

Good question. Answer is NO. As much as I would like to encourage indigenous development, as a consumer you also have to ensure that you don't land up with a substandard product.

its better to buy a lumia 640XL on that price,

But if there is an indian company you'd want to invest your money on , it's Micromax..

You are right.micromax is alot better than remaining indian companies and also we should remember when the samsung lost its sales due to lag micromax devices where the only android devices with no lag.....and also now micromax is number position in sales

Both of you arent correct. That company is Notion Ink !

well let me tell u my experience.... with Micromax A016 ... it had vanilla Android experience (devices which customized UI... works even worse) with 1 GB RAM. It hangs and lags a lot...... why sammy failed... in front of MMX because it had quite vanilla android... and sammy customized to make it better and Android OS cannot handle it well.... even Kitkat which was said to run well on low end devices, LAGS on 1 GB ram phones.... it is just problem of OS..... we should not shun MMX coz of brand.... just look at specs... if it is sufficient to get ur work done... go for it.... else look elsewhere! Same specs from Samsung, lenovo or even MS couldn't perform better.... Ya.. there are other problems with MMX like after sales service really poor and device screen quality... if u r ok to ignore it and specs r ok with u... then go for it... Also ....people who do heavy browsing....dont expect much from this config..... as when in any browser (ie, chomre, mozilla) when page becomes heavy browser and os starts hanging...

Wait for few more months and you will get a Windows 10 pre installed.

Why wait? When you can upgrade it for free.

I think Microsoft isn't allowing Dual booting Android with Windows but allowing it with Windows phone. Google seems to be saying no straight away.

Gona be my first micromax product. Hope, my decision is not wrong

Decent specs, only breakdown is the storage. 32 storage

Quite descent for the price I'd say...

You wont get 64 GB in any Windows tab/ 2 in 1. In rare cases where such memory is available, it certainly will cost you at least 22000 rupees. So this is priced very aggressively !! Only thing that keeps me waiting is that I m unsure about build quality, so need to see it in my hand first.

Does it has sim support ?

I read on fonearena.com that it supports 3g as well

As expected. And the price is a win.

Those who wanna try it, I'd say never go for it. Micromax is a crap company.
But yes, that device looks beautiful.

It's more on luck basis, I know people who's micromax phones work better than samsungs of the same price range for over 2 years & also people whose devices crashed within weeks of purchase.

There you go. Shit gets compared with crap. Lol

http://www.fonearena.com/blog/139249/micromax-canvas-laptab-with-10-1-in...

All other specification are good but 32GB internal memory is quite less.

You can add 64 gb additional storage via sd card slot

RIP chromebooks!!!!!, Microsoft should push more of these worldwide at prices like this and running native windows apps chrome os doesn't stand a chance

Does it come with docking station/keyboard?

Yeah keyboard with touchpad

Horrible design, specs ok for the price.

Looks nice. Gonna wait for a few months to get the reviews and then decide. Really wanna invest into something indegenous, but then I don't want a substandard product.

Never gonna buy a Micromax in my life.

Worst company ever,, this company don't bother their customer after sale, worker in micromax care behaves like they are king of India, and their service is like Hel.. I have beard many bad experiences with their only one product, they wasted my 10 months to solve my issue but they were not able to solve my issue..i felt i was only to bear such worst experience with this company but when i open their fb page a lot of negative comments for every product and many people share same experiences about micromax care.sooo think 1000000000 times before purchase any of their product...

More choice is good it's nice to see micromax supporting windows.. They should release a flagship phone with windows 10

Micromax... flagship... Haha

I would better buy lenovo any pen tablet or miix 3 series which have amazing build quality than this crap

Emil.fako.mama.emil.skype
Windows Central Newsletter
Thank you for signing up to Windows Central. You will receive a verification email shortly.
There was a problem. Please refresh the page and try again.