The iconic Taj Mahal Palace Hotel lights up in green as Xbox One launches in India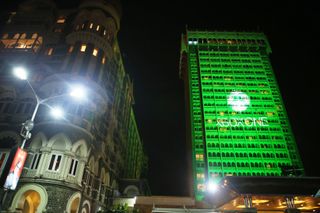 In a grand event at the Taj Mahal Palace Hotel in Mumbai today, Microsoft officially launched Xbox One in India, and delivered the first console to its owner.
Xbox One offers a huge exclusive games lineup including Forza Horizon 2, Forza Motorsport 5, Dead Rising 3, and Ryse: Son of Rome. In addition, popular third-party blockbusters will be available on Xbox One with early exclusivity for downloadable content in Call of Duty: Advanced Warfare, FIFA 14, Battlefield 4, and more.
Chakrapani Gollapali, Country General Manager, Consumer Channels Group also reiterated the company's commitment to provide localized content and announced three new apps on the platform – Bigflix, Gaana, and Hungama providing a wide genre of Indian movie and music content.
"The hotly anticipated, new-generation games and entertainment system from Microsoft brings the biggest blockbuster games, the most advanced multiplayer experience, games plus entertainment like live TV, Skype, sports, fitness, music and movies, all to one single device at the center of your living room and available at the command of your voice, powered by Kinect. It's time to experience and celebrate the power of the all-in-one gaming and entertainment device."
Anshu Mor, Director - Interactive Entertainment Business, Microsoft India
At the event, Karan Bajwa, Managing Director, Microsoft India handed over the very first pre-order Xbox One console to a fan.
After a few weeks of pre-order period, Xbox One is now available for sale exclusively at www.amazon.in/xboxone. The standalone unit is available for ₹39,990 ($650) and the Xbox One with Kinect is priced at ₹45,990 ($750).
With the iconic Taj Mahal Palace lit up to reflect the launch celebration for Xbox One in India and spectacular performances through the evening, Microsoft put up an impressive kick-off for their next-generation console. It's not cheap, but passionate console gamers might just look beyond that. Would you want to buy the Xbox One? Tell us in the comments!
Windows Central Newsletter
Get the best of Windows Central in in your inbox, every day!
MS is doing well with it's console

That terrorism attack ah! :(

All credit goes to our peace loving neighbour "Pakistan".

Let them say whatever they want....they will never win...

I don't mean to be rude like Sameer Beri but are you rich?

WTF 750$ !!;!
I didn't read the article (I wanted to be the first one who comment)
Why it's so expensive?

Here's 610$. But you are rich and you can afford anything, right?

LOL I see what you did there...

If u know what happened, if no, then stfu >_

Nice WPC App via Nexus 5.

That's $750. Some big figure there...

And, that's were the terrorist attack took place :'(

No that's the left building that was attacked!

That's the building I was referring too.

It's actually priced close to a good laptop

I don't think so... Give a single laptop that could play Next generation games at that price point and I might as well buy you one... No 40k laptop will be able to handle AC Unity or Division and besides we all know how good laptops can be for gaming.

$50 more and you have a pretty good gaming pc! I'd go for the pc, as you can do more things with it and you have better performance.

DotA2 my friend. Give me a wqy to hook up a keyboard mouse and play dota2. I'll sell my pc.

The price is quite cheaper than I expected. Ms rocks! :)

Only 300 dollars more expensive than the US...
Nice one MS :/

That's probably because of local taxes and custom charges. You know how much greedy governments are both in India and Pakistan. We have to pay around $750 too for xbox 1 :(

I am exploring the ways that, how can I kick the ass of MS and Satya nadella as well as Stephen elop

It is well worth the price. You have Kinect, Xbox on! Feature, can watch TV, do Skype calls while playing games, multitasking, and many many more.......... This is worth buying over PS4.

for $50 dollars extra you have a good gaming pc that plays all new games at high or ultra. you can watch tv with a pc too, and a lot of other things, so it isn't really worth the price at all!

I was comparing this to a PS4, not a PC. Of course,a PC is a much better option than any gaming console.

Not really when you consider it can be had for about $200-$300 cheaper in the U.S. I don't know why there's such a huge price difference, but India seems to be getting screwed over, big time.

Yep. My thoughts exactly.

there is a trick to everything bro... If you have family and friends working in Middle east(Dubai, Qatar Saudi etc.) its much cheaper there...comparable to the US pricing... I bought my 360 from Qatar in 2010... almost half the price in India... I have an advantage as 2 of my bro work there and many of my uncles as well... so the best thing is... ask your family/friend in mid east to buy it for you...

Ask one of your uncles to buy it for me, please? :P

Well.. Are you a Mallu? :P Posted via the Windows Phone Central App for Android

If it was swadesi and made from Khadi Gram Udyog, one does not have to pay the exhorbitant 35% import tax. Not proud to say, but since I moved to US, my electonics life has been much more enjoyable.

That seems to be the case in general. Electronics are usually subject to a heavy import duty (unless locally manufactured/designed) while cars are usually saddled with older technology and cost 30% more for less power/features. A fully loaded Honda CRV for example, would easily be around the $50k mark in India while you can have it in the U.S. for around $37k and the one here will have more features.

Now launch the 2 beautiful lumias too in India. L730 n 830. Ready to buy one

Awesome! I didn't know this was going to happen. I would have been there if i knew it already.

But lights out for Trump Taj Mahal

Who to blame for that? Trump, Christie, or native gaming? How bout all three for starters, Trump first, since he'd the big brained owner. His constant failure has to be criminal yet there he goes...

Welcome to the party India! Just need a good cricket game, yeah?

Problem with good cricket game is there are no buyers so Studios don't develop it. there are mainly 6-7 major cricketing nations India, Pakistan, Sri Lanka, England, Australia, S. Africa and west Indies... out of these...if I can call cric crazy its India, Pak Aus and Eng. out of these in India and Pakistan and other sub continent countries PIRACY is rampant, only 5-10% will buy games... so you are left with Aus and England...why will developers make games for just 2-3 markets where its again...not number 1 sport...Football(Soccer) is... so making a FIFA game is good business wise... not cricket... I am an indian and would love a world class cric game...but there just isn't good business in it...

I was there. Awesome launch event

Waiting for flipkart or snapdeal at a cheaper rate... But happy to see consoles coming to India at good pace rather than windows phone.. Lol

Xbox One is exclusive to Amazon in India. You won't find it on flipkart, snapdeal or any offline stores.

Offline* It means the local electronic stores.

Amazon india has this 10% discount on SBI cards... go for it... if not then ask your family/friend in Mid East to buy it for you... almost half the price in Dubai... check out Carrefour UAE webstore and you will be surprised with the diff in pricing

It will only be available on Amazon for now. And also I read it in terms that official warranty on Xbox One will only be valid if purchased through Amazon and no other medium offline or online.

MS should open stores in India as well. We, who value it, don't have one.

Does that mean all the Xbox services would come to Windows phones in India too?

Is any good cricket game available on Xbox or PS4???

ea stopped making cricket games after 2007 coz they weren't getting good profit. Though cricket is the most popular game in India. Ppl hardly buy original DVDs. I had bought it when it came out. U know that ppl use torrent for games and movies.

Yeah! "fucking" is always good

i couldnt resist commenting on this...fuck yeah...

And...like the first iPhone 6 guy, he drops it. No? Well, there you go, then.

Haha x'D via the WPC App on Nexus 5

that is the new hotel building, the palace is besides it

was there last week for dinner behind taj

Yes u can say these consoles are costly but better than playstation if u want a entertainment media hub.

How much the installment on emi basis?

Now that's promotion! MS ought to do similar stuff for windows phones. India is already a pretty good market for WP. And MS is respected here, much more than Google and Apple. A right hit at the right time will go a long way for WP.

Respected by devs and enterprise. Common internet public still goes for android. big business are handled by Microsoft. Public by google. I framed it correctly.

MS is respected? Time to get out of that bubble you're living in. MS is like shit in front of most people. I told my friends that I am buying a Lumia. Their reaction, "Dude! Are you crazy or anything? Windows Phone sucks."

@lakshay : Do you have to rant instead of writing normally? The way you write just makes me think that you learnt your English right here at wpcentral (which may or may not be true) If you gotta make a point, make it normally, and probably people will pay attention.
As for WP not being reputed, I might agree with you, but that's exactly my point. And that's why I said they need mass promotions for WP(heck, why would I even recommend promotion if WP were already popular? Hmm Sherlock?) I said MS as a company is reputed. And it is. By devs, enterprise and general public alike. They need to use take their reputation and do something for windows phone. And before you reply to my comment with your rant, please try hard, very hard, to understand what point I mean to make.

Okay dude. Sorry. And it was a mistake on my part. I meant WP but went on to write MS. My bad. Sorry. And no, I did not learn English on WPCentral.

MS is considered shit? what bubble r u living in... Indians hugely respect MS...not just corporate guys...everyone... ppl may dislike WP but people love MS here... mebbe the 15 year olds... american wannabes try acting smart and go gaga over Apple but other than those everyone likes MS...reason for android and iOs doing good in india is Early entry...lower pricing with decent features.....deepshit sales executives who always push for droid without using WP... despite all these obstacles WP is second largest OS in India... what does that suggest...ppl like Windows/MS over all ... look outside your teenage group and you will see it...

are people even rich in india? I mean whats the countries rich to poor ratio? I feel like it's a lost cause in that country. should focus in Japan and Singapore.

If you price it right, you have a HUGE market to take advantage of. It's a new kind of challenge with China/India. If you are good enough to sell a product there, you have access to a market 1 billion in size. That's 1000 times Japan/Singapore put together. That said, I HIGHLY doubt Microsoft will push many units there. The price point is so ridiculous, it eliminates all of the middle class there. If anything, they should have slashed features/services not applicable to the market to get a lower price point.

are people that dumb in your country,,,mebbe we indians should send some of our economist/teachers in your country... i feel like its a lost cause in your country... there aare filthy fuckin rich in this country... millionaires billionaires... the only thing hollywood wants to show is slumdog millionaire. and give it an oscar.. coz that sells well... show a poor indian kid... covered with shit... hungry ...and all the developed country guys go like awww... take this oscar take it fast... yes we have poverty in abundace but that doesnt mean we dont have rich here... The property rates in my city Mumbai(aka Bombay) are mebbe 3rd or 4th highest in the world ... there must be a reason why rolls royce,ducati, land rover, jaguars..(heck Landrover and jaguar is owned buy an indian company..Tata..) have all opened showrooms here when your rich europe/americas were in recessions... infact we indians save our earnings here ...not just plastic money. credit cards even to buy a pizza... mortgages... all deep in debt... you need to be schooled...

Way to go :') via the WPC App on Nexus 5

650$ is expensive, but what do you think of the 1400$ some stores sell the X1 here in my country? They take advantage of people's naiveness and the fact that there is no official retail store here, so there are no official prices either.

Always glad to see other countries getting new things! Welcome aboard india

Why is India getting shafted with such a huge price hike? Can't think of a good reason why they would do that.

They are trying apple's strategies.

its not just MS... there are some govt taxes on imported software/hardware responsible for the price hike as well...

Green light shining through the hotel room windows all night...

Ok I'm seeing a bunch of people who live in the US saying omg its so expensive and I'm like 85% sure doing a currency conversion for most products in the world is dumb can somebody from India tell me if this is like super outrageous judging by how most tech and stuff goes

It is highly overpriced for its hardware. btw i live in India.
Here you can build a good pc for 40,000, with much better graphics card(r9 270x) and cpu (i5) with that price. and yes xbox is not so popular where i live, i wonder if any of my friends even heard of any consoles :-| The us price in india is 25,000rs. and even with all the tax it should not have priced over 28,000-30,000. Here in india MS is just as bad as apple. :(

Before calling Apple or MS bad, I am sure you are considering all other things like...import duty, shipping and handling, other operational overheads etc

Heck they even charge excise duty on imports in india

even with things like import duty, shipping and handling.... do you truly believe that a 25,000rs hardware would cost 40,000rs!!!
i am pc gamer, i don't like console, but the price point is outrageous, compared to what you can built in the same price!

Absolutly. Only the import duty itself is 30%...add other expences and you will be at 40,000rs

Microsoft didn't release a lumia 930, because we can't afford that premium device as they think we are poor, now they release a overpriced XBOX, and they want us to buy that! great. another evil company. As they acquired nokia, and since nokia has factory in india, i thought they would use this to reduce cost, but fuck, they simply blew that. and most of all, netflix, hulu is not available in india!! and also ps4 is cheaper in amazon.in, why would anyone buy this!! I would be happy if the price point justify the hardware. :(

eventually they will release 930 but lots of things going on right now with MS, nokia mobile merger and all....for factory, dont want to say whose fault was that. but i just want to say that MS wont do anything wrong with India for sure. :) users are free to pick any device that they think fits to their need. i just wanted to make it clear on the price mismatch between US and India. cheers.

The cheapest i5 is 13k. R9 270x is also around the same price. That's 26k. The mobo itself will have to be at least a A95M2 which is 5k. Ram at least 4gb will go for 4-5k. That's 36k. 4k for the storage. 40k. You are still left with buying a heat sink, a case, assuming you have a monitor, keyboard and a mouse. This will also fetch you med settings at 1080p or ultra at 720p, with varied AA settings. That's not better graphics than the console. Its better value perhaps, but not better in performance. You could replace the i5 with the and fx6300 to get the price down. That'd also be good, not great. To get a great having PC, you must spend 50k at least, and that's just for the CPU.

"The cheapest i5 is 13k"
wrong it is 11,000rs "4k for the storage"
it is 500 gb more than console. also much faster. "This will also fetch you med settings at 1080p or ultra at 720p"
you must be out of your mind. go check some benchmark. and btw even in med setting, they can outperform a console, as console has lower res also lower fps also lower quality. " Its better value perhaps, but not better in performance" Wow, where do you get that! go check your facts again. "To get a great having PC, you must spend 50k at least, and that's just for the CPU." why people have this kind of biased view about pc, no it does not need 50k budget to play games. llok at the build bellow, it will outperform the console anytime x-(. AMD 3.5 AM3+ FX 6-Core Edition FX-6300 (FD6300WMHKBOX) Processor (7,599rs)
link: http://www.flipkart.com/amd-3-5-am3-fx-6-core-fx-6300-fd6300wmhkbox-proc... Sapphire AMD/ATI Radeon R9 270X with Boost OC 2 GB 2 GB DDR5 Graphics Card (14,799rs)
link: http://www.flipkart.com/sapphire-amd-ati-radeon-r9-270x-boost-oc-2-gb-dd... 2 x Transcend DDR3-1333 DDR3 4 GB PC RAM (JM1333KLN-4G) (5038rs)
link: http://www.flipkart.com/transcend-ddr3-1333-ddr3-4-gb-pc-ram-jm1333kln-4... Gigabyte GA-78LMT-USB3 Motherboard (4,359rs)
link: http://www.flipkart.com/gigabyte-ga-78lmt-usb3-motherboard/p/itmdeg8jwxz... Corsair VS550 550 Watt PSU (3,099rs)
link: http://www.flipkart.com/corsair-vs550-550-watt-psu/p/itmdg36xx8yzgjrs?pi... Antec ASK-4000B-U3 Mid Tower Cabinet (2,915rs)
link: http://www.flipkart.com/antec-ask-4000b-u3-mid-tower-cabinet/p/itmdyggfa... WD Blue WD10EZEX 1 TB Internal Hard Drive (4,090rs)
http://www.flipkart.com/wd-blue-wd10ezex-1-tb-internal-hard-drive/p/itmd... Logitech MK200 USB 2.0 Keyboard (850rs)
link: http://www.flipkart.com/logitech-mk200-usb-2-0-keyboard/p/itmdrvcyvcyvjy... Microsoft Wired Controller (2,350rs)
link: http://www.flipkart.com/microsoft-wired-controller/p/itmdkzghxpsykf6s?pi... now it costs around 45,099 rs. Sorry no i5.
I also excluded bluray or dvd player, and some other things. but included some features a gaming pc must have:
1. a xbox 360 controller +KB & Mouse
2. 1TB (7200rpm) hard drive compare to slower 500 gb (5400rpm)
3. A much powerful gpu that will beat the pulp out of ps4, xbox one..... well you guess it. and no ps4 gpu is not nowhere near this gpu, ps4 cant play native 1080p games (look at BF4 multiplayer), this will play 1080p with fps around 60 fps in most games.
4. powerful psu, 550 watt is too much if you are not gonna overclock it, buy a 450 watt, it is much cheaper.
5. This amd processor is powerful than those consoles, console don't pack powerful cpus, they pack cpus similer to laptop, which is slow and less clocked.
6. No need for Dvd or Bluray, i don't remember using dvd drive :(
7. 8GB ram, enough to play all games in market
8. Windows 8.1 os (there is piratebay, no need to pay)
9. Steam (free + much cheaper games than both consoles, also much bigger and better library than those console have.) Please don't start console vs pc war, we all know pc is superior, With this pc you can plug to your TV and enjoy gaming. also do some extensive 3d modelling, video editing, studying, web browsing, do almost anything that a console can't do. and besides this buil seems a bit costlier, but in a long term run it will save you money you can never imagine, look at those console game and their price, and look at the steam sales, you will know. good day, building your next gaming pc. here is a video of console vs PC. https://www.youtube.com/watch?v=fvBWH8MjFXw

Like I had said, for a sub 50k build, you'll need to go the AMD route, which you did. Windows 8 piracy, that's classy. Talking about it on an international forum, even better. And as far as med settings outperforming console performance, that's just insane. I have a PS3 and I prefer my PC. I am not inclined to start a PC vs Console war with you. All I meant to highlight was that you don't get BETTER performance at 40k. The amount of peripherals needed are also high in a PC. And the best part about a PC is UPGRADABILITY. To keep the cost down, you have given it a much inferior MOBO, which might not even support the upcoming graphics or processor. The A97 that I had mentioned at least has the ability to do that, apart from SLI I reckon. And you excluded a bluray/dvd player. I guess you are planning to steal games too, even though PC games are significantly cheaper than console games. About fx6300 being powerful than the consoles' processors, the PS4 has an eight core processor from AMD, with separate cache for vid memory, and Xbox also has a beefier processor. The advantage on PC is that you can alter your settings, which you cant on a console, but you do get 30fps+ consistently. Video editing and 3D modelling would require a much beefier CPU with better single core performance like the i5, preferably the i7. Coding is a more CPU intensive task than gaming. And I didn't know that you can't browse the web on a console. Heck, you can use your phone as a remote, a trackpad and a keyboard. Lastly, I built a PC myself instead of buying the PS4, and I know its better. But don't go around shoving your opinion down everyone's throats, and especially not when you start your argument with an i5 and end up with a 6300, which I mentioned in my comment myself. That's a 5k difference right there, and even then you exceeded your budget. And the 11k core i5 is the basic one, which you cant even overclock, and I guess it runs at a modest 3GHz. So I'd suggest you check your facts first. Have a good day mister. I have better things to do that beat my head on the wall that you are. Didn't mean to be rude, but cant help it. Ohh and yeah..the 60fps in 1080p for BF4, good luck with that. :)

so you are implying that this build worse than console! sigh.... another asshole... i can give you i5 in that price, just get a 500gb instead of 1tb, and also, get a 450watt psu, and you can have a i5. also check other online and local retailer for better price, they have much better price than this..... if you truly prefer console go ahead and buy it, console is for plug and play, as console setup don't require any knowledge, pc is for enthusiasts. i never forced my choice to others, op asked if it is outrageous or not, and i give the answer, go read above. as how you simply provide some some mis-info, and claim that you know it, i have doubt that you have slightest bit of knowledge of pc.... conversation ended.

I just said that I built my own PC not more than a month ago. Learn to read cunt. A 500gb hard disk isn't half the price of a 1TB hard disk. The 450w psu isn't like 2 grand cheaper than a 550w psu. As for your KNOWLEDGE of PC and building them, its all YouTube. Ohhh and I don't know how my implication of that build being worse than the console makes me an arsehole. :D the price that you have is online price, and you can't get those cheaper than that. I didn't mean the shoving down the opinion comment for your original comment. I meant it for your reply to my comment. And I just read your original comment. 25k hardware. Sigh..i don't even know what to say anymore. They are there for a reason. To earn. They can't fucking dole out consoles for no profit. Geez. Get a grip. You talk about me not knowing anything about PCs and yet you just copy the builds shown on forums. Ohhh and yes, conversation had ended for me after my first comment itself, but when I see such ignorance filled lads trying to teach people something, I feel like commenting. I don't think I'll try to get anything else through that thick skull of yours. Peace out. Have a good life.

here is the answer for you stupidity:
https://www.youtube.com/playlist?list=PLfmd4cdI8DfM-ED53bb_Ega0pmua7tdDm i don't care for ms business, if a 25k hardware costs 40k i will bash them. Put a reasonable price and you have my support. Oh yeah, i am still learning, there is much to learn, but definitely, i know what i talking about, unlike you. "Ohhh and yes, conversation had ended for me after my first comment itself, but when I see such ignorance filled lads trying to teach people something, I feel like commenting."
That's what she said. seriously why are you so opposing that this build is more powerful than ps4, let xbox one die alone..... "he price that you have is online price, and you can't get those cheaper than that"
and here i thought you can't be more idiot than that. This build will outperform any console any-day, no matter how much you dislike it. Give me some evidence that console is better.
here is some truth to open you fanboy's eyes. just look at those pathetic res and framerates, and they call it next gen....sigh.... http://www.ign.com/wikis/xbox-one/PS4_vs._Xbox_One_Native_Resolutions_an... i hate to say it, but if you continue to argue without any valid evidence, i hate to call you nothing more than a console peasant.

if you want win8 paid, go ahead and pay, but i will stick to my position, and as for games i mentioned steam earlier. but yeah some games that are not worth buying, simply pirate it. :)

Awesome..cant argue with that now, can I..??

Can nyone tell me if the HDMI pass through(tv) is going to available in India.. Also I was hoping if wpcentral could write a article abt the actual features tht will be available in India for Xbox one...

Yeah, same here. Will the OneGuide support local Digital cable? Atleast DTH?

I am using Xbox one since the release. I bought it from eBay.com for 800USD since there is no stock during the release. And the import duty alone cost me 14K INR. I do own all the gaming titles. And I am using Tata Sky and yes. Xbox will support dth. Now Xbox can be used to turn on tv and dth . One guide support should come as soon it is released.

What set top box are you using and in which state? I have Tata Sky HD at home. Will it work with that without any hassle?

for those who love to plug n play, ps4 is the great choice, XBOX one...... lol no....
and for those who wants better in everything and also want to spend some time in learning, PC is always the GOD of all things :) I don't know why it is so overpriced here, neither have a idea why anyone would even buy this highly priced piece of cable box, and wtf Kinect!! seriously is there any reason to buy that bundle!!

If I'm not wrong, the lit up hotel is actually The Oberoi. Taj Mahal palace is to its left.

Already ordered from the US

Already pre-ordered Xbox One with Kinect way back. Expected within 2 days. Woo hoo!

Ok. I will send you photos when it arrives!:P

got mine already :) :) :)

I am from Mumbai and I didn't know this... Lol

Got my XBox One already!! Awesome service by both MS and Amazon!! Yeah!! :D

Is Xbox music available in India now?

No. But I think they are working on it. Could take more time.

What's the TV integration story in India? I may consider it buying if TV integration is as good as in US

Isn't Gateway of India right next to these two buildings?

yo Man! microsoft nice to launch xbox 1 in india at Taj hotel. Likeeeeeeeeeee it.

I don't understand why it's so expensive? Import duties / taxes? Anyway, my Indian friends, get the Kinect version. It's worth it.
Windows Central Newsletter
Thank you for signing up to Windows Central. You will receive a verification email shortly.
There was a problem. Please refresh the page and try again.