Iconical, a Windows Phone calendar option that makes the most of Live Tiles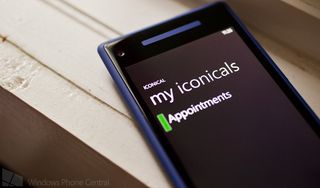 Iconical is a Windows Phone calendar app that allows you to create multiple appointment groups filtered from your Windows Phone calendars and pin them to your Start Screen for quick and easy reference.
You create appointment filter groups based on subject keywords. The Live Tile focus lets you pin that group to your Start Screen, view up to three appointments (ten with the Plus version) in that filter group, and help you keep up with all your appointments. You can create filtered groups for school, work, medical or any other appointment keyword that you need to monitor a little closer.
Iconical is an interesting Windows Phone calendar app that definitely has potential.
When you first launch Iconical you will find a pre-existing calendar filter group, Appointments, which contains all your Windows Phone calendare appointments. At the bottom of the screen will be a "+" button where you can create additional filter groups (more on this in a second).
Tapping the appointments category (or any other category you should create) will allow you to view all of your Windows Phone appointments within the category in agenda form. If you swipe to the right you will see a summary of the settings for this filter group. Individual appointment details can be pulled up by tapping the appointment.
Button controls at the bottom of the filter group page include a done, new, monthly view and search button. Creating a new appointment, modifying an existing appointment or deleting an appointment in Iconical is reflected in your main Windows Phone calendar. Iconical does have the ability to search your appointments by keyword with search as you type results.
Below the three-dot menu on the filter group pages you will find options to view the filter groups settings, a pin to start option, an option to delete the filter group and a help section. You'll need to use this pin to start option to create the Live Tile for the filter group. Pinning Iconical from the Application List won't do the trick.
A filter group's settings will be the same screens you will see if you tap the "+" button on Iconical's main page when you create a new filter group. Here is where you name your filter group, determine how you want the text to lay out, choose your background and alert colors, choose which calendar account you'll be using (Hotmail, Google, etc.) and set your filter parameters. Parameters include the keywords to include or exclude, how far out you want the filter to look, and set the cut off time for all day appointments.
While the filter settings are nice, if you have multiple calendars in one account Iconical won't let you separate those calendars. If you keep a work calendar and family calendar in your Hotmail account, they are viewed as one by Iconical. I'm not sure if this is a limitation of Windows Phone or one of those programming hurdles tough to over come. Whatever the reason, it would be nice if there was a way to apply a filter to an individual calendar as opposed to the full account.
Iconical's Live Tile will display up to three appointments when set to the wide view. The Tile will also display the current date and the last update time. Iconical will update the Live Tile every thirty minutes. While the Live Tile is a little on the plain side, one nice feature with Iconical's Live Tile is the color options. You can set one background color for the Live Tile and choose another color to set as a reminder color. While the Live Tile is functional, it's a little on the vanilla side. I would have liked to have seen it have more pop the way Simple Calendar's (opens in new tab) Live Tile is presented.
Iconical is an appealing calendar app for our Windows Phones. The core function is basically creating groups of appointments that can be easily monitored from your Windows Phone's Start Screen. If you have a series of appointments associated with one project or event, you can create a group, pin it to your Start Screen and monitor the activity related to that project a little closer. It would be nice to have more options on the app's filter but what's in place is a nice start.
There are two versions of Iconical in the Windows Phone Store. You have Iconical (opens in new tab) (right QR Code), which is a free app that has some display limitations. Then there's Iconical Plus (opens in new tab) (left QR Code) that is running $.99 and extends your Live Tile to ten appointments and adds a seven day view with the monthly view. Iconical is available for both Windows Phone 7.x and 8 devices but does require OS 7.10.8858 or better.
Windows Central Newsletter
Get the best of Windows Central in in your inbox, every day!
George is the Reviews Editor at Windows Central, concentrating on Windows 10 PC and Mobile apps. He's been a supporter of the platform since the days of Windows CE and uses his current Windows 10 Mobile phone daily to keep up with life and enjoy a game during down time.
That is a pretty messy home screen with all those appointments.

Hi mtav1, the developer here - you don't "have" to have 3 live tiles, the screenshot in the review is used to illustrate that one "can" have more than 1.
For example, a common scenario would be a main wide tile for appointments, and a small one for birthdays. The small one will change the color automatically to let you know a birthday is coming soon (up to 2 days in advance) - tap on it and see the upcoming birthday.

Thanks for the information. Keep up the good job.

I am going to check this out. I think this is exactly what I need. I use my phone for work and non-work activities and I do not like getting the birthdays in my current calander tile, but I do not want to take that calander out completely. I think this will help me.

This is the most common use scenario we've seen since the app release.

Don't forget to turn on the "birthday cake" icon for your birthday filter, choose a bigger reminder interval (up to 48 hrs), and eventually use the smallest tile size. Minimal room on the Start screen, easy to tell appart from other app shortcut tiles, it'll remind you of upcoming birthdays by changing its color.

@litcanada One missing feature (I have the Pro Version) - Once I create an event using IconicalPlus, I cannot change it. I created a default 1 hour appointment but could not edit it to 30 minutes intead.
The default calendar was able to change/edit the appointment to 30 minutes. Please add the ability to be able to edit the events in Iconical.

@litcanada, Is there an option to pin the month view live tile to start screen or start the app in month view. Even if the feature is Pro version only, I do not mind buying it.

Yes, it's available in Iconical Plus:

The option to "pin to Start" is available in both views, month and agenda. If pinned from month view, a tile tap will open month view; if pinned from agenda view, the tile will open the app in agenda view.

May I suggest adding the ability to flick left or right in the MonthView to move to the next/previous month. Even if it is to Pro version only.

OK, saw that the flicking up or down in month view does that. Bought the pro version!
Love the month view and the fact that pro version can support tiles in all sizes!

Chronos is not receiving an update soon, since the developer is taking some time off...

Hi @ciscomoto, the developer here - Iconical is not designed to be a full calendar replacement; it's a free app to download and use (no ads, no data services) as a companion to the stock Calendar app, to fill some of the gaps most users will notice very quickly (i.e. stock live tile, search, month view).

I actually really like this app. I've been using the paid version for a while now and it does exactly what I wanted in a calender: cycle through appointments and birthdays on separate tiles.

Nice.. But until I get my phablet!!

I got chronos as well. Sounds like a disease or something.

LOL, never thought this way
Have this disease too

I actually really like this app. I can finally seperate my work calendar from my personal calendar on the home screen :). I'm looking forward to seeing customizable/unique tiles in the future ;). This app gets 5 stars from me!

Thanks, @sharpycl Additional tile types and sizes are available in Iconical Plus (paid version) - flip (wide, medium sizes), cycle. The more feedback we get, the better the app - including additional options for live tile appearance.

This app is great, but I have 2 small complaints...on the Live Tile, there should be a ":" separating the date and subject, and there should be a monthly calendar to scroll thru in the app.

We can certainly include ":" as a delimiter option. We chose not to include it for consistency between 24-hr / 12-hr time formats.
The paid version, Iconical Plus, has a month view with an integrated agenda on the same screen. The free version of the app comes with a 7-day preview of the month view.


I purchased the paid version to support your work, but I only saw a month view for the current month...understandable about the ":", maybe something else instead?

Please swipe up / down to scroll to next / previous month.

Got it, had to give it a good swipe, lol...thanks!

As far as the Live Tile is concerned, I appreciate the simplicity of the default Calendar, just hate that it only shows one event, and only a day before the event day...maybe if you followed that same format, but kept your current UI, is that doable?

That's a very good suggestion, we'll put it on the list for a future release!

Just a quick note to let you know the newest version of Iconical Plus (version 3.0.0, now live in the WP Store) includes an additional wide tile layout, thanks to your suggestion - single appointment per tile side, with some unique new features as well:

- ability to show the picture of the organizer if the next event is a meeting.
- dark text option: turn it on for lighter tile colors to improve readability (yellow, lime, teal, cyan, amber, etc.)

The new layout is automatically activated ("flip" tile only) when you choose in the settings to display 1 or 2 appointments.

Here's the download link (if you haven't been notified about the update just yet):
http://www.windowsphone.com/s?appid=6fb2ea7e-d842-4f7d-96d8-50089907a8ca

Enjoy!

Too bad this is useless for those with the dead tiles issue. How many out there have been plagued with this? There seems to be a limitation on the number of live tiles allowed at any time before they all go bonk. http://answers.microsoft.com/en-us/winphone/forum/wp8-wpapps/lives-tiles...

Just a ditto on the dead tiles issue. Can't believe there isn't a huge outcry on this.

I had the dead tiles issue on my Lumia 920 awhile back but I followed the tip from user bbraune from this link http://answers.microsoft.com/en-us/winphone/forum/wp8-wpapps/windows-pho... my live tiles have been working since.

Yeah, I've previouslytried a bunch of fixes to no avail. Today, I uninstalled Weave and restarted the phone and the tiles are refreshing again. But, it seems there is no universal fix. Everyone's results vary.

Give option to customize live tile with background picture.

Thanks for the review, George - much appreciated.

I'll provide here some additional info for a couple of points you made, more on http://datauniversalinc.com/apps/iconical/ Ability to include / exclude individual calendars for an account: this is an API limitation, access is only allowed at the account level. Appointment filter: more options are available in Iconical Plus (paid version) - multiple keywords, full word or partial match, and/or Tile design: it's all about personal preference. We hope the simple, clean appearance of the live tile with its Modern UI layout will appeal to most users. More tile types (flip, cycle) and sizes (medium, wide) are available in the paid version.


@litcanada The Pro Version is pretty close to what I wanted with one BIG missing feature. Events can be created by Iconical Plus but cannot be edited or modified.
Either that or I just dont know how to accomplish this using Iconical Plus!

Unfortunately this is a Windows Phone API restriction - appointment update and delete are not allowed. We hope future API enhancements will allow event updates / deletions, and full access to events marked as "private" (this is another restriction).

As soon as this functionality becomes available in the WP API - it'll be reflected in Iconical as well.

good, but im not missing a thing in default calandar

Hi
This is not related to this app. I just want to know if a Batch operations is plausible in WP calendar. There is are a few calendar app in iOS that contain the batch operations which let me select a bunch of dates and set it to whatever the event is. I am missing this features ever since I switch over from iOS. Apps like Week Calendar and CalendarSkin for iOS for example let me do this. Please, any helpful thought here.

Thank you
Windows Central Newsletter
Thank you for signing up to Windows Central. You will receive a verification email shortly.
There was a problem. Please refresh the page and try again.