#IDARB on Xbox One's new DLC packs are based on Masters of the Universe and The Walking Dead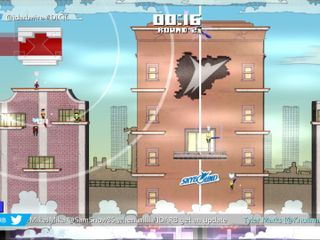 IDARB, the 8-player eSport jetpack arena ball game that launched on the Xbox One in 2015, has two new DLC packs to download for $2.99 each. One is based on the classic Saturday morning TV show and toy line Masters of the Universe, while the other has content based on Robert Kirkman's The Walking Dead and Invincible comic books.
Here's what the Masters of the Universe add-on will be like:
The Walking Dead/Invincible add-on pack will have lots of content for fans of Kirkman's comics:
Windows Central Newsletter
Get the best of Windows Central in in your inbox, every day!
Such a fun game. Sucks about the stupid matchmaking where you can only play against as many people are playing on your console. Killed the playerbase of the game within a few weeks.

Yeah but how can they just not add achievements? And when it's the Windows 10 version coming out?

Exactly. I finally played it this weekend with 4 people locally. It was ridiculously fun. Tried to find a match online with 4 others to no avail. Looking at how the online is managed, it's not a surprise. Next time, I'm going to try and organize an online night specifically for that.

One of the best multiplayer games of 2015.

Cool to see Masters of the Universe popping up in games lately.

Surprised this game saw enough support to justify DLC. Easily one of the worst games on any platform. Even though I got it free, I still feel I paid too much. It robbed me of a potentially good game by filling a Games with Gold slot. If you haven't played this atrocious train wreck of a "game," do yourself a favor and skip it. This waste of disk space is not worth the time to download. No stars. Instant delete.

It's not great, but that's kind of hyperbolic, don't you think?

Yeah, a bit. Still, it's descriptive, opinionated, and entertaining -- the Internet writing trifecta! Oh, by the way, I'm available if you need writers. ;)

Have you played it locally with friends or just solo?
Windows Central Newsletter
Thank you for signing up to Windows Central. You will receive a verification email shortly.
There was a problem. Please refresh the page and try again.