IKEA's wireless charging furniture coming to U.S. in 'late spring' starting at $27.99
Anxious to get some wireless charging tech around your home? IKEA has released some more details on its wireless charging furniture collection, which is set to come to the U.S. by late spring.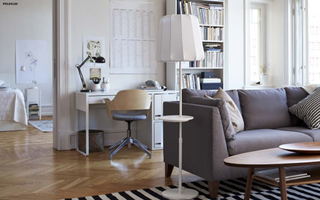 Announced back in March, the new collection from IKEA aims to bring wireless charging to nearly every surface in your home. The collection includes the tech in nightstands and lamps, but if you're not in the market to grab some new furniture, IKEA has also included a cylindrical charger called JYSSEN that can slot into the cord management hole of its MICKE or STUVA desks.
If you're wondering how much this stuff will set you back, luckily IKEA has included some pricing information with today's release. On the furniture side of things, IKEA is offering up two nightstand models at $59.99 and $109.99, respectively. For lamps, you're looking at three models running from $69.99 up to $119. If you aren't looking to pick up any new furniture, IKEA also has several charging pads available that run from $27.99 to $64.99 depending on device capacity. Finally, you can pick up a couple of different chargers that slot into your current furniture for $30 a pop.
Overall, this pricing doesn't look that bad when you consider the tech involved, along with the added convenience of being able to charge your Qi-enabled device no matter where you are in your home. As noted above, IKEA says the collection is set to hit U.S. store by "late spring."
Source: IKEA
Dan Thorp-Lancaster is the former Editor-in-Chief of Windows Central. He began working with Windows Central, Android Central, and iMore as a news writer in 2014 and is obsessed with tech of all sorts. You can follow Dan on Twitter @DthorpL and Instagram @heyitsdtl.
When to IKEA, my friends? LATE SPRING!!!

LOL, I actually got it already. Bought two kits I built into our nightstands. From IKEA

Do the prices of the night stands include the wireless charger built in? Or is it the furniture with a slot for a wireless charger?

If the chargers are included these are incredible prices, especially considering Nokia charged ~$50 for the pads themselves.

And chargers as small as the touchstone still cost enough

The answer is in the first paragraph. And heading. Posted via the Windows Phone Central App for Android

Awesome, IKEA + Windows phones = wireless charged

Do the new 640 phones have wireless charging? If not... Why?

I don't believe they do, as to why, you'd have to ask Microsoft for sure. My guess though is to keep cost down. If I'm not mistaken, they will be in the area of $200-$300 USD, so they gotta cut some corners somewhere.

More like $100 to $150 for the Lumia 640 (already announced by MetroPCS for $100), and I'm guessing $150 to $200 for the 640XL.

Ohhh man...I'd drive to IKEA today if they included one in the arm rests of their couch! haha. Even if it was just something that went under the couch cover...that'd be awesome.

How big will the charging surfaces be? I doubt anyone here can answer that, but i would love to know!

If you click through to the IKEA Source Link you get a really good idea of how big they are as they have a ton of pictures. I'd say anout 2" wide?

The pads are already on sale, got one last weekend. The furniture is on display, but wont be able to be picked up for another two weeks, I was notified it is in quality.

Great for people who don't have the savvy to DIY. And the price sounds pretty reasonable how much pads alone cost Posted via the Windows Phone Central App for Android

You know how to build a wireless charging pad?

So any word on when powermat and qi will merge? I imagine new universal chargers will come out or maybe one standard will be chosen?

Honestly I don't even know why PMA is even fighting a losing battle on the mobile front. Posted via the Windows Phone Central App for Android

There is no battle to fight. They both decided to merge by 2015-06-30. They have not made their tech decisions public yet. http://www.powermatters.org/about/pma-a4wp-merger

Good cause I was tired of AT&T in the past crippling Qi devices in favor of PMA. They changed their tuned as of late and even Samsung has started to support both on the S6. Thanks for the info Your link are for the PMA and A4WP Qi is part of the WPC. Posted via the Windows Phone Central App for Android

Me too! I have a Qi Lumia 920 and my sister purchased an Android phone that used PMA. When she visisted me, she was confused why it didn't work on my charger...... :( Welcome for the info, I hope this all gets resolved soon!!

Qi is part of the WPC after I read your article PMA merged with A4WP Posted via the Windows Phone Central App for Android

Oh jesus christ...... I am wrong then. A4WP/PMA are teaming up against WPC's Qi then?! We're so screwed.

Not really, Qi Wireless charging is almost every where (in certain car models). I say almost, it will be once Ikea releases the enabled products. Other manufacturers will soon follow suit.

Exactly. You want Qi. I want Qi. Phones should be like the 830 and GS6 and being able to support both. I refused to support PMA. But Qi is leading the mobile wireless race. Posted via the Windows Phone Central App for Android

Hasn't stopped AT&T so far. I'm worried about whatever flagship Microsoft Mobile kicks out for WP10...... what if it has PMA?!

MS seems to be supporting Qi, if AT&T nerfs it I plan on buying an international version of the new flagship and putting it on AT&T. Usually cheaper in the long run to do that anyway, I wish more people would do that.

I switched to TMO last month and do not worry ATT crippling anything anymore. I will buy the device I like, the way I like it.

I recently switched to TMO with an International 830 myself and am no longer concerned about att either.
Can't wait to see IKEAs offerings!

Does anyone know where I can find a wireless charging shell for the 1020? A prong broke-off mine, so now the shell doesn't work anymore, and the only shells I've been able to find are offered by gougers asking $150+ I have four wireless chargers and I loved the functionality, but they're all useless now since my shell doesn't work.

Three places: Amazon(did not work well), Microsoft store(still in use), and Expansys(most expensive). It's been over a year since I checked those places. Good luck.

I just bought a MICKE desk a month ago. Might have to get a JYSSEN charging pad to go with it. :)

Hope it comes to IKEA Ireland

Would be great if AT&T.........

I live 30 minutes away from the first IKEA store in the world.. Maybe they will have them there already..

These were released in Sweden yesterday, wednesday the 15th. You can see the collection and prices in swedish here: http://www.ikea.com/ms/sv_SE/catalog_categories/departments/collections/... :)

This is going worldwide not only US!

All I want is a bowl I can throw my devices in and have them charge

Definitely checkin Them out!

Most awaited gonna b ravishng all d way
Windows Central Newsletter
Thank you for signing up to Windows Central. You will receive a verification email shortly.
There was a problem. Please refresh the page and try again.