Imagine classroom of the future, and participate in the Surface Classroom Challenge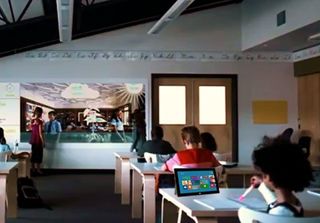 Microsoft believes education helps schools and universities, students and educators realize their full potential through technology solutions. Last summer, Microsoft offered Surface RT devices at a special price to academia.
While introduction of tablets, like Surface, in classrooms is changing the way of teaching and learning in the classroom, the classrooms haven't changed much over the past century. Now, from rows of desks lined up facing a wall, Microsoft is seeking help in reimagining the classroom.
What would it look like if every student had a Surface as a learning tool?
How would Teachers teach with a Surface?
What kind of furniture, and accessories would they need?
How can we make using Surface in the Classroom even better?
To participate in the Surface Classroom Challenge, just sketch out your design and explain it. The Surface team is looking for ideas for Surface-enabled desks, bean bags chairs with Surface mounts, holders, stylus clips, backpacks… basically anything you can dream up!
The contest is open to students, professionals, and enthusiasts above 14 years of age. The contest is open globally, unlike most contests from Redmond. You could win a Surface 2 or a Surface Pro 2 for yourself, and the grand prize is a classroom full of Surfaces to be donated to the school of your choice. The contest ends on January 24, 2014.
In this video, Ralf Groene, Creative Director for Surface talks about how he and his team think about Surface user scenarios, and introduces the Surface in the Classroom Design Challenge -- asking you to submit your ideas for making Surface in the Classroom an even better experience.
This looks like a pretty interesting initiative, and the contest submissions could throw radical ideas about the future of teaching and learning at schools. What are your thoughts on the classrooms of the future? Head here to participate in the contest, and check out the official rules.
Source and Image Courtesy: Surface Blog
Windows Central Newsletter
Get the best of Windows Central in in your inbox, every day!
Sadly, my school is all Apple. :'(

My school is all Linux :'(

My school is all Win98 :'(

My school is all windows 7 :D

My school is all of Android

How much does apple charge schools?

My nephews private school got apple for free from apple but the school had to make it mandatory for students to buy a school iPad.

Surface is a great school PC. Our kids have used the 32GB RT's as school PC's since last year and they are fantastic. All day battery life, ultra portable with a built in keyboard via the cover, Office is a plus and the fact that they can't install crap is a HUGE plus. Ever maintain a teenagers PC. Yup, Surface rules the school.

Damn, I'm liking the initiative!! MS had that school commercial and this just builds upon it..

The school I teach at purchased ipads a d google chrome books. I tried to get them to purchase those Asus t100 but they wanted apple and google. Let me tell you, now they regret it. Can't even test on ipads without their extra $$ going towards a keyboard. Even tried to convince to get the original surfs with type keyboards cause it would already work with existing infrastructure and they come with office. But sometimes when people have their minds set there is just no changing it no matter how much sense you are making :-).

Grammer issusz in tis articl

Well, we can start with a Kinect sensor tracking and recognizing each kid in class. Duh..

My cousin's school are currently testing mac books and ipads..... i told him to go RT but his manager although a very nice person would rather prefer Apple products. Simply because he wants them himself lol!. Btw don't forget office RT does not run Access or Macros/ VB in excel.

My school have just purchased 2,500 ipads and I think their starting to regret that decision. I've had my iPad for a few months now and I have not had a single time when it's actually been useful in any way. It's just like a big useless phone

Abby Its open in India too right..So we can participate

I'm an IT manager at a school, will definitely have a bit of fun with this, although our kids are now on 6 week summer holidays in Australia. We purchased 25 RTs and 20 Pro's for our junior campus. Our previously-mac-teachers love them, so do the students! Personally, I see value for ipads and surface at the junior level, but I think the Surface and other win tablets offer better value and features for seniors.

Maybe this is the step that we need to catch up to China......maybe

The College I work at now has over 150 RT tablets for use in the classroom - we have worked out how to lock them down so less messing about and more focused learning. The students love them. These have really made the flipped classroom more of a reality. They do the job brilliantly.
Windows Central Newsletter
Thank you for signing up to Windows Central. You will receive a verification email shortly.
There was a problem. Please refresh the page and try again.