Improved Spotify experience launches on Xbox One
Spotify just got even better on Xbox One.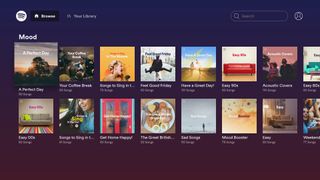 Spotify was a PlayStation 4 exclusive service for many years until Microsoft signed an agreement with the company. When the music-streaming platform launched on Xbox One, the application was quite basic and it was a little hard to discover music. A few months later, Spotify released a new Xbox One program to Xbox Insiders and it was a marked improvement over its predecessor. Luckily, it's now available to everyone!
In a post on Xbox Wire (opens in new tab), Microsoft announced the general availability of the new Spotify experience for Xbox One. The post said the following.
Only Xbox One owners in the United States can use Cortana to play their playlists. This feature should roll out to the rest of the world soon from what we understand.
It's great to see that Spotify took the user complaints to heart and addressed them quickly. Hopefully new features and the latest interface will continue to make its way to Xbox One in the near future. Right now, be sure to update the application so that you can take advantage of all that's new!
Keep an eye on WindowsCentral.com/Gaming for all the latest in Xbox and Windows 10 gaming, accessories, news, and reviews!
Asher Madan handles gaming news for Windows Central. Before joining Windows Central in 2017, Asher worked for a number of different gaming outlets. He has a background in medical science and is passionate about all forms of entertainment, cooking, and antiquing.
Too bad it still sucks in W10

Sure wish they'd build a slick UWP app for Spotify. Groove set the bar pretty high in terms of awesome music players, would be cool if they could integrate into the Groove app somehow.

If it's on XBox, they already did.

This is not true. The Xbox One launched before Windows 10 and has its own SDK and vetting policy for Apps released on the platform. Since they moved it over to a Windows 10 base, i'm not sure if Microsoft requires Apps to be submitted as UWP, but you can certainly tell when Apps are/aren't UWP when running on Xbox One, typically highlighted by the PC like UI design and navigation. These apps aren't necessarily UWP.

Anyone know the extent of cortana voice commands? Seeing as kinect is dead, can these commands be used through alexa on echo? If not, seems fairly useless. I recently got an echo to replace a broken kinect and still am struggling to figure out what commands can be passed to xbox. Seems like basic cortana questions dont work. If I say "Alexa, tell xbox whats the weather like tomorrow?" Alexa says I can't do that. Why wouldnt this send the command to cortana on xbox and pull up the weather on my tv. Am I doing something wrong? Or is it just a limited set of skills that get passed to xbox?

"Tell Xbox to open Weather" might work. But you may be better off opening Cortana through Alexa unless you are dead-set on seeing the app on the Xbox.

Yeah, I want to see it on the TV. That was always one of the great benefits of xbox voice commands to me, Audible AND visual feedback. It is like having an echo show without buying new hardware. I wonder if amazon would let microsoft pass voice text straight to xbox to then process... Seems a little sketchy and possibly slow. That would atleast give us ALL the functionality back though.

Wow... that is by far the most idiotic and clunkiest work arounds I've ever seen... lol - using another voice enabled device to talk to another voice enabled device.. I used my xbox one (day one edition) almost entirely by voice when I was bed bound due to illness, the only thing I had to is plug in the power brick due to the annoying coil whine. I had the kinect 2.0 behind the TV and it still worked. Looks like I really need to start using my xbox one completely again - that may be happening soon if Sony don't pick up their act on a misleading advert.

It's not actually dead you can still add a Kinect.
You can use the headset with microphone
better yet Alexa device or invoke. even webcam microphone would work.

What I need is a SINGLE way on any platform to listen to our OneDrive library but be able to buy new albums and add them directly to our library. So far, I've found nothing to satisfy those criteria.

Here's a roundup I did of the best apps to stream OneDrive music. I made it after the Groove shutdown news. https://www.windowscentral.com/best-ios-and-android-apps-streaming-onedrive-music

Ok, so when will this sh*t have a proper REAL UWP app for Windows 10, scalable, responsive and touch first?

The tablet mode on W10 is sorely lacking and to be honest though the UX elemets of the app are pretty big to making it some what easy to use with a touch interface.

I cannot for the life of me understand why, after the Spotify MS deal was brokered, they didn't develop a UWP app. I love my music and love my Lumia, but the Spotify experience drives me nuts on a near daily basis

Spotify on Xbox one needs a screensaver. Pandora has one. I have to turn off my OLED every time I'm using Spotify on Xbox so my screen doesn't get burn in
Windows Central Newsletter
Thank you for signing up to Windows Central. You will receive a verification email shortly.
There was a problem. Please refresh the page and try again.