Incipio NGP Impact Resistant case for HTC One for Windows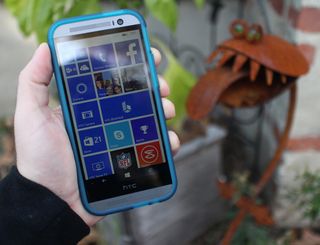 This is the week of the HTC One M8 for Windows, now that it is available on Verizon, AT&T and T-Mobile. In order to help jumpstart you one your way to using yours, we are reviewing cases like mad.
Today we take a look at the Incipio NGP Impact Resistant Case for the HTC One M8 for Windows. NGP stands for "next generation polymer," a mix between plastic and silicon. The balance of flexibility and sturdiness gives the Incipio NGP case a uniqueness all its own.
Molded to form a single piece, the NGP Impact Resistant Case is a full cover for the HTC One M8. The phone slides in and raised edges pop over the front metal rim, shielding the entire device, save the power button, SIM card tray, and the USB and audio jacks.
Curiously, the volume rocker button is the only thing covered. However, it is a good choice, as the raised button covers make it easy to toggle the volume. Despite being left uncovered, the low-profile power button of the HTC One M8 is still comfortably accessible, even by my fat fingers.
When on the HTC One, the case is much more rigid, so it doesn't seem like it would absorb as much impact as a softer case. But it's called an impact resistant case for a reason, so we will just have to take Incipio's word for it. The one sure thing is that there is no way the device is going to get damaged or scuffed.
The texture of Incipio's NGP case is really pleasant to hold. It does feel sticky, like many silicon cases, but it does not slide around in your hand. It also comes out of the pocket effortlessly with clinging to your pants.
As far as the aesthetics of the Incipio NGP case go, it doesn't disappoint. It adds minimally to the size and weight of the phone, staying true to the HTC One's slim, sleek design. It also comes in four colors including solid black, translucent mercury, translucent pink, and translucent turquoise (pictured).
Conclusion and Where to Buy
Without a doubt, the NGP Impact Resistant case for the HTC One lives up to the standards you are used seeing from Incipio. It hits on all of the major categories you want in a case. It looks good, feels good, offers reliable protection and won't break the bank.
The Incipio NGP Case can be found in the Windows Central Store for $18.95.
Windows Central Newsletter
Get the best of Windows Central in your inbox, every day!
Why are there no qi cases for this phone?

The HTC One is not Qi enabled... I mean, it's made of solid metal.

I know... I want a qi case for this phone since it isn't built in...

What about using wireless charging film? Something like this .

You could try using Wireless charging film. Sometike this.

Um... Yeah it is. Qi is basically magnetic resonance. A coil can be insulated.

Yeah!!!
Ummmm because HTC produced the coolest windowsphone so far, then stood back, looked, and said "oops, what about the camera and qi capabilities? Oh well... maybe it will sell anyway." chumps.

You can get those attachable charging sheets that plug into the phones allowing for qi charging from eBay for not many $$. But they're ugly and detract from the phone imho.

I know, most people say those don't fit well into the dot view case... Other cases, I dunno...

I wouldn't exactly call it "available" on T-Mobile.

Does it not fit the M8 for Android?

Yes the Phone is the same spec per spec. The only difference is the OS (android vs windows)

Why isn't this phone on Sprint? This would be the perfect phone for Sprint since they already have the Andriod version,