Indian IT distributor Sakri launches Windows tablets in two sizes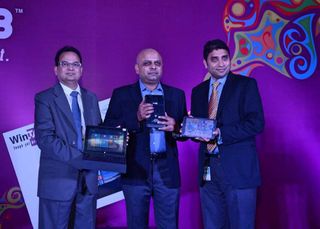 It's raining Windows tablets across the world, and it's quite a downpour in India as well! A Pune, India-based IT distribution company, Sakri IT Solutions, launched Windows 8.1-based tablets in partnership with Intel and Microsoft for India, Malaysia, and Bangladesh.
The WinTab devices run Windows 8.1 with Bing and are powered by the Intel Atom Z3735D processor. The maiden devices are available in two form factors – 8-inch and 10.1-inch – but Ravi Lakshmann, CEO of Sakri announced that the company will soon introduce WinTab tablets in diverse sizes to address different industry verticals.
While the two tablets are identical in most specifications, including display resolution, the only points where they differ are the battery size and that the 10.1-inch has double the RAM as well as internal storage than its smaller sibling. Also, while the 8-inch one includes a SIM slot for 3G connectivity, it is missing on the larger variant.
Sakri plans to augment its strengths in the retail, e-commerce and SME segment by working with various ISVs to enhance their capabilities to cater retail, BFSI, and education sector. In partnership with Flipick, the company will provide adaptive learning online courses for higher education and competitive exams powered by Pearson Education.
WinTab 8-inch Specifications
Operating System: Windows 8.1 with Bing
Processor: Intel Atom Z3735D, Quad Core 1.33GHz
RAM: 1GB
Memory: 16GB
Display: 8-inch 1280x800 Pixel IPS panel
Touch: 10-point multi-touch
Battery: 3800 mAh
Camera: 2MP front camera | 5MP rear camera
Dimensions: 213.8mm x 127.86mm x 8.6mm
Weight: 330 gms
WinTab 10.1-inch Specifications
Operating System: Windows 8.1 with Bing
Processor: Intel Atom Z3735D, Quad Core 1.33GHz
RAM: 2GB
Memory: 32GB
Display: 10.1-inch 1280x800 Pixel IPS panel
Touch: 10-point multi-touch
Battery: 7500 mAh
Camera: 2MP front camera | 5MP rear camera
Dimensions: 260.5mm x 174.9mm x 10.5mm
Weight: 675 gms
The 8-inch WinTab is available for ₹13,999 while the 10.1-inch tab is available ₹20,999 and both come with one-year unit level replacement warranty. The two devices also pack in Office 365 Personal subscription for one year. The devices don't impress much and come from an unknown brand. A sub-₹10k price for the 8-inch WinTab would've been nice though. What do you think of the WinTab tablets?
Windows Central Newsletter
Get the best of Windows Central in your inbox, every day!
Oh Abhi, where have you been lately haha

That guy in the middle looks exactly like Uncle Fester

That was going to be my post :) LOL

Lol!!!!!!!!!!!! You guys are NUTZ❗

What about the Nokia n1 rumor? I felt so disappointed when I read that in other blog. Windows tablets are the future! People need to realize that.

It's not a rumor, it's a real tablet.

Don't you have stores in your country??

With Windows completely free on small screen tablets why are we still seeing these lackluster specs over and over again? Over the years the story was it was the Windows "tax" that stopped OEM's from using the best hardware for Windows devices, whats the excuse now? Not even a single decently specced 8" tablet, you're much better off getting the older Dell V8 Pro which was and still is a true bargain instead of all these formulaic low end tablets.

"What's the excuse now?" Uhh maybe they just don't want to make a high end device so they can keep costs as low as possible??

Point is, the previous excuse is gone but there is no subsequent increase in quality. I would imagine they are concerned about low demand but at least one OEM could come up with something different from the standard brick with low res screen. Selling low end crap worked for android, doubt that same strategy will work for Windows tablets.

When in India?? Oh... Wait

With Bing, fail. Overpriced, nough said.

Bing is merely set as the default and that can be changed. There are no restrictions to any features is this version of Windows.

What he meant was Windows 8.1 with Bing is free for screen sizes below 9 inches and that the price is exorbitant.

Dell Venue 8 Pro is far better :/
MS please launch Surface Pro 3 in India :(

Better than Android shits with Crappy mediatek processors..... Seems good deal ut price is high for unfamiliar brand . Venue pro 8 all the way to my home

Overpriced. And what an ugly screen it would be with such a low PPI.

It's raining Windows tablets across the world. Thailand is in a drought then as it's very hard to find any windows tablet same as there still has not been an official Xbox launch.

Notion Ink's Cain tablet is way cheaper than this and also looks beautiful.
One word for this: OVERPRICED

Notion Ink has a similar product. 10.1 inch tab is priced at 19490₹. 8.1 tab at 9990₹. My only worry id Croma, Notion Ink and now Sakri
...all their Tablets look so similar everything is same. Why so? Is this some Chinese company getting these Indian names to market them. What's the design effort of Croma or Sakri etc for these tablets

Jolly jolly good! Look my head is swaying furiously from side to side.

God damn what's so hard to make a fucking fully 1080p HD tablet for Windows 8.1?!

Its just too costly considering the specs and reputation of the company

Crap pricing. You get decent tablets with the same specs from Chinese players like Onda, PIPO, Ployer for INR 7000/- after importing into India. Moreover, this seems like a rebrand. Additional margins are just to recoup marketing, distribution and keynote costs.

Seems costly for a new brand. Tata Chroma sells its own windows tablet at competitive price..

None of these tabs have a full usb port. Even the micro usb port here is usb 2 . Also, the 10 incher has no 3g on board. Pricing isnt the best either pass

i think it's time to change your profile pic

When can we some good windows based tabs with voice calling as I understand that these tabs come with SIM card for 3G connectivity but not voice calling.