India's Jet Airways follows up Nokia-clad planes with a very nice app for Windows Phone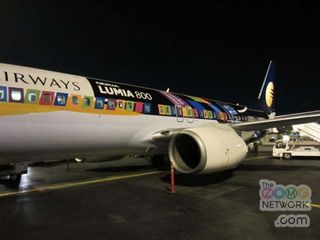 If you recall, all the way back at the beginning of last year, India's Jet Airways helped celebrate the release of the Lumia 800 in India by draping many of their planes in Nokia advertisements.
They have since followed up with a fantastic app for Windows Phone 7.X and 8, which came out at the beginning of May. The Jet Airways app covers you from booking, to flight status to rewards.
We may have missed it at the beginning of the month, but here's your chance to play catchup with us!
This full-featured app, which was developed in association with Nokia, is India's first native airline app of its kind for any mobile platform.
Features include:
Book Flights - Pay securely using your credit card. Also Pin your booked itinerary as a Tile on your phone
JetPrivilege Loyalty Program– Enroll or Access your JetPrivilege Account on the go
Flight Status - Check real-time flights status by searching with your flight number, airport or route
Flight Status Notification – Register for your flight status and get notified on any updates
Get updates on the latest News and Special Offers
Feedback - Share your experience on our services.
You can download it for free here (opens in new tab).
Source: AviationPros
Nice. Seriously, without Nokua, WP would be sooooo dead. All hail Nokia!

Fantastic looking app, I am envious, enjoy!

So WP is the first OS to go into the skies? Nice..

Finally a review at wpcentral.

How many wp8 users in India?? Not more than 100,000 right

So,what's your point? Care to elaborate?

Dude wp fast growing in India .. Mainly low budget phones. Nokia Lumia 520 sold out in India 2 days before

Probably more than the that

Honestly I don't know whether current demographics Lumia is targeting in India match with flight travellers. Let's see where it goes.

Of course it does! India has 29 States and most of them connected with Jet Airways and India lives way more luxurious than any European or American!

Honestly, you are an idiot, hope you atleast make the minimum wage.

Nice update.All we need is some good games for 512 Ram lumia series also.


Next India trip , I will use jet airways exclusively

One question. If this is a recent development, why the hell is Lumia 800 featured?

Use your brain and learn to read the article. Read the 1st line to get the answer to your question.

I read the article. What I was saying that they are still there.

Because repainting planes is expensive so they don't make a habit of repainting them every year! The ad will get replaced when it becomes necessary to repaint the plane.

Now if those countries you choose can be added in a LongListSelector that would be great
Windows Central Newsletter
Get the best of Windows Central in in your inbox, every day!
Thank you for signing up to Windows Central. You will receive a verification email shortly.
There was a problem. Please refresh the page and try again.