State Bank of India launches much-awaited State Bank Anywhere on Windows Phone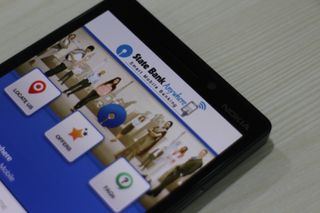 India's largest government-owned commercial bank — State Bank of India — has finally made its State Bank Anywhere app available on Windows Phone. The service allows SBI customers to access their banking accounts on the go, allowing a wealth of functionality such as funds transfer to internal and external bank accounts, IMPS fund transfer, credit card, bill and DTH payments along with mobile recharges.
To sync your banking account with the Windows Phone app, you have to go to the SBI's website and activate the handset. That is done by navigating to https://www.onlinesbi.com, logging in to your account, heading to the Account Summary tab and clicking on Windows App Registration.
Version 1.0.0.0 of State Bank Anywhere has the following features, per the changelog on the Windows Phone Store:
My Accounts
Show case overview of 4 account variant (Transaction / Deposit /Loan / PPF)
Selection of account number
Detailed account information
Mini Statement (Last 10 transactions)
Banking
Funds Transfer (Own A/c)
Intra-Bank (Within SBI) Transfer
Inter-Bank (Other Bank) Transfer (NEFT/State Bank Group Transfer)
Credit Card (VISA) Transfer
IMPS Transfer (Person to Person/Person to Account)
Fixed Deposit
Recurring Deposit
ATM Card Blocking
Cheque Book Request
Call Us
Bill Payments
With Bill
Without Bill
View Biller
Scheduled Bill
Top-up and Recharge
Mobile Top-up
DTH Recharge
Transaction Enquiry
With the launch of State Bank Anywhere, SBI has a full-fledged suite of services available on Windows Phone. Download State Bank Anywhere from the link below, and share your thoughts on how you like the app in the comments.
Download State Bank Anywhere for Windows Phone 8 (free)
Thanks for the tip Aniruddh!
Finally after repeated mails to SBI they made it.... But I can't see m-passbook feature.

SBI had their banking app earlier too .!! Will try this one too it seems more promising and better

Sbi freedom was there. But this offers all the features of internet banking unlike previous one.

Okkkk thnx for d info :) but can u tell whts more specifically funds transfer mobile topup etc. Was there in previous app too .?? Handling demat acc. Too supported and that app has a better UI too

Yes I agree that UI is better for freedom, but this a ported app from android. we can access more than one account here. Fixed and RD deposit, check book request, loan and PPF account all not there in previous app.

Hahahahahaha
You sir have made my day!

Hahaha
Now this is epic!!!

Well done :) Give them a taste of their own medicine

This comment is perfect and in place lol

When in Dominican Republic?

I only opened this article to post this. Good show.

I just want to rant. There is no, as in zero, nada, WP banking apps here in Sg. T_T

With Denim update DBS and Citibank work well with IE now.

And India is not taking immigration application as of now :P

No one says that when, "Wen In India" comments are posted.

Hey I'm from Singapore too. Very frustrating. However Maybank does have an app.

I will download just to show support... It's good to have as many bank apps as possible. Cos that's essential for our platform

+520 and 1st thing i m going to do is to give this app 5 star.. No matter how it performs

Potential Future Updates.

It's useful. Indians are more happier than rest of the world.

"More Happier".... that's definitely a lot of happiness :D

Lol!! It's only yesterday i saw the registration link in my account and wondered what it was for.. :p

It was there since last two to three weeks.

While banks in the US are withdrawing their apps, support for WP is growing in India... It's high time MS stop with the US exclusives & move global

In UK all major banks have WP apps as well.
What's wrong with US?
Brainwashed by Apple?

Bainwashed by apple, bribed by google and jerk like snapchat.

Exactly. They also added SBI card app for credit cards.

I really hope banks here in PH put out Windows Apps

I've even made on online petition on change.org for bpi express online. But nah, we have only less than 200 sign ins. Please like and share it #WeNeedPhilippineBasedBankingApps https://www.change.org/p/bank-of-the-philippine-islands-bpi-create-a-bpi...

One question about the article. How many central banks does India have?
I was of the opinion that a country has just one central bank.

Guessing he means largest bank under the control of Central Government of India

Only one i.e. RBI(Reserve Bank of India). State Bank is one of the nationalized(Govt of India undertaking) bank.

The State Bank of India is a government-owned commercial bank, not a central bank.

That's true. Changed the wording to reflect that. Thanks!

Gonna be of great help for me! :)

Do you even have an account❓

Uh, no. Totally forgot that! I have a small piggy bank for all my treasure -__- Now please return that ❓ to where it belongs... Rod...

And that's why I love SBI. :) Come on other banks follow the suit...

Great news. Desperately need an IDBI bank app now.

Finally ! Was waiting for this since long :)

The freedom app looked better but did nothing. I didn't login yet, didn't finish the registration process. The sign-in page could look a tad more aesthetic though.

Great news.... Nice to see an article like this.

I am very glad SBI has done this. This is the biggest and the most powerful bank in India. WP is been taken seriously here.

Awesome. This is great News. :) Way to go Indian Banks. US Banks can learn a thing or two

Long live india and When in India! Satya rocks!

Thanks IDBI app waiting,,,,,,

Excellent UI and its very fast too

The ICICI app is pretty useful too. Btw I couldn't find an banking app for ICICI on android, did WP beat android to it?

HDFC rocks. Best bank ever.

Of late, I am unable to log in using ICICI wp app

ICICI apps are by the title iMobile...

Finally...... Great news as being a SBI customer.

Good.. Now waiting for the their Trading app... SBI smart..

Nice to get this app finally. Downloaded and is working fine. But it is a iPhone apps clone. Would like to see it updated to become a native WP app!!

Axis Bank's app is the best i feel among all banks' apps....in all platforms

Their service sucks hard. Really even the employees. The employee blindly stamped on the check which she shouldn't have done.

Now in India. #ExitRedmond

Atlast... Sbi listened!!! I'm happy both my banks (Axis & SBI) have their dedicated and useful apps now. :)

App icon is so cheap otherwise perfect app.

To those fucking people who post "wen in india" comment let me remind u all....we watched furious 7 before u.s. We will watch avenger: Age of ultron before anyone get to watch ✌

Well!!! Has anybody tried it yet? Is it working? I logged-in to my SBI account online and notice a 'Windows registration' tab on the left side of the site. It asked for a One-Time password from where I have no idea to get that from. I installed the app in my phone and it asked for my banking username and password, but it tells me try later. Is the app still in work progress?

I am using it successfully. First activate the application login from website, then simply use the app. App is very much impressive in its first version. All the basic functionality are available and working fine.
Few days back State bank also launched SBI card app.

Must be nice to have banks support on Windows phones :) Sen from my Windows 10 TP phone. NL1520

You don't have to LOL to bring it to India. ..... Btw, India is perhaps making history as far as Windows Phone is concerned. Do you have any problem with it ?

Nice app. To use. But I dint find option to see the ac statement and transaction history. I gues its missing in this app.

I have a woeful relationship with SBI. But that wouldn't stop me from using this app as it gives me access to all of their internet banking anywhere. Cheers SBI for bringing albeit late.

please provide WINDOWS APP to ASSOCIATES OF STATE BANK OF INDIA viz., SBH SBM SBBJ SBT SBP
Windows Central Newsletter
Thank you for signing up to Windows Central. You will receive a verification email shortly.
There was a problem. Please refresh the page and try again.