Inka Madness is a cute little Windows Phone platformer you can enjoy for free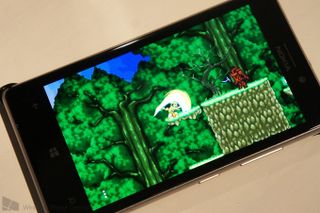 Inka Madness is an awesome little platformer for Windows Phone, which is free for the time being. The player is tasked with taking Atuq, the favourite son of the ruler Inca Tupac Qhari and a great and fearless warrior who the gods have chosen, on the important mission to free his siblings from an awful curse and remove chaos from the Inca Empire.
The title is also available on iOS. As with any platformer, the player can jump, attack and move left to right across multiple biomes. Battling numerous enemies, it's worth picking up if you're a massive fan of indie games that offer hours of gameplay. The game has also been updated a handful of times in the past, adding new features and optimising overall performance.
You can download Inka Madness from the Windows Phone Store for free. There are humorous moments coupled with exciting gameplay and cute graphics. A perfect combo. Thanks, Szilix14, for the tip!
Rich Edmonds is a word conjurer at Windows Central, covering everything related to Windows, gaming, and hardware. He's been involved in technology for more than a decade and knows a thing or two about the magic inside a device chassis. You can follow him over on Twitter at @RichEdmonds.
I like downloading free things, I'm going to run out of space soon.

Try the cute game "hand of god free", my girlfriend just love this game.

Hi Lawrence,
We hope you enjoy our game. Join us at our facebook fanpage.
Best regards from Peruvian Andes
Atuq

@zeke009 is this the place to ask a question like that?

Just letting everyone know that it is tripping..

If someone from Magia Digital are reading this please publish this game here in the Brazilian Windows Phone Store. You can use PEGI or ESRB certificates to do this. I can help.

If even Imangi did not publish temple run to us, it is sad.

Hi GuilhermeManso
We will give it a try ir order our game to appear in Brazil Windows Phone Store.
You can join us at our fanpage at Facebook. Regards from Lima, Peru. Atuq

Hi inkamadness,
Game is still not available in the Russian WP store.

Hello GuilhermeManso , Greetings from Lima - Peru Thank you very much for your help to launch Brazilian inkamadness in Windows Phone Store , our engineer send certificate PEGI in the field DJCTQ, and we are expecting approximately five days , straight after the app evalucacion notify you stay in touch

Hey!!
Thank you so much for this!!
As soon as the game be available I will share the news with the brazilian guys. :)

Sweet, no Xbox live game again this week

Phew. I thought it was for 1GB again since it was unavailable to my 520. It turns out that it was limited to some region and changing phone region (followed by restart) did fix that :)

Chaos Rings is this weeks xbox live game but at £7.99 they can jog on!!

I attempted to download Choas Rings and it gives error codes each time on my Lumia 920, which is a pain, can any one else confirm this or is it just me?

Not available in Indonesia :(

I am using Lumia 620 and played this game till the third level.. on the 4th level when i am about to start it hangs and crash...restarted the same level crashed again.......anyone expeciencing the same problem

game is buggy and hangs up on loading third stage and thenafter

Dear friends Thank you for your comments. it has been a tremendous effort to create this game for Windows Phone devices. We wil try to fix some problems you report us. By the way, we invite to join us at our fanpage at Facebook. Best regards from Peruvian Andes. InkaMadness Team

Hi inkamadness;
I just downloaded your game and liked it. I can help you with the Turkish translation if you want to add Turkish.
Let me know if you are interested.
yasartunazorlu@outlook.com

Hello EnginerTuna, Greetings from Lima - Peru. Thanks for your offer to help us with the translation of the Turkish language for Inkamadness, If you can help us doing that, it would be great, please let me know how we can do it for real. We already sent you an excel document with an english translation, but we want to know how else we can give you in order to do that translation for us. Please check it out and let us know what you need. You can contact us to inkamadness@magiadigital.com

Hi there all, Our game Inka Madness is COMPLETELY FREE!!! for holidays. Take advantage and download this app for free in your country´s Windows Phone Store. Best regards from Atuq, Inka Madness Team
Windows Central Newsletter
Get the best of Windows Central in in your inbox, every day!
Thank you for signing up to Windows Central. You will receive a verification email shortly.
There was a problem. Please refresh the page and try again.