Instagram beta for Windows 10 Mobile gets updated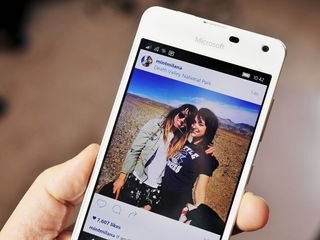 The Instagram beta app for Windows 10 Mobile has been updated in the Windows Store. However, there's no word yet as to what's included in the new version.
Since there is not a published list of what's new and improved, this may be a rather small update. However, it's always possible that Instagram snuck in a couple of neat features and improvements. If you spot something new and interesting in the Instagram beta update, feel free to let us know in the comment.
Thanks to everyone who tipped us!
Download Instagram beta from the Windows Store (opens in new tab)
Well, the app just stopped working :P build 14295

Does that build working Fine?? Posted via the Windows Central App for Android

Yes, it's working fine on my 640 xl. The only annoying bug is screen flickering while playing video.

Sharing to Facebook still doesn't work for me. It says Sharing Succesful but nothing shows on my Facebook account :/

Works pretty well on my 830

Well, this version has more updates than the 8.1 version already!

beta tag has been removed from the live tile!

Still takes a lifetime to load the photos from the library.

Yes it does but can use word flow now!

Oh I thought its not working at all. Maybe I have to try wait for a little longer Lähetetty Windows 10 -puhelimen Windows Central -sovelluksesta

60 seconds to load .. or more

Yes, that's for sure. I didn't have enough patience for it open my camera roll, that i end up using 6tag

How am I to download it? I cant find this version in the store and when I click the link above it goes to the old I.G beta app. Someone plese help.

You do have windows 10, right?

Yes, Lumia 640XL Dual Sim LTE Unlocked

But you have windows 10 installed on that device? Posted via the intertubes

Link provided in this page itself, if you are using wp central(beta) mobile app there is a download button. Or if you are using old wp central app swipe left and you can find show link to download the app - Using windows 10 on Lumia 730(10586.164)

Ah. I just reread your OP. This version of instagram is currently hidden in the store. I would imagine it will be searchable when it's on full release. In the meantime, use the link in the article as has been said.

Thanks for the help but I still cant find it. I'll with with 6tag for the time being. Thanks again.

If you are reading this article on your phone, just tap on the link at the end of the article. If you are reading it on your pc, then us a qr scanner and scan the code.

The link/qr code for the store are at the end of the article. Again, it's not yet listed under store search.

Got the same problem here! Clicking the link takes me to the website of the store where I can't click on Get the App, or Download. The Button does not work. Never been able to download this app! Edit: Also, qr code does the same! Don't know how to do! Lumia 930 with latest build of Windows Mobile 10

I'm in the UK and it works even though it's a US store link...but maybe try changing it to your local store if you're not in either of these countries. Beyond that, I think I'm out of ideas.

Have you tried checking for updates in the store?

Checking for updates won't do anything since they don't have the apps.

I had the same problem, and I've got windows 10 mobile installed. Just follow the link provided and it will take you to the store on the browser.

How can we download it?????

Probably an update to prepare for taking it offline... Lol. Instagram beta... give me a break.

Scrolling is now smoother.

Wish scrolling was smooth on Edge for W10, its terrible

yay that's what I was hoping for after reading that there is an update! :)

Still have to press back button several times to exit the application. However, glad to see regular updates.

Try long-pressing the Back button on your phone and swiping down on Instagram. Unless you're talking about how Windows 10 suspends apps.

this person wants to imitate how closing apps worked on Windows Phone7 Posted via Universal Windows App on W10

That's what it sounds like. I was confused when I read their original comment, so I tried to be helpful.

I do close it like you mentioned (long press and swipe down). Doing it that way is much faster than pressing the back key several times. Furthermore, even when doing the latter it takes a while to exit. Every other application closes by simply pressing the back key. With Instagram BETA, I have to hit it many times before the application closes. I'm on the latest Redstone build on a Lumia 950. Does it close immediately for you?

I don't use Instagram, but Tubecast is like that because of how it displays the video player pages.

Totally out of context Luigi

Did you guys see the new Garage Keyboard Microsoft launched on IOS? It's has been on Android for some time now. Ha wish WE had it. Anyway. Ok to Instagram update.

How do you edit on this NEW APP

I don't think you can yet.

Great article relevance. /sarcasm. Perhaps one for the forums.

I notice a few small changes. Mostly looks like probably a few crossed off their list users have been giving them by shaking the device.

The image editing interface is completely overhauled. Looks much better in line with WM UI. The on-screen Windows keys no longer incorrectly cover the bottom of the app UI. Lux now works. Still missing Vignette, but otherwise it is looking really good. I do wish the gallery pulled up quicker, but it's a minor nuisance. This is about the 4th update to the app since launch. Very encouraging.

Right on. Do you have a black space where the nav bar is supposes to be after hiding it while in the app? That's one of my biggest gripes at the moment, haha

Yes. I've noticed that one too. Is still there, but going back then forward in a window resets it correctly. Have you reported that to the devs by shaking the device?

Yeah. Several times, including screenshot :)

Lumia 950 here, but I can't say that I hide the buttons much (Probably because I forget that I can). It appears that when I do, the space remains unoccupied sometimes, other times the app expands.

Videos now plays smoother than before.

The emoji's now have colours instead of being black and white. Only change I've spotted

Also word-flow now works.

I keep thinking it is an iPhone

This update is actually the first to start adopting UWP's UI. The image editor looks much more Windows now than before. The main places where it still looks iOS-ish is the settings menu, and when you long-press in grid view. I wonder if those will start changing next?

I hope they will start implementing good Live Tile where it slideshows latest Instagram post similar to what Phone app does, put notifications and other possible info. That way it will feels more Windows app than being an iOS port.

Still beta!!! Why? Why no new Facebook yet? We still don't have reactions, and now they just launched Facebook Live! When are we going to see those new features?

The app hasn't even been out that long to go the non-beta, and it still has some bugs to banish (I still can't get an image shared from gallery to post). Besides, the old WP8 app ​never left beta and was never this complete!

This app still hasn't launched yet. That's why it's not searchable in the store. I'm thinking they will release all their universal apps at the same time. This is still in beta in the classic sense of the word.

Looking forward to see continuum support and also I would like that when clicking on link on instagram website it opens the app

Support for desktop windows would be nice too, but at least we have an official app :)

Seems...Smoother. Posted via the Windows Central App for Android! (Nexus 5x)

It's not searchable even in the store. It's gone!

Still no continuum support. I get weird sideways display on both wired and wireless continuum with 950xl

I'd be surprised if it does support Continuum/desktop mode eventually, as even the Android and iOS versions don't really behave/look any differently on tablets. Instagram really seems to target phones. I also have my doubts since this looks like an Islandwood port. I guess we'll see just how good MS's bridges are! :)

Yeah, even official Instagram app never been made into tablets. Android seems have one because you can run phone apps on a tablet, but you get unoptimized UI with enlarged and tons of wasted space. It would be great to have one but they have less incentive to do so. Instagram is strictly a social network phone app that you use your phone to take photos and share instantly. I guess they even not encouraging everybody to use your tablet to take photos, it really looks ridiculous. This is why 3rd-party Instagram clients have tablet UX making them worthwhile to have, even on Android and iOS. If Instagram ever make a tablet version of it, we will know if they release it for iPad. For now, I'll let them focus on making this Instagram more native on Windows by tweaking its UI to align on Windows navigation system, implement Live Tile and other new Windows features.

Mail and calendar also got an update.

With the update I can post to Facebook from it. Before it would "connect" but not post. Hope they fix the slowness of the library load issue soon but very encouraging to see the updates so far...

I noticed that when I'm in my photos app, and I go to share, it opens Instagram. But then it loads and loads and loads, and then crashes

I just got WhatsApp update. Did anyone saw any changes in it.? The new version is 2.16.14.

Nice to see regular updates. But still didn't load my galleries. And Still take a long time to load app

Love that the app is being updated. What I really can't wait for is the UWP app for 6tag!

Still crashes trying to share from the Photos app... Seems like it would be a fairly important one to fix. Posted from Windows Central for Windows 10

Agreed. And it would save that show load when selecting from galley.

And sharing to Facebook still not working for me.

I lost $1000 AUD by buying Lumia 950xl. I am a windows user from windows 7 phone. Still the same betas and no improvement. I have been waiting for 4 years to get apps but still the store is same. I tried sell my mobile for $500 AUD on eBay but no one is ready to buy it. I tired of searching the news everyday to find out any good news about improvement. I thrown my mobile in the store room. Got nexus 5 for time being.

I wonder why this app doesn't show for me in the app store on my L435 nor L635?
When I follow the link above to the web store, the Get This App link is greyed out? I'm on the fast ring.
Any clues?

Can anyone tell where all those so called force touch features are in this app?

Long pressing an image when in grid view. I think thats the only place though, no forch touch feature anywhere else.

What's about windows 8.1?

Uc browser still vanished instagram vanished.one mistake of my life.

So this update is only for Windows 10 aha

I was hoping that they were going to sneak in the ability to post videos up to 1 minute. Guess not.

Scrolling is better now. Need faster loading of library. Posted from Windows Central for Windows 10 10586.164

I hope they give us option to get rid the ads like on 6tag. Hahaha...

Quite nice, and now they had listened at least my yeal about the login screen's clipboard functions not to be available. Well.. UserID has now copy/paste etc, but the the PASSWORD field which is the most important does not. .. I e.g. have huge complex passowords stored in a .txt file, so pasting these the the only way...

Scrolling is fine now. Doesn't get out of control no. It is smoother indeed but is slower.

These ported apps are already better than official Microsoft universal apps built fit windows 10. Especially twitter app for windows 10 is very fast

They've changed the scrolling to a more iOS-like "paginated" scrolling like in Safari (which I personally hate). I wish they could use native Windows scrolling with the ability to land right at the top of the post like some Windows 10 apps do but I guess their porting tools don't really allow for that.

I can now share my photos to Facebook.

Opens only to freeze on the 950XL. Great job!

Hey I don't have instagram on my windows phone store,
Someone please help.....

The app must've silently updated on my Lumia 640: now I seem to FLY through the editing and sharing process with very few bugs. Before this, the app crashed every time I took a photo via the app. In this case, absolutely great!

This app, whether the beta tag is gone or not, is still beta. Surprised it gets any recognition until all the common features are provided. #6tag

I am not able to view instagram application in my windows 10 mobile build 10586.164...Is it available as beta only for Windows 10 orginal mobile (Lumia 950 and 950 XL). I tried search the app using different words like Instagram, Instagram Beta, Instagram (Beta​) etc...etc...

Great that's out on windows. Shows lots of potential for other apps that have been missing from windows HKzani

Hello
but way i can't fine the app instagram beta in store now in my phone???
Any one can help me?

You can get it from windows central app which will take you to the store

But way I still not get it in my store?
When I I click share instagram in the store I can't fine instagram beta in there........
What the problem?

When you tap on download from windows central app it will take you to the store and straight to the app HKzani

hey.. i am using Lumia 535, recently updated to windows 10. Unable to find Instagram app in store? Does it support to this model ? if Then how can i down load?

I find it good ! I do not have a Windows Phone but it's a nice platform and Instagram is an app that I find super interesting. ______________________________________________ achat iphone 7 iphone 7
Windows Central Newsletter
Get the best of Windows Central in in your inbox, every day!
Thank you for signing up to Windows Central. You will receive a verification email shortly.
There was a problem. Please refresh the page and try again.