Instagram beta for Windows 10 Mobile gets another update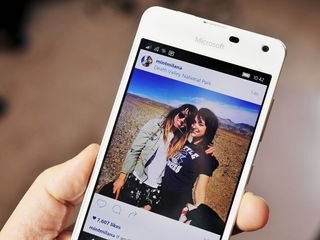 The Instagram beta app for Windows 10 Mobile has a new version available to download the Windows Store. However, there's no word yet as to what's included in the new version.
The app's version number has changed to 7.435. There's no indication that the update adds any new features to the Instagram beta app, but it likely has some bug fixes and unnamed improvements. If you do notice anything major, feel free to let us know in the comments.
Thanks to everyone for the tips!
Download Instagram beta from the Windows Store (opens in new tab)
Windows Central Newsletter
Get the best of Windows Central in in your inbox, every day!
No black screen anymore. Sent from pichke materine ;)

Really . I will update now that's great news .. I hope they will fix the navigation bar in 640 xl . 640 etc ...

Really . I will update now that's great news .. I hope they will fix the navigation bar in 640 xl . 640 etc ...

how do you update those apps that you need to download from the site

What apps from what site?

in this case this version of instagram

You update in the store like all other Windows mobile apps

If the link takes you to Edge and it doesn't automatically redirect to the Store, make sure you're signed into https://www.windowscentral.com/e?link=https2F%2Fclick.linksynergy.co... using your Microsoft account. You should then get the "Get app" button, and you can tap on that to go to the Store. It should ideally redirect you automatically, but in some cases it doesn't. These steps will help you in those cases.

Actually the browser settings should be MOBILE - not full page

Thanks man...was trying to figure out what was the problem since a week..

yea i see i did get it updated i just thought since u need to use the link to download it you cant just look for it in the store but it does update like all your other apps

Also, if the page that opens has a grayed out "get app" button, make sure you're using edge to show you the mobile version of pages instead of the desktop version. Hope that helps.

I can't upload any images!!..every time i try to load image from the library it just buffer like ages! And still don't let me select any images from my phone ..am i the only one who is facing this from the app itself released??

It takes ages to load the library, although with the last two updates the waiting time decreased. Now you have to wait for a minute to load the library. How long do you leave it to load? Posted via the WC App for W10M on Lumia 730

Works fine on my 950 no problems here

Now it is near instantaneous on the 950. My 640 was slower on older builds, but not a minute, more like 15 seconds. Haven't updated it yet to see.

I tried leaving it almost 5 minutes..but i haven't check after the latest update

Same was the case with me on my 950..I guess its when you have ur library on a sd card..but with the last build it has improved a lot. In fact with the last build you can directly select a pic from the camera roll and share to instagram and it works..so need to open the library from the app..

Thats what i usually did, but didnt work with the last builds, I'm happy that it works now :)

It's great to see that the updates are regular

Sweet! At least this app is receiving proper updates and support. It already has more updates then the old instagram beta app lol

Meanwhile people saying Instagram for Windows phone was removed from the store while I reinstalled it yesterday

Must have been the old Instagram (Beta) app. Posted via the Windows Central App for Windows 10 PC

The old beta was removed as this is now THE instagram app, and is now found under search in the store, while it was hidden previously.

Am I the only one where the screen showing existing pictures on the device stays black and empty?

uninstall and install again! :) I did that because I was receiving two notifications for the same thing each time! Now it's working as intended! Posted from Windows Central for Windows 10 Mobile~

Tried that, but it didn't change a thing. :/

Weird... :/ Posted from Windows Central for Windows 10 Mobile~

Click on the "photo" or "video" option, then back to "library" and see if that makes them appear, then report the bug by shaking the device.

And on the latest is build I got a toast saying it was updated that was from the store.

Oh yes...still hate the predictive text in w10

I mean are u on Redstone build

I am on the newest build and it started doing that letting you know when and app as been updated

Good news it's long waited feature since windows 10 release.
But, strangely Microsoft the didn't mention that in the changelog of the build

Maybe because this is a very basic features which should be there from the beginning of W10. And it looks pretty childish to boast of such a 'new' basic feature

Hey it's know different then what apple does when they come out with something that's all ready been done

It's now the one which you see in store search. That's a new thing, is it not?

Why it is still in the beta version!

Because it still has some bugs, like the one with the navigation bar. Posted with the Windows Central app for Windows 10 on HP 250 G1 notebook. It is a scary old monster, I think :D

We just need enough optimization and finally removal of that beta tag fast.

Wow amazing app by Facebook..android and iOS ready to die..... Only Windows 10...

Hahahahahahaha you should try stand up comedy Posted via the Windows Central App for Android

Image editing UI has changed a little bit again. It seems to be faster at getting images pulled up and posted. Also, you can finally get a picture to post by sharing from gallery. That used to crash it every time. The only thing I miss now is Vingette, but this is turning out to be an awesome app. For what it's worth, the previous update added live tile support for the smallest tile size.

The Live Tile now works and shows updates for likes and follows.

It was there before the update

Slowly this will also die as Windows 10 mobile is dead until surface phone arrives.

Chin up my friend chin up

If windows mobile is deaf then so is windows 10 PC because they are the same OS remember windows One core please remember windows mobile 10 is windows 10 on desktop

Why can't I install this on my Lumia 950 XL? When I visit the app's page on the Microsoft store website, the download button isn't filled in. It's as if it is de-activated for some reason. Anybody knows why?

Do you have by any reason the Edge browser set to get the desktop version of the site under settings??

The library load issue is almost fixed - it takes about a minute now to load it (still too long but a great improvement from how it used to be!) Posted via the WC App for W10M on Lumia 730

What phone are you using ?

Im not getting any beta apps for my windows 10 mobile ?? Why?? Any suggestions!!!

For lumia 535 windows 10 mobile

You have to download it from the download button in this article

So, it's confirmed that the Store notifications added in build 14327 don't include update available notifications. I've to open Store manually to check for updates.

Works in 14327 and 14328 on my 640.

I don't get notifications that an update is available either. 14328 Lumia 640. I only get notification when the app update its complete.

I dint think that's there yet but I sure wish they would bring back the store updates for the live tile like it did on WP8.1

Much better... now you can share a photo from albums. Simple thing but glad it works now. They still need work on opening the photo collections as that's still slow. I'll stick with 6tag until that's fixed. That's progress. Thanks

My instagram shows v 0.4.3
Lumia 830,india
When i checked windows store there shows instagram which installs separately, what's wrong?

Your using the old instagram app make sure you pick the one that says built for windows 10

When navigation bar show ,layout of app is not show properly....

Duh 6tag isn't a beta so it better work better lol

Wrong. 6tag doesn't even open on my Lumia(535).

Has video upload been fixed yet?

Who noticed that added the live notification in live tile???

There before this update.

Can't complain about an update. Now how about the long promised FB and Messenger apps?

they probably take one by one

Can't install because the ridiculous bug in app store that some apps in pending state. You can't delete it and you can't install it.

Download a app then pause it then press resume all downloads and it should fix it

Well in the previous update we couldn't upload pictures from gallery, but after this cool update the app doesn't open at all, amazing work instagram add more bugs and keep up the good work ;) if you do get fond of fixing bugs check the windows phone such as lumia 730,735,550,640 and 640xl
Regards windows fan

There are now live tile notifications. I'm still annoyed by the iOS-sh UI. I can stand the slowness, but not the iOS UI
Windows Central Newsletter
Thank you for signing up to Windows Central. You will receive a verification email shortly.
There was a problem. Please refresh the page and try again.