Intel looking for Windows Phone engineers. Possible Intel hardware?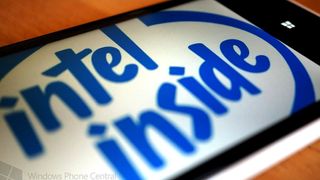 Intel has published a job opportunity on LinkedIn that points the finger out to Windows Phone engineers. Now, this could be nothing, so we'll not speculate on an x86 Windows Phone is definitely on the horizon, but there are straws to be clutched onto. Could we be seeing Intel looking at the mobile platform as a potential investment to tackle? Don't get your hopes up.
So what exactly is Intel looking for in applicants? The company is specifically requesting Windows Phone expertise.
For the time being, Windows Phone runs entirely on ARM with Qualcomm as the exclusive chip provider. But there's always room for more, and Intel isn't one to shy away from taking a leap. Here's the full job description on LinkedIn:
It's known that Windows Phone (like Windows across all platforms) is portable, but the question we've asked before is does Windows Phone really need Intel chips? Greg Sullivan, senior product manager for Windows Phone said the following in an interview:
Here's some extra information on the open position at Intel:
Experience: Mid-Senior level
Functions: Engineering, Design
Industries: Computer Software, Computer Networking, Computer Hardware
It'll be interesting to see what Intel has planned. Whether we're looking at the company looking to form a partnership with Microsoft in the mobile space, or if we could simply be witnessing Intel expanding its team to cover the Windows ecosystem more efficiently, with enough experience to boot.
Windows Central Newsletter
Get the best of Windows Central in in your inbox, every day!
Rich Edmonds was formerly a Senior Editor of PC hardware at Windows Central, covering everything related to PC components and NAS. He's been involved in technology for more than a decade and knows a thing or two about the magic inside a PC chassis. You can follow him on Twitter at @RichEdmonds.
I don't want fragmentation and develoeprs having to optimize their game for more CPUs, no thanks
Control SOC like before,

Maybe Intel wants to work on ARM SoCs?

No way, ARM architecture is a bigger rival to them than AMD direct x86 products. They have been sinking billions in R&D on a ARM competitor x86 SoC. They would be admitting defeat if they licensed ARM. Thus it is not possible for them to do so.

I worked there for 10 years. I'll see what I can find out from my buddies who are still there.

So how long do you expect us to wait dude hahaha

Currently when you compile a WP8 app it also creates an x86/64 version, I think. (Judging folder named "x86" it creates...)

I want WP8 to run both on ARM and Intel. Android runs on both, and you can actually buy Android phones in China with Intel chips. So I also want WP8 to be able to do the same NOW, not in the distant future and not just theoretically, especially with Haswell about to come out.

Hopefully in the future they will optimize w8 for phones, mobile game.....over!!!

Well I could shit money to get a full windows 8 pro phone... But let's keep calm here.

It would be a dream if a CULV Haswell was somehow fit into a smartphone!

Maybe not haswell but haswell with a die shrink - broadwell :)

Phone, Tablet, PC, and console all on x86- that could be really cool. A super unified OS and ecosystem with tight integration between devices could still be possible with ARM too but I would think it would be less work to have everything x86 eventually. Call me when I can have a Core i7 powered phone!

Imagine having the Ubuntu phone experience...e.g connecting a WP to a monitor and getting the full Windows.

It's called Windows Mobile and it sucked

Everybody knows that Intel has been trying to push into the phone market with there x86 chips. Personally I think the limitations for windows on ARM, no x86/legacy support, are the things that make ARM chips competitive. When it comes down to it it would be do I want legacy support of x86 or the optimization of ARM. So for now I'll take ARM on my phone and x86 on my tablet (waiting for AMD Temash to come out).

Windows Phone 8 simulator is an x86 VM - so x86 build of WP OS already exists and all WP apps can run on it.

WP8.1 & WP8.5 Will use ARMv7 Snapdragon 600 & 800 series processor's. WP9 Will use Intel64 22nm Atom Silvermont processor's in Q4 2014. Not sure if next gen ARMv8 will be ready by Q4 2014? This is ARM first 64-bit series. Windows RT ARMv7 well move to Windows RT64 ARMv8. Windows Phone 8 ARMv7 well move to Windows Phone 9 ARMv8 & Intel 64. I don't think that ARMv8 can compete with Intel 64 Atom 22nm, 14nm to come. The next big thing for Smartphone's is 64-bit hardware & software, 2015 is the first year of 64-bit Smartphone's. - Android 6
- iOS8
- WP9
- BB11 ...maybe? Don't know why people forget the move to 64-bit is coming?

quite expected, but if microsoft makes WP9 x64 only, then they are shooting themselves in the foot, nobody will buy it as it'll not support older phones

and there's nothing called intel 64, it's either AMD64 or x86-64 or x64, it's AMD who made it

I hope 64-bit ARM CPUs come sooner than later, maybe by the end of this year, ARMv8 cores are there, but who knows when they'll be implemented into mobile SoCs, or even if they use low enough power, actually I think nVidia and samsung will rush out some ARMv8 cores this year, then qualcomm will shortly follow (~ 6 months later)

Hey Ahmed N if did not know or did research that Intel change there name from EM64T to Intel 64 in 2007! http://www.intel.com/content/www/us/en/architecture-and-technology/micro... AMD is moving to ARMv8 technology to get away from Intel's x86 technology so maybe they can make some money? WP9 ARMv8 is backwards compatible with ARMv7 so they can use WP8 software! My first Microsoft smartphone was the Motorola MOTO Q 9c. It used the Intel Xscale processor and was based upon ARMv5TE then they sold it off!
Now it seems there back there low power Intel Atom! 22nm, 14nm. WP9 using the 22nm Atom then moves to 14nm Atom a year later would be a better choice then some 20nm ARMv8 processor.

Ofcause Intel want's in on mobile. There very late in the game thou. But its where the money is.

What does Intel need with WP when they have Tizen? Hahaha.

The problem now is Qualcomm are the one and only supplier for CPU's, so getting Intel into the Windows phone ecosystem would be a very healthy move.
And as someone else has pointed out the next big move for microprocessors is likely to 64 bit (this should have no compatibility worries really, just like current PC's we can expect 32 and 64 bit compiles.
The idea of being able to eventually use the phone with a bluetooth keyboard and mouse and a DNLA monitor would be very cool too, a full windows machine on the move sounds good.
But the killer reason I think is efficiency, the x86 chips Intel produces now have been proven more efficient then the current ARM offerings (I'm not sure if its purely in architecture, or more due to process, although as things develop the X86 architecture might be more suitable for the heavier weight applications that are run. Intel have a process advantage over their rivals that they will be able to keep for years to come).
With their faster and lower power chips it would make sense for them to appear in the highend devices, and with Qualcomm reporting 33% higher profits it does indicate that they are able to raise margins, this would force them to be competitive.

We don't need no stinkin Intel chips.

Intel had the best CPU 3 years in a row on PC platform for having the fastest CPU! No competition from AMD x86 CPU and this is why AMD move to ARMv8 technology. i7-2700k, i7-3770k, i7-4770k All 3 generation's had the same clock speed of 3.5GHz and all 3 generation's had the amount of core count of 4 core's only! Where AMD processor's had clock speed of 4GHz+ and more with 8 core's and still can't beat any of those 3 Intel generations. Intel using the Atom processor in mobile started the ARM WAR. - Intel is countering the ARMv7 with the 22nm Atom.
- Intel is countering the ARMv8 with the 14nm Atom. Intel 22nm Atom "Silvermont" processor platform out this fall should blow away the new ARMv7 Snapdragon 800 SOC processor! I can see why WP9 would use these new Atom SOC processor's!
Windows Central Newsletter
Thank you for signing up to Windows Central. You will receive a verification email shortly.
There was a problem. Please refresh the page and try again.