Internet Explorer in the Windows 10 phone preview has a new rendering engine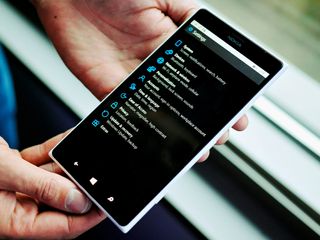 Microsoft has confirmed that the new EdgeHTML.dll rendering engine for Internet Explorer is being used in the newly launched Windows 10 techical preview for phones. The new engine is already being used in the Windows 10 preview for desktops.
Microsoft says:
The company also went over some of the other features that have been put into this first Windows 10 for phones preview release in terms of its support of web platforms:
The new web browser that Microsoft is currently working on, under the code name Project Spartan, is not part of this first Windows 10 preview for phones. However, it will use the same rendering engine that IE currently has in this build. Project Spartan will replace IE entirely in a future preview build of Windows 10 for phones.
Source: Microsoft (opens in new tab)
Just wondering why the 520/521 weren't on the list...Old gen?

Ok. Now go comment this on every story, blog, thread and social networking site. Relevance kid. Relevance.

Whines everywhere. Now I'm waiting for "Why my Lumia 900/800/610 isn't included?" comments.

it was explained... right now, only devices that came with Windows 8.1 out of the box can use the Tech preview right now

535 also came with windows 8.1 out of the box but still not getting windows 10 technical preview

Surprised that isn't on the list either. Maybe it has something to do with it's 5' display.

Its Snapdragon 400 currently..

Guys.. There's nothing to worry about. Just accept what they already mention earlier. This is First wave, and doesn't meant it should be starting with the first Gen or something. Unless when all Lumias already been updated with w10 and your phone not, so you can raise your voice up. This is just a beginning.

be patient! gabe Aul says first release for x30 devices, for trying and squashing some bugs. if released for all phones, the high end user will loathe and got mad at bugs. so microsoft take slow step, to make sure it's good. #sorry bad english

THanks. Read the previous post but I guess I missed that part. Thought they would target all low-end and not only ones with wp8.1 out the box. I Guess that makes sense.

Not true. My 930 was 8.1 out of the box. It's explained in a post on here less than an hour ago.

Cuz they don't want to scew up more than 50% of wp customers.

Because only windows 8 Dual core & 512MBR

Something about the processes for resizing the OS partition during install. They only have tested it on one SOC apparently. They promise more will be added as they get it worked out.

Obviously older phones wouldn't get it...I'm content while my 620 gets the final build sometime this year

I hope to see something like https://www.youtube.com/watch?v=er283GMyFp8

Nope, nothing like that. It will be better.

Can you guys head over to your forums for the supported devices and post this stuff there? The real windows phone owners and enthusiasts have no reason to read them lol :)

Make that hands on as fast as you Can!! PLEASE!!!

is it compulsory that if I update my phone as a developer then my warranty will expire or it may expire or may not expire?

My730 is stuck on checking for updates. The anxiety :(

Give it a few minutes or a night. It will solve up.

Do Fast Ring. Because Slow you would get after a week or so..

Finally got the update.. Now I cant download it cos im on mobile data -___-

For me it took around 5 minutes.. now downloading.. oh my 3 month year old 730...... GoD bless me!!


That's great...
Make it much better than chrome and safari!!! MS we are with you!!

Have a close look at Joe calendar appointment in previous post's video -
Team Kora
Xdevice
Spartan proposal
Built-in inking
XBOX integration last but not the least hair appointment (comeon its joe :P )

Truly speaking.... Everything written in this article went overhead.... Maybe a comparative pic from older and newer IE would have been great...

im good as long as they keep the address bar at the bottom

Every screenshot I've seen they've moved it. I hope that they either move it back or give an option. I'm really tired of the iOS- and Android-ificiation of Windows. :(

I was gonna say the same.

Here's the recovery tool everyone who's trying windows 10 preview
http://wmpoweruser.com/download-the-new-windows-phone-recovery-tool-from...

Just make a video giving us a quick tour of the new W10 Tech preview.. ASAP :)

Where is your video with w10 ?? Please rec a video.

Downloading the win 10 update on my 730! 2-5 minutes left until I'll be able to rock win 10! Can't wait

My 920 and I are crying at the moment.

Is the update available for 1320?

Because there dll file has edge in it, I think that's what it'll be called Posted via Windows Phone Central App

I'm disappointed to hear they aren't keeping the android string they were using in 8.1.1 dev preview. Sites looked great and I think they are overlooking the fact most web developers are really only going to bother looking for ios/android mobile browsers. If sites arent using feature detection now,there is no reason to believe they will change.

Huh, wow, you didn't read this... They are using a MORE inclusive string, so it doesn't just mimic Mobile OSes, but also desktop as well. This is it, see the Android, see the iOS/Safari Mobile... Mozilla/5.0 (Windows Phone 10.0; Android 4.2.1; DEVICE INFO) AppleWebKit/537.36 (KHTML, like Gecko) Chrome/39.0.2171.71 Mobile Safari/537.36 Edge/12.0

Sounds like their using the same doublespeak that the osg used to dissuade devs from targeting specific versions of Windows

Sweet, new UA string == sites can't use old tricks on a new browser.

Does this mean that what the IE in windows 10 can handle, ie in windows10 for phones can handle same?

Yes... However, this is 99.99999% true of IE11 on WP8.1.1 too..

I've decided to stay away from win central untill windows 10 comes to my phone. Until then reading about it is just going to depress me.

We need to make sure that if Microsoft releases Spartan for mobile with the address bar at the top, that we flood user voice for them to change it.

Ugh tired of hearing the IE name ready for Spartan

I'm posting this for my Lumia 635 with the new browser engine using the voice typing with Windows 10 technical preview for phones. It is really amazing and I didn't even have to type anything or even start the listing again after pausing to complete the 1st sentence.

I can also finally hit the reply button in any messages in the browser without having compatibility issues. Everything that you see here has been using voice typing and I have not experienced any errors in the accuracy of the phone hearing what I'm typing. I am thoroughly impressed but I can't wait to get the Windows 10 Tech preview on my Lumia 1520 and also on my Lumia 1020 for the mean time. This is so impressive that I almost want to go and buy another Lumia, 635 and give it to someone else just so they can try it out.

How much mb this update..?

I have never enjoyed the browsing experience on WP regardless of it is the fault of MS for not jumping on webkit or web developers only developing for WebKit or webkit-esque browsers. I just want the same nice browsing experience on my 930 as I have on my iPhone 6 Plus and Nexus 6. Hopefully, Spartan in the answer. :-) If I've stated anything incorrect, please chime in. Posted via the Windows Central App for Android

Will it load java based websites?
Windows Central Newsletter
Get the best of Windows Central in in your inbox, every day!
Thank you for signing up to Windows Central. You will receive a verification email shortly.
There was a problem. Please refresh the page and try again.