Internet sharing over Bluetooth comes via GDR1 update for Windows Phone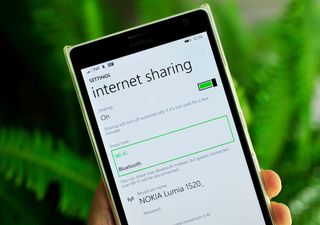 In the Windows Phone Update 1 Preview, new Bluetooth profiles are supported in the latest OS update from Microsoft, giving consumers access to new abilities. Those new profiles included PAN (personal area network) 1.0 profile, aptX codec support for A2DP, and browsing support for AVRCP.
In regards to PAN, one visible area in which consumers can immediately see the difference is visible under Internet Sharing.
Previously, this section included a simple on / off toggle, along with the device name and password. However, with Update 1 rolling out today for those on the Preview program, you now get an additional section to choose how to share that connection, either through Wi-Fi or Bluetooth. As suspected, being able to share your internet connection through Bluetooth is the new differentiating factor from the previous 8.1 release. Although not nearly as fast or effective as Wi-Fi, being able to share over Bluetooth is useful for legacy devices and other specific-usage scenarios.
Have you wanted to share your internet over Bluetooth? If so, let us know how you plan on using this new tool in comments!
Windows Central Newsletter
Get the best of Windows Central in your inbox, every day!
Daniel Rubino is the Editor-in-chief of Windows Central, head reviewer, podcast co-host, and analyst. He has been covering Microsoft since 2007 when this site was called WMExperts (and later Windows Phone Central). His interests include Windows, laptops, next-gen computing, and for some reason, watches. Before all this tech stuff, he worked on a Ph.D. in linguistics, watched people sleep (for medical purposes!), and ran the projectors at movie theaters because it was fun.
Will this allow me to circumvent MHS on VZW. I already have grandfathered unlimited data, but still need MHS to share with my Nokia 2520. If I can avoid MHS that saves me $20/month.

Unfortunately the only two devices that's even possible is on the ATIV Odyssey or the ATIV SE. The second problem is that no one has found where the setting resides.

How's it possible on those two?

I assume it's due to jailbreaking, which is only possible on the ATIVs at the moment.

I've tiped him and he didn't mention it..

Great update but scrolling lags like hell when I I scroll pass Live folders.

Soft reset? my L920 is smooth.

I did bro....but still lags and I fear Hard resets :-(

My Lumia 925 works perfectly. You have a very weired problem.

No issues with 1020 here.

Even my lumia 520 works well! =)
Never expected that to happen..but windows phone..keeps amusing me! :D

My Lumia 1520 is running better with GDR1, battery consumption is back to normal, no problems with live tiles, and especially no more loading screens!!!

That's what I was going to say. But I ask if this can allow forwarding of LAN networks to Bluetooth capable devices that are out of broadcast range?

If internet can be shared through bt then y Microsoft is not giving us the ultimate power to send files through wifi

One more interesting feature. Now USB Internet sharing is the only option missing but it's the least interesting.

+620 We need USB internet sharing! C'mon MS!

They'll have to update the desktop software to do that but I dont think their concerned.

I agree with you
There should be option to share internet using USB or if you want internet connect to you Pc worth USB cable and have it on phone

This update got you guys are busting out all kinds of posts today!! Happy Monday!

Hey daniel what about the live store tile...

Yeah, the Store tile on my 1020 doesn't have a live tile after updating to GDR1 too. Is anyone getting it?

There's an option in the store settings that relates to the live tile. Maybe it has something to do with that.

Check the settings in the Store, there are two options under "Live Tile." It also looks like the tile needs to be medium and not small. I have it on both a 1020 and a 1520.

Thanks, saw the option under the settings of the Store app. I had the Store live tile pinned in medium size. Wonder why it isn't showing the latest new apps. Hope this isn't a region thing.

Open the Store then close it. You should see it after that.

I've just found the solution. Opening and closing the Store doesn't help. The tile updated after I connected Facebook to the suggestions feature and turn the live tile option on and off. Thanks anyway! :)

Repinning the store is also solution.

That's odd, worked on my 1020 and I didn't do anything with Facebook.

Then it probably has to do with toggling the live tile option on and off. I tried messing with lots of options to see what works.

Is it going to work with my old Nokia 2690? O:

That's cool, and there is new VPN type

Still no PPTP support unfortunately. But L2TP support is a good start.

Never heard of this before o_O

Never heard of it? My old Nokia 6230 could do that...

Hmm.. Great, but I don't see myself using this..

+Nokia625. Can't update though! Downloads but can't install.

Backup and clear some room.

Does sharing over bluetooth use less power than sharing over wifi?

I'm pretty sure it does. Bluetooth class 2 devices have a maximum power rating of 2.5 mW while Wi-Fi can use up to 250 mW (Correct me if I'm wrong).

Will this work with the blackberry playbook?

Pls make one list of all the features :)

I'm trying to imagine a use case for ICS over Bluetooth instead of WiFi.

Allow tour far infotainement to connect to internet? :-)

Tight on battery power and no charger.

Does windows phone 8.1 has usb otg support??

Yup have a gateway GT5238E media center box from 2006 that doesn't have Wi-Fi, so being able to share via Bluetooth was much needed especially since after my nephew stole my TP2 that I was using as a Wi-Fi adapter.

Wt is da more fastest n less power consuming out of these two?

What about Skype and Facebook full integration in wp8.1.1

You mean text messaging as it used to be before it became a became a stand alone app?

Hmm yea (like hang out) in Android

No idea, I'm a bit irritated they pulled it to begin with

Lets face it, having Facebook and SMS together didn't always work and felt a bit messy. The option was nice, but I never used it.

Worked for me as I never had to open fb app

I cant agree with you... I used it a lot

Discovered this today... #Awesomesauce!

Yes I four things on my lumia1320

This is awesome, and some say that windows phone sucks!! So untrue

I would think this would be used for a smartwatch so the smartwatch can use the internet

Oh, true! Hadn't thought of that, but makes perfect sense! Good find. :)

It fails to get downloaded. Help!!!!

Check here, you are not the only one.. http://forums.wpcentral.com/update-1-windows-phone-8-1-gdr1/

That day is not far when WP will dominate over Android. It has very bright future ahead. Keep going ....

Awesome.... This is getting more interesting

I'll only be using this for my TomTom, you can get live traffic updates from the internet if you tether your phone, previously I could only use iOS or Android phones.

Have you tried this and it actually works? I have a TomTom Go 500. Had to use an iPhone in the past to make a connection, Windows Phone did not work.

97 percent downloaded... Come on, finish quick.. Can't wait to explore

USB sharing option should have been released first instead of Bluetooth.. But anyways... THIS IS AWESOME.. :)

Umm....can someone pls explain to me what this feature is all about ??

If you have a smart watch or other device that does not support wifi then this allows you to have internet on that device.

Yay! Microscreen surfing FT....W?

Social media alerts are more what would be occurring, not generally would you be surfing the web on a watch.

So you're saying that in order to have a fully functioning smart watch, I would need to pay AT&T an extra $20 / month to get tethering added my account? I can't enable BT tethering without having tethering enabled generally on my AT&T account. I haven't heard of this as a requirement to get smart watches to work on iOS or Android. Does anyone know if you have to pay for tethering to enable this feature for smart watches on other platforms?

That's exactly how it works on other platforms. So if there is no charge for tethering that way on android and ios then there should be no charge on windows phone either. Maybe Bluetooth tethering could be a nice way around that issue on AT&T

Unfortunately I have the dev preview installed and I've already tried to enable BT tethering, and I can tell you that there IS a charge. Currently, if you're not paying for tethering on your AT&T account, it won't let you enable any kind of tethering, BT or otherwise. The switch to enable tethering is the same for either BT or WiFi. I could call AT&T, but given this is only a dev preview of Update 1 which hasn't been officially sanctioned for their network yet, I doubt I could get ahold of anyone who would even know what I was talking about, much less fix it for me. I'm afraid that currently if you don't pay for tethering on AT&T, you're SOL for using this scenario for smart watches.

AT&T's unlimited talk & text plans include tethering; you can use the data however you want until you reach your cap. T-Mobile's plans (most of them, the super-cheap ones may not) also include tethering, and they have some options I've not explored for free tablets and hotpsots.

Yaaay but I can't get the update....

This does seem great, but still doesn't help the issue of ATT charging you to tether. On an unlimited plan, annoying I can't take advantage. Anyone have experience wth TetherX or whatever it's called?

Yep. Works ok on LTE (able to stream Netflix and YouTube)... PAINFULLY slow on hspa for some reason... Like 2kbs. Network setup is pretty easy... Keep one browser configured for it and one for regular (I use IE mostly so I just leave Firefox proxy setting set up for tether x and IE set for normal use)... The you just have to start the hosted network, etc.

Bah, still doesn't allow me to share connection to mt I'm Watch. Android did it differently and better where I could also keep wifi enabled.

What sucks is you have to pay for internet sharing feature if you are on t mobile its crazy

no you don't o.o tether is included with your plan on t-mobile

Well that's odd as when I tryed to enable it, it sends me to t mobile site saying this feature is not included in your plan. And I have unlimited everything

Your plan sounds outdated. Call customer service and ask about it. You're probably overpaying, too. A few months ago they actually called me and told me they had an updated plan for my account, but I've been with them since shortly after they stopped being Voicestream.

Yes you were right they over charged me as well the whole time. Very nice of them. Thanks for the tip everyone

Dude, you need to dial 611 and get current.

I'll give them a call later and see what's up. Thanks guys

cool 1......... but i hv this feature in my N73 ... i think since 2006

The list of features in every update is very less..... Still no otg, notification centre is very basic....etc. And almost everytime i use internet explorer, it crashes...Microsoft is not doing its part right....

Is the tile for Xbox Music should be live again? Previous posts I've read a few days back indicate that it should regain its awesome Live Tile but mine doesn't have any even after updating a few hours ago.

Hell with the xbox music app

Now this is what i needed for such a long time... Cant wait for nokia to release it officially

Ms bt stack on older platforms & generic widcomm dont support this

Can somebody tell me all the features of this new update or give me link i didnt find the features only some of them

Take a deep breath. Have patience. Wait for us to post 'em.

Wow, unrelated.. But Cortana sucks balls on UK in Australia, Very disappointing...

Yeah i notices the better soundquality of the Nokia MD-12 after the Update!!! Nice!

I could see this feature adding benefit when an internet connection for wifi is paid for, like on an airplane.
Share your paid internet connection back to a second device..... Assuming the internet connection sharing isn't locked to only the cellular/WAN connection.

Sharing via Bluetooth should be more power efficient also :)

I would prefer USB internet sharing ...

Now my L920 feels old. These updates are supposed to make it look and feel younger but the battery life exposes everything. *sigh* Keep the updates coming

I cannot share internet using wi-fi (I've never been able to do that)... is it because of my carrier?

CAN I CONNECT A KEYBOARDDDDDDDDD

Internet sharing no longer works on my RM-938, 1520.3!

Any option for mobile network data setting under quick settings?

Anyone running lumia cyan on 920?

Cyan is not out for the Lumia 920, so no. See our tracker.

.hi...you can help me ? i live in VIET NAM. .. tks very much

Daniel, do you know the details of the avrcp update?

Tôi sử dụng năm 1320, sau đó nâng cấp grd1 bánh răng quay liên tục, nhưng như vậy là chức năng flash. quay liên tục bánh răng ... một trong những điều đó không có

Also Start screen has changed. There is no more "Windows Phone" when you boot up, just simple windows logo!

That's a WP8.1 feature, not part of the update

Hold on a second, why can't VPN be used with Internet Sharing? Also I see this having limitless potential with wearables.... Its all about the internet of things

For setting a manual ip do we have to wait wor Windows phone 9?! I hoped to be able to set the ip under wireless settings in wp 8.1...

Very nice if you need it but why not fix/resolve all the reported bugs - including 'bitlocker dev prev 8.1 Cyan lockout bug' ' - before bringing in new features? Also continuing to de-couple apps from Hubs seems like a backword step to me. Isn't this what made WP unique/cool/joy to use? Live Folder may be OK but so was Nokia's App Folder so why focus on this when there are so many more critical ommisions such as no Mobile Data switch in notifications, limited email attachments, backup errors, disorganised settings list, IE video player, Xbox music. The list goes on and on but Microsoft WP team seem to just ignore user feedback here and elsewhere and proceed forth in their own sweet, isolated way introducing minor new features and removing/changing handy existing ones, for example rollout Cortana assistant thing to UK but remove Bing Vision Barcode reader - why?

Have you raised your concerns on uservoice

"We want this feature", said no one ever :)

That is correct. Most people would say the feature they want instead of just stating they want "this feature".
But I'm sure there are more people than just myself that wanted Bluetooth internet sharing.

It won't allow me to connect to my Microsoft Surface RT. Anyone know how to work around it

Forums PS. I like your username

I can use this for my old computer

any cu ai you can help me .... I am using years 1320, then upgrade grd1 bánh răng quay symbolic continue, but such as a function flash. Quay symbolic continue bánh răng ... one of the following conditions does not have a

What is the difference from sharing internet over wifi and Bluetooth? I not shared until now, thats why im asking

Sharing via wifi gives you more speed ( via Bluetooth has 20 mbits/s limit ) , but sharing via Bluetooth is more power efficient ( you should have noticed that work sharing consumes a lot of battery :) )

Can't use it of you have a Rogers rom on an att device

Why internet sharing through Bluetooth, work on internet sharing through USB and pptp-vpn....

Do it use ur data up if u use it alot

Awesomeness of GDR1 update

What is the update to avrcp?

Tested if Bluetooth DUN with PAN in my Benz -and sadly enough - NO GO !

Friends I have 1 question gdr.1 update include in cyan.. I m right.... But I have update this update on Nokia Lumia 520 dp.... But there is no show cyan. There are older version black.. Plzz help..

No Update 1 doesnot include Cyan, just two O/S updates build 12400 and Update 1. If it did, WPcentral would have mentioned it in the article about the update 1 rollout.

Bah! I need a way to leave it all all the time and never time out and turn off!

I love to bed able to share my internet any way but since I went to aio.. Now cricket they don't allow it so back to att next month, I'm done with it.. Lumina 920

I don't see the benefit of this.

The day I can tether my tablet without being charged extra I will be happy. Remember I use to tether my windowsmobile 6.x back in the day

Good news but remember that Bluetooth sharing is slower than wifi sharing , brlecause blueetooth 4.0 is limited to 20 Mbits/s
It means that if you are on 4G , network sharing will not be very fast :) ( well, it will be around 20 Mbits , but not at 70/80 Mbits you get with 4G )

Not a problem for some like me since I only connect to hspa+ network with max 13mbps and an avg of 8mbps

This is nice, I want to try out bluetooth internet sharing with my laptop and able to share to a larger network like wifi :) if it is possible atleast

What i want is to be able to use my phone as a modem with USB... When will this arrive, MS?

So why would tethering over Bluetooth be better than tethering over wifi?

Can we share files using this feature?

Internet sharing should be standard, Ahh sometimes I miss my old HTC Touch Pro2 with usb tethering connection feature at no extra cost *nostalgia*

nice feature but need wifi direct is required first plz..........

I am surprised that Windows Phone didn't already have this. It's certainly a step up from the dial-up networking feature of the bt stack found in windows mobile.

still no USB tethering??? Sometimes I think MS is just simply not listening to users!! Other platforms have it for years...

The imwatch (http://www.imsmart.com) does not work with the BT sharing. 'not available'.
Lumia 925

Can I connect my Nokia 5233 via Lumia 1320 Bluetooth sharing(gdr1 update)

I would like to see Share over USB option pelase.

Does new gdr1 update works on L620 ?????????

Since the Internet via Bluetooth requires PAN which generates an ad hoc wifi network so other device can connect to the internet, do other (connecting) device need PAN profile as well? What are the requirements of connecting device to use this feature?