We're celebrating the Xbox launch of Oddworld: New n' Tasty with an exclusive interview!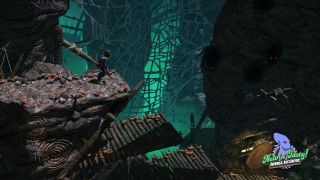 Oddworld: New n' Tasty - the remake of the legendary PS1 title Abe's Oddysee is available now on the Xbox One store.
For those who don't know, Abe's Oddysee was a unique puzzle platformer from Oddworld Inc, and saw players guide the hapless mudokon Abe through a massive labyrinth of industrial plants, ancient temples and deadly wilderness. The original was crammed with secrets, and combat centred around evasion or luring enemies into environmental hazards.
Oddworld: Abe's Oddysee is one of my all-time favourite games, and it's with some excitement that I present my Q&A session with Bennie Terry, Oddworld: New 'n' Tasty Executive Producer for Xbox One.
JC: For the uninitiated, how would you describe Abe's Oddysee: New n' Tasty in the space of a tweet?
BT: Let's see… Oddworld: New 'n' Tasty takes the 1997 classic adventure Abe's Oddysee and builds a original game based on it with new technology and visuals.
JC: Abe's Oddysee represents a ton of nostalgia for many gamers, myself included. To those who haven't yet played New n' Tasty, but are coming in from the old game – to what extent has the game changed? Have the puzzles been completely re-worked, or will I be able to jump through the game utilizing my knowledge of the PS1 classic? (I recall this particularly tricky Paramite sequence with tiny platforms and bats…)
BT: You'll recognize lots of areas, but all of them have been rebuilt from scratch, with brand new visuals and gameplay.
So, as in your example, there's still the Paramonia section with the bats (and swinging boulders) but it's now much more striking to look at, you can now throw bottle caps to dispatch the bats and the boulders work with the game's new (and hilarious) rag-doll physics. We spent at least an hour at that precise location recording dozens of amazing death sequences as we threw Abe repeatedly into the spikes and chasms!
You'll be able to recall old memories of the original game to help you progress in some parts, but other sections are brand new, or otherwise tweaked. We worked hard on the opening few areas of the game to ensure new players weren't put off by the difficulty curve of the original, too, so there's a gentler introduction (unless you go for the opening level's secret areas, in which case: good luck!).
JC: Oddworld seems to have a pretty rich canvas of lore from which games can be drawn. Could you speak of some of the influences which might've complimented Oddworld's creation? (if any that is, I'm struggling to draw comparisons from Oddworld to anything else!)
BT: Lorne talks about classic genre titles like Flashback a lot, but he's also very fond of the likes of the classic adventure Myst, which projected an impression that the player could go anywhere they could see. We managed to get some of that ethos into New 'n' Tasty - in Paramonia in particular, you can see future (and past) areas fully rendered as you explore your current location, gently teasing what lays ahead and reminding you where you've been.
JC: Oddworld director Lorne Lanning has previously discussed the disparity between PS4 and Xbox One hardware, have you guys had an easier time achieving graphical parity between the PS4 and the Xbox One since the Xbox developer kit updates?
BT: The game runs largely the same on both PS4 and Xbox One, and we're using Unity so most of the assets are shared across the platforms. We did some optimization work on Xbox One, but it was - for the most part - more a case of ensuring Xbox-specific things worked, like Achievements and the ability to start playing the game after just 50% of the download has completed.
JC: For our readers who might be interested, what would you guys consider the primary differences between developing for Xbox One and PS4?
BT: As above, the game was developed in Unity, so the core development was identical. Most of the time taken in delivering the game for Xbox One was ensuring the game worked well with the controller and fitted in with expectations that Xbox One gamers carry, such as Achievements, as well as bringing across all of the post-PS4 version release improvements and tweaks, such as the really nice 'old school' controls, reworked audio and a few subtle adjustments to some of the trickier puzzles in the game.
JC: Much has been said about the ID@Xbox program's parity clause – we're aware that there may be NDA's in place preventing you from discussing the finer details of ID@Xbox certification, but how have you guys found working with ID@Xbox?
BT: We've only got good things to say about ID@Xbox on Xbox One. The team there has been great to work with and as the ID@Xbox guys say themselves: if you're a developer - just talk to them.
JC: New n' Tasty is riding high on Metacritic from both users and reviewers alike, have you guys considered giving Abe's Exoddus, Munch's Oddysee or Stranger's Wrath the make-over treatment?
BT: All our thoughts and efforts are currently on New 'n' Tasty. We'd love to take a look at other games in the series, but as Lorne has said it all depends on how New 'n' Tasty is received, and what our community is asking for.
Remember, our fans decided it was Oddysee they wanted to see remade, our fans even named the game New 'n' Tasty, so we're very much in their hands. But in the meantime, it's all about this Xbox One version this Friday, which we're really excited about.
JC: As a kid, I really wanted to try Scrab Cakes and Paramite Pies… what do they taste like?
BT: We've never tried them, sadly they were all out of stock before we got the chance.
Huge thanks Bennie Terry and the rest of the guys at Oddworld Inc. for saying hi to us!
Oddworld: New n' Tasty is available now on Xbox One (opens in new tab).
Windows Central Newsletter
Get the best of Windows Central in in your inbox, every day!
Jez Corden a Managing Editor at Windows Central, focusing primarily on all things Xbox and gaming. Jez is known for breaking exclusive news and analysis as relates to the Microsoft ecosystem while being powered by caffeine. Follow on Twitter @JezCorden and listen to his Xbox Two podcast, all about, you guessed it, Xbox!
I remember playing oddworld it was fun! Hope this one is as good!

I loved playing Abe's Oddysee, can't wait to play this on Xbox :D

Looks like a great game....haven't played before though....hope I win the giveaway

Nobody want to know that we want Windows 10 news

This is WindowsCentral not Windows10Central.

Don't use "we" for something "you" want. I love Xbox news on WCentral.

I would love to get my hands on one of those codes, just so I can continue my love of this game.

I really loved playing oddworld. Looking forward to playing this. Never had any form of PS. ​

I honestly can't remember for the life of me if I ever got the chance to play any of the Oddworld games, so it'd be cool to win a code and give them a shot!

What a classic game! Funny and addictive

I only briefly played oddworld back in the day. But then again I never had the consoles that those particular games started on. Definitely keen on picking this up as it'll be fun to see what everyone has been harping on about for years.

I can't remember the last oddworld game I played. I love to try this one!

I remember playing munch's oddysee on original xbox. Might have to get that old console out and play it again.

Interesting game!! I'm hoping that the new game is mostly original unlike most of the remakes we seeing these days.

Looks like a great game.....hope to win the giveaway

Didn't get a chance to play in this world until the series came to the OG Xbox. Good to see an opportunity for gamers "cross-platform". At least for Xbox gamers, in this case.

Thanks for the chance! So many good memories from the original game :)

Wow its been years since I played this. I remember playing Munch's oddysee on the original Xbox as well. I was amazed with the graphics back then

Looks like an exhilarating game. Cant wait to play it

More awesome goodies coming to Xbox One...thanks to ID@Xbox :)

Even if I wont win the code, I'd buy this game for sure! The previous ones were the best! Thanks for bringing it over to Xbox as-well!

This game was my entire later single digits years. I used to love the noises and sound effects. My brother and I would quote them all the time.. "follow me"

Oddworld was a fantastic game, I'm excited for this.

great looking game.. hope to win a code

Had it on the PC many years ago

This would be my first time playing Oddworld: New N' Tasty so I hope I win a code!

First game I purchased with my Xbox back in the day. Lots of great memories.

In for the win. Wondering if it really only existed on the PS1, as I'm almost sure I've played it on my PC back then.

Certainly brings back great memories!

I don't know this game, but I'd love to play it on my xbone!

looks like a fun and great game.. hope to win a code

This was one of those games that always looked interesting to me but for whatever reason, I never tried. I may have to check this out.

Ah, I used to love this game. Never managed to finish it though :(

I miss Oddworld! Glad to have it back!

Pick me and I'll buy a Lumia 640 for T-Mobile on day 1... which is what I was planning on doing anyway!

I loved this game as a kid I have been looking forward to this next gen version for a long time. I am so glad its finally out for for xbox one.

It seems to be a good game. I'll definitely try it.

My favorite game from the launch of the og xbox

As long as I have been a gamer - I don't think I've ever played the Oddworld games... would love to check this out :)

Soooo many hours played on these games...Hope I win a code to relive the glory!

Pick me please! With chocolate sauce and abe on top! Lol

I really loved playing this game when I was a kid. I could see myself playing it again for hours when I get it.

I loved the oddworld games on the original xbox. I would love to get a code for the new one.!

That code would make my day!

I'm really looking forward to this game!

Omg this gives me back memories from a time where I love playing on my PC.

Love to try this, looks great

never played this, but i love puzzle games. i look forward to trying this.

I never owned a PS1 so would be nice to play it for free on my XBOX One.

this brings up memories of Computer City ... Ah the old days

Had the original on both PC and PS1. Can't wait to try this version!

It has been a long time since I played an oddworld game, the art here looks great, would love to play it again... for free

I have really fond memories of playing the whole oddworld series but I am sure I played the first on PC.

can't wait to play :) .hope i win *fingers crossed*

OddWorld: New n' Tasty its whats being served on Xbox. I'll take an order with a side of free code, please.

I like leaving comments for prizes! I never played the Original title. Watching some videos and it looks good!

I loved Abe's Exoddus back in the PC gaming days, even finished it with 100% score. Adding New'n'Tasty to my must play list :)

I was so young last time i see Abe! Can't wait to meet him again :)

Excited to play it finally

I remember playing the original way back when I was still in school. Good times. :)

Been a been fan of OddWorld and am glad to see Oddworld: Abe's Oddysee being remade from the ground up with HD graphics. Really excited to see what New 'n' Tasty has to offer.

Wow, I'm so excited to see Oddword come to the Xbox One! I've been a fan for so long. You guys are amazing!

I've never heard of the original game as a kid. I had limited knowledge of games back then but I love platforms and puzzles so I can't wait to give this a shot!

I remember buying this on PS1 back in the day at a car boot sale as i loved the art work and had never heard of it before. But I never got to play it as my PS1 kicked the bucket the same day.

I'd like a code, thanks for the chance :)

I remember playing this... such a fun game - I'm looking forward to getting it even if I have to pay for it, but it would be sweet getting a code.

Love that this genre is making a comeback!

I think this would be a good game to play on my Xbox One gaming console!

Hah I used to love this game. So glad I can now get it on xbox.

This was such a great game. Great sense of humor. If the words Paramite and Scrab don't scare you, you've been missing out.

Sweet :) never played it, maybe I'll try it now!

Can't wait to play this... Bringing back memories

Would be awesome to win. The last couple of months have been hard financially :/

I cannot wait to play though this game again. I love the series hopefully this is the start to get the series rebooted.

Haven't played the game in ages, looks like a good game for xbox1

I'm looking forward to playing this game!

Looks like a fun game. I never played the original though.

Wow! I didn't even knew it was in development! This is great news, I love everything oddworld. :D

OddWorld So much memories !

Oh man I loved the Oddworld series! Would love to win a free copy of this!

Looks amazing and pictures bring back memories :)

I have never played this game, people seem to really like it. I'll certainly check it out.

Would be kool to win a code. I'd like to give this game a whirl.

I'd love to win this. The original was one of my favorite games when it came out.

WOOOOOOOOWWWWWWW!!!! I LOVED this game!! What was great was all the mannerisms of the characters. Very comical.

I *LOVED* Abe's Oddysee & Abe's Exoddus on PS1. I *NEED* New 'n' Tasty. I *REALLY* hope I win a code.

I would love to play this one

I loved the original on my PC. Definitely going to check out the xbox one version! Posted via the Windows Central App for Android

This is my entry comment. It has five word sentences. There are many like it. However, this one is mine.

I still have the ps1 version please gimme

I remember having a demo of it back then and not having enough to buy it! Hoping to pick it up this time round! Back then, I had no money and now I have no time! :|

I may have to buy this one...

I admired the ambition of the Oddworld series.

This is one of my all time favorite games! I will have this game one way or another!

I was all about Abe's and munches odysseys and hunters wrath back in the day. I'd buy it if I didn't win a code

I loved the old Odd World games on the Orginal Xbox.

One of my all-time favorite games - I have a lot of fond memories of the time playing it on the PC. To win a code for this remake would be a great end to what has been a stressful and hectic week.

I enjoyed the original game. This one looks great also.

I never played Abe's Oddysee but I did play Munch's Oddysee on the original Xbox and I really enjoyed that. Platformers have a special place in my heart. I'll most definitely be looking at picking up a copy.

Unfortunately, I never had the chance to play Oddworld. But this looks awesome, so I'm definitely going to be checking it out in the near future! :D ...as soon as I beat Dragon Age: Inquisition. xD

Looks Great! Would love to play this Great Looking Remake of a Absolute Classic!

Game looks great! Looks fun.

Cant wait to play this on my Xbox One! I might buy it before you announce the giveaway!

Updated visuals look incredible. Never got very far in the game back in the day, but still remember it fondly. Will have to give this one a try some time.

Put your right foot in and your left foot out!

So excited to revisit this game. Thanks for the interview!

I awlays wanted to get into the Oddworld series but never had the chance.

I had oddworld for the OG XBOX and thought it was a decent game. Here's hoping the 2015 redux is as good if not better

Here I am! Thanks in advance for the code haha

I remember playing this when it first came out and thinking there wasn't anything like this. My older son was able to play it down the line, excited that now my daughter gets a chance.

Oddworld is a great game. I was going to buy it but I will wait for the code giveaway, hoping to be my first time winning something online!

Good to see old games old games being resurrected and returned to their rightful glory.

How was this game under my radar? I loved the Xbox classic one, but had no idea this was actually coming to Xbox One!

Wow Oddworld was one of the first games I ever had. I'd love to go back there and play this with my dad so we can relive all the good times we had with this game.

Best game EVER for original Playstation is getting a makeover for Xbox One?! YES PLEASE!! This is AMAZING!!

Great to hear they made a remake. Still remember playing this when I was younger. Lots of fun!

Can't wait to get some Soulstorm Brew!! So glad to see Abe and the Mudokons making it to X1!!!

Oddworld was super fun! Posted via the Windows Central App for Android

Awesome I remember playing my first Oddworld game Abe's Exodus 10 years ago.

Ah man I remember this game! Good luck everyone!!

This is a game I always wanted to play but never really got the chance.

Oddworld inspired most of my school art projects. Its a fantastic world

Wasn't there an Oddworld game on the original Xbox?

Munch's Oddysee and Stranger's Wrath :)

Game looks great. I cant believe it was 1997 went Abe's Oddysee came out.

this would be great to play:) Good interview guys.:)

I loved this game when I was a kid, as I recall I was never able to finish the game as I got stuck being chased by a dog on the outside part I must have been near the end of the game. I will deffinatly be playing this game as it hauts me to this day that I never completed this game. The 3rd game was the reason why I bought a Xbox Orginal, I am supprised it has taken them this long to bring out a remastered version.

Hello, I never played this game and I am interested. Posted via the Windows Central App for Android

I've been watching a twitch stream of this today. It looks fantastic. Great nostalgia trip too. I'd love to see it side by side with the original.

I really like oddworld and would love to give this game a try

My wife would LOVE if we got a copy of this! I, however, would never get to use the Xbox again :\

Cool giveaway. Be nice to win.

Always heard good things, but never played. Maybe that'll change this time around!

As a child, this was one of my favourite games, if not the first one... now I have great old memories playing it on the PS1! :)

So many good memories. And bravo to the developers for enduring this will be a good experience for us Xbox One players

I can't wait for this game! Munches odyssey basically shaped my childhood

This game was gold when I was kid!

I used to play Oddworld on the original Xbox. Nice to see the game again.

Oh this brings me back :-)

Omg I love this this game! I remember playing it on the original Xbox back in the day, with my little brother! :D

Man this game takes me back glad they were able to bring it to the Xbox 1

Absolutely loved the first one. I was a bit shocked to learn they released on stream first for this one. I thought the first one was Xbox exclusive. Ah well. I will play this one too.

Can't wanted to play, brings back old memories.

Would love to try this game! Hope I win!

Oh man, I LOVED this game back in the day! I will be playing the pants off this game when it comes out! Or playing with my pants off, or, I mean, the updated graphics really knock my socks off...

no other dev as those inhabitants. Glad to see they still are focused

One of my all time favorite games. I still own a copy of it. My daughter got into the game as well.

Some games are legendary and Oddworld is one of them!

Oddworld is for me for sure.

Thanks to the team for the beautiful remake and all the hard work they put into it! This game brings back fond memories.

Never had a chance to play this one but I was a huge fan of Munch's Oddysee.

Cool, played the first game and can't wait for this one!

Loved this back in the day, and my Xbox would love a code :-P

Ah, memories. Playing Oddworld on the gen 1 Xbox.

I would love to win... Posted via the Windows Phone Central App for Android

This was the first game that I completed on the original XBox, the first console I had since my old Atari 2600. It will be nice to go back and play it again but in HD.

Wow, I haven't heard that name in forever.

Abe was an awesome game, when I played it. Will enjoy playing again with this update.

This was my FAVORITE game as a kid. I can't wait to play it this weekend. Thanks for the chance of getting it for free!

Totally interested in winning a copy of this.

I've always wanted to play this game, glad I finally have the chance!!

It's nice to see franchises from the good ole days getting resurrected. I've never played the previous game but have long heard about it, so I'd be very interested in checking out this version.

I never had a PS1 so never actually played this one.

Wasted alot of time with Abe on my PS1! Loved every minute of it! :)

Looking forward to playing this with my son. I can barely remember playing this way back when.

Having a free give away surely bring alot of those "not interested in Xbox news" people commenting, yeah its free who doesn't want it? Just need to be thick skin I guess? Lol

I actually played the first Abe's oddysee on PlayStation and loved taking control of the Sligs and using them to kill other Sligs and make them say get em lol I packed away my ps2 and ps3 years ago when I bought my XBox with Kinect. now I have my Xbox one I would love to play it again.

Played the first games with my son,can't wait to play this with my grandson

Looks awesome! Can't wait to play this again after so many years!

Nice, the game sounds interesting, be nice to try it out

Anyone else been able to buy it yet? Doesn't show in the store for me just yet, and the link provided says cant be found. Itching to get it!

so many memories.....Looking forward to play abes oddysee again

One of the first PC games I loved. Gonna buy this when I get home

I'd love a code, as never played the original but one of my best friends was obsessed with it when it was released

Win or lose, I'll be getting this game!

I remember this the first time around. Glad to see its porting over the the Xbox platform

Never finished the original. Looking forward to the chance.

Oddworld was and is one of my best gaming experiences of all time.
The best story and the best artwork I've seen to date.

Awesome, I loved all of the odd world games. The universe is unlike any other in the gaming world. Glad to see this coming to another platform Posted via the Windows Central App for Android

It's one of those kind of weird games I always tend to look for. Lemme just finish Ori (again) and I'll get this one.

I have a feeling that $20 may disappear from my bank account before I get a chance to win the download code.

Love to grab a copy of this for the missus, she loves platform games.... Good Luck to all! :-)

Would love a chance to play this classic again. Definitely brings back memories of my old PS1. Posted via the Windows Central App for Android

Wow, its pretty cool to see the evolution of visuals but still see nostalgia of the game I played when I wil little. I hope I win :P.

I remember playing the demo for this years ago in store. I never had the chance to actually try the game.

I Want to play Oddworld on my XBOX One. Have play it as Child on a Playstation i think. Thanks for this Chance to win and good luck all others.

Looks funny! I would like to get my hands on one!

Looks fun, I'd love to play it

The Oddworld series is one of the weird gaps in my gaming knowledge. Would love a code to check it out.

Never played the Original Oddworld but Munch's Oddysey was a real gem on the first Xbox. It'd be nice to get to play this one.

Munch's Oddysee was one of my favorites from the Xbox Prime. Would love to play Abe's on the One. Pick me! Pick me!

I can't wait to play the game. Although I missed out on the original, I put many hour into Strangers Wrath.

Wonderful game now on xb1! Will do this awesome game for sure

I only hope it is as good and funny as I remember.

Abes Odyssee was awesome when I were a lad, looking forward to it

Looks awesome! There are so few puzzle adventure games released any more, this is my very favorite game genre!

The graphic design is very intriguing.

I never got to play the original. This may be the time to pick it up.

Abe's Oddysee was the game that got me into gaming. So much nostalgia. I'd love a copy!

Oh man. I actually never played Abe's Odyssey. My first foray into the odd-verse was with Munch's Odyssey. I might check this out if I get the time and money. XD

Looks great, would love to win it!

I loved playing oddysee, I'd love a chance to play it again on my Xbox one

Oddworld is such a fun game. I'd love to play New n' Tasty.

The creature reminds me of the Rakatan from Star Wars Knights of the Old Republic on the Unknown Planet

I never played the original unfortunately but I think I'm going to have to remedy that.

This is great, I was a huge fan when it released years ago. A classic game that came from a dev that took their time. I can't wait to get this,

Looking forward to introducing my kids to this after I used to play it when I was a kid :)

Man, I played the crap out of this game when i was younger.

I loved playing this back in the day and would love to play it on my Xbox One

Games like these (prince of Persia, flashback, ect) are my childhood personified.

Man this game is my fucking childhood (along with halo, doom, mgs, and Zelda windwaker). I fucking loved the WWHD so definitely picking this up when I've got a 20 bill.

I've always been a fan of the OddWorld series. I played the original oh my PS One that I had to flip over because the laser was going. Ahhh, nostalgia...

Ah the memories, of being freaked out as a kid lol! Yes please team :)

I'd heard that there was some issue getting them to Xbox. Glad to see they made it! Now, get me ReVolt!

One of those games that doesn't come up in conversation, but remains so fresh in mind. Glad it is coming to One. I would love to spend some decrompression time on it.

I remember there was a rumour of an RTS game based on these guys.

Looks like fun, something different to my usual.......

Looking foward to Odd world but, it got me thinking about another old game I loved that was funny. It took me ages to finally remember the name.... MDK. Anyone remember this one? Murder Death Kill I'd love this one to make a come back too. http://store.steampowered.com/app/38450

Loved abes odyssey. New game looks great can't wait .

Would it be bad if I said I wanted this more than i want my kids to graduate from college?

Munch's Oddessy was one of my first/favorite games on the original Xbox

i never had a chance to play ANY oddworld back in the 90s. Sad. But hey it's back! SWEEET :D

Interesting idea. Never had a PS1. This looks like something I will have lots of fun with. Glad it is on Xbox one.

Cant wait!! Been playing oddworld since I was a little kid! Hook it up with a code Windows!

I don't care about a dang code just put the game out there and I will buy it right now... Not in the store... Is it me, or was tho game already supposed to be launched?

Used to play this when I was like 6-7 years old on the playstation, would luuuve a code

Ahhh! Need more Soulstorm Brew now!
I have all the ancestor bones you asked for... Burrrrptastic :¬)

This is really cool! Hopefully I can win an Xbox one at the same time! (I'm buying one soon anyway)

Loved these games so excited we are finally getting an Oddworld game on XBox One.

I would love to see a rendered munches odyssey to follow. Huge fan of the series!

I have the old copy from 1999

Ohh I really want to play this game ! Thanks for the chance for the code ! :)

Been trying to find this in the Store in Australia but it's not coming up. Tried to buy via the web but it gives me the US page and I cannot order it from there. Is there anything I'm doing wrong? Anyone know why it isn't available in Australia > It's not this regional crap is it!?
Windows Central Newsletter
Thank you for signing up to Windows Central. You will receive a verification email shortly.
There was a problem. Please refresh the page and try again.