Into the Dead, intense zombie game from iOS and Android now on Windows Phone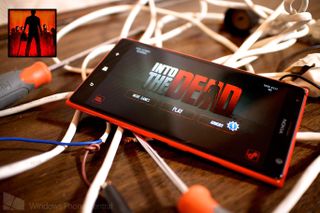 Into the Dead is an intense game. It throws you into a dark field full of zombies and you have to run past them. Do what you have to in order to stay alive. Keep moving and protect yourself by any means necessary. Into the Dead has been available on iOS and Android, but now Windows Phone users can play it, too.
Head past the break to watch our gameplay video.
Before you even start playing a round, we recommend going into the settings for the detail level. You can choose low or high. It works well on the high setting for the Nokia Lumia 1520. Try playing with this setting on your device to see which one works best.
When you start, you're immediately running forward. The only actions available for you are left, right, and fire. There are four control schemes, so you can choose whichever one is the most comfortable for you. We like the tilting option to move and tapping anywhere on the screen to fire. The other option we like is controlling the directions on the left side while firing on the right side.
The zombies don't appear to be moving fast, but they will grab and bite you if you get too close. If you graze just enough, you will stumble and most likely fall directly into another zombie.
There are crates on the field with weapons and ammo. They are glowing from far away, so you can plan ahead when maneuvering through the zombies. Bullets are limited, so fire only when really necessary.
Eventually, you will run into a zombie that kills you. At the end of the round, you get rewarded with coins for the distance. You can spend these coins for perks, but they only last one round. You can pay to start with a gun already in hand, have a head start at 1500m, hold more ammo, or find more weapon crates.
Coins can also be used to unlock weapons, zombie packs, or skip missions. Some examples for missions are "jump 3 fences" or "set distance record without a kill." Into the Dead can become repetitive, but these missions provide new challenges that make you say, "one more round."
Don't have enough coins to unlock what you want? You can spend real money in exchange for coins. For example, 10,000 coins cost 99 cents. The super coin pack with 500,000 coins costs $16.99.
Overall, we like Into the Dead. It's refreshing from the recent endless runners that have just made their way to the Windows Phone Store. The visuals and sound are great. You'll hear the player breathing deeply as he runs and you'll hear zombies when they get close. It's a horror game, so we'll understand if you turn off the sound effects or keep the lights on at night.
Into the Dead costs 99 cents at the Windows Phone Store. That's not a lot, but the game is free on Android and iOS. A free trial is also not available in this initial version, but we still think it's worth downloading. Go play some rounds and let us know what you think in the comments!
Get the Windows Central Newsletter
All the latest news, reviews, and guides for Windows and Xbox diehards.