Introducing the Mobile Nations Newsroom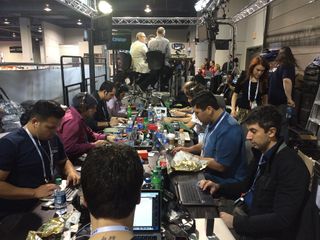 I'm excited to introduce you to a new initiative we'll be piloting on Android Central, iMore, Windows Phone Central, CrackBerry, and Smartwatch Fans this April.
Internally we've dubbed it Mobile Nations Newsroom and it represents a change to our organizational structure and workflow designed to provide you, our readers, with a better experience. The goal of Newsroom is to get you the latest news faster while doing it better, and while also allowing our talented team of writers to spend more of their day working on the original content that we know you all love.
Newsroom: What it is and why we're doing it
Newsroom is meant to operate 24/7 throughout the year, standing as the front-line "news desk" for all of the Mobile Nations communities. It is a dedicated team that is looking out for the latest news and making sure it is published more quickly and accurately than ever — across the Mobile Nations network.
This is a big change from how we used to operate. Each of our sites was essentially running their own separate news operation. Over the past few years we have significantly expanded our staff to better handle the ever increasing load of news, editorials, how-tos, and reviews that you're looking for. But with that larger staff we were still duplicating efforts on the news. We let the news dictate the pace of how we operated, and there were still gaps in our coverage.
Newsroom: Because you told us to.
Earlier this year you might recall the reader survey that we ran on our sites. When it came to news, we heard the same thing across the network: you wanted to see us be faster. In this day and age, there's little loyalty when it comes to news. We know that you love our editorial and review content, but when it comes to news, there are plenty of accurate sources to which to turn. But, like any reader, we know you'd also prefer to get your news and editorial in one place. It's just easier that way.
Over the past few years we took the approach that it was OK to be a little slower when reporting the news — it gave us time to add our insights, opinions, and analysis to those news pieces. But since then things have changed rapidly, and become rapid. All you have to do is watch Twitter and click on whichever news story link pops up first. We'll be honest — we want you to read that story on our sites. And if you've already read it elsewhere because they posted it faster, then we've failed you.
In that same survey, you also told us that you love our original content. News is news is news. The things that we do beyond the news — the things that nobody else does — are what make our sites and communities the best there are. That's what you love the most.
We want to satisfy both of those desires: faster news and more and better original content. We believe that Newsroom will be the solution. With a dedicated team responsible for news around the clock, the rest of our staff will be freed from being a slave to the news cycle and be able to offer their undivided attention to our reviews, editorials, help and how-to content, and everything else that you love about Mobile Nations.
Newsroom: What you should expect to change
The implementation of Newsroom is going to change how some things work at Mobile Nations. These changes will be for the better — it's going to enable us to bring you better news and better editorial coverage. And more of it.
Derek Kessler, our dear managing editor, is heading up this whole Newsroom project. With Derek at the helm you just know this is going to be an awesome thing.
Newsroom: News becomes a one-two punch!
Expect to see more follow-up opinion and analysis pieces when meaningful news hits. In a Mobile Nations Newsroom world, much of the news posts that are published will be brief. It won't be just straight news — we'll still have the character and perspective that we always have brought to the news — but we also won't be burdening our news stories with rushed editorial content either. When the news hits, we'll be getting it up quickly and accurately to give you the place that you wanted to discuss it.
When important news hits, news that's in need of analysis or opinion, we'll take the time to do a proper and separate follow-up piece about what this news really means. By decoupling the news from the opinion, we can get the news done faster and take our time to do the opinion justice. We like to think that the Newsroom process will be a one-two punch: the news gets out fast and hard with a quick jab, followed by a knock-out editorial punch.
Newsroom: New faces!
Expect to see some different names in the bylines when it comes to news. Newsroom is leveraging writers from across the Mobile Nations network to help ensure continuous and effective news coverage. We are one team. So yes, you might see a news post go up on iMore with the illustrious Android Central-loving Alex Dobie as the author, and you might just see Rich Edmonds of Windows Phone Central writing news on CrackBerry.
A beneficial side effect: to be effective news writers for all platforms, we're going to have to broaden our knowledge base beyond just being platform enthusiasts.
That's not to say that our platform-specific enthusiasm and expertise is going to dry up. Newsroom will actually help to enhance our ability to report accurately and candidly on the state of mobile,
Newsroom: More news! (and more original content!)
The way that we've run our sites up to this point has included a glaring point of inefficiency: we're engaging in massive duplicative efforts. Not only did we have separate news teams for each site, but typically all of our writers were simultaneously writing their editorial content while also watching the news. Across multiple sites we were wasting time and resources.
This was especially evident when we were covering general mobile news. Take for instance a new data plan from AT&T. That post would be written four different times by four different writers on our four smartphone-focused sites. There's nothing unique about a new data plan between CrackBerry or Windows Phone Central, yet we still wrote separate posts.
With Newsroom that will no longer be the case. You can expect to see more industry news hit across all of the Mobile Nations sites. We've built a suite of tools that will help us do this faster and better than before, all to serve you better. If you're a reader of all our sites, that might mean that you'll see the same post show up on multiple sites, but they'll still have separate commenters leading unique platform discussions.
This helps us do the news faster, but it also frees up time across the network. Those that aren't working on the news can spend more of their time working on original content.
Newsroom: What won't change
"But I like Mobile Nations the way it is!" We hear you. Newsroom is going to change some things, but the stuff that really makes Mobile Nations great isn't going to change. Actually, it is. Newsroom will let us spend more time on our communities and original content.
Our Expertise!
Newsroom is structured in such a way that there will always be somebody on-hand with platform expertise to write the news when needed. So you needn't worry about some interloper from another site getting things all wrong — we'll be working together and using each other's platform expertise to continue bringing you the best news we can.
Our Passion!
If you're concerned that this commingling of writers from the different sites is somehow going to affect the passion for the platform each site covers individually, don't be. Newsroom posts are news, and just news. Posts from Newsroom will be matters of fact, timely, and accurate. Newsroom's role is to relay the news, not comment on it. Our passionate editorials on the news will continue, in fact we'll be able to be more effective at it now.
Newsroom: So, you think you've got the chops?
With the introduction of Mobile Nations Newsroom we're also expanding our team. We're looking for dedicated news writers, people who can help us better cover the wee hours and weekends and restore a bit of that personal flexibility that we're giving up in launching Newsroom.
So if you've always wanted to get a foot in the door writing about the latest in technology as a junior news reporter for Mobile Nations, if you you've got the chops, experience, and time to dedicate, this is your chance.
What we need
News writers with a solid foundation in mobile technology. It's okay to be an expert on one platform, but you should have a strong base of knowledge on all major platforms.
We're looking for writers across the globe. While we welcome writers in all time zones, we are especially interested in expanding our coverage during the daytime hours in Asia and Europe. That doesn't mean you have to be living in those areas — if you live in the Western Hemisphere and want to work nights, we're cool with that. If you live in Spain or Japan but can write English fluently, we're likewise cool!
You must be able to quickly and accurately write a concise post that relays the news of the day, though it should be obvious by this point that speed, accuracy, and succinctness are important qualities for a Newsroom writer.
If this describes and appeals to you, drop Derek Kessler a note at derek@mobilenations.com and we'll explore the next steps together.
News team, assemble!
That's a lot of explanation for the how and why we're launching Mobile Nations Newsroom. We feel that this is an important and fundamental change to the way that we operate, and our hope is that it will better help us serve you.
With that explanation out of the way, it's time to assemble the news team and get started. We're ramping up in April, and we expect that there will be some kinks to work out. So we'll thank you in advance for your patience and understanding as we work to build a better Mobile Nations experience. Also, thank you for your honest assessments of our coverage that has helped set us down this path.
We strive to always be improving what we offer to both our regular readers and new visitors that land on our sites. We feel that Newsroom will be a big step down that path.
Windows Central Newsletter
Get the best of Windows Central in your inbox, every day!
Lots of tech in one picture ..

You see. What I don't understand is what are you trying to gain from that comment? Is it thinking that people will join you? They wont. Is it becuase you want to be funny? You are NOT FUNNY AT ALL. Or is it because you are just a simple Dick?

Someone needs anger management classes here :)

yap. but actually, when I see the red line here, it will be actually faster, involving us who can fluently write English to be the newswriter here. Hey, coach, put me in!

That wasn't fluent English. Piss poor way to try and sell yourself.

Seems faster .. ok, seriously now, using such jokes is a way of expessing joy and positive opinion. That's how I see it.

Mmmm.. All the sexy men of WPCentral in one room!

Newsroom: because it seems faster

Wasn't it enough for you to beat that non-joke to death twice in the thread?

I'm in a room full of people who are laughing at this brand new joke.

I'm cool with the crossover appearances as long as the articles aren't biased. I can go to Engadget or Gizmodo if I want to see Apple editors reporting Microsoft news in snark-laden rhetoric (and vice versa, I'm sure they don't want to see a Windows guy bashing Apple). I'm probably among the minority in preferring the separation and more consistent reporting.

+1020 No need to worry on that. The news posts coming out of the Newsroom are relaying the info quickly for you all. So even if somebody who's more of a regular iOS writer is covering it for example, they're not going to start injecting a bunch of bias into that post. They're just getting the info up accurately and asap so you guys have the post here to talk about. Then if it's big news worthy of follow up analysis, opinion, etc, the regular WPC guys will weigh in on it. Regarding consistency, I think you'll actually see it improve!

That's very comforting. Thank you!

I think you will always see this on any site. A good example is the amount of negative articles written about Microsoft on iMore usually written by the same person. They're all opinion peices and they're quite irratating. Not becuase I'm pro-Microsoft or that I don't like Apple. That's not the case at all. It's because they come off as a desperate attempt to drive conversation from one site to another and vice versa. Maybe internal competition? Who knows. All I know is the trolls love it. In my opinion it would make more sense to merge all the sites into MobileNations and become a Verge competitor, in a sense. I find myself reading the Verge before reading 5 different Mobile Nations sites individually. This is probably why they're starting to consolidate the news. I could be wrong, but it makes sense. Which leads me to a question. Can MobileNations setup an RSS feed for ALL sites rather than have 5? Maybe this already exists?

I'm definitely opposed to consolidation, but yeah, I hate really negative articles even as editorials. I think the WPC guys do a great job of keeping things positive and not focused on the alternatives. I tend to ignore the rest except for Samsung, HTC, or Apple device launches.

What might be a better solution is to have the individual sites but also have a 'master site' that collates the more important news stories into one front page. That way each site keeps their identity but for those who just want salient points/important news/Over-arching news they just visit Mobile Nations, but for more in depth stuff you go to the sub-site. One of the sites I work on is considering this concept.


I completely agree as well. Remember the Mobile Nations guest author who wrote a post on how Microsoft had no enterprise management software for BYOD and somehow forgot about industry standard Windows Intune and similar software that manage Windows, WinRT, iOS and Android devices!

Will you update "news" items later with a link to the analysis?

Absolutely! Great question. Yes, we have a system we've built in so when we write the follow up analysis, it'll automatically update the original post with a link / call to action taking you to the follow up.

So what will become of the WPC app on WP?

What do you mean? It's still going to be WPC as you know it!

Cool, I just if the WPC app would remain or if it was some sort of merger.

Speaking of the app, it needs an update on the WP8, and even more, the W8 versions.

A lot of your colleagues use Macbooks. Deviant!

Talk about wasting resources!

Rubino is using win8 tho.. :))

This one might deserve a "seems faster" comment.

lol but he's right.. it'll actually be faster!

I think daniel is the only one using a windows laptop lol

They need to fix that and give him a Mac so he can report news faster.

I see 7 MacBooks in that picture.

I think Daniel is the only one who actualy thinks

More news and faster news..

All i want to see is this site redesigned in metro style. Live tile like boxes for new articles, ads and small ones in between for navigation (forums, tips etc). Make it happen WPC!

Mobile Nations via WP Central is my primary source for tech news. I trust them.

I'm glad you used an image from "The Newsroom." Haha. Thought of that series immediately. It's pretty good.

Great, now android and ios users will review windows phone

No silly. Read the post. That's absolutely NOT the case.

Read the Section Newsroom : New Faces

News does not equal reviews :)

The New Faces will be providing News, as in info, and facts. Not opinion or reviews.

Read the "by" part, let me help you, "By Kevin Michaluk" (Chief Media Officer, Mobile Nations). As stated several times, the new faces will be writing the news only. And as he commented on another post "The news posts coming out of the Newsroom are relaying the info quickly for you all. So even if somebody who's more of a regular iOS writer is covering it for example, they're not going to start injecting a bunch of bias into that post. They're just getting the info up accurately and asap so you guys have the post here to talk about. Then if it's big news worthy of follow up analysis, opinion, etc, the regular WPC guys will weigh in on it." Also: " If you're a reader of all our sites, that might mean that you'll see the same post show up on multiple sites, but they'll still have separate commenters leading unique platform discussions."

All those drinks on the table is an accident waiting to happen. Should have invested in a table with cup holders @ each seat, seems obvious and cheap looking, but it works really well (I honestly don't think this is the actual setup and how it looks 24/7 though.

That was the setup from the CES 2014

You guys look really busy

Nice one! Congrats for you guys.

I like the idea. I think it should work out well. It should help the writters of the sites not feel like they have to do a big article when small pieces of news pop up, but at the same time will avoid people constantly saying they ignored the small things that didn't make it onto the site. More, better content for all!

Hoarders. Give me a Mountain Dew and we're even ;-)

Will we see Bla1ze posting on WPC? That would be.... Interesting...

Im guessing by the macs that nothing productive happens in that room?

Also, who's neck tattoo am I looking at?

Those fat guys are grubbing down on some burgers. :D

Which is higher in the room, average BMI or average age? :p

Tats great.. I love the fact tat you guys are looking for day time coverage in Asia.. I'm from India and sometimes i get bored of opening wpc app and see no new articles :) wpc is addictive :D

This is why Mobile Nations rules!

This is completely the worst idea i have ever read about. Having writers split into different teams makes more sense as they are experienced in the topic they are writing about, the discussions are more dedicated and their passions more rooted. Those values are now lost in a myriad of individual writers discussing various topics, subjects and comments which i feel will impact the quality of the work that we readers get to share in.

Nope. Every site still operates its own team for its platform. It's just that we're spinning off basic news scouting/reporting to yet another dedicated team (that always has an expert from each platform on it). That helps free of each of the site times to do precisely MORE of what you value vs. right now when we spin wheels a lot everyday trying to keep up with the news. Actually the best idea, EVER! :)

And I have just applied :)

Would leave this MobileNations in a NY Minute if CrackBerry and Android guys start writing about WP devices etc which they have no clue OR passion about! Change is Good as long as you respect your reader's passion and the reason they come to your Digital Properties. So.... here's to hoping everything remaining the same while changes come! .

I assure you, the core articles and analysis will still be done by myself and the WPC team. That isn't changing.

Good. As i come to wpcentral to mainly read what you, sabri and rich have to say. Plus the podcasts are just gems. Hope that is still in the plans.

To quote Kevin Michaluk "Every site still operates its own team for its platform. It's just that we're spinning off basic news scouting/reporting to yet another dedicated team (that always has an expert from each platform on it). That helps free of each of the site times to do precisely MORE of what you value vs. right now when we spin wheels a lot everyday trying to keep up with the news."

See, the problem with being totally biased is that you miss on some very important details about editors on other sites. For example, while Daniel here owns an iPhone and a Moto X, did you know that Phil at Android Central owns a Nokia L1020? And he has praised it more than once. Sure, he doesn't LOVE the OS. But that's why he's the Editor of Android Central and not WPCentral. Just because everyone has a favourite OS, the writers at Mobile Nations are probably the less biased ones around. Even the most biased ones like Michael here at WPCentral or Jerry at Android Central. So yes, they do have clues about WP. Just because it's not their favourite OS it doesn't mean they know nothing about them. Also, they'll be just reporting news. Reporting news means being impartial. If you don't want to read news and just want to read opinion pieces, then you can always wait for the articles by Sam, Daniel, Rich and the rest of the WPCentral Team ;)

Well, I own several ios and android devices for development purposes and if I want to read something about them, i go to the sites specific to them. But I love my WP devices and come here just for the news and views of like minded editors and users. So, no, I personally don't want what Android peeps have to say on the WP blogs. My main point was what you made in your comment. Favorite OS..... Not fav means less passion... I want the passion displayed here by the likes of DRubino and Sabri and Rich... Not some other people whose passion lie with other Os. But.... To each their own.

Ah, the glamorous world of tech blogging, finally revealed!

As long as it doesn't turn into the same blatantly ignoarnt douche baggery I've seen on sites like pocketnow, then I won't have issue. Yeah, I'm well aware that may ruffle a feather two, but I sooooooo don' give a damn. People, "articles", and videos like what you'll find on their site (and many others) REALLY need to vanish.

I miss the mondeay brief... it was a good recap of the week before... need to redo something like that...

Any potential for "freelance" writing (beyond the forums)? I don't think I would have time to do this as a job, per-se, but I would love to submit an occasional article to be featured on Mobile Nations!

I would not mind reading an occasional guest article by one of the readers as long as the content is vetted by WPC editorial staff before being published.

You could AT LEAST not make them use laptops. That's just cruel, cramming them all at that table with poopy machines. Desktops for all!

Isn't that some kind of event like mwc and they are just live blogging from there?

If that's a live event then I could see that those conditions are ok, however if that is the standard working conditions it wouldn't be what I would call ideal.

I don't know what to think. Somehow I'm thinking: what about Daniel starting his own Windows Phone news site together with some WPCentral guys....

Well, tom used to have his own blog and that was pretty good until he joined the verge and I see him write about IOS and Android etc... I just don't like to read his pieces anymore. I feel like he is compromised somehow. Hope this does not dilute what editors and writers from each site have to offer. The experience from Mobile Nations was unique and this just might push them to a more Gereric Tech blog with all news misMoshed every which way. I mean i want to come to Wpcentral to read about Win related things. Could care less about what IOS's fart smells like today, you know what I mean? AnyhoooOOoooo... I am again hoping everything remains the same and I don't read about Android sergey wearing his boogle glass on 5th ave while riding his bicycle and getting hit by a bus because he was trying to take pic by winking his eye and did not see that big cross town bus.

As long as I don't see another article like: "How is Windows Phone helping your sex life???", given that it was written by your dear managing editor, I am afraid that articles like these are going to become more common, if that's your plan, then please give me an option to filter out such crap... Thanks.

Lol. That was actually Phil Nickinson (Android Central)'s idea to do that up as a Valentine's Day survey post. Derek just got stuck with it :) But that's not news... so no worries on that. Also, that post may not have been your cup of tea, but was actually most popular survey we've posted in all our years! Not something we do too often though.

Now imagine the millions of hits you'd get on Mobile Nations sites if you added a couple of shirtless girls! LOL

Nice try Kevin...............................Happy APRIL FOOLS!

April fools is tomorrow ;) This was posted on March 31st.

well, it's already april fools day in Australia...

So long as the information is accurate and faster I'm happy lol wmpoweruser keeps spreading FUD in the community

They look like they are thirsty! More water or Mountain Dew please...

What dev Patel is doing in here?"

You've talked before about giving readers a way to filter stories according to their preferences. Please do this. Most people outside of India really don't care about news specific to India. And I would wager that a lot of people who come to Windows Phone Central are looking for news that's actually about Windows Phone - not Windows 8, tablets, Xbox, Bing, Azure, etc etc etc. Sure, sometimes those stories have Windows Phone specific elements to them, but usually they don't.

Agreed but I would love you guys to expand and have an "All things Microsoft" site too.

I think this measure will make for much more efficient writing. I'm excited to see how everything will work out (I have been a fan of MN's work since last year). I wish all Mobile Nations sites the best of luck!

What I really like about the news on WPCentral is, that even if they're a few hours later than e.g. the news on WMPowerUser, I can be sure that there's some truth to them. I had always the impression that WPC does some background on news before posting them, using some sources they have to confirm things. I'm a little bit worried that an iOS- or Android-guy doesn't have the sources (for Windows Phone) to confirm things the way a WPC-guy could. I hope that the quality of the news is not affected by the attempt to be faster.

Daniel, are we still going to see your "subtle" distaste for Google strewn about or are we going to see that stifled? Cause that is something that always makes me smile, and who doesn't like smiling? NAZIS, that's who!

"Seems faster" applies really well this time.

WIll some of your writers be checking for spelling and grammatical errors more often?

I really hope this isn't the start of the end of the best WP site. I'd hate to see Verge like ignorance popping up in the WP news once its written but iOS or Android guys. They are good alternatives but I come here for WP news and like the unashamed MS bias that I find here.

My first article title... "it seams faster"

I just hope this doesn't dilute the Windows PHONE coverage at Windows PHONE Central. As it is I am tired of reading about Windows for PCs and Xbox. Hope we don't have to read about those things even more here.

Seems like only Daniel has a Windows Laptop lol, make us proud among all the Mac users in there :)

Question: Will we now be able to get news from each mobile nations site? I know that this wasn't available before, but it would be awesome to get news from all platforms in one app. It would be extra awesome if we could write comments, posts, etc on all sites from one app as well. :)

Wow great idea Mobile Nations team. I don't see what's wrong in this if a educated writer of android central will write articles for other site. It's a win win case. Faster news, faster analysis, more universal discussion.

Messy, but that's a sign of creativity :-)

The posting of articles across Mobile Nations properties is creating extra noise for me - I'm sure I'm not the only one. I guess as we see articles that are unrelated to the site they end up on (like this one), people will vote with unruly comments.