Invites to the next Xbox One update preview are rolling out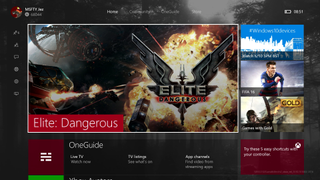 Not to be outdone by the latest Windows 10 Mobile Fast Ring updates, the Xbox team are rolling out invites to join a preview of the latest Xbox One update.
The update itself hasn't gone live, but a wave of invites to enroll to the "Latest Xbox One Experience" is currently heading into Xbox messaging inboxes. This update will likely begin to prepare Xbox One consoles for the promised Windows 10 Anniversary Update, which will bring various improvements across the Windows 10 device family.
Xbox Preview Program Manager Emily Hanson tweeted to say that the timing of the invites is based on which users earned the most points submitting feedback in the previous wave. As usual, you should expect that eventually all Xbox One Preview Program participants will be invited. If you want to get invited sooner next time, you'd better make sure you submit those feedback surveys!
Meanwhile, Preview members, check your Live messages! Those w/the most points after the last wave have a fun message waiting for them. ;)Meanwhile, Preview members, check your Live messages! Those w/the most points after the last wave have a fun message waiting for them. ;)— Emily Hanson (@EmInterrupted) June 2, 2016June 2, 2016
Check your messages on Xbox Live to see if you've been invited. If you have, head to your apps, then select Xbox Preview Dashboard, go to Registration, and enroll yourself under "Preview - Latest Xbox One Experience." There's no word on when the update will appear, but expect it in the very near future.
The Windows 10 Anniversary Update for Xbox One is anticipated to include things like UWP apps from the Windows 10 Store, background audio playback, and perhaps even mouse and keyboard support. The update will likely also include various quality of life and usability enhancements, based on telemetry data gathered on the dashboard's usage.
Additionally, Cortana might break cover in the latest update. Microsoft's virtual assistant made an appearance in the NXOE experience preview last year, but her full capabilities have remained under wraps, pending further development. She was demonstrated previously as being able to perform complex, multi-step tasks using natural language, eliminating the need to step out of your game. A couple of examples Microsoft gave previously include the ability to record specific lengths of game DVR footage and immediately share it, and finding out whether your friends are online, and being able to invite them to a party. Unlike the current Xbox's rigid, syntax-driven commands, all of Cortana's commands will utilize natural language, as seen on Windows 10 and Windows 10 Mobile.
There's every likelihood that the update will also begin setting the groundwork for major, heavy-hitting features Microsoft will likely save to announce at this year's E3 conference.
The Xbox One has evolved massively since the console's reveal back in 2013, gaining piles of minor enhancements, dashboard optimizations and incredible new features like Xbox 360 to Xbox One backward compatibility.
What features would you like to see in the latest Xbox One dashboard preview? Let us know in the comments!
Windows Central Newsletter
Get the best of Windows Central in your inbox, every day!
Jez Corden a Managing Editor at Windows Central, focusing primarily on all things Xbox and gaming. Jez is known for breaking exclusive news and analysis as relates to the Microsoft ecosystem while being powered by caffeine. Follow on Twitter @JezCorden and listen to his Xbox Two podcast, all about, you guessed it, Xbox!
I was notified and now enrolled for the next update

Same got this message 3 hours ago and singed up as soon as it came through. Can't wait for this next update.

Cn you add me to preview program please. @saurabhgangwar

Can one of u guys please invite me to the preview? Gamertag is Maci La Freak
please....!!!!

The Preview Program is full. Has been for about 7months i got in over a year ago and was lucky i'm unable to even invite my friends into it anymore. So good luck but if i was you i think accepting you'll have to wait till the updates are live for the public would be the best way to go haha.

Can one of u guys please invite me to the preview? Gamertag is Maci La Freak
please....!!!!

Same here :) Surprised I got an invite so soon since past months I have not posted much feedback at all, because everything has been working as it should

Same here. On the preview inactivity. Been without a job for a while now so I have no actual excuse for it :p

From what I can recall the preview list was kinda full and according to the article they now invite to the new preview the highest scoring existing members so if I were you I wouldn't expect much. Then again my preview scoring is too low and got invited in the first wave. So I don't know how accurate the article is about that or the MS info is.

Hey dude can u invite me please man be very much appreciated Gamer tag: nae l3other Thanks

In and ready for the latest updates.

Im on it. MORE XBOX BUGS!!!

cortana in canada for one. that is a definate. maybe more enhance voice controls like xbox open call of duty. and then it pops up asking wich call of duty you want to load. like xbox go to minecraft. it just doens't work?? its stupid and it should just work!

Yea it's because you have to say the entire title of that game. You have to say "minecraft, Xbox one edition" just like gta 5, you have to say grand theft auto -_-

Can one of u guys please invite me to the preview? Gamertag is Undying82

They stopped the invites to preview programs as they have exceeded the limit

I wish they would change the GUI. Make simpler and easier to navigate like the 360.

I'm still fond of the original blade system the 360 had.

I got the message around midnight and erolled straight away also I highly recommend complainers about frequent updates to stay away please... The amount of complainers during the nxoe previews were insane.. What morons signing up to a preview program and complains about frequent updates

Thats true. However, I am also part of the Xbox 360 preview program. There is this error code 807b0194 that appears everytime we (the preview members) klick on the large sale panel on the dashboard. It has been like this for over half a year now. What I complain about is that they stopped updating the console since march but we need a new update wave to opt out. They also stopped answerering questions in the preview forums. This is not how your most supportive customers should be treated. I really hope for an update in the time of E3.

As soon as they made Kinect useless and went to tiny, unreadable menus, we ditched our Xbox One. I don't anticipate Microsoft doing squat to make it worth dusting ours off.

So u b itch but won't do anything to fix it. Wtf
Posted from Windows Central for Windows 10

What? It's not his job to fix it. He has the right to get rid of something he doesn't like. Lumia 950. Release Preview

As far as my wife and I are concerned, the Xbox One was "fixed" when we bought it. It had every feature we wanted. Now it has almost none of the features we liked.

So the new UI ISN'T a step up from the OG lagfest? Okay bro did you really own an Xbox One? Or did nothing turn around AT ALL?

My wife and I LOVED the original Xbox One UI. We bought the Xbox One BECAUSE of the gesture control the Kinect afforded. Then Microsoft completely ruined Xbox with this disgusting new "experience" and turned our Kinect into a paperweight. We finally got frustrated in the hard to see icons and the fact that we had to use a controller to do everything and we disconnected the Xbox and tossed in our shed. If Microsoft ever brings back Kinect gesture capability we'll reconsider breaking our Xbox back out.

squint eh. maybe your tv is to far away from your tv. or you tv is to small for the distance from your seat. maybe your old and need glasses. maybe just maybe.. maybe not saying just saying.

Sell your stuff. You keep complaining and no one cares.

If you don't care, then shut up.

How do i get invited and enrolled? Tag: emcube009

I wonder why there are a limited number of people allowed to be on the preview program. What makes it different than Windows mobile having insider previews available for all who want in? I'm most looking forward to the rumored OTA DVR feature.

Its because it includes a extended service contract to pay for possible repairs(although never used their services for xb1 but their 360 contractor in Canada used to repair bb's in Mexico just exchanges 360s)

Registered and ready to go!

Well... a lot of us are still waiting for the Language and region lock to be removed. https://xbox.uservoice.com/forums/253802-home-xbox-guide-and-settings/suggestions/6028840-don-t-region-lock-the-languages

Enrolled as soon as I got the MSG in the early hours of the morning (UK time). I'm really looking forward to it

Got mine. Had to change in essence the "rings" from the current to the new. Now we wait.

I have also enrolled as soon as I got the message. Enrollement needs 72 hours to be activated. My best guess is that we are going to have the 1st update on Saturday.

I'm expecting that the first actual updates will roll out after the E3 show. I also expect I'll probably be foaming at the mouth to get to it. #hype

Yay a new update its been a while

How can I become a member of the preview program? Can someone send me an invite? I'm on the fast ring for Windows 10, but finally upgraded my xbox at Chrismas.

Any chance of an invite? Gamer tag Scudder1990, really want to get involved in the preview programme. Thanks.

I got mine yesterday didn't realize it till this morning. Posted via the Windows Central App for Android

Would also love an invite if anyone can help. Tag: Vanamilia

When is the DevMode preview getting an update? I have an insane amount of issues with the actual gaming function of it.

Come on, background music and local storage of said music. I really like listening while I game, and I hate having to deal with managing a library north of 50 GB through the cloud.

Parental Controls on the XB1 is a mess. The XB360 controls were not great but it were still better than what we have now for game and app exceptions. Also, Plex is unusable on the XB1 because of the Parental Controls system - even the Plex Dev team admits they are waiting on MSFT to figure out what they are going to do about how Plex's controls will work. One step forward and two steps backward is the MSFT way.

I can't wait until AFTER the Anniversary update when XBOX ONE becomes part of the Insider Program proper.

Got the message and signed up. It's good that they are going with people who provide feedback first, definitely encourages everyone to do the surveys and quests, which is technically what we are supposed to do as opposed to just getting the updates early for bragging rights. Now the impatient wait for the update to push through. I believe it said it wouldn't be within the next 72 hours so I'm willing to guess the update will go out either Monday or Tuesday, giving the team the weekend to finalize things. Judt a hunch though.

I've been in the program for a LONG time, even on the 360 before it was public... I'll check my messages on my Xbox one when I get home at some point but, I have been busy playing Uncharted 4 on my PS4 (what a epic game btw). Well, not too excited about Cortana at this point. You cant do Xbox features on it, so besides a quick "neat" type thing, it wont be too usefull on my Xbox one... When I can join parties or start games, then a maybe thing... I have a Kinect setup so I am assuming it would work fine, but, can it be done with a headset on ? Kind of figured that 90% of the posts on here would be people begging for an invite....sigh

Same here been in both the programs on xbox 360 and xbox one love giving feedback and testing new updates. Yeah i hate all these people begging for invites purely for bragging rights like you said, really looking forward to seeing the new stuff music background play has been a long time coming can't wait! Will make it much easier. And for all you guys asking for invites the preview program is FULL has been for over 5months so accept you'll have to wait till the update is live for the public.

please invite me xempirexstatex thank you for anyone who takes the time to do so!

Someone mind inviting Vampirish please? Thank you!

Would someone invite me too (vke72) Thanks !