Here's what's new in Windows 10 Mobile preview build 14356 for Insiders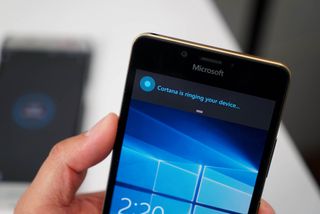 Microsoft has released a list of what's new in the just launched Windows 10 Mobile preview build 14356 for Insiders in the Fast Ring.
Here's what's new, according to Windows Insider head Dona Sarkar:
Cortana Improvements
Get notifications from your phone to your PC: Cortana will now surface your phone notifications and critical alerts, including messages from messaging services, SMS or social media as well as missed calls from any Windows 10 phone or Android device to your PC, so you never miss a beat while staying focused on your PC.
NOTE: Android requires Cortana version 1.7.1 or higher. (download here for U.S. and download here for China) Some actions on Cortana forward notifications may not be fully functional yet, including reply from PC (for Windows 10 Mobile). Muting the forwarded Windows 10 Mobile notifications per app will come soon. In the meantime, if you want to stop receiving phone notifications, go to Cortana settings and toggle off "Send notifications between devices".
Send a photo from your phone to PC: If you need to quickly transfer a photo from your phone to your PC wirelessly – just ask Cortana "send this photo to my PC" and see what happens. This feature is currently exclusive to Windows 10 phones.
New listening animation: When you tap the mic icon in Cortana, there is a new animation that shows Cortana is listening to you as you speak.
Photo sharing b/w Mobile & Pc via Cortana is pretty cool..

This basically eliminates 90% of my Instabullet usage. Lol Send from Bikini Bottom via my ShellPhone 950 XL

How long does your battery last on these builds? I see you have a 950XL. I'm shying from these builds mainly because of battery duration. I average 24hrs on release preview

It really depends on your usage pattern. I'm a "heavy" user and I always make it through the day with about 40% left. That means, 60% drop in about 18 hours of continuous usage.
This is based on 14332-14342, which were not very optimized battery-wise. On the last release preview build I tested before going to the fast ring, I could pull 42 hours (2 days). I believe that with newer builds, battery life should go back to those levels. Also, I haven't hard-reset my phone at all (yeah, I'm all about that rough life haha - but honestly though, I really haven't faced major bugs or battery drain). Posted from Bikini Bottom via my Pineapple PineBook XPS 13"

Wow, Nicholas. Appreciate the detailed response 42 hrs seems impossible. Only recently have I been able to stretch to 24hrs. I think id have to literally not use it to get 42. I only use for text and emails. No social apps. U have me seriously considering Redstone. Thanks buddy :)

Unless you turn off all background activity I don't see how any modern phone is going to last 42 hours. 24 hours is probably a stretch for people with multiple email accounts (all mine pull in email as it arrives) and who don't actively disable background tasks from running

Xperia z2 Posted via my legendary Xperia z2

Has been cancelled! Posted via Windows Central app for Windows 10!
Proudly rocking my Lumia 1520!

Do you use iris scanner? Well do you turn off any features?

No iris. I think we can agree it's a gimmick since you need to have it so close to your head to work... I have edge background turned off....

I don't agree, it's been decent for me. Like just now, sitting at desk, pick up phone, lift up phone, curl arm a bit for my normal phone browsing distance (probably about 1.5ft) press power and it unlocks most of the time. What I do a get a lot is for some reason: sometimes it gives up very fast and almost immediately says it couldn't recognize me or when I goto unlock, it's already said that it tried too many times when I only just picked it up or when I look at all the open apps, one app has the windows hello looking for you thing on top of it.

The range of the Iris Scanner has improved a lot since the initial release, as has it's speed. One way to make it less of a gimmick is to set a nice long PIN number, making it way harder to guess the combination, when it's longer Iris becomes more useful and your phone is more secure

@Dan Harris. I have a 950 and iPhone 6, and they mirror each other almost idenitcally in my light usage. < 1 hour calls. 2 accounts, bluetooth, NFC and GPS all switched on. I go to bed with 50-60% battery left, so 2 days is very achievable for me on both devices. Redstone builds have helped battery life.

Dude you need to redefine heavy user. I burn my 950xl out in less than a day and I don't watch videos, mostly web surfing, no gaming. You must have a wünder phone.

No idea how you're getting these numbers. I've tried multiple 950XLs and barely make it though the day, and I don't consider myself a "heavy" user.

Remember that when you notice quick drains that you need to let your battery die completely then fully charge it. This makes a huge difference for me. It resets the battery chip so it remembers where zero is. Especially after updates.

You believe in fairies at the bottom of your garden, don't you. Don't let the facts get in the way of your delusions... http://www.cheatsheet.com/gear-style/5-things-you-may-not-know-about-you... http://www.cnet.com/uk/how-to/true-or-false-battery-myths-that-need-to-die/ http://mashable.com/2014/06/18/phone-charging-myths/#aNXTwiLTnEqF http://www.androidauthority.com/battery-myths-688089/ http://lifehacker.com/smartphone-battery-myths-explained-1735327089

The previous build caused poor battery-life and over-heating in my 950 XL but a hard reset sorted that out. I haven't noticed any over-heating after installing this build so I'm guessing that there will be no battery-life issues either.

Or just let it sync, every pic I take is on my PCs in a few seconds

If you are on wifi maybe, but I have come to situations where phone is on data, laptop on network (say you're at work), and OneDrive mobile set to only upload on WiFi, then you're kinda stuck

Yeah that's my favourite feature from the list, very useful when you're in a hurry but with OneDrive backup it's not always necessary other than the odd occasion when OneDrive uploads seem to get stuck for no reason. Posted from my Lumia 950

Interesting build this is!

Pretty nice addition, and transfering picture from mobile to pc I like that.

But why can't i do this stuff with my Hololens?

Or my HTC HD7 Posted via the Windows Central App for Windows 10
Using the Alcatel OneTouch Fierce XL for Windows 10 (Redstone)

This is great new functionality for Cortana. Two things arise though. 1) Whether Cortana's crashes lately are being fixed 2) Just how long Cortana will be something for a few regions. I know about how critical localization is in MS's plans for Cortana but it's taking just too long. Since the Windows Phone 8.1 betas, which was ages ago. They should devote more resources to this. A couple new countries/languages per country each year is not enough, seeing how many of the new and future integrations are based on Cortana. Else, everyone will resort to setting up their phone to their closest language/geography region like I have two times before. and it's far from ideal for many reasons.

On Redstone Cortana is available on all regions as long as you have a (Cortana) supported language set as display language. So that's a start.

Wow, the changelog is very detailed. Was it always like this or this is new under Dona?

The last few have been this long as well (look at the one for PC 14352).
Even now, it's not Dona writing them, though. Posted from Bikini Bottom via my Pineapple PineBook XPS 13"

I don't see the point of photo sharing. OneDrive always has my photos available. This is just a waste of programming.

Not everyone uses OneDrive.

You have a point, but this is not only for sending a photo. In the longer run, being able to initiate things on my PC (or Xbox/Hololens/etc) from my phone and vice versa is going to be useful. "Cortana please open this document on my PC". "Cortana please open this website on my Surface". "Cortana please open this photo on my PC" which could at some point be smart enough to open it from OneDrive instead of actually sending it. I have been wanting them to do this and am glad they are finally getting to it. "Cortana please continue playback of this movie/video on my Xbox"...

True, but you should have all those things open automatically (as an option in each app) anyway as you switch between devices. I guess this means syncing though and I realize there is some difference. Posted via the Windows Central App for Android

OneDrive would need syncing. Whereas this feature is direct file transfer to a device, via Cortana. Both are not the same. This will be useful when you quickly need to transfer a file to a pc for some work, and are looking for a data cable. I hope they connect Cortana to devices also via Bluetooth/wifi at the back end. Syncing only via internet can be slow in some countries. Sent from a black hole.

How is it sent? Via bluetooth or your phones data (be it over cellular or wifi) connection? If the latter, getting closer to a partial sync, no? Posted via the Windows Central App for Android

Great change logs. Keep it up Dona!!

"This feature is currently exclusive to Windows 10 phones." Happy to see such a statement about a new feature. :D

It's been a long time since the last time we saw something exclusive like this :) Posted from Windows Central App on Surface 3 running Windows 10 Pro

I noticed that too! Or maybe they forgot a footnote "I.e. does not work on WP8.1. Works on iOS and Android and in addition you can transfer any file type, including backwards for easy detection of satanic messages." :P Posted via the Windows Central App for Android

So, I can send and receive text messages from my computer?

As long as they are both on the more/most recent Fast Ring builds, yes.

You don't even have to be on fast ring builds. My work PC is Win10 (public build, no insider) and I've been able to send texts from my PC via my 950XL (release preview builds) for at least a few weeks, probably longer. Though I guess I don't receive them there, so I'm only half correct.

This has been available on Insider Builds for quite a while now via Messaging Everywhere

Is the insider build required on the PC to get this feature about sending pictures? I'm on fast ring on Microsoft Lumia 950 XL.

Most likely. That's how a lot of these features have worked so far.

Great, that's what I thought. Thank you.

Dear lord can they fix notifications I don't get SMS notifications reliably

It's been consistent for me past two builds

By the time we get Cortana in my region i'll have to come back from the dead to use it.

Hahahaha, alternatively use any Cortana supported region now while you still breathe and when it eventually goes to your region you can become an undead to use it

What is dead may never die

I lol'd pretty hard, thank you sir.

By then you are able to upload yourself to the web so you are golden. Can even have cyber sex with her and Siri simultaneously. If that's your cup of tea. Posted via the Windows Central App for Android

Eh ... you can enable Cortana on any region on these builds. You just need a (Cortana) supported display language set. But i agree it should come to more countries in native language though..

Anyone know where the photos end up on the computer you send them to from your phone to computer via Cortana?

It appears as any other notification on your PC

So basically nothing new for me from a country that doesn't have Cortana?

Soo its a Cortana update.

Can you send pics from your pc to your phone through Cortana?

I wish my M8 or 1520 could snag this build so I can test it before making the move to Redstone.

Your 1520 can be updated with newest build Redstone! I have been updating both my 950XL and 1520 almost at the same time for months now!

Cortana says she can't find my PC... now what? She doesn't like my pics?

So android syncing is up and running just not win mobile?

Android app had it with the last PC build I think (It's easier to update an APK on Android than an entire build on W10M so it's realistic and acceptable things will come to Android a little quicker at times) I believe it should work in this Mobile build but it's know to have issues so don't expect 100% accuracy.

To be fair I also had notification sync'ing. Just sms were read only a week behind.

Horrible Store is hanging and crashing like anything.

I am using a Lumia 950, opening store take too much time then black screen and hangs.. :(

Adding all that good stuff to cortana, and cortana isn't even launched where wp devices is the most popular

So there's nothing new in this build, as Cortana has never been available in Poland.

The send to my PC just does not work (Cannot find any nearby PC's.). Two of them are on the latest Redstone build :(

I'm in the same boat, and no response yet on how to fix it.

Same. Phone and Surface Pro 4 both on 14352 and Cortana on phone just says 'I'm sorry, I can't find any PCs nearby to send this photo to."

Finally! Hope it comes quickly to production release. -We fixed an issue where certain games developed for Windows Phone 8.1 might not scale correctly after the navigation bar had been hidden and would result in a black bar at the bottom of the screen on devices like the Lumia 535.

Wonder if this fixes the GTA: San Andreas issue where the hit zone for the buttons on the right are incorrect

So when are we getting the Skype Preview UWP app? Thought we needed this build!?!

I know it is usually the standard joke it's to say "seems faster" but this time it is actually true. At least for me on a 950XL this latest build it's wicked fast. Apps starts almost immediately now, never seen Windows 10 mobile be this fast ever. Also Windows Hello can much better identify me, and from a further distance as well. Seems so far to be a great build

Still unable to use hey cortana.
No double tap to open screen.
Still have keyboard issue not loading when filling in forms.
On lumia 950 O2 UK

After installing preview build 14356... Is it possible to roll back to official windows 10 ? And how it can be done ??

Yes, you just have to use the WDRT (Windows Device Recovery Tool).

I really want Cortana to work outside of being full screen - So things can be done more in context of the current app. If I tap the search button (Which would be good as a Cortana Icon btw) it goes full screen, if you hold the button from within an app Cortana pops down like the notification in this article and does something in context. Send this photo to my PC is a great example where Cortana doesn't need to drop out to the full screen experience. I hope this comes with RS2, something similar on PC would be good along the lines of how they have demo'd Xbox One cortana in videos (Appears in the top left of the screen)

Can we turn off Cortana with search yet?

I love the new messaging app

My Phone doesn't find my PC to send the pic even though both are on same account. Any suggestions?

Suitable as a daily driver on my lumia 640?

Weird... I'm in the Fast Ring and have no new Update lol...

Two things I can't figure out how to solve. 1. unable to sync favorites on my WP with any Redstone build. 2. The option is grayed out. Cortana can't see any PC when trying to send a picture from my WP to my PC. Both are on the latest insider builds. Any thoughts or fixes???

Build 14356..on windows 830
If anyone is thinking of using this plizz don't. I repeat DO NOT upgrade to this build 14356.

I have a problem on this build everytime i off wy wifi then restart my phone i cannot use my data or i cant send any txt or even i can't send tsk i hope to fix this on my lumia 730 theres anyone to help me to get back on preview build 10586
Windows Central Newsletter
Get the best of Windows Central in in your inbox, every day!
Thank you for signing up to Windows Central. You will receive a verification email shortly.
There was a problem. Please refresh the page and try again.