Photo filter app Gloomlogue makes its way to Windows Phone for free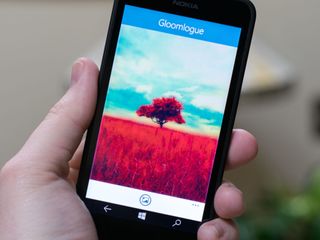 Gloomlogue is a popular photo filtring app for iOS that turns photos into images that look like gloom paintings. Now the app is available to download from the Windows Phone Store, and its developer Thomas Tsopanakis has made it free for a limited time.
The app can turn an image into a gloom painting with 15 different modes to choose from. It also has 45 different photo filters and 12 fonts. The app also lets users add effects such as grayscale, night vision, moonlight and many more to photos. Photos can be placed in 55 different frames as well. After you alter your images, you can share them on Instagram, Twitter, Facebook or any other photo sharing app that is installed on your Windows Phone device.
Overall, Gloomlogue looks like a solid photo filtering and sharing app, made all the better with the fact that it's free.
Thanks to everyone who tipped us!
Download Gloomlogue from the Windows Phone Store (Free)
Look at these apps flocking to windows phone all of a sudden! Things are looking up!

Store is filled with these photo editing and camera apps. I want Chase app back :)

According to winbeta.. Chase and bank of America will return with windows 10 .. I think.

Apps apps and apps . Umm windows store will fart soon of this :P

I would say it's a bit different since MASKS (according to the store description) allows you to add the desired effect over a specific area through a mask. This one seems to apply the effect to the whole image and it's the same effect but with variations in colors (For what I was able to iunderstand, I might be wrong) Anyways, it's free. I suggest, download it and try it :) I will do as soon as I get home! :D

There are a bunch of photo editing apps in WP store. An article should be published on Windows central of the the top 10 photo editing apps.

Right, and Fantasia Painter and Fhotoroom are my favourites. I only wish Autodesk PIXLR Express makes it way to Windows Phone, one day.

wats d diff in trial & paid version of fantasia?

Features dude... New to WP store?

No, sir. But you really are new to the world of LOL.

I've been using the paid version but I think the free version is ad-supported with all the features included.

OneRoom is the better, To bad that don't work on W10.

Windows phone has a low market share but still there are devs making good apps for the same. Developers like Rudy Huyn,venetasoft, Chris Rogers, webrox and many more love to develop on WP.

Why do people like to repeat "Windows phone has low market share", like they are educating us, or like it's that important? There are still MILLIONS of users. Stop repeating the iDroid press mantra meant ti dismiss it platform with a statistic that doesn't term the whole story.

Agreed....the majority of users couldn't give a stuff the market share! Wp is unique and fresh...and I like using it(plus there's no accurate way of knowing how many any company sell from day to day).

So what's the hate for? It's the fact. In today's market, market share matters, like a lot! You have no idea the priority WP could gain if it had market share ≥10%. I really hope things start to change with Windows 10.

I've tried the iOS app and are exactly the same. It looks like one ported but i can't assure you. ​

The porting tools aren't available now and will be for Windows 10 only
Candy crush is the only ported app which they did for testing

Downloaded. I will test to give a rate but I hope that the developer change the "so many circular buttons": is ugly, is messy. :S Anyway, great to see popular apps coming!! I want Darkroom and Vscocam.

Circular will be more and more present with win10 :)

Universal? Or only for phones? :-/

Really nice app, going to 5 star it

Thomas has a lot of great apps over Windows Phone Store! Nice to see another great one. Thanks dev.

True. InstaBlender, for example, is fantastic.

I don't care if it this one's a ported app or not. But lets be fair. If it is, then it should be free forever. P.S. : Yes, I do support the developers and I do buy apps. ;)

Then don't ask for apps to be "free forever." It doesn't matter if it's a port or not, developers need to make money on our platform.

Oh, come on man. Do you even get my point?
If it is ported then the developer had to do very little compared to others apps/developers. And there are quite a few who can't pay for apps and who would enjoy this service for free. Not against developers making some money. But like i said, let's be fair. :)

Because something is made for one platform is likely to be absolutely no help on another. IDEs are different, APIs are different, etc., etc., etc. If it were easy, all the vendors would make their apps available on all platforms. But it isn't.

No, I don't get your point because it makes absolutely zero sense. Regardless of the platform an app is originally built for, the developer spent his own time and money building the app to begin with.

So when CDs came out in the 80s, all artists who had their work produced and reproduced in this new format should never have been paid for their CD sales?

This is completely flawed argument. If someone develop an app or program then they should get paid irrespective of the procedure involved. I can't understand why people want free apps but can't get anything else in their life free of cost.

Agreed. I don't mind if something is free on IOS and paid for Windows Phone. I am happy to pay a couple bucks to keep my favorite platform alive. Additionally, nothing is free. Many free apps are free because they exist to collect data about the user and sell it (Candy Crush, Angry Birds, etc.).

some people *desperately* want free apps because there are countries where online payments are mostly scarce or non-existent, or paying via cards is too much of a hassle (or obtaining credit card) than paying cash for an ice cream. I, for one, would love to purchase many apps (i did terraria, borrowing my friend's card) but I don't have an option for payment (yet, maybe someday, but..), so I can't. It's not as popular here than elsewhere.. :(

I completely agree.l have a debit card, yet it actually stays with my father & carrier billing is unavailable for my carrier. I'm unable to purchase any app & thus have to go for free or nothing.

I use the prepaid cards from MS. Not sure if they're available in you areas? It helps a lot. Still think iTunes and GPlay are easier to use though.

Good:) i now hope for some training apps:) I want gym apps:) support for Gym pocket Pro has ended and it's also gone from the store:/

Off topic: Can't reinstall Creative Camera. WP Store throws error 80004005. Uninstalled it because the app cannot update itself

Anybody wants VSCO to come to windows phone? Then I think we should make some noise.

Me!! I really want this app so badly that I'm going to buy an android phone :/

Lol yes i know how you feel :P I have a feeling that even if it is available for WP it won't be free. Without even a trial option!

Yes that's a good place to start. Or we can directly email them.

Good to see new apps! Thanks for making it free! This app is great! Now i know why its paid on ios!

What the hell is a gloom painting?

Lovely app.........great results, still use fhotoroom though

I wish it didn't force the 1x1, square perspective.

Great app! But there are many free photo editor apps which are quite rocking in Windows Phone ..

Looking at the screenshots Gloomlogue seems very similar to InstaSquarer ( https://www.windowsphone.com/en-us/store/app/instasquarer/11a1396c-559a-4e42-b6c5-3e8b58e2755d ), published by the same author.

Nice .....I like "pin to start" ;)
Windows Central Newsletter
Get the best of Windows Central in in your inbox, every day!
Thank you for signing up to Windows Central. You will receive a verification email shortly.
There was a problem. Please refresh the page and try again.