It's over for the eBay app on Windows as it ceases operation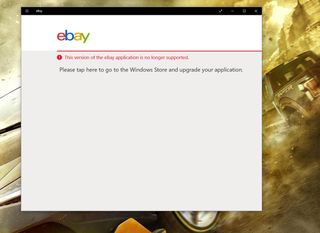 We already knew this was coming but not exactly when, and now it's happened. The eBay app for Windows has ceased to operate. As of September 30 it was officially discontinued and pulled from the Store, but the app kept allowing access to the auction site after this date.
The change affects both phones and PCs and all you're left with now is a message telling you to "upgrade your application," except you can't. Obviously. So there we have it.
Pour one out for eBay, another long provided app biting the dust. You'll now have to use the browser.
Thanks to everyone who tipped us!
Get the Windows Central Newsletter
All the latest news, reviews, and guides for Windows and Xbox diehards.
Managing Editor - Tech, Reviews
Richard Devine is a Managing Editor at Windows Central with over a decade of experience. A former Project Manager and long-term tech addict, he joined Mobile Nations in 2011 and has been found on Android Central and iMore as well as Windows Central. Currently, you'll find him steering the site's coverage of all manner of PC hardware and reviews. Find him on Mastodon at mstdn.social/@richdevine
Cue the droid/isheep trolls in.... 3..... 2..... 1......

Don't forget the weird-a$$ WP fatalists.

Ehh, I'm pissed about the Amazon app because the site didn't allow me to scan upcs. Not really losing much here... it won't be good for the reputation though since the sensationalists love to point it out whenever WP loses a big app.

That's an awesome word I've never heard! Added to my vocab list. While I don't think I fall in that line, I do think the consumers, market and devs are speaking loud and clear on the desktop side (along with the "I just wanna say nigh cuz I don't like windows" users). But since the desktop was the hopeful bridge to mobile, if no one's willing to hang on to even that, then a large chunk of UWP will have failed. Which would mean the expected use case for Windows Tablets are also failing. Which would infer... and so on and so on. So I dunno what discriptor that is, but it's how I'm viewing this.

The real question is who still uses ebay?

I just ordered an xbox one today!

My WP8.1 eBay app still functions it seems.

So does mine. I just bought a Microsoft Sculpt Mobile Keyboard from it.

The app still works on my 950XL too.

Are you sure it wasn't an Eksbocks 1 from China?

I use ebay and its apps... I wish it comes back with better UWP app

Are you serious? It's something you should ALWAYS check before ordering ANYTHING.

It is one of my most used apps

I know where you're coming from. I can get 99% of items just as cheap on Amazon and w/ Prime delivery it's more convenient, quicker and safer for me. I used to use eBay a lot more when I was younger, but I tend to sell less of my stuff and I prefer to buy new where possible (Except cars) rather than used....But I guess that preference comes down to a lot of things such as how much crap you buy

Not me anymore lol I bought a lumia 950 on ebay since it seemed legit and AT&T told me it was a stolen phone and locked my account... I got a refund, but definitely going to be way more cautious about buying used stuff now, especially phones.

Earlier we used to say, all needed/important apps are available for Windows phone. Now we are snatched away with this excuse too.... :(

More like cue the apologists and "just use the browser", "who uses ebay" fanboy justifications

TBH both Amazon and ebay websites on mobile give ****** experience. Moreover both are shopping websites, so it is more pain using them on mobile.

The amazon and ebay apps work awesome on both my iphone and note.

They are not available here. Only the site.

Cue Windows Mobile is Dead comments in 3....2...1.....

Except this also includes the windows 10 pc app, who needs ebay anyway, PayPal especially is full of fraud. unfortunately no exit is great for the platform, but makes me happy

Just because YOU don't use something, doesn't mean millions of people don't need/use it. Get over yourself, you are not that important.
I have also never had a problem with PayPal fraud, but every form of payment has problems, especially online. At least with PayPal you have buyer/seller protection.

That's the problem, as a seller I was selling goods and 6 months later PayPal was coming back and saying the credit card was not valid the seller used, we are removing the funds from your account, happened 7 times this year, I apealed they said if you don't like, ho else where. That's is just one example of a type of situation, mo issues on amazon

I am struggling to understand your point. Do you mean the credit card the buyer used? If that is true, that's pretty messed up, I wouldn't use them either after that. Unless I read ij the seller protection agreement that I did something wrong to protect myself. Like sell ineligible goods (there are many). You can't compare Amazon to eBay, two completely different things. That would be like comparing wal-mart to a flea market, two different purposes.

Paypal is so heavily buyer favored in all disputes. Yes, as a seller with probably 200+ items sold (900+ 100% feedback), I have been scammed a probably 5-6 times (~$600 total) because the buyer raises a false dispute becuase of changing thier mind or whatever reason, and nothing I can do can stop that. It used to be very common in the community around 2004-2008 but its better now. I have no option to use anything else but Paypal being a non-business seller.

Well then I stand corrected about PayPal, I guess I put too much faith in the seller protection policy Still doesn't change what I said about the eBay app though .

It used to have good seller protection. I don't use eBay these days (Tend to find Amazon more reliable and as cheap/cheaper) but back in the day I did and they had good seller protection on the PayPal side, sadly not the case anymore.

Cue the "Cue Windows Mobile is Dead comments in 3....2...1....." comments in 3...2...1...

Thats one thing in MS's portfolio thats not "coming soon™" thats already here!

You won't get any, because Windows Mobile is already dead.

At it's current pace win10m is NOT dead but it's death is Coming Soon.

Wp died when they canned Elop and team. Baldmer and Elop pushed hard and made strides in some markets, even in the US. No surface phone is gonna bring back wp. Nadulla already left bad taste in majority of Fans and non fans.

Yep...I think Giddora is the only one who thinks Windows 10 is amazing and ever growing and FRIGGIN AWESOME.

Except it is true tho. lol Posted via the Windows Central App for Android

Sure, but it doesn't give you notifications.

you right. but still worrying though that iOS and Android are still supported.

Remember when they said that about bank of America. Rofl. Let's hear it for the trolls. Anytime now.

Maybe this is a sign that shows the real UWP app is on the way...

I hope so. Although the Ebay app had a VERY well done Windows 8 look/feel, hopefully they do the same with a UWA

I've actually been using the site for a long time now. The only advantage I can see to the app would be push notifications.

I've found that in most cases, mobile websites are more than capable. I just want to see more of them use the new UWP bridge that allows push notifications.

Do you have a link for documentation for that feature? I didn't realize that was a thing, and was just thinking how great it would be if we could do something like that!

Unlike what this articles says, the eBay app on my L950 is still working. Strange. Probably it is just the PC version that does not work?

Same on my L950, stil works.

Ditto... Shhhhhh or they'll find us!

Mine still works too except for the 'trends' and 'daily deals' section....I wondered why those stopped working. Now I know.....

OMG I can't even....EBAY!!!! For the love of Mike, WHY?!!?!?!!??!?!?!?!?!?!?!?!??!?!??!?!?!?!??! ok....Troll post over.....you can now go about your regularly sceduled day......:)

This is annoying since I actually used it quite a bit on my Surface 2. Oh well, guess just have to browse on the web now :/

Still works on my 950XL...

Mine is also still working fine.

still works for me on my 950xl and htc mozart running wp7

Still functions on my 8.1 HTC One W8.

Like Amazon, maybe there is a chance of ebay UWP app.

Yeah, of a sh*t W10 app that makes the website look amazing.

Pretty well said of all windows 10 apps...thats why you always get the fanboy excuse "website is better" because 9 times out of 10, on windows it is...says something about the platform.

Wow, now I get down votes for calling the Amazon app crap? Idiots. Yeah, you are right Steve, most apps here are inferior. It's really unfortunate.

I am right avatar.....Like i said many many times before...I used ONLY Microsoft devices, services and products until windows 10. Its junk, a total joke and Microsoft should be ashamed to be gaming their customers so hard. Also , as Mentioned before I tell the truth....just that most here don't like the truth...or as Jack said, "they can't handle the truth"!

And yet, Windows 10 has a higher satisfaction rate than before. :) Yes, you make sense...

You mean a web wrapper app? Posted via the Windows Central App for Android

If there's no uwp app this is really short sighted, then again aren't android moving away from apps to mobile in weird half applet move, now just to be clear its over 10 years since I coded a java applet but don't they work everywhere? (platform agnostic) or has google fs that up too?

They probably will just make a web wrapper..

Another proof that the concept of UWP is failing.

You get a downvote for your inability to identify a UWP app.

Considering the eBay app wasn't a UWP app... No it's not

Ohh, then why don't you just install the UWP version? Posted via the Windows Central App for Android

The fact Ebay haven't yet created a UWP does not mean UWP is a failure. But arguing with you is as useful as me talking to a brick wall since you're evidently (from every other article) just blinded by hatred for a company.

A service as big as eBay not building a UWP app is certainly a sign of failure. Is there a bigger sign of failure?! Posted via the Windows Central App for Android

Actually, developers not adapting to a new platform is a sign of failure of that platform. But hey, we can hope right? By this time next year it has finally taken off!

Since apps are region locked and not global (on all platforms), we have to use websites in Sweden. Another bad thing about apps.

Doesn't work now on my 1020. I use this app several times a day. Gutted. The website is no where near as good and IE crashes every bloody day anyway.

Time for a new iphone or android phone Ixia.....you will love being about to use up to date apps that function correctly!

Apps that function correctly on android? Thank you for making me laugh.

I know, right? It sounds pretty weird to me as a Windows Mobile user as well, apps working correctly, is that possible?! I get that you are used to subpar apps that are badly supported, but other platforms are much better in that regard!

Yep! FB that fails to download onto a phone due to the phone saying you have no memory, despite having about 1GB spare on internal and more on SD. The over flowing amount of security issues due to every manufacturer using a different kernel causing difficulty for google to keep each device secure. Google Play Services crashing randomly, even when you're not even using Google Play. Gotta say Android definitely doesn't have flaws (/s). I have no reason to hate Android, (I just prefer to use Win10m) and have used Android plenty of times in the past, however this list of issues on Android can go on for a long time. If you're just gunna make Android look like mobile Utopia, we all should wider who the real fanboys are (people seem to be randomly throwing out these mindless accusations today.)

I've done Android and iPhone. Android drove me nuts. iPhone worked fine, but it's so bland. I love the look of Windows, I love how it syncs seamlessly with my tablet and with Onedrive. We are a mainly Apple household, but constantly have issues with Apple, such as accounts being merged, icloud issues, constant tinkering with Flash, websites that my child needs for school not working on Safari.
Windows is just easier.
Also most important thing to me is phone camera and photo software, which I think is far better on Windows.
But...I am going to really miss the Ebay app.

Sad times, no replacement app. Just really bad for Windows right now

I'm working feverishly on a replacement app right now. eBay's API documentation is pretty bad, but I think it's definitely feasible.

They have an API? Now that's interesting... didn't realize eBay published one

http://go.developer.ebay.com/api-documentation

Oh YEY, Just what Windows 10 users need, a half baked, 3rd party crap app....what got MS into this place to begin with...

Don't like 3rd party apps, don't use 3rd party apps. Simple. Automatically assuming 3rd party apps are crap is just plain down uninformed and unintelligent (see myTube and Readit for starters).

well, everyone that I have used, had to because no REAL apps available on windows phone were lacking in functionality compared to the real counterparts on IOS and android....and actually most first party apps on windows are the same...just like mIcrosoft.....Just LACKING>..

Mytube is not better than the offical youtube app on IOS and Android.

Lack of proper spacing, punctuation and capitalization makes your first post too hard to even bother figuring out. As to your second one, that is, of course, only your opinion. Many peoples' opinions are that it *is* better. But either way, I never made the claim that it was. I simply cited it as proof that not all 3rd party apps are junk. You're just moving goalposts now.

Most trolls here do move the goalposts. If something isn't going their way, they do the oldest trick in the book. Seriously, nearly all trolls here say the same thing now. Not very original and its quite sad. You'd think they'd be more creative than just "apps" and "Windows 10 is crap"

It's not about moving goalposts, it's about having no goals to begin with. Trolls need to get laid and that's an insurmountable "goal" for them. It burns a hole in their ass when I just tell them "I use whatever the f**k I want, deal with it".

Its not working on my Lumia 830 in the UK. I get the messgage :-(

In UK too but no message yet for me on my 950XL

British Isles and I get the msg on my 1020, though I'm still on 8.1.

I found that the app works without displaying the message if launched from the apps list, but doesn't work (displays the message) if launched from a pinned tile. However, although the app works for searching and browsing if launched from the apps list, the sign-in, buying, and selling functions are all broken

My app works(to launch at least) from pinned tile but I can confirm everything else you say is true. Majority of functions are broken and if you navigate to home, you are then prompted with the message outlined in this article. Ohwel, pinned webpage time I guess.

Yes, for wp8.1 the app will show the message immediately but for some like myself on w10m, it still launches but is clearly broken when you navigate the options.

Have switched to android myself in last few days but sorry to see what many would consider a 'must-have' app disappear from a platform I am so fond of. The android app is vastly superior to the crappy app on Windows anyway and the web site will more than do on PC. Shame on you ebay - you would never have existed without windows in the first place. Hope a resurgent Microsoft return the favour sometime in the future!!

You know, you're actually right. Many of these companies relied on Windows machines to survive. But it's just business I guess.

Syrnoclod, no....shame on Microsoft for releasing windows 10 and driving everyone from windows platforms. Thats essentially whats going on. They thought they were going to get away with another mobile reboot where older devices were put to pasture AGAIN!, however this time, users woke up and said **** you Microsoft. I know I did, and pulled all support and subscriptions to other places...and could not be happier.

So happy that you still continue to post on this dead OS' site. How long is your contact for advertising for your discounts? Do you get a commission for every one you convert over to Apple? Did you have to get your car painted or your face tattooed as well? =P

Nope...just the enjoyement of sending a user to another platform so that the Rouges at Microsoft don't get others hard earned money!

Question, what if they want to spend their hard earned money on an "inferior" product?

You fail to see my motivation...it's not commision....i assure you!

Haha. More that you cant stand that people still happily use an OS you blindly hate. I mean, you did just practically admit it so let's not go back on your word now

Not working on my Surface Pro

I am still able to use ebay app in my Lumia 950XL

I just pinned their mobile website to my WP phone as a tile. Didn't skip a beat.

Why does everyone clamor for an app? Only substandard OS need app to display a flippin' website. Edge works fine, pin ebay to start. Done.

No notifications, I hate having to re-sign in nearly every time, the menus for refining search are awful ( and I can't find the UK only option) and not all of us have Edge.

And edge sucks compared to IE....and there in lies the fanboy repsonse #1 posted above, who needs apps...blah blah blah OS is **** becaue it uses apps....NO.....I can guarantee that if you had a proper functioning app for every app thats pulled from windows 10 you would be using them....Its just the way with the fanboys here....Website is better, blah blah blah os is **** and substandard because it uses apps? ha ha....too funny....the only substandard OS at this time is WIndows since 10 was released. Its slow, laggy and full of bugs in both desktop and mobile, and the apps and services that are being pulled from it are quite hilarious. Please....re write your comment pepperdotnet....It should be "i am to...1. stupid or 2. stubborn to move to a modern OS that acutally has everything I want but I am to a. proud or b. stupid to say it....

Mobile site UI isn't as intuitive as the app.

At this point, after carrying Windows powered smartphones for 14 years, an iPhone I'd almost certainly my next phone. The list of missing Apps I need is growing far to long, and it's clear Satya had no interest in his current Mobile customers, and by the time a truly unified platform is available there will be neither Apps nor consumers available for it. So sad.

Definitely need a UWP app, maybe they are going to announce it soon.
Looks like we'll have to use the site for now.

Can it get any worse for you few holdouts? Sent from my gorgeous Nexus 6P #lovinlife #windowsfree #notpatheticanymore

It's a sad life you lead if owning a 6P makes you #notpatheticanymore and makes you now #lovinlife. Holy **** man its a piece plastic, metal, glass and whatever else used to make the device.

You forgot #UltimateDouchebag

Just your post alone proves you are pathetic.

You could say that, but you can also say that to someone who speaks with hashtags. =P

We lost eBay today, a funeral will be held later. For now I have revived the lost soul by pinning the website to start. And moving right back on with my life.
Seriously, it's not like the eBay app was anywhere in my top 10 apps I use. I like the platform and I'm not leaving. Why would that mean anyone who is using it pathetic? It's just what I like to use. A personal preference. Glad you found a phone that you like, I'm glad you are not on Windows anymore.

Opps sorry. .. your still pathetic... Posted via the Windows Central App for Android.. But waiting for the HP Elite so I can get rid of this junkie Galaxy S5...

Idk about you guys, but I just tweeted Satya. Check it out in twitter @OMG55 and follow suite!

It was a really ****** app tbh

That's not the point, once again.

That's my point. And nothing of value was lost.

For you, you are correct. However, some people prefer even having the option of using their handicapped app.

Correct you could even bid on auctions when you had no access to anything else. At least that functionality was there.

no wonder third party apps have the tendency to release half-assed on W10M

I think you misunderstand what a 1st and 3rd party app is.

Ya I used the term incorrectly but the point is still clear.

Yes, I do concede that that is why I am willing to accept crappy apps, because usually we are lucky to have one.

Unfortunately, this is the last straw for me. I'm a heavy ebay user (buying and selling), and always found the Windows Phone app to have a simple speed about it, even if it was missing features. It gave me fast and easy access to searches and followed sellers...etc. I can do the same things via the website obviously, but I always find it buggy on the mobile edge browser. I was annoyed when the PayPal app was withdrawn, but it was rubbish anyway, so not much of a loss. I assume that my bank (Barclays) will be the next app to bite the dust, as it hasn't been updated for well over a year. I'm not going to stick around for that to happen. ​It's going to be hard to go to Android full time, after 9 years using Windows powered phones (HTC Orange SPV C550, HTC Mozart, HTC Radar, Nokia Lumia 710, Nokia Lumia 720, Nokia Lumia 735, Nokia Lumia 830, Microsoft Lumia 650, Microsoft Lumia 950).

Good luck with that. I've tried switching to Android several times, with different phones, but I just can't take it.

Same here - does anyone else see it still working? WTH

Didn't need it anyhow. Browser works just fine. A lot of websites do not need apps. Posted via the Windows Central App for Android

Yes, once again the website works, but that's not the point. Also the website doesn't provide push notifications.

True... But you can set notifications from eBay itself to send email/text alerts. Not the same, but good enough for me. I stopped using this app and others as in the end they offered less functionality than the website did, so I was always pushed to the website... I cut the middle man out. More and more apps will die off for this reason alone. Too many platforms to support. Posted via the Windows Central App for Android

At current pace, there are just 2 app platforms to support, and one slowly homogenizing web environment. You can say there are 3, if you count Windows 10, but almost no one does. Apps are still better at integrating into the platform, and texts are not as configurable for how you get notified.

You know what I find amusing is every fan boy says use browser.....its like they bashed chrome books saying you cant doing any thing but use a browser on it..... its trash and now its reversed. Windows phone is turning into a web browsing platform lol.

OMG you are right! My WP has turned into a Chromebook!!! NOOOOOoooooo!!!!!!!

It has the same functionalty at this point. The thing that everyone here and other places used to ***** about with the chromebook, is now exactly the same on windows devices.

No lol. No one were trashing ChromeOS/Chrome devices because its like a pay-to-use Chrome browser. Everyone was saying that ChromeOS compared to windows 10, is nothing. The fact you're comparing Win10m to the ChromeBook (which isn't even a Mobile) is very amusing.

lol fan alert. Well at least chrome is getting apps give it a few more years. Win10 runs like shizz and is stealing more of your info then google.

It's not stealing when they tell you they are taking it and you consent to it by accepting the user agreement. =P

But when you try to turn off all that data collection.....it does NOT turn off....thats the stealing part...windows 10 is just a data miner....hence the reason it was given away for free for a year to even pirated copies of various previous versions of windows...

This comment is especially funny when you consider that a large group of arguments against Android is that "Google is stealing ur info!"

I've said plenty of times in the past that I have happily used Android with no issues, I'm just somebody who prefers to use windows. Also, just because i dislike Chrome(/OS) does not give you the excuse to mindlessly accuse people of being a fan boy. Or did I hurt your Google Pride so you got defensive? What are you, 8?
Please, explain to everybody how that makes me a fanboy :) And please. ChromeOS is made to be a lightweight OS. It'll be a very long time, if ever, before you see big programs like Adobe Photoshop. Also, what you seem to be forgetting to mention with the data collection (very convenient) is how all data is anonymous. (Which means no personal details attached). Sadly can't say the same for Google

Totally! windows 10...the new chromebook! I like it Dirtot

The app still works for me.

Windows Phone users response to missing apps: 1) I didn't use it 2) It sucked anyways 3) Use the browser instead How low we have set the bar.

Great one. Gotta love denial and how it makes you accept anything.

You pretty much summed it up perfectly

You forgot this one; "it will come back as a UWP app".

Wanted my jio(reliance 4g) app in india not supporting jio sim in windows mobile..

sai, u r not getting it in near future or say don't know whether u will get it or not. be practical....change OS

WC could be next as most users are on Android side.

And Vhyr, the website really does work better than the WC app too. ha ha...

Still working for me as well. I am sure it will end by the time I need to buy something.

I like the new app better anyway.

I think that was an attempt at humour...

I'm coming back to Windows Phone after a couple years with BlackBerry. I don' care about the lack of apps or retiring of others like this one. Although it has its quirks, the design and functionality of the OS is very good.

Meh... I only use the Web. .. same with Amazon or booking flights etc... Posted via the Windows Central App for Android.. But waiting for the HP Elite so I can get rid of this junkie Galaxy S5...

The ebay app still works like normal on my 950XL on Redstone 2. I never saw any notifications in the app about it ever even mentioning the app not working by any date. Anyone else's working fine like mine? My eBay version is 1.5.1.20. I've never uninstalled it either. It's just always been on my phone? Anyone?

thinkdan....thats like jumping on the titanic after it split in two! Wow you are brave!

enjoy the 3 months of useage before Microsoft shitcans mobile and your device becomes a paperweight.

Still works on my phone...

WinRT API is too strict for most Windows developers. They prefer making Win32 apps, which is much easier to program. Additionary, because UWP apps work only on Windows 10, iOS/Android developers aren't interested in it. Windows Phone is obviously dead. MS should define UWP apps are for desktop PCs and make it better using with a keyboard and a mouse. No one will use UWP apps with a touch screen.

If they're using Xamarin the app can be exported to the 3 platform and then implement unique features.

Heartened by the talk above of APIs and people making an app. I'd happily pay for an Ebay app.

Why do that when if you just moved to a new Real device, you could still use the FREE one that works.

"Real Device"? Gosh. Sorry to "trigger" Ya, but I'm a WinPhone AND an iOS user. I. Use. Both. How's that for "real"?

Ah well, just wasted 5 mins of my life Down Voteing Steve, Go Figure.

What Steve Adams fails to realise when he launches his personal attacks and calls me a fanboy is that I use a Nexus 5X running Android 7.0 as well, he also fails to take into account that I am an Ambassador for this site so I also know the network mods. Both of which he would know if he wasn't banned from the forums!!!! I would also like to know why he thinks that he can tell everyone what to spend their money on. If I choose to spend my money on what he thinks is an "inferior" product then too bad, it's my money and I'll spend it how I choose. So suck it up and deal with it!!!

Erm...because I've already said, 'been there, done that'. I like WP, other platforms didn't suit me, but I'm not going to call them crap, because they aren't, they are just different. I'm not going to run down other people's choices, if they are happy, then that's fine. My life is more than a phone anyway.

Still works for me too, as of now anyway

This one sucks. I did like having the app, though I can deal with out it. Weird thing though, I can still use it.

My app is still working on my phone. I'll have to check my desktop and tablet when I get home.

I keep making my live tiles bigger because I'm running out of apps to fill the start screen.

Lol! You don't like having a checkerboard?

I never used it anyway and just use the website. I still find websites to provide a better experience than apps.

Maybe this is an indication that a UWP apps is coming. A Westminster App is good enough for websites like this, I think they should give a try like Amazon did

Still working on my Lumia 950XL currently....

Why kill the PC version?! Were the usage numbers low for it too?

I used the app on my phone all the time, but whenever I was on my PC I just used the website. The app was slow and didn't include full functionality. I figure on PC most people just used the website.

Why! :( I loved using the app on my tablet. Touchscreen made it possible for me lay in my bed and shop.

Someone talk me down. is this constant app departure a sign of things to come as well as my personal departure from windows mobile? I'm frustrated with the apps that are on Windows leaving and the idea that so many more apps will never arrive. I enjoy ebay, and Amazon but they are gone... frustrated and not sure what to do I've invested a lot into the ms device ecosystem, tablets, pc, phone, consoles. Maybe Android is my next stop?

I'm in the same boat, all of that and MS band was major blow for me

Still works for me, on phone, never used it on desktop.
(L640 DS, latest WM10 update.)
Edit: It stopped after reopening it just a seconds ago!!! :-(

Have to be honest also, I'm not enjoying the flip attitude of the article, having a laugh at another app gone. People make excuses, like using the web instead, but no one on iOS, for instance, ever says that. Because their apps are good, and there are plenty of them. This is a real problem, and Microsoft doesn't care to even try to be in the mobile market, where all of the growth is. Sad and depressing really, because the OS is still great.

tbf... the missus has yet to use either Amazon or eBay apps on her iPad or iPhone, prefers the web - in her terms "it's just quicker, easier and more functionable". Go figure. Seems she doesn't need the apps, can't understand why Windows folk are so bothered.

So I gave the mobile site a go, what a load of poop! An ad-ridden half baked solution, I'll take my business elsewhere thanks

I fail to understand, why people like giddora keep on defending WM, as if he is owner of WM or he has sponsored all the WMs in the market. People like him needs to understand, every person signing up here or signed up here has invested their hard earned money to buy WM so they have every right to crucify MSFT. Lets face it, WM is not able to stand in the the market that's the fact, accept that. Call it lagdriod or isheep whatever.....but still those OSs are far far ahead of WM. Here people talk like they are the only intelligent people in the world that's why they chose WM. Means majority of masses across globe are fools except WM users. Its not about ebay or amazon....its about companies and their apps are moving outta MS kitty. its beginning of an end. Since day first, I noticed people are defending WM by saying... " who needs that ? ", " Use Browser. ", " Why u need that ?", " If you don't like, move out. " etc etc etc. I purchased WM, only when MS committed me to provide a new generation and better smartphone. But they failed, so I have every right to ask questions to MS. Ask MS to return my hard earned money, which I have invested on Microsoft's shitdows mobile phone.....i will stop crucifying MSFT and move out.....

True...From my standpoint i love W10M, for me its the best mobile OS i have the Lumia 635 and the Lumia 640 XL but MS its taking everything that makes W10M unique and its throwing it away for the competition even creating apps for its rivals but not for his platform, i was planning to upgrade to the 950 XL but those actions are making me migrate to iOS because for me its the most similar platform in terms of how the OS its optimized and i will have everything that i have on W10M even better implemented like the keyboard...and i still thinking that W10M can be a proper rival to iOS and Android but from my perspective MS its not trying to make it happen.

Still working for me, latest W10M Insider build

Where are all the... Never used the app. The app was crap. Surface phone will save us all! ...comments?

I had the app installed and it was a pretty decent app from ebay. I never used it much anyway so, for me personally, it's not a big loss. However, for the platform it is a big loss and we'll just have to wait and see if ebay decide to release a UWP instead.

Those looking for an alternative browser for all windows family 10: BlueSky Browser https://www.windowscentral.com/e?link=https2F%2Fclick.linksynergy.co...

Just used the app today. Bid, won, and paid for an auction without error. Still slow as hell, but it's working.

Well done MicroShaft - Who's next for you to f*xk over / piss off? - Not many names left are there. I've been Loyal to Windoze since phone 7 .. Now i can't do my banking (no app from my bank, 'cos that can't be bothered making an app for a THIRD time! And M$ don't seem to give a sh*t about it anymore). No turn by turn voice navigation (well done for not buying HERE maps when you should), And now ebay bites the dust. All i can say is: You are Sh*t!!!, F*ck off!

Microsoft no more writes the apps for the Windows OS any more than Apple does for theirs. All the apps are written by a 3rd party and their only association with Windows or Apple is that they have to conform to their specifications. If you have a complaint about the app, contact eBay.

Well you are a knob the sat nav on windows 10 phones has turn by turn with voice ****

Forgot to add, this is in the footsteps of the likes of Amazon & Paypal also dropping out of producing a windoze phone 10 app! BTW... What's even more pathetic.. If you try and search in BING about ebay dropping their phone 10 app, it's completely sensored !! F*cking Facists!

In China, we have taobao uwp which is the biggest shopping platform online. Thank you Alibaba, Thank you Microsoft China!

Not fussed. Will just use the browser.

This one hits hard for me. Though it wasn't updated for a long time, the app worked for me. It's sad since I purchased several Windows Phones from ebay :(