iTunes is coming to the Windows Store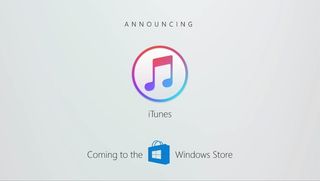 In a brief and, frankly, exceedingly unexpected announcement during its day two Build 2017 keynote, Microsoft announced that iTunes is coming to the Windows Store. That means anyone who buys a Windows 10 S PC, which is restricted to running apps from the Windows Store, will still be able to access Apple's full iTunes experience.
The announcement follows news from the Windows 10 S launch that Spotify will be making its way to the Windows Store as well via the Desktop Bridge. Microsoft was sure to clarify that the full iTunes experience will be available, including Apple Music streaming and iPhone syncing.
While this might not be a big deal to Microsoft followers, both Spotify and iTunes on the Windows Store are likely a pretty big deal for attracting Microsoft's target audience with Windows 10 S: Students.
While iTunes was the headliner here, Microsoft also revealed that SAP's Digital Boardroom (as a web app), Ubuntu, SUSE Linux, and Fedora will be headed to the Windows Store as well.
Dan Thorp-Lancaster is the Editor in Chief for Windows Central. He began working with Windows Central as a news writer in 2014 and is obsessed with tech of all sorts. You can follow Dan on Twitter @DthorpL and Instagram @heyitsdtl. Got a hot tip? Send it to daniel.thorp-lancaster@futurenet.com.
Now, there is a surprise I was not prepared for.

Microsoft's good work for the other platforms has finally paid off. Hope Google gets some sense.

A surprise and a half. We've had so many let downs from the Windows Store before, and I've stuck it out with my Windows Phones and devices. Now this. Windows Store has now hit rock bottom with this news. The only way is up from here. If they add an official Gmail app next, I'm selling my devices and buying an etch-a-sketch.

What next, how low can you go

same here man I was shocked

I'm hoping this is Apple's (and eventually Google) counter to all those MS apps and services that are available for the iPhone/Mac. Yes, please. Apps and services should be available on all platforms like what MS has been doing, instead of holding interoperability hostage.

Finally the tables have turned, but I hate itunes

You might. In fact most iTunes users hate it, frankly. It's awful. But its presence is insanely important for the Windows Store.

Is iTunes even necessary anymore? The only reason I can think to keep it installed is for Apple Music subscribers.

Isn't the iTunes app still required if you have an iPhone?

No. Before you needed it to activate the phone. Now, it can all be done through the phone. Since the Itunes music syncs from the cloud, the only reason to have itunes is to listen to music on a computer or to load music to an ipod..

You still need iTunes to send files to/from your Windows PC from/to your iDevice without going through any fukn cloud nonsense. Be it ringtones, local playlists, videos, or any other file format you want to send to a specific App on your phone.

I see. The last iPhone I had to set up for the family was way way back. This will mainly benefit current iTunes users only.

I think that the two reasons for using iTunes are for backup on your computer and for using music services. You still have some other stufff, but most of people won't use it.

Meta Data editing, if you're into that.

Yeah, that's my main reason I'll be grabbing it from the Windows Store. Really wish Microsoft would add all of that plus album artwork retrieving and creating AAC version to groove music. That'll make me completely iTunes free.

It's insanely important for my iPod. I don't have iTunes installed on my Win10 PC and Siri doesn't function much at all as a consequence.

I would disagree with your statement that most users hate it. I think most users don't really care one way or the other, and sites like this don't represent most users. It does work, and that's what most users care about. However, there is certainly a vocal minority that doesn't like it. Normal people, however, don't generate that strong an emotion for something as insignificant as a software application.

People that use itunes probably have to to manage their music on their iphones, but its been known for years and you can search using google how many people hate using itunes. Its a bad design and confusing to do the simplest things. I stopped using itunes because i can use groove on my iphone with music saved in cloud. If you think most peopl dont care about their applications, well that is your opinion. People want things to work and is simple to use. itunes works, but is annoying to use that hasn't changed since itunes came out 10+ years ago.

I use an iPhone and a Windows machine, but I have never installed iTunes, due to the junk that usually installs with it, Bonjour etc. However a streamlined Store app I am interested in for one reason. Apple Music. It's what I use on my phone and I don't mind having it on my computer as well.

I hate iTunes - and I hated it long before I was a Windows Mobile user!

I love iTunes. Couldn't use Windows S without it.

@Ejay Lozano - I have to agree, iTunes is really poorly programmed. Also, Chrome won't let me directly reply.

You need to disable your ad blocker.

Yep...your choice: 45 second load times for the website with Ad blocker off, and no ability to reply, or a horribly slow, poor performing website that allows you to reply to comments.

Chrome has become a nightmare. O don't understand why people still rate it. I moved from it 2 years ago.

Agreed, I have not ever really used it. I always used IE, then I used firefox for a small stint but then back to IE. Now edge is the only browser I use.

This is such a gift. We use iTunes in my home but I hate it. So many side services installed with it, and what is perhaps the single worst auto-updater in history. This announcement is amazing. We can have our iTunes and not worry about Apples poor skills in these area's.

I'm hoping for the same thing. The iTunes installer drops down multiple pieces, including iCloud and iOS connectors, and its updater. If we can simply get everything in a single Store package, I'm hoping it will be better.

ITunes that's great tho I don't remember when was the last time i use it..

Final blow for the Windows 10 Mobile fans? :(

I see it another way. This breathes new life into the store in general. This is huge.

iTune desktop app was there from years. Yes, it will boost the Windows Store in general. But the marketshare of Groove Music will go down as well.

Exactly. At this point, the store is more important than mobile.

A blow to windows mobile but a big boost for the store, which potentially means a big boost to windows 10 on arm w/phone

Not if it is on the UWP and opened for Mobile. If you can access all of you TV, movies that you bought in Itunes without needing to stay on an iphone = Less costly to switch. I have movies that I purchased on itunes that I can not get out of itunes to watch on my L950. I know people that will not switch due to them lossing the mobile access to media they already purchased.

@aniskhan001, I think you have that backwards. In fact, many of the MS doom-sayers here have been using iTunes as the example of the critical app that would NEVER come to the Store, and that was why Windows 10 S and the Store would never become mainstream, and w/o the Store, Windows could never stand a chance for any sort of mobile form factor. Good to see at least this part of the doom-sayer argument fall apart.

That's how you saw this? O saw it as the Windows 10 store becoming relevant. So much so Apple consider important enough to get in on it. Remember this is the whole store. Pcs, tablets and hopefully Xbox. I use Groove so it doesn't matter to me. But its big for those that need iTunes.

We all hate iTunes, but thank god the update will be hadled in windows store

wow did not see this coming

iTunes maybe an awful app, but the big news is that Apple is in the Windows Store!

Alright! ZUNE is next! ;)

I was happy when I saw the Zune in Guardians of the Galaxy Vol. 2

Whoa!?!?!?! I'm sending Liam Neeson after you!

Will it be available for mobiles too?

No. It's not that sort of app. Folks ain't gonna be syncing an iPhone to a Windows phone :)

It will be used for playing songs like groove isn't it?

If you own an iOS device, you need iTunes---Windows or Mac---to manage your device, even if you never buy content from there. You need it for device backups, restores, software updates if over-the-air updates fail, and yes, transferring your own content.

You do not need itunes to do those things since 2012.

You don't *need* it, but it's good to have. iCloud backups don't always work, you need to sometimes back the whole device up in iTunes. And if an over the air update also doesn't go well, again, update via iTunes. And last I checked, if you want to transfer your own mp3 files on your hard drive, and videos, to your iOS device, you *still* need iTunes.

could be i'm 50-50 did hear itunes/apple music at the end

It makes sense. Depending on which source you believe, Microsoft has 75% - 90% of the PC market including laptops, convertibles, and 2-in-1 devices. Even in colleges I bet Windows is well over 50% of the PC/Laptop market. Many people have an iPhone and/or and iPad along with a Windows based PC they use for productivity. They are in the Apple ecosystem already and having access to a Windows Store version of iTunes isn't going to cut into Mac sales. Now a different story will be with Windows Mobile. I seriously doubt Apple is going to reconfigure iTunes with a mobile friendly user interface to be used on smaller tablets or communication devices and release it as a full UWP app. That would be a threat to the iPad and iPhone market.

This already makes Windows tablets like the Surface more of a threat to iPad. But nothing except Android is a threat to iPhone.

Uninstall iTunes! Use 3000 points bing rewards(level 2) only to get your favorite singer albums.

But is Groove available on the Apple Store?

iPhone and iPad, yes. Mac, no.

I have groove on my iphone

My daughter uses it on her pad and phone.

on her pad... that sounds so wrong lol

C'mon now... let's not go there.

It was important, as it looks like Microsoft will attempt to push Windows 10S outside of the education market, onto retail shelves. And the average consumer, who likely either has an iPhone, an iPad or iPod, would never buy a computer that couldn't use iTunes to manage their device, out of the box.

They mentioned enterprise users want 10S. The IT folks at every company I worked for always had to deal with malware and 10S cuts down on most of it (since you can't install anything that's not from the store). If companies started adopting 10S, Google would have to add Chrome to the store as well. That's the two most used 3rd party softwares

That's gonna be a tougher sell, to enterprise. Many companies have line-of-business apps that submitting it to the Store would not be a reality. We're not talking your multi national conglomerate, but an average mid sized private business who probably uses software custom built from a vendor who probably no longer is even around any longer. Those folks will continue buying regular Windows PCs, probably running Windows 7 Enterprise.

Enterprises can set up their own store.

They can have their own private store for their domain. Keep your eyes open Johnny

The benefits for education is similar to enterprise where ease of maintenance, reliability and security are most important.

Does this mean that iPhone users will finally have a version of the execrable iTunes that will finally NOT totally hork up their Windows machines as the desktop versions have for years? I now have to keep an old Win7 laptop alive just to back up my phone. Installing iTunes is the surest way I know to make a Windows PC crawl. At least this way we should be able to cleanly uninstall what may be the worst core app from any major vendor...

It's not UWP. Its a Centennial app, but it's still the same desktop application. It likely won't work, correctly, with touch, on 10. You'll still need a keyboard and mouse.

I'm sure Apple will do everything to make it suck - like their Win32 app. That said, Apple should bring Apple Music to the Windows Store too.

This does bring Apple Music to the Windows Store. And the things about iTunes that suck - the update process, installing device drivers, Bonjour, etc - can't be part of a Store app.

yep think it more apple music

Installing device drivers isn't possible through the Windows Store? Then how exactly will iTunes work with syncing iPhones? Or is that all going to be coming via Windows Update or even already built into Windows 10? As for bonjour, that's what enables wireless syncing from iTunes to work, including with the iTunes remote App on iDevices. I can imagine it being integrated with the whole UWP app instead of stand alone. Eitherway, it still has to be installed on your system for wireless syncing to work with iDevices.

It does. Itunes IS APPLE MUSIC. Awesome release it now!!!!!

For 10 S to succeed, this needs to happen. One major hurdle is not having chrome.

Screw Chrome... Its crap. You Google fanboys need to go somewhere!!!! Google is the number spy for the CIA and USA government. Im fine with Microsoft and Apple

Chrome is better than Edge, that is just fact. Ironically, you shouldn't be a MS fanboy.

Edge is better than chrome. No fanboy here, I have devices from every platform. I am not a fan of chrome, so much so, on my android devices, I just use their built in browsers.

This shows how much Microsoft is serious about 10S. iTunes was already there on Windows. Being on the Store makes it available for the 10S crowd. And if they are forced to follow some sort of Microsoft design guidelines, people just might get the revamp they are desperate for. Win win.

Impressive. I have no desire to use it. I should use it enough to see if the podcast I manage gets any reviews, but I don't really have any desire to install it. It's bad. But still, it's impressive that Microsoft got Apple to play nice on this.

Zune software refresh would be bigger and better news. iTunes is terrible especially with large libraries. The only reason I keep iTunes is for iPods/iPhone still existing in my household.

iTunes is a UWP. Sonic is on Nintendo. Minecraft is on Sony. Cats and dogs living together...

I'd rather punch myself in the face.

...its just the image of this happening - repeated punching to ones face because you'd rather not use i-tunes. make an excellent giff.

enjoy the strikes.....I think it's great since I have ditched groove and am fully aboard with apple music!

Still think its dead without chrome......Or at least till everyone figures out they need to pay an Extra 50 for it....then here comes the malware..

lol calm down. windows will do just fine without google products. i havent used any google services besides Youtube in over a decade.

Speaking of crap apps on the store...
Unfortunately it is needed for the store though.

Finally... I hope that'll be less resource intensive and optimised... Now my Apple Music subscription has its real worth...

And now, I want to see an article about this on imore. They promised they'll write about it, if apple music releases on W10M. But I think this also makes the cut 😁 And since WC wrote so many articles about MS apps on iOS... 😉

Here lol! Title: Hell freeze over (again).
https://m.imore.com/itunes-coming-windows-store

I have no plans on ever getting an iPhone again, but I'm rejoicing on behalf of all the poor iTunes users out there who can (finally) look forward to a day without annoying update notifications, no more (possibly) unwanted iCloud installs, and hopefully no random resource glitches and memory leaks. iTunes was horrible when I left. Here's to a better (and more stable) future for iTunes on Windows.

I have watched the live stream. Believe it or not, it was one of the most exciting announcement to the crowd. Suddenly, things about 10S has changed dramatically!

.exe iTunes is probably the most obnoxiously bloated piece of software I have ever used, and a pain in the ass to uninstall completely. If there were ever a case for Centennial, this is it.

Good news for the fanboys from previous articles screaming they won't need iTunes in their life. Now they will write how awesome this is

I've never used iTunes in my life (I'm anti-Apple everything), but I'm still glad to see it in the store, because it's good for the platform.

I hope it performs better, but who knows

Well then, grabbing iTunes via the Windows Store. As for Ubuntu coming to the Windows Store, WTF!? How do you get an OS as an App for the Windows Store?

The Software I really despise the most on all my Macs is and always has been iTunes. It is so bloated. Thankfully there is no need to actually having to use it. But maybe they will surprise and the Windows Version is actually usable.

Aaaah, so now we know who made significant contributions to Apple's $800 billion.

I feel something there... MS really want apps to come to store. What if Apple agreed to launch iTunes on store ONLY IF MS shows iPhones in their commercials. ?
MS won't lose anything because they don't have any mobile platform to advertise right now. Similarly Apple knows it'll indirectly advertise their phones for such great features (even though they are coming to Android too)
After all, Apple is relying on its phone business. And MS knows that there are many people who use MacBook to complement their iPhones. So they're both trying to create a concept of iPhone as a mobile device and Windows as a laptop/desktop device, while ditching Google completely.

I've seen iPhone used in Windows Story Remix App ads in another article.

Yes.
There must've been some kind of an agreement. Otherwise it's a real surprise to see Apple launching iTunes on Windows Store while Windows 10 S is being introduce 10 days ago.

Spotify is a big deal. iTunes...yes for the message Microsoft is able to pass on regarding their wasteland of an app store. Objectively though, the Windows Store version of iTunes has a target audience of less than 20% (which is the amount of iPhone users in the world, and even there you have to discount the iPhone users who use macOS and the iPhone users who use Windows 7). If Microsoft manages to convince Google to put their apps on the Windows Store (and removes that idiotic limitation on Windows 10 S(hitty) ) THAT will be quite an achievement.

Where I live HERE maps are vastly inferior than Waze which I recently found is owned by Google, so Waze is probably the most useful service Google provides that Microsoft doesn't have, Itwould be great if Waze could come to Windows 10S, so I could plan my travels on the PC and use mobile Android app while I'm on the go

ITunes is one piece of software I will never need in any form

I learned about classical mechanics by streaming amazing University lectures that I found in iTunes University, and best of all is they are free

Frankly I couldn't care less.

Glad to see this news, iTunes University is the biggest advantage I'm seeing against Chrome OS in education. Of course this will also attract teens and millenials into Windows 10 S which have an iPad or an iPhone

Will they scale to mobile? Probably not. They will both limit them to dekstop/Xbox use. Windows mobile won't gain anything from these announcements.

As if an imac user is going to switch to windows 10 s because there is an itune app available? There is a reason why apple users uses apple and not windows. This is not going to change because there will be a few apple apps in the windows store. PR wise I think this is really lame and will only confirm to Apple users that they made the right choice. If MS is making Apple services available these services must be better than MS its own services. I sincerely believe MS is undermining its own services and products by all these silly choices they are making. I don't see apple users flocking to windows hw and sw. On the contrary, around me I see more and more people abandoning their windows pc and switching to apple. And this all started with them using an iPhone.

iTunes exist in Windows long before Windows Store exist...

I know alot of people moving from apple to windows. People want awesome technology, apple desktops are not it. No touch screen, lackluster hardware spec's, higher prices for less computer, lack of various ports etc. Apple desktop (including macbook), is going down in user base because they refuse to keep with the changing times. Touchscreen is here, and its a needed feature. The touchbar is to just keep the lemmings in line and get them to stay. It's useless. The full touchscreen is much more useful than a little strip on the keyboard.

Wow, how times have changed! Hopefully, this is the beginning of some significant progress for the Windows store. I would love for Windows 10 S to become plain old Windows 10.

I actually just downloaded ITunes to use for my podcast app since they stopped developing my favorite podcast app. Podcasts +Pro UWP. It's not nearly as nice in the presentation but it works quite well.


Will this be the iTunes x86 app converted to a Store app or will it be a complete rewritten UWP app?

Most likely Win32 Centennial (x86). But its a first step hopefully.

I hate iTunes but this is big news for the Store and it's just what was needed to show people that Microsoft are serious about the Windows Store. This may also lead to other companies putting their applications, either rewritten as a UWP or as a Centennial package, onto the Store as well.

I nearly sh@t my pants when I read this. I personally *hate* iTunes with a passion usually reserved for hating Chrome. But it is a necessary app for a platform to be well adopted, or at least more easily adopted. Particularly ones aimed at students/ or super casual/ lights users. Yes, I understand that W10S = W10. But the S = UWP only is a big distinguisher. Hehe. I wonder if this is because of MS exceedingly proven interest in making their own offerings multi-platform. Remember when iPad Pro show cased Office at an Apple event?

They should make a WhatsApp store app, dammit.

The first bloated converted program. Im surprised people still use this garbage player.

Every time I have used itunes I come away frustrated. Have given up syncing stuff to my ipad because I cant be bothered to wrestle with Itunes anymore

Linux on Windows Store? I cannot understand. It's not an app. They are OSs.

Don't care. I left iTunes years ago. There are much better places to cultivate a music library in 2017.

i havent touched itunes or any apple products in a long time. didnt wanna get sucked into their service.

iTunes is great ,but since I am an windows fan love to see a media manager from microsoft

Now if they bring iMessage to Windows I might not ditch this iPhone as soon as possible. I also really hope, but doubt, that this will improve iTunes performance.
Windows Central Newsletter
Get the best of Windows Central in in your inbox, every day!
Thank you for signing up to Windows Central. You will receive a verification email shortly.
There was a problem. Please refresh the page and try again.