Xbox One X Japanese TV commercial leaks ahead of reveal [Updated]
By Asher Madan last updated
The Xbox One X is almost here and Microsoft has promised a new TV commercial on Sunday evening.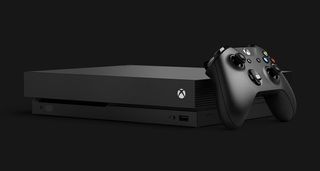 It looks like Xbox International Trailers on YouTube has accidentally leaked the Japanese Xbox One X commercial ahead of time. Seems that someone didn't get the memo! The trailer showcases numerous Xbox One X games such as Assassin's Creed Origins, Forza Motorsport 7, Halo Wars 2, and Middle-earth: Shadow of War, just to name a few. Translating the text, the video talks about the console's features, including 4K gaming and other enhanced entertainment experiences.
Updated October 22, 2016: The Xbox One X TV spot has now been released via the official Xbox YouTube channel.
With the new Xbox One X, you can enjoy a better gaming experience no matter if you're playing first-party or third-party titles. The console boasts 40% higher performance than other consoles on the market and from what we've seen, the results show. Just look at the recent Middle-earth: Shadow of War comparison between Microsoft's upcoming console and the PlayStation 4 Pro for an example.
The Xbox One X launches on November 7, 2017, featuring 6 TFLOPS of processing power and 12 GB of GDDR5 RAM. In addition to that, the Xbox One X also contains a 4K Blu-ray player and a faster hard drive. For those looking to make the most of their gaming experience—no matter if it's the desire for higher resolutions or more stable frame rates—the console is shaping up to be the device for you.
Keep an eye on WindowsCentral.com/Gaming for all the latest in Xbox and Windows 10 gaming, accessories, news, and reviews!
Asher Madan handles gaming news for Windows Central. Before joining Windows Central in 2017, Asher worked for a number of different gaming outlets. He has a background in medical science and is passionate about all forms of entertainment, cooking, and antiquing.
Japan? I thought that supposedly MS didn't care about that market?

Since the Japanese don't care for an American console..

Did you see the ad? No japanese, no Japanese music, no Japanese games, NFL stuff... The only Japanese element was the writing. I don't think Japan is really a priority for MS... far from it.

Yeah, but I wouldn't think they would shoot different footage for every market they want to advertise in when its always going to essentially be the same thing anyway.
NFL game footage is totally off base I do have to admit.

Japanese don't care for that. Like most of them don't care if a Japanese is playing a role in a US movie (ghost in the shell) or not. They care for the content. Japanese are completely different to Japanese people in the US in that matter. Even baseball probably the most American sport ever is the most popular sport in Japan for years.
The problem is the lack of games Japanese enjoy playing. Xbox always had a focus on shooter.

I agree, they bailed on windows phone due to a lack of support, but they've been taking a beating on the XBOX in japan since the original xbox.

If this ad is anything to go by they don't. This was all U.S content Japanese don't play NFL Football.

That was the most American Japanese ad I've ever seen LOL!!!

I thought that and that song was also used for Forza 3 or 4 advert to. Good add though

better than trying to attract the jpns culture with harijuku girls. xbox is a western product. it doesnt need to change its image.

This video is unavailable.

That was actually really good

Wasn't there an article the other day basically saying Microsoft doesn't care about Japan when it comes to the Xbox because the Japanese prefer Playstation and Nintendo? Also you put update October 22 2016 lmao. Someone is wishing it was the time before Trump got elected lmao

I can attest to the fact that that statement is untrue. =P

I too wish it was the time before Trump got elected...lol

I'm not Trump's biggest fan, but my 401k thanks him.

Don't be fooled, Trump hasn't done anything yet that could affect your 401K to this point. To be honest with you if your 401 K is improving you can thank Obama for that.

Just few days left still no actual benchmark comparing it to a PC? If you had all that power shouldn't they be showing it to us? Yes, MS "fans" will buy the new console no matter what so it doesn't matter for them, but maybe other people want to know more or see the "POWER".

Lol it's funny how I got downvotes and zero replies. It's funny how asking for benchmark or asking MS to show the power is considered an insult by coward MS/XB "fans"...:)

I'd buy Xbox one S solely for 4k Blu ray if it sorted Dolby vision for my LG TV. Unfortunately it does not. Wish Xbox one X or ms in general would take the leap after adding Atmos support!!!!
Windows Central Newsletter
Get the best of Windows Central in in your inbox, every day!
Thank you for signing up to Windows Central. You will receive a verification email shortly.
There was a problem. Please refresh the page and try again.