[UPDATE] Join the Microsoft OneNote team tomorrow for a Q&A Reddit session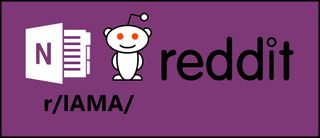 Tomorrow Microsoft's OneNote team members will be taking over reddit for a question and answer session in the site's "IAmA" subreddit. The community is welcomed to interact with the team and learn more about how they contribute to Microsoft's popular Office suite.
OneNote allows users to collect notes, drawings, screen clippings and audio into synchronized notebooks, which can then be accessed across multiple platforms including Windows, iOS, Android, Windows Phone, and Symbian.
To join in on tomorrow's conversation, make sure to sign up for a Reddit account (if you don't already have one) and head to www.Reddit.com/r/iama at 10AM (Pacific)/1PM (Eastern).
Any questions you plan on asking the Microsoft OneNote team?
UPDATE: Click here to be brought directly to the conversation.
Source: OneNote Blog (opens in new tab)
Get the Windows Central Newsletter
All the latest news, reviews, and guides for Windows and Xbox diehards.
When will OneNote on WP8 have password support? :)

When will OneNote RT support voice recording?

...or VIDEO for that matter, on the phone too? =[

I use OneNote so much to write and record things so I don't forget em but we need to be able to fast forward and rewind the recordings

When will OneNote make me pizza?

People are confused. This here isn't Reddit.

Hey, the author asked, don't mean readers won't go on reddit and ask again... ;)

Love OneNote. Once I learned to use it for work, I can't look back. Searching is so fast and organizes great. If you aren't using it, you should. The integration with SkyDrive so I have it on my computer, pro, and win phone. So nice.

I've tried it a few times but don't really "get it" yet... I have it at home, at work and on my phone... but every time I use it, it just feels like I'm dumping information into a random word doc and flinging it away into the nether. I think I just need to get used to using it, and convince my boss to as well as he likes to email me long priority lists attached as word docs :P

Watch a few OneNote tutorials to "get it". It is anything but a "random word doc dump".

Even if for now you use it for just dumping crap in it, the search makes it quick to find anything. Also remember you have the ability to jump on SkyDrive from any web site and check out your OneNote. It's just so convenient.

schlubadub.
OneNote adds a "send to onenote" option in Outlook. Use it.
Get your Inbox to zero. File everything in one note, then use OneNote to jig things around and set priority.
PRINT to OneNote, when given paper (invoices, government docs) use a Printer/Scanner to send them to OneNote.
Stinky PDFs? Print them to OneNote, no need for the PDF reader.
I even cut and paste parts of budget spreadhseets into OneNote so I dont need to fire up Excel. All "useful" data lives in OneNote, everything else is transient. Unless they are working or "filed" docs that I collaborate with other on (Office docs) which live in Skydrive or SharePoint.
Got HTTP / URLs? Forget Browser favs, store all the "keep them just in case" ones in onenote.
Cut and paste useful snippets of Info from the Web, store it in OneNote.
Like you it took me a long time to get "into" OneNote, but now I have, I simply couldnt "live" without in the sense of being so organized. And its syncing to Skydrive is superb/robust/fast. I love the fact each Notebook is one file, so you can just move it on Skydrive. Sharing parts with family members is simple too, so you can work up holiday plans etc.

Love love love it


Thanks guys, I'll have to check it out further. Getting my "inbox to zero" is pretty scary, and I'm still not sure of the advantage to sorting it into folders. If I could apply tags or other data, that would be cool

I really like OneNote, but I wish WP7.x could get ink. iOS and Android can now... why can't the 7.9 update bring this too :P

Surely has something to do with the nature of the device...it IS a CE environment, does ink work on those..? =[

When will OneNote allow me to change the tile color?

Awesome! I love OneNote but there are many possible improvements I would like to ask about.

They should improve its tagging/searching system to become up to par with Evernote. And include custom tags in the mobile version of OneNote!

This should be question one: when is a OneNote desktop client coming to OS X? I know many people who prefer OneNote, but switched to Evernote because they do not like the web only access for mac.

I've found an issue with OneNote on WP7.8 and WP8. You can't make a new notebook on the go using the office app (although you can if you go through SkyDrive.com). You aren't able to make new sections in the notebook either from WP. Just new pages within sections.

As powerful and amazing as Excel is (used to design aircraft with it), there is no doubt that OneNote is the hidden productivity gem in the Office Suite. I only say "hidden" because so few people are aware of it and never go through the simple tutorial/notebook for that "ah-hah" moment. Take 5 mins and click that OneNote icon and then reflect on how you've survived up to this point without it. This coupled with SkyDrive syncing (as well as Office 365 integration) across platforms blows everything else (dropbox, evernote, etc.) out of the water!

Someone on reddit please ask them to bring back the ability to pin a new blank note to the start screen in WP8. They took that out from WP7.x and it was really useful :(