Join us in the #MobileFit month Fitbit Group Challenge!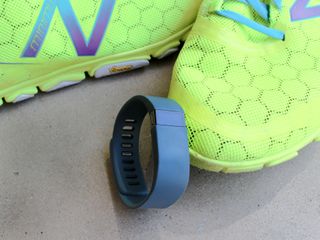 The month of June is all about getting #MobileFit. We have a lot of great content lined up across iMore, Android Central, CrackBerry, Windows Phone Central and Connectedly that will highlight the intersection of fitness and mobile technology. There's also going to be a lot of fun had by everyone involved. We also invite those of you with a Fitbit activity tracker to join our community challenge. Details on that after the break.
Fitbit Group Challenge Prizes and Rules
We're giving away a Fitbit Aria WiFi Smart Scale to the three individuals who are on top of the leaderboard at the end of the month. We're also giving away one extra gift Fitbit Aria WiFi Smart Scale randomly to someone in our Fitbit group. That's right, four prizes for getting #MobileFit with us!!!!!
In the group you can view steps, miles and active minutes for members. We'll be picking the top three in the steps category. The random drawing Fitbit Aria WiFi Smart Scale will be given to an individual in the group who isn't in the top three. You need to be at least six years old to participate and this is open to anybody! We'll ship the scale to Timbuktu for you.
The Fitbit Aria WiFi Smart Scale is an awesome complement to your Fitbit activity tracker. It's a connected scale that works over your home Wi-Fi network. It will analyze your weight, body fat percentage and BMI. Stats are automatically synced with your Fitbit account. The Fitbit Aria can track up to 8 individuals in a household. A very nifty connected gadget to go with your Fitbit.
On June 1st, this Sunday, the competition starts. We'll keep that group public for seven days and will make it a private group when the clock strikes 12:01 AM on the 8th. This way no ultra-marathoners join the group a day before the end of the month and instantly end up on top of the leaderboards.
Don't have a Fitbit? Don't worry, we've got tons of other giveaways planned for the month that you can participate in.
Hint: Head to the Connectedly forums and check out the #MobileFit section. Become active there and good things will could happen.
Are you in our Fitbit group? Tell us which Fitbit you're using!
Windows Central Newsletter
Get the best of Windows Central in in your inbox, every day!
Love my FitBit. I'm all over this! Even more motiviation to get my fat ass in gear :)

Maybe this would be a good time for Fitbit to release a beta to WP!!

They need Bluetooth 4.0 LE in 8.1. Not sure if the dev preview supports LE.

Go on their page and suggest it - they say the more people bugging them for Windows phone support they will get on it

i think that's what sam and dan want :P it's no secret that sam loves fitbit!

That's the same response from their customer service. I have suggested it as well as hundreds of others. The last time I looked it was the highest voted for request that is not in the "Under Consideration" category on Fitbit's "Request" forum. If they're waiting for 8.1 because it will have the Bluetooth requirements, then at least they could tell us that they're developing it. I realize apps take time to develop, but there's so many mixed messages that range from news items suggesting they're working on an app to customer service saying to request it so their developers can consider whether to do one or not. I think that's what a lot of WP users would like: just to know whether or not it's coming.

I'm waiting for the new fitbit device which is coming "soon". Will find a way to get it here to India. Until then it's just endomondo by my side :)

Flex, free from the #GoGiant Green Giant challenge!

Considering that the prize is something related to actually working out, why would you want to do that.

would like to know when the new device is coming but no news from Fitbit other than "coming soon"

I just got the Fitbit One... really liking it so far... Obviously I would love to be able to sync directly to my 920.

I ordered a FitBit Flex and should be getting it today. I haven't looked yet, but are there any 3rd party companion apps for it? If so, what are their capabilities/limitations? If need be, I have an old iPhone and an iPad I can use.

I went to get a fitbit flex tonight and when asked what phone I had the guy said oh don't even bother getting it, do any of you have problems using it with your computer? I will go to a different Best By if any of you can give me some pointers

Fitbit one, already joined the group! :) #75 so far. Need to step it up

Got this scale.... Niiiice !!
Windows Central Newsletter
Thank you for signing up to Windows Central. You will receive a verification email shortly.
There was a problem. Please refresh the page and try again.