Best indie game of June for Windows Phone and Windows 8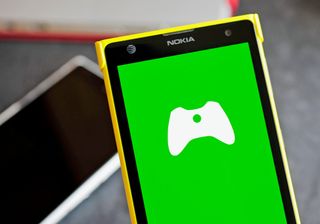 The Xbox One received a ton of new indie game releases this week, including a variety of genres like adventure, sports, and driving. But you know, Windows Phone and Windows 8 have quite an active indie scene as well. This weekend, we're taking a two part look at the indie games of June.
For part one of our indie games roundup, I played a word game called Alpha Pop, puzzle game Dino Tribes, memory skill game Ditto, endless running game Firefly Runner, and a 3D racing game known as Formula Force. Which games belong on your Windows Phone or tablet? Let our impressions and hands-on video help you decide!
Alpha Pop
Looking for a word game alternative to Wordament and Wordament Snap Attack? Alpha Pop, the first Windows Phone game from Monster and Monster (and currently exclusive to our platform) features the same basic mechanic of searching for words within a field of letters. The longer the word and/or the less common the letters that compose it, the more points you get. But the words you find disappear from the board, allowing new letters to drop in and take their place.
The goal is to score as many points as possible before time runs out. The occasional differently colored letters can be a big help with that. Make a word with one of these special letters and a whole row or column will be cleared. Stone letters are less helpful, though. It takes too matches to eliminate the stone from a letter, at which point it can be used like a normal letter.
Alpha Pop is quite a slick game visually, with catchy music to boot. It also has nice features like 16 in-game badges to earn and Facebook leaderboard support. The game is free and supported by ads. If you find the ads distracting, you can opt to pay 99 cents to disable them – always a welcome option.
Dino Tribes
This match-3 puzzle game from Blazing Griffin is an AppCampus winner, and exclusive to Windows Phone for its first three months of release. It starts out with a lengthy intro featuring a bunch of slightly ugly dinosaurs discussing the impending doom of their homeland. Not a bad concept but instead of showing what's happening, we just see the same profile pictures over and over as they engage in a lengthy discussion. Boring!
The game itself initially appears to be another Candy Crush Saga clone. You complete unique levels on a map, each of which has goals like reaching a certain score or finishing in under a set number of moves. Failing costs you a life, which charge up over time. And you can buy boosts with the gold you earn from playing, or opt to buy gold as an in-app purchase. We've seen it all before.
Still, Dino Tribes does a few things differently than the average match-3 game. First, you're matching cute colored dinosaurs instead of jewels. Dinos are way cooler than gems!
Second, instead of just sliding a single piece in order to make matches, you actually slide the entire row or column of pieces. The line sliding mechanic creates unique matching and combo opportunities compared to most games of this ilk.
Dino Tribes boasts a feature I haven't come across before: Nokia Mix Radio support! If you have Nokia Mix Radio installed on your phone, you can stream music from there while you play. If more games start doing that, I might have to break down and install Mix Radio.
On the downside, the game lost my progress at one point, forcing me to start fresh the next time I played. Hopefully the developers can squash that bug and maybe optimize the engine a little more in the future.
Ditto
Blacksmith Software's Ditto is a new spin on the musical memory skill game Simon. The twist? Instead of four round buttons to watch, you have a field of 38 colored squares! You still watch the computer light up an increasingly complex series of buttons, and then attempt to recreate the same pattern. But the vastly increased field of buttons adds a new degree of challenge.
Besides the memory portion of the game, Ditto also offers a Composer mode. Each button on the board makes its own unique tone. Musically-minded individuals can play around with those tones as much as they like without the game rules getting in the way.
That's all there is to Ditto – it's a small and simple game with no in-app purchases or technical flaws to mire the experience.
Firefly Runner
Want to help a good cause? Firefly Runner from UK-based Red Kite Games is a paid game (and a universal app for Windows Phone and Windows 8!). Fifteen percent of the revenue it generates will be donated to the Games Aid and SpecialEffect charities.
It helps that Firefly Runner is actually a pretty good endless runner, as we mentioned in last week's story. This one plays a lot like Jetpack Joyride, but with an anthropomorphic firefly named Switch instead of a jetpack dude. Tapping and holding on the left side of the screen causes your firefly to lift off the ground. Release and he'll drop down.
Unlike most running games, our firefly hero isn't defenseless. Tap anywhere on the right side of the screen and he'll spit cherries at that spot. Cherries will knock out the many villainous insects who get in Serenity's way. But cherries are limited, so you can't just spit them all the time.
Although Firefly Runner doesn't have a shop or endless arsenal of side missions like Jetpack Joyride, it does feature a few goals besides shooting for high scores. Sometimes you'll come across a key. The key allows our hero to rescue some of his friends later in the level. The game also has a rank system in which you level up as you play. It doesn't actually explain the system for some reason, which might leave some players oblivious or confused.
The game itself is fairly pretty, which a good variety of environments and colorful backgrounds filled with multiple layers of parallax scrolling. But I must say: the firefly himself is one ugly bug.
Formula Force
The first Windows Phone game from The Pixel Bullies is an AppCampus title, and thus exclusive to Windows Phone for its first 90 days of release. It will also be coming to Windows 8 in the near future.
Formula Force is a 3D arcade-style racing game with a big emphasis on tunnels. You can actually drive on the walls and ceilings if you're careful. That said, the collision mechanics with other cars need some work. We should be able to ram other cars out of the way with style in games like this, but instead such collisions usually do more harm than good. I found myself wishing for a nitro function as well.
The meat of the game is a Championship mode in which players race across 10 international tracks – quite a nice variety. Make sure you turn down the engine sound so you can actually hear each track's unique music; the engine is wayyy too loud by default.
Win races to earn money, which can then be spent to unlock new cars and paint jobs. You can also unlock everything right away with a 99 cent in-app purchase, but it's not necessary.
Formula Force is a decent racing game, but kind of rough around the edges. The menus don't use a widescreen aspect ratio, and they're ugly and generic to boot. And in-game, the textures need to be higher resolution to make up for the overly simplistic track geometry. But if you're itching for a racing game with lots of tracks, you might not mind.
Don't miss part two of our indie games roundup!
Windows Central Newsletter
Get the best of Windows Central in your inbox, every day!
Paul Acevedo is the Games Editor at Windows Central. A lifelong gamer, he has written about videogames for over 15 years and reviewed over 350 games for our site. Follow him on Twitter @PaulRAcevedo. Don't hate. Appreciate!
I just want them to make the Xbox games hub better....that's my top most priority as a gamer :(

At least one xbl game per month

Id like it if they merge hub & the extras from the 1 glass app

They should make it better and combine it with Smartglass. Posted via Windows Phone Central App

Would be nice if we could view xbl marketplace videos from wp

I agree the game hub needs to be better.

Who's Serenity in Firefly Runner? You mean Switch?

Yes. It was a little allusion to the Firefly TV show.

Ok. Not aware of that one.

I love how the store is expanding well

Among all these, I've tried Firefly Runner. It's really a fun game! Those who love side scrolling and long runners (like Rayman games) should give it a try!

I think the article has some typos, it should be only "Windows 8" there: XXXX – Windows Phone 8 (universal app) – XX MB – XX – Link XXXX – Windows Phone 8 and RT (universal app) – XX MB – XX – Link

Wish to see more Xbox titles

Then let Microsoft know it on Twitter: #SaveXboxWP

Damn,that formula game looks awesome but 1GB ram ;_;

The feels mate +521 but, they'll see. I will get myself a 920 or 1320. You just watch. Soon TM

Does the Xbox game hub even work anymore? I haven't been able to use it since I upgraded to Wp8.1.

I'd like to know more about this, as it'll influence my decision about whether to reject the 8.1 upgrade or not. In addition to the incredibly stupid decision to list all games in the app area instead of he Games Hub, I also heard that the store no longer allows you to filter out non-Xbox games when browsing. True?

I haven't downloaded a single game on my WP 8.1 device so I can't comment on that. The hub itself always takes 2 seconds when you open it.
When it comes to the store, the situation Xbox wise is awful. No dedicated Xbox section, all gone so you don't even have an overview.

That does not bode well. I keep hoping that Microsoft would be re-launching Xbox on WP and that was the reason for this past year of crap, but it seems ever more likely that they're just slowly throwing in the towel and I cannot comprehend why they don't just revamp the certification process and extend the ID(at)Xbox program to WP. Ugh.

xbox games hub in WP 8.1 is simply a pain. I miss the one I had in WP8.
I'm not sure what exactly you mean but if you want to see games which are "xbox-only" in the store, it has the option, some people fail to find out. Here's how:
1. Store
2. Swipe to "Games" under "Categories"
3. Swipe right for "genres"
4. Select "Xbox"
Now you can further filter the Xbox games by "top free", "top paid", "new+ rising" etc etc...

Ah, at least it works for yall. I cannot use Xbox games hub anymore. Whenever I try to update, it gives me an error. Doesn't even let me click the app.

Can't forget C.H.A.O.S in Windows Store. It's amazing first person/ third person helicopter based multiplayer that's really fun and not overly money hungry.

Can't seem to find C.H.A.O.S in the store......is this the correct spelling??

Yup! Look up SkyJet International instead if you can't find it. Plus you have to put each individual dot after the letters. It'll say: C.H.A.O.S Multiplayer Air War. You can Google/Bing it if you'd like.