Hands on with Contrast, RBI Baseball 14, and Zombie Driver – now available for Xbox One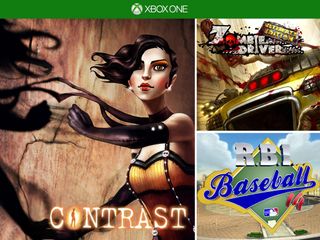 ID@Xbox is Microsoft's indie publishing program for Xbox One. Participating independent developers can publish their games directly to Xbox One with a greater degree of freedom than they would be afforded on Xbox 360, Windows Phone, and Windows 8. ID@Xbox is great for gamers too because it allows a steady stream of downloadable games to be released across a variety of genres.
Yesterday we published a full review of Another World: 20th Anniversary Edition, but that's only one of four ID@Xbox games released this week! Zombie Driver: Ultimate Edition from Exor Studios, R.B.I. Baseball 14 from MLB and Majesco, and Contrast from Compulsion Games have all been freshly released as well. The number of new games is overwhelming, but we've got detailed impressions and hands on videos to help you decide what to play.
Zombie Driver: Ultimate Edition
Last year we interviewed the developers of Zombie Driver HD for Xbox 360 and ran a little contest in celebration of the game. Since then, the XBLA version's publisher went out of business and forced that version to be delisted. Sad news… But now Exor Studios can self-publish the new and improved version on Xbox One, so Xbox gamers need not miss out any more.
Zombie Driver is a top-down driving game similar to Grand Theft Auto 1 and 2, only with a level-based structure and much more combat thrown into the mix. Players get to drive a number of vehicles, from taxis to buses to bulldozers across a zombie-infested city while completing objectives for a shadowy military organization.
Much of the game's fun comes from plowing through huge hordes of zombies of all shapes and sizes. But players also get several guns with which to blast the undead back into oblivion, including flamethrowers and rocket launchers. The gameplay doesn't vary too much, but there are several different kinds of levels and some challenging fights against gigantic mutated bosses.
The Ultimate Edition includes all of the content from the XBLA game, including the endless Slaughter mode and very challenging Blood Race mode. Whereas the 360 game suffered from various technical issues, the Xbox One version runs at 60 frames per second with twice the number of zombies per level and many new graphical effects. It also includes all previously released DLC, new car skins, and both "retro" and static camera options.
I wish Exor had finally added online multiplayer (the only obvious feature Zombie Driver lacks) to this release. Still, this really is the best version of Zombie Driver to date. If driving over countless thousands of zombies in an overhead perspective sounds fun to you, then grab your keys and get the Ultimate Edition today.
R.B.I. Baseball 14
Like Another World, RBI (as I'll shorten it) is a blast from the past. RBI enjoyed great popularity on the 8-bit NES console, where it was the first baseball game to feature actual licensed player names. It spawned several sequels, the last of which graced the ill-fated Sega 32X (a Genesis/Mega Drive add-on) in 1995.
Nine years later, we have RBI Baseball 14 for Xbox One, Xbox 360, Playstation consoles, and non-Windows Phone mobile platforms. The new RBI comes from the MLB themselves and thus features all 30 Major League teams and their players. It draws inspiration directly from the original game, even starting out with the same chiptune music before moving into a slightly modernized presentation.
RBI 14 offers two basic modes of play: Exhibition and Season. Exhibition allows one or two local players to engage in a single game. You can adjust the number of innings, switch between "home" and "road" positions, and choose from three uniforms per team (one of which must be unlocked in Season mode). The single-player Season mode lets you choose from a full season (up to 162 games) or the shorter Post Season.
One advantage RBI has over retail baseball games is how easy it is to learn. Batting works just like it did in the original: slide around to adjust your position (which looks silly due to the lack of animation) and then use one button to hit or another to bunt. You can also view pitcher info, steal a base, or substitute a batter. Pitching is even simpler, with one button for pitching and another to pick off base runners. The actual fielding stinks due to a low camera and bad player auto-selection, but you can turn on fielding assists to make it less painful.
Although RBI's simplicity works its favor for lapsed sports gamers, the actual presentation still needs some work. The graphics are aggressively plain and simplistic, while the field's dull colors making everything look uglier than it needs to be. The lack of opening ceremony and camera effects don't do any favors for a sport that many consider to be dull to begin with (but at least it has cinematic home run animations).
More modes such as a Home Run Derby minigame would have been nice as well. I would bemoan the lack of online multiplayer, but the MLB has discreetly announced that feature will be coming in a future update. Let's hope it really does.
Presentation and modes aside, RBI 14's real crime on Xbox One is its price. Would you pay twenty bucks for such a small and homely game when you could get the beautiful Outlast for the same price or Contrast for five dollars less? But RBI is the only baseball game in town on our new console, and it does scratch the nostalgia itch a bit. Just don't expect a grand slam from this one.
Contrast
Finally, Contrast has just launched on Xbox One after arriving on Xbox 360 and other platforms last year. And of all this week's ID@Xbox releases, Contrast is my pick for the prettiest. It packs a beautiful art style, unparalleled shadow effects, and catchy lyrical songs.
Players control Dawn, who happens to be the imaginary friend of a troubled girl named Didi. Young Didi's parents have recently separated, and her mom is often forced to leave her home alone while she heads off to work. An emotional setup, but the really intriguing aspect of Contrast's world is that Didi and Dawn are the only three dimensional characters in it. Didi's parents and everyone else appear solely as living, talking shadows.
Shadows factor into the gameplay, as well. Normally Dawn can move about in a fully 3D environment. But she also has the power to become a shadow herself. This lets her stick to walls and engage in 2D platforming challenges, such as climbing an object's shadow in order to reach a ledge in the three-dimensional world. The "shadow jumping" is a fascinating and unique mechanic.
Previous versions of Contrast received some critical backlash for technical issues and sometimes underwhelming puzzle design. But Canadian studio Compulsion has improved on the technical aspects for the Xbox One version, improving the shadow physics and cutting the bugs way down. Considering what a gorgeous and inventive 3D platformer/adventure game this is, Xbox One gamers owe it to themselves to give it a fresh look.
Get the Windows Central Newsletter
All the latest news, reviews, and guides for Windows and Xbox diehards.
Paul Acevedo is the Games Editor at Windows Central. A lifelong gamer, he has written about videogames for over 15 years and reviewed over 350 games for our site. Follow him on Twitter @PaulRAcevedo. Don't hate. Appreciate!