'Justice League: Doom' rental is free as part of Microsoft's DC Comics Movies & TV sale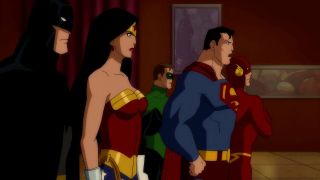 Microsoft is running a sale of various DC Comics superhero animated films on its Movies & TV service, and is even offering one of them, Justice League: Doom, as a free rental.
Warner Bros Animation has been cranking out these DC Comics direct-to-DVD animated movies for some time, and a lot of them are very good indeed. The one that Microsoft is giving away as a free rental, Justice League: Doom, features the League battling against a cadre of various super villains under the leadership of Vandal Savage. Trust us, he's a lot more interesting and threatening in the movie than in the CW's Legends of Tomorrow!
The other animated movies in this sale include Batman: The Dark Knight Returns Deluxe Edition, a nearly 2 1/2 hour adaptation of Frank Miller's classic graphic novel of a Batman in his 50s who comes out of retirement. It's the main inspiration for the recent Batman v Superman live-action movie. During the sale, you can get the animated movie for $9.99 in HD or $7.99 in SD. There's also Justice League: The New Frontier, a great adaptation of Darwyn Cooke's limited series of a 1950's origin story for the Justice League. It's also available for $9.99 in HD or $7.99 in SD.
Windows Central Newsletter
Get the best of Windows Central in in your inbox, every day!
Well I will probably never watch it, but it's worth picking it up and adding it to my account just in case I'm bored one day or I need to distract a kid. Edit: Ah, it's only a rental. Windows Central Universal Application for Windows 10

Yeah I just noticed it's only a rental. Sent from my laptop on Windows 10 Pro Insider Preview

I really have no interest in it I just thought it'd be a good thing to have if I have to entertain my cousins or something.
Oh well.
Maybe our friends over at Windows Central can update the article to make this clear?

We will see if John updates the article. Some WC writers are good about reading the comments and making updates and others not so much. I have been guilty of not updating my articles on sites due to me not engaging in the comments section. Hey, we will just try to do better. :) Sent from a Lumia 950XL via Continuum.

I write for MyNokiaBlog.com and Geekongadgets but I haven't written anything of major importance for months. I've been holding out hope for more free time to write again but that hasn't materialized yet. If you do a Bing search for Deaconclgi, you will find me. I'm the original and only Deaconclgi on the web, you'll see my various profiles, Flickr and more. I am also MrNokiaTech on YouTube. I haven't made any videos in a while as well.

I will read anything related to Nokia. I will be sure to try and read some of your stuff and watch your videos. I wish you all the best for your future blogging. And I like that you used Bing Search instead of Google. Go MS!

Thank you for the well wishes and yes, Go MS! :) Sent from a phone powered by Windows 10.

Yeah who knows if it'll actually happen.

I don't think John reads the comments. But I updated the article.

Thank you Paul. That's great teamwork!

Batman assault in arkham Is for free to buy

Not free at our end. UK customer here.

I'm in the UK, it's showing free for me, it's in the little advertisement section on the top right side...

Superman/Batman: Apocalypse is the free rental for Xbox in Canada

In canada its has a diffrant justice league movie to rent for free!

Justice League: Doom is one of the better DC animated films. An nice antidote to BvS.

Its a rental thats free... boo! Maybe next time you can actually say its a rental lol.

Movies and tv isn't supported in India. Wew...!!! Sent from my love Lumia1320

You people need to learn to read "as a free rental". I mean it's in the first sentence.

LOL, internet commenters.

It's not free in the UK :'(

I'm in the UK and it shows as free for me. Also seeing Superman/Batman: Apocalypse as free too.

And in New Zealand not available to rent (only buy). These zone rights that treat parts of the world differently really piss me off. And they wonder why people do illegal downloads :-(

This movie was amazing but of course there are better ones, DC animation movies are way too better than the ugly live action ones, I wish other movies were free to watch them all again. but it's cool this one is free. DC animation movies are simply the best.

No Lex Luthor or Joker in this one. Vandall Savage story arc.
Windows Central Newsletter
Thank you for signing up to Windows Central. You will receive a verification email shortly.
There was a problem. Please refresh the page and try again.