KakaoTalk has officially killed off its Windows Phone app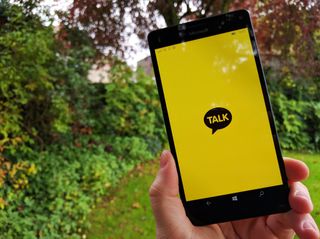 Earlier this year, we learned that KakaoTalk, a dominant messenger in South Korea, was looking to officially terminate its Windows Phone application. It now appears that the company has gone through with its plans, rendering the app inoperative on Windows Phone devices.
Although the messaging service is widely used in its country of origin, KakaoTalk has a relatively small fraction of its user base located outside of Asia. With Windows 10 Mobile already having little market share in the region, Kakao's decision doesn't come as a huge surprise. For those in the area, other popular services such as WeChat and LINE still have functional applications available.
Following the its retirement, KakaoTalk's Windows Store listing has now been removed. While those who have the app already installed are able to navigate and read previous chats, the app fails to communicate with the Kakao service. This prevents the sending and receiving of any messages, simply leaving the application as a time capsule for old conversations.
Did you use KakaoTalk for Windows Phone? Will you be missing the app? Make sure to let us know in the comments!
Get the Windows Central Newsletter
All the latest news, reviews, and guides for Windows and Xbox diehards.
Matt Brown was formerly a Windows Central's Senior Editor, Xbox & PC, at Future. Following over seven years of professional consumer technology and gaming coverage, he's focused on the world of Microsoft's gaming efforts. You can follow him on Twitter @mattjbrown.
Yes, we made them to kill their app.... More kills to go

I still use mail. Yes messages take up to 20 days to reach a person's house but at least better postal service than to depend on these messaging stuff and then remove support

I have a better idea. Ditch the crappie windows mobile and move to android or iPhone.

just waiting for NOKIA Android.

Cool, go ahead with your ideas. Below Extract from online thesaurus. Main Entry: idea
Part of Speech: noun
Definition: something understood, planned, or
Synonyms: aim, approximation, belief, believed abstraction, brainstorm*, clue, concept, conception, conclusion, conviction, design, doctrine, end, essence, estimate, fancy, feeling, flash*, form, guess, hint, hypothesis, import, impression, inkling, intention, interpretation, intimation, judgment, meaning, notion, object, objective, opinion, pattern, perception, plan, purpose, reason, scheme, sense, significance, solution, suggestion, suspicion, teaching, theory, thought, understanding, view, viewpoint

Who uses all these apps.....

It's basically the main messaging app over there (:

Really? Then that's bad for you guys... Send mail for a Windows 10 app

Can confirm, without this app nothing to do there, in Korea. I will try to fix this situation, I'm Microsoft student partner in Russia, developer of UWP apps, and we as MSPs and as russians have good relationships with Microsoft Korea and whole Korea in politics, economics, etc. Hit-or-miss. First things first - just force 'em to port iOS app, just get it work, then stage of fixing bugs, etc.

Yeah! please do so that all my friends from Korea and Thailand can continue using it :)

I guess everyone who have some connection with Korea used this app, still the most fun messaging app out there, though windows app was crap compared to the others. Sad to see it go, back to writing letters with hand :)

Pretty sad to see KakaoTalk disappear, but in some ways I can't blame them. Even though I don't use my Windows Phone as a daily driver, it's still frustrating to see this.

Is Microsoft aware of these app disappearances and if so what are they doing about it.

What are MS doing about it you ask? It seems MS are working very hard on improving their Android and IOS apps.

True, apps in my android phone developed by MS are way way better.

They aren't doing anything they didn't even give mobile much acknowledgement at their event in October its beginning to feel like they could care less

No I bet he meant it that way. I would imagine he is American and therefore speaks Englizh. Result: mostly makes no sense at all!!

They both work. Its like saying I care so little about this that I actually could care even less.

I would think so if they are in store. Consumer apps are being flaunted on app / play store. MS just hitting enterprise with W10M and these type of app are not enterprise.

Can't do business without personal relations though.

They're aware. But once they gave up on gaining marketshare they pretty much killed Windows 10 mobile, at least from an app perspective.

After retrenching for over a year (and killing off your own phone line) why would any company support apps on the Window's mobile platform? The universal app program has been a huge failure.

This is annoying missing my main communication with a lot of friends, thankfully they were communicating well about killing its service for windows to take measures. I only hoped the PC chat would remain working but without mobile it won't.

They're replacing it with a UWP app.

Is there a source for this? Doesn't seem feasible due to the small WP market share in Asia

As a korean, they wont, never.

That's what I thought. I'd burn my Lumia on a live stream if they ended up doing that.

Waiting for new app... Not

Unlikely, the new Kantar number have WP at near zero in both Japan and China. Hard to imagine Korea is much different.

Never heard. Of it there are many messaging. Apps are there but not used commonly so it doesn't. Make any difference. Even if it discontinued.

Maybe this company should get with the times and develop a full Universal Windows app for their service. That way people can enjoy it on all of their PCs and Tablets.

It is already available on their tablets.

By "their tablets" you mean Samsung?

I mean the people mentioned by the OP. Especially in South Korea, the majority have Apple and Android tablets.

As does the majority of everyone else....

I miss kakaotalk wp Even though i use android version more, i miss the kakaotalk for wp. Its ui was pretty awesome, but lacks of features compared to android and ios. Well, bye, and i am lookimg forward who will go out as the next runner

Plus, in their website it says
★★★★★
Our ambition and goal is to unified the whole world with kakaotalk.
★★★★★
Go away.

North korea is the best korea :)

No, it's the only Korea... ;) I know, some people here have no humor.

At this point its silly to stay on Windows Mobile. Time to switch.

My Mrs went android with a P9. After a day she picked up her 950 again! She hated it. Now an expensive paper weight. Nice phone though, let down by clunky OS

Dunno...I am quite enjoying my old NOTE 1 sgh I 717 on luna launcher. MS works great on it, smooth, and fluid. Even on old hardware. Download that and try it on the P9. Very windows'ish minus live tiles which is not a big deal anyways. Sorry, edit: Arrow launcher. Ms owned and operated....very slick.

Wait, I thought that you had a iPhone 6s?

I do. I have a load of different stuff man! I kept one of my old note 1s for down in my garage, people can pay using square, sign with the stylus, and I don't mind if I get it a little greasy. Would not want my iPhone living down there! ha ha.

Ooh okay, gotcha. I totally understand this. That's a brilliant idea.

The letdown was with the P9 or the 950?

I like the P9. Camera is slick too.

So follow your own advice and leave us alone, perhaps? :)

Always sad to see an app go..

well just another app dead i never used

Good for you....Many others did!

I wonder if MS are internally tracking the apps being discontinued for the mobile platform? Given the extremely low market share, I'm surprised there aren't more stories like this...

I don't think they'd be that bothered about this app in particular. Small user base in the countries where it is actually popular, and they can't really do anything about it anyway - In the same way they can't force Snapchat to do a Windows 10 app. It would be a bigger deal to more users if Facebook Messenger or WhatsApp disappeared but I don't see why that would happen any time soon

MS is now the best example of how NOT to run a business and NOT to treat customers. Quality is totally absent from their main products! This would make a great page in history, the worst CEO of all times, or let's be more realistic, one of the worst CEOs of all time!

You escalate quite quickly.

It's been escalating for a couple years let's be real

Win 10 is super. The UWP approach was late, but quite the challenge, and it's working. Surface line is kicking. OEMs are catching up in design and functionality = good stuff.

Your problem is focusing on only 1% of Microsoft. The other 99% is doing pretty well. I do think Nadella is too quick to dismiss new products though.

Whartonbrooks will save us!!!!

"Coming Soon! We will announce pre-orders in the Fall of 2016. Get on the mailing list for our Cerulean Smartphones!" HahahahaHahahahaHahahahaHahahahaHahahaha, sigh...

Lippidp, 1 Up for you. Great comment!

Great news! Another abandoned app quits! Nobody I know in my life uses this.

It still sucks for the people that use it though. :(

A few years ago, when whatsapp was unlisted from the 8.1 store (yes developers preview, but still) there were lots of people here saying "who uses whatsapp? Whatever".

I used it daily. Wasnt as good as on android or apple. It lacked a lot of features such as using it as a phone to other kakao users and video chats. Still it was great to communicate with family members overseas.

If I hear the word "retrenching" again, I'm going to puke. Screw you Microsoft for missing the last bus last year when market share in Europe was better or even with iOS.

RETRENCHING! prepare the vomit bag!

Yet another app no one has heard of killing off their app blaming the platform. Is it possible the messenger market is over populated? There's bound to be casualties and consolidation.

Yet another app no one has heard of killing off their app blaming the platform. Is it possible the messenger market is over populated? There's bound to be casualties and consolidation.

Yet another person who assumes every app that dies was of no use to anyone. As someone who speaks to Koreans regularly, not having this app is a huge bummer. It's my primary form of communication with them, and ubiquitous with Koreans living all over the world.

Is Line not more popular in Korea seeing the company is Korean/Japanese owned.

KakaoTalk is based in Seoul, and ties into a small gaming platform plus a small gift-giving platform. Very popular with Koreans. Line is too, but as someone who used neither KTalk was the one I had to get when I started talking with Koreans.

yes, another person who thinks the world revolves around them.

Is the development of a desktop/tablet app of no use to Kakaotalk devs.?

Satya had further screwed it up saying windows phones for just enterprises thereby limiting the consumer apps from having its reach even limited to what it earlier had.

As marketshare continues to drop they're going to keep saying they're 'narrowing focus'. It's just business speak.

Their business plan/focus is so narrow now, that a short and curly can't fit through it!