The Kangaroo Notebook is a tiny stick PC and a laptop host dock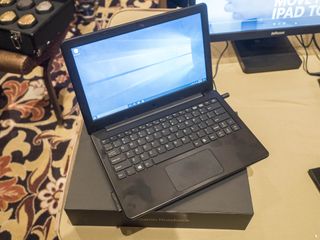 After their innovative compact modular PC approach, Kangaroo is back at it with an even more impressive product: the Kangaroo Notebook. This two-part system combines a shrunken down PC-on-a-stick (the Kangaroo Mini) with an 11-inch laptop dock that serves as a host for the stick (the Kangaroo Notebook Dock). Simply slide the Mini into the Notebook Dock and voila, you've got a Windows 10 laptop.
Now, you might be asking yourself about the specs here: how much can really be fit into a block that measures 3.75 inches by 1.16 inches and just 0.34 inches thick. You won't be surprised that it's not a powerhouse, but it packs a decent punch for its size. You're looking at an Intel Atom x5 Cherry Trail processor with 2GB of RAM and a 32GB eMMC SSD, alongside 802.11ac Wi-Fi, Bluetooth 4.2 LE, and a microSD card slot.
The Notebook Dock's 11.6-inch display is a 1366x768 number — far from the best we've seen, but acceptable for a low-cost modular alternative like this. Build quality of the two pieces wasn't of the highest quality, as Kangaroo admitted they had to keep costs in check for this $300 modular. There's no fancy latching mechanism or spring-loaded ejection for the Mini stick, it's just a friction fit, and a rough insert at that.
Kangaroo looks at the Notebook system as an option for sharing a laptop without having to share files. While you could argue that you could solve this simply by having different user accounts, there's something unique about the Kangaroo Notebook. They kept mum about the possibilities for the Mini stick PC, as right now it's only compatible with the Notebook base. But in the future I wouldn't be surprised to see it showing up as a dockable PC stick in more forms. When you can toss your PC in your pocket, dock it to a big screen at work, slide it into a tablet on the train, and slip it into a compact notebook when you get home, the Kangaroo Mini starts to look like an incredibly versatile little PC.
See at Newegg (opens in new tab)
The technology is impressive though. I like the idea of modularity.

Or just buy a normal laptop

I love how you just gloss over the use cases provided in the video of why they made this.

Haven't had a chance to watch the video since I'm at my work computer, but if you're going to carry around a laptop-shaped object, why not just carry a laptop?

And the corollary is: If you are going to comment on the article why not just review all the material in the article first?

Because I can infer the possible use cases based on the available information. I watched the video, and it still doesn't make sense. 2GB of RAM and 32GB of storage with (presumably) desktop Windows 10 is going to be atrocious. The use case for families with small children doesn't make sense, since a child's Fire tablet is 1/6th of the price and will be much more enjoyable to use. The whole "two users for one screen" thing ignores the fact that user accounts exist. You could get a much better laptop than this for $300.

If the stick only works with the laptop dock there are better options for $300. Asus will sell you a 2 in 1 with 4Gb Ram and 64gb storage for that price. If this was HDMI and could be plugged into my TV or the laptop dock it would be a whole different story.

You actually get TWO mini's with this and the dock for $299. Not quite the same as a single laptop.

Alright, that makes a big difference for the value.

The original Infocus Kangaroo was incredibly versatile but sadly it never made it to India. I m bit confused at what Infocus is trying to sell here though. Is it an HDMI stick with an exclusive dock ?

It was obvious to me after watching the video.

But I can't connect my luimia 950 right??

Doesn't look like it. It uses a proprietary slot for the dock, and it doesn't look like it includes a USB-C port for video in.

I would buy to connect to my 950, if possible.

Create a surfacebook like lapdock with detachable keyboard/touch/pen.
Create a dumb phone.

Love the original Kangaroo mini desktop. Would much rather they update that than try something like this. They were the only player in that moni desktop category that offered a built in battery with that form factor. Just needed an updated processor and 4GB RAM and it would be good to go.

Version 2.0: 1. Ditch the wierd properietary port, convert to USB-C. 2. Ditch the slot. Attach to dock via velcro. Better yet, Legos. 3. Sell velcro/Lego attachable accessories: (a) small touchscreen, (b) battery case. I just invented the Surface Phone. I'll pay extra for the Lego option. ARE YOU LISTENING MICROSOFT?!?!?
Windows Central Newsletter
Get the best of Windows Central in in your inbox, every day!
Thank you for signing up to Windows Central. You will receive a verification email shortly.
There was a problem. Please refresh the page and try again.