Kazam won't update its current Windows Phones to Windows 10 Mobile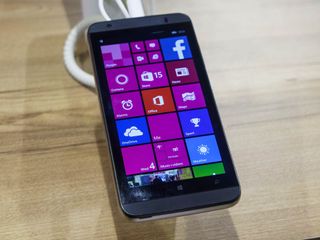 If you own a Windows Phone 8.1 device from UK-based Kazam, you are going to be stuck with using that OS from now on. A Kazam rep has confirmed that the company "won't upgrade existing product" to Microsoft's upcoming Windows 10 Mobile.
The news was reported from WMPowerUser but the Kazam rep did not offer a reason for this decision. Kazam released its first Windows Phone 8.1 device, the Thunder 340W, in late 2014. In 2015, it began selling two more phones with the OS, the Thunder 450 and 450WL. All of the phones are in the budget to mid-range variety.
The good news? Kazam has already confirmed it plans to release new smartphones with Windows 10 Mobile pre-installed sometime in the future. That was echoed in the statement sent to WMPU as the Kazam rep stated that "all of our new WP devices will have it going forward." Details about those devices have yet to be revealed.
Source: WMPU
Well, congrats.... Here goes your credibility.... :|

Yeah, and I was hoping that mine HTC 8x will get the update XD

I think all these phones can with the insider program though. And once your on it...

Good point but no! Each OEM needs to provide recovery files to Microsoft in case something goes wrong with Windows 10 installation, so they would not be able to revert to 8.1.

You and I, buddy. You and I.

Yeah. What a business decision....

That's why I will only be buying Microsoft phones!!! And they wonder why they don't sell.

With Windows 10 every device will update, so it won't depend on credibility.

I hope so. For them. I still will keep buying MS devices only. I hate it when still working good phones are forced out only because they wont get updates.

That's what they said about 8.

Now Kazam should not expect to increase their sales. They try to make fragmentation on Windows Mobile. :(

I'm in the UK and I've yet to see anyone who's bought one of those. With that level of support, I doubt I'll be seeing many flocking to buy one of their new devices either.

lolz , i will never buy a phone with other OEM - but in future will buy Nokia besides our Microsoft smartphone

At least every other Indian Nokia lover will do the same......

Worst strategy to sell their newer models

We have no plans to upgrade our phones we've sold thus far, including ones we released just a few months ago...because that means our current customers will buy our new phones. LMAO....i swear i wonder how some of these people stay in business with their stupid ideas :P

Do you think its possible that kazzam knows that windows 10 mobile wont run well on there current hardware and dont want to give existing customers a bad experience? Posted via the Windows Central App for Android

W10M will run just fine on all current hardware.

I dunno. This strategy has worked pretty well for some manufacturers in the Android space.

Android is different platform. Here microsoft has confirmed that all devices running wp8 can be upgraded to w10M . So here the culprit is kazam only. Who doesn't want to upgrade their existing devices to the latest software

Wasn't it reported that Microsoft will be bypassing carriers and manufacturers and controlling updates themselves? Or did I imagine that/make it up? And if you went with the insider program, how do you go about getting an official, legit release once the RTM available for download? And finally.....If Microsoft has said all phones will be upgraded and Kazam decide to not implement this, is there some sort of sanction Microsoft can impose against then because they are damaging Microsoft's business?

That's once Windows 10 is installed.

Microsoft will be taking MORE control, yes. However, the carriers and OEMs will still have some say, and I believe OEMs are alowed to judge whether or not their devices are worthy. And keep in mind, this new update strategy is only AFTER devices are on 10. Everyone is still at their carrier's mercy until then.

So can Android devices. Do you really think a galaxy s4 can't run the latest Android, especially since they are lighter than the past renditions of the OS? Companies just don't care. Android users get screwed all the time and they don't care. On the other hand, Windows phone users will complain over everything.

To your first point - MS have only ever stated tht they *intend* to upgrade all current *Lumias* to W10m, so not all phones from all manufacturers (and they might not even manage all the current Lumias).

Yeah, this is annoying. Kazam trying to bring Android-like fragmentation on Windows Mobile. We got Windows Phone in the first place because we want assurance that its updatable and upgradable. Android always suffers from non-updatable phones most from its devices.

W10M system requirement is very minimilistic and i'm sure kazam existing phones fullfill those requirement. It's the choice of oem kazam only to not update their older mobiles to w10m. Oem are not supporting microsoft's effort

I think this is MS's fault. They still didn't provide any kind of support for another OEMs besides HTC in Windows 10...

This has nothing to do with Microsoft....this is a crap OEM and HTC is irrelevant so i doubt Microsoft gave them anything too special.

It's Microsoft's fault because OEMs don't want to support their own phones? GTFO!

Sure, this statement is only true when it comes to Android/Google.

Very different. Microsoft has a way to update their phones with the insider program. Android doesnt allow you to update its Android OS like that. Android and WP10/W10M use very different strategies and have very different upgrade paths and give very different controls to their OEMs. This is a case of it seems similar on the outside but is very different beyond the surface.

How is this Microsoft's fault. Do you have access to the inner working of KAzam, and or Microsoft?

While the Insider Program is only available to Lumia's and the HTC One M8, it's not exactly Microsofts fault. As they've mentioned numerous times, they will only add support for devcies which they have the recovery image(s) for, so that they can be added to the Windows Phone Recovery Tool. Otherwise, if you upgraded a phone to the Insider Progam which did not have a Recovery Image available, you would not be able to rollback to WP8.1. Essentially, Microsoft is protecting themselves (and the user) here. It's not like they woke up one mornign and said "hey, you know what would help the platform grow? Limitting the Insider Preview to just our devices, so that users think we only care about care about them if they use our hardware.". Look at the old Developer Preview program. When something went wrong, if the OEM didn't provide a means of rolling back, you were pretty much out of luck if the built-in reset didn't work.

Microsoft built the OS, it's compatible, it's up to OEMs and carriers to actually push it out. Not really sure how Microsoft is at fault...

Well f**k you too kazam - Current Kazam customers.

AKA we just ship this shit direct from our Chinese ODM's. Our entire company is at most 10 people and we are sure as heck not going to support upgrading the OS.

Thats one good reason not to buy from places like this.

All the more reasons why carriers shouldn't be controlling updates to their phones. Let the OEM or Microsoft handle the support for them. Carriers just need to supply the service.

This is not a carrier though. This is directly from the OEM.

Kazam is not an OEM. They buy from an ODM factory (same phone BLU uses)

Can't you still get it via the developer preview?

Maybe if Ms decides to add support for them.

And to that kazzam needs to give Microsoft the recovery images

That was a different story, as there was no mechanism to upgrade the software built into the OS. WP8 involved a kernel change, and the only way to do that in WP7 would be to flash a new ROM. Most people don't know how to do that, so they decided to not offer it.

Different situation -- WP8 was a completely new OS (new kernel, etc..) and wasn't compatible with the hardware. In this situation, the OEM is choosing not to upgrade hardware that is compatible with new software. Sure, the WP7 to WP8 break sucked but there was a well-defined reason for it.

Not exactly wp7 couldn't be upgraded because it waa running a different kernel when wp8-8.1 came out it was running on the nt kernel witch meant that with wp7 it was impossible to upgrade. I don't understand how hard that is to understand but there is still people like you that don't. But anyway this issue has nothing to do with technical issues preventing them from upgrading just a lazy oem that won't be bothered to upgrade there phones.

@wpkevin. You seriously need to brush up on your history either that or just go back under your bridge and you'll stop embarrassing yourself :P.

Nice touched-up story you got there. No one UPGRADED their phone. They only FLASHED ROMs. And the result was barely functional beyond the main functions. I don't see how a crippled phone would have been considered an "upgrade". No matter how much work Microsoft could have put there, would have made any significant difference. NT for phones has been designed for multicore processors with a certain level of minumum requirements. Kazaam is choosing not to UPGRADE FULLY COMPATIBLE PHONES. Get it?

Are you being deliberately obtuse or what? Kazam's "systems", which are just rebranded ODM devices, are TOTALLY UPGRADEABLE to Windows 10, they are just choosing not to upgrade them. There is almost no work involved because all the drivers are already there. Windows Phone 8 did not just "work" on WP7 hardware, why are you still BS-ing this thread? Flashing, FYI is different from upgrading, because flashing literally means dumping a software package on the hardware, overwriting the previous one (it doesn't even keep data, let alone "worry" if the phone will work correctly after flashing). The "end result" is that WP7 hardware cannot f***ing handle WP8. There is a huge difference in low-level code between the CE kernel and the NT kernel. NT kernel for phones was designed by Microsoft using a certain lowest common denominator. There is no logic in going for Snapdragon S1 and S2 support. Those devices were quite low-specced even for October 2012.

Flashing a new ROM and upgrading an OS are two entirely different beasts. It's not necessarily that Microsoft couldn't figure it out, it's that they couldn't do it in any way that makes a decent experience for the user. Because asking users to risk bricking their devices by flashing custom ROMS to install a new OS that's not even properly optimized for the hardware is generally a bad business strategy. I'm not saying that WP7.8 wasn't a terrible business decision, I'm just saying trying to offer some way of upgrading to WP8 would've been even worse when people started complaining they bricked their devices.

All the more reason why people should buy Lumia windows because these OEMs make some of the stupidest choices with handling their windows phones.

It's a carrer issue, not a OEM issue. The Carrier is not upgrading the phones. It's like Verizon or AT&T saying they wont upgrade any older phones to Windows 10 Mobile...

While that's generally the case, these are carrier unlocked devices... They are sold independent of the carrier, Kazam has full control, and they're refusing to push the update.

You're right @SwimSwim, Kazam refuse to push the update. Heck, even BLU Win HD LTE is getting Windows 10 and they're selling it soon to Indian markets.

Carrier unlocked is not the same as unbranded. If the internal branding is Kazam then they are responsible for testing & pushing out updates. Unbranded devices would get the update from MS, regardless of what carrier SIM is inside.

My Lumia phone has been stuck without an update since 2013. I doubt MS or TMO will provide me with a Win10 update.

lame method to generate windows 10 mobile sales. either that or the rep has no clue. it wouldn't be the 1st time a rep is wrong about a windows device.

It's not a rep. It's the CMO (WMPU here )

Sounds like a Verizon's East company.


Err what?! Lol..... there goes their credibility and trust out of the window.

Oh god, I knew a store who was selling these Windows Phone 8.1 phones which is selling a Windows 8.1 tablet with an Xbox One to get set for Windows 10. I feel sorry for those people who got that bundle.

Ouch.... That store needs to get in contact pronto. Kazam is not in a position to play hardball, they need all sales they can muster.

So they want people to BUY more products but they don't RESPECT their current customers. What a bunch of MOTHERFUCKERS

Kiss goodbye your 3 clients.

I'm sure this not the last carrier we hear this from, or model that wont be upgraded......

Do they even sell these anywhere? I've never seen them anywhere.

You're right, never been sold/release to public ever since it was launched in March 2015.

Actually they have yet to sell any 450W and 450WL yet in any UK or EU market.

2 thoughts/questions: Do most people who buy low-end phones care about which OS number they have? I'm not sure. Secondly, the owners who do care, can't they try the Windows Insider program install (if that doesn't work well, they could go back to 8.1)?

Windows Insider isn't currently available for Kazam devices, only for Lumias and the HTC One. Microsoft only enables it when they receive recovery images from OEMs, so they can be added to the phone recovery tool in case something goes wrong. Microsoft might enable it via the Developer Preview program when the final build of 10 Mobile is ready, but for now: It's not eligible for Insider, and we have no word of whether or not it ever will be.

Ah. Interesting. Thank you.

No problemo. While I obviously would love it if Microsoft made this an option available to everyone (With the necessary disclaimers in place), I also wouldn't hold my breath right now since we have no word on any plans to expand the Insider program at this time (To my knowledge, correct me if I'm wrong).

If I remember correctly, MS is supposed to be taking over the upgrading process for Windows 10 devices. I guess it would go like IOS. It'd be nice to get the carriers out of the loop. I never understood why the carriers took so long to test or to otherwise get out of the way. Has anyone ever heard of a phone upgrade negatively effecting a cell network? What is with this testing that takes a year to get to?

I really don't get it. As far as I have read the comments, there were about zero issues by upgrading e.g. the HTC 8S to 8.1 GDR1 via Windows Insider. 8.1 GDR2 on my 925? Great job! Now it's impossible since Windows 10 Preview became available. What's so complicated about leaving the final releases available to interested customers? As there is no OEM-support necessary to update your 3G/4G-tablet to Windows 10, why is that a must for smartphones?

This is unfortunately why MS gets caught in the middle with mobile. When they say things like "all Windows Phones will be upgradable to W10" people assume their phone WILL get updated only to find out carriers can block that. So when MS says carriers won't block updates in Win 10... People will rightfully be skeptical.

Never heard of Kazam. Is it a thing in UK? Something you get with fish and chips?

It's insane how they choose phones that look just like HTC and blu, there are no originalities in the window phone world that's why they hardily sell

They all come from the same manufacturer.

Sounds like a cash grab ploy to me. Those people could join the insider program and get Windows 10 on their phones if they really wanted it, but the carrier should push it out to their customers. I'm nervous about this happening with AT&T. Only 2 Lumia phones got the Denim update despite them pushing out all previous updated to all of the Lumia models they sold. I can't wait for Windows 10 on my phone so Microsoft controls when they update is pushed out and not the carriers.

Next up, Verizon makes a similar announcement! ;-)

Yep, waiting to hear how the flagship ICON wont be upgraded.... the pleasures of being a Verizon customer

This is why Windows Phone users should only buy Lumias, Android users should only buy Nexus, and why Apple users... well, they already have software upgrades nailed.

Did you even read ? It's the carrier NOT the OEM.... It's like Verizon saying they wont upgrade any of their models to Windows 10 mobile, Nokia has nothing to do with the carrer release.

If nexus wasn't shit, then yeah. Seriously who actually bought the nexus 6 let alone it even lasting.

I bet you more people have commented on this post than own Kazam phones, and I dare say (without reading every single comment posted) that no one here owns one. Probably doesnt make financial sense for Kazam to bother testing it on their old phones (although I'm sure they'd probably work fine).

Att will do the same with the 830

They will have it "in testing" forever on anything prior to the 640XL

I'm guessing most carriers will drag their feet on official updates to W10M because once there the hardware updates will be independent of them and take away one of their "you must update phones" tools.

and after treatements like this, second hand oem cry that windows is not paying their bills. -_- you get what you give...so kazam deserves 0 sells in the future. their devices are not even old, to deserve this.

After few months, they said they didn't able to sell alot of devices...no wonder.

I do not like this kind of enforcing the end of support for devices which are far away from being outdated and one could have used for some more time.
I am thankful for any hints like this to stay away from OEMs which only want some easy money and then abandon their customers.
It reminds me of my Iconia W510 which Acer determined as incompatible with Windows 10, therefore refusing any more support for it (although it works with the standard driver by Microsoft not worse than with 8.1).

What a stupid decision. I believe someone will find an unofficial way to get Windows 10 working on these phones too. Good luck.

Here in East Africa most people say Lumia and windows phone interchangeably. They don't know of this... "kazam." They would think you were selling them a fake"lumia." That company won't last a week in New Africa.

Let me add that people here bought Samsung Ativ simply because it is a trusted brand. I personally hate Samsung design of phones.

That is terrible and awful but sigh that happens all the time in android world and it isn't a nice picture. A shame really. Posted via the Windows Central App for Android

This is a nightmare for Windows Mobile/Phone users. We don't want Android-like fragmentation in the platform. Many of us get Windows Phone expecting to be upgradable. Now they just lost credibility to Windows Phone users (not all though). Now they're trying to sell us new Windows 10 Mobile devices? Yeah, new buyers and who didn't know what OS or care about it may buy their new phones, but don't expect more growth than that.

but if you have a kazam and you download the windows insider app won't you be likely to get windows 10? or is still for lumias only?

I though MS control updates

In the UK. Never heard of Kazam. Don't care.

all i need is a unified inbox then i could say i love windows 10 on a phone.(this means 1 inbox to see all my emails from my 4 accounts at the same time or a all mail choice). Im a huge 8.1 phone fan tohugh, i say this so you all understand i am a windows dektops and phone fanboy. This is terrible news if true. Microsoft have always claimed that they will take over updateing phones and take that away from the carrier. When windows 10 comes out i expected them(microsoft)to control the updates and upgrades. rightfully or wrongly thats the impression i had from the microsoft people. Well now this seems to spit in the face of those plans. Personally ive never heard of kazam and dont really care for that reason but it lookes even worst that they have said this as its like a huge slap in microsofts face. First we get stagered releases os operating systems that dont even have the things we were lead to believe it would have, like skype intergration, answering texting and phone calls on windows 10 pc. something at this stage i still cant do. the were told the mobile phones wont be released till a later dat. Hum terrible marketing yet again. then they give people faukle hope that all 8 phones will be upgradet to windows 10. You can see why im begining to be negative. God i love windows 8.1 phones but if microsoft keep doing this kinda stuff then well only be left with inferior phone choices like(only my opinion) androdi and iphone.

wish i could correct my spelling errors here but you can only do it one time so soz.

You know what I hate most about these stories? Despite the fact that the title clearly states "Kazam won't update its Windows Phones..." and the dozens of confirmed reports from Microsoft that ALL WP8 devices can get some form of WM10, people will still blame Microsoft.
Windows Central Newsletter
Thank you for signing up to Windows Central. You will receive a verification email shortly.
There was a problem. Please refresh the page and try again.