Keeping tabs on the weather with our Windows Phones
By George Ponder last updated
Windows Phone Central App Roundup: Weather Apps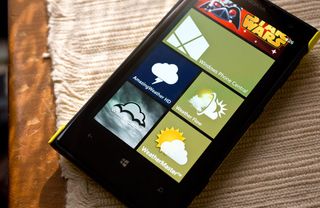 Our Windows Phones are fantastic devices to keep us up to date on things while on the go. From email to appointments to our Twitter activity we've got apps to help us stay in tune with what's going on in our lives.
Weather apps are rather abundant over in the Windows Phone Store and a great way to stay up on what Mother Nature has in store for us. In this week's roundup, we take a look at four such Windows Phone weather apps; two of the more popular weather apps this week along with two that may have snuck under everyone's radar.
Amazing Weather HD (trial/$1.29): Amazing Weather HD is one of the more popular weather apps out there. It is not only a very informative weather app but also eye appealing and feature packed.
Amazing Weather HD has lockscreen support, multiple Live Tile support, weather radar, weather alerts, and a ton of customization options. Amazing Weather HD is available for both Windows Phone 8 and 7.x devices.
Amazing Weather HD Realistic Theme, menu options, and radar image
You're main pages for Amazing Weather HD are separated by your set locations. Each location page will display the current temperature (and "feels like" temp), current conditions, wind speed/direction, UV index, humidity, Barometric pressure, visibility, precipitation, dew point, sunrise/sunset times and a seven day forecast.
In tapping on the seven day forecast, you'll pull up a more detailed forecast for that period.
Along the bottom of the location pages you will find control buttons to view an hourly forecast for the day (with charts), view radar and satellite images,(non-animated) and pin that location to your Start Screen. Up under the three-dot menu you will find options to refresh the weather data, add a city or weather station, remove a city or weather station, access Amazing Weather HD's settings, and view the about/help pages.
Amazing Weather HD Settings
While Amazing Weather tosses out a lot of weather data, the app also has a considerable amount of settings to allow you to customize the app more to your liking. Settings include:
General Settings: Units of measurement, display the locations local time, theme choice (realistic, dark metro, light metro), and language choice. You can also turn on/off the GPS which will automatically generate a weather location page based on where you are.
Lockscreen: Here is where you can set Amazing Weather HD as your lockscreen app. Options include choosing which location you want to use, the transparency level of the data, selecting a background image (custom image, Amazing Weather image, Bing daily image or rotating image from a local photo album), how frequently the lockscreen is updated and lockscreen style (there's seven of them).
Live Tile: Here is where you choose to display the temperature and the frequency the tile updates. When you go to pin a location to your Start Screen you will have the option to choose what is displayed on the front and back of the tile. Options are divided by the size of the tile and include various metro styles and realistic (weather photos) styles. In general, the front side is used for current conditions while the back side of the tile is used for forecast information. Amazing Weather HD will support up to five locations pinned to your Start Screen.
Animations: Enable or disable animations and background music that is launched throughout the app.
Location: Turning on or off Amazing Weather HD's access to your Windows Phone location services.
Amazing Weather HD does have weather alerts but only with an indicator on the Live Tile and main weather pages. Unfortunately, there are no toast notifications for weather alerts.
Overall, Amazing Weather HD is a feature rich weather app for your Windows Phone that is very well received and rightfully so. Toast notifications for weather alerts and animated radar would be welcome additions but as is, Amazing Weather HD is a very appealing weather app.
There is a trial version available for Amazing Weather HD (good for 72 hours) with the full version running $1.99. You can find Amazing Weather HD here in the Windows Phone Store. It is available for both Windows Phone 8 and 7.x devices.
WeatherSense (trial/$.99): WeatherSense is a bit scaled back when compared to Amazing Weather HD but still provides a good bit of weather information. WeatherSense has lockscreen and Live Tile support as well as voice commands to launch audible weather updates. However, it lacks a weather radar feature.
As with many weather apps, WeatherSense launches to a weather page for your forecast cities. A wallpaper background will be used illustrating the current weather conditions. While the background images add to the visual appeal of WeatherSense, they can also clutter the screen and hide some of the text. The white lettering can easily get lost in some of the illustrations.
WeatherSense main weather page, navigation and analytics page
From the main page, WeatherSense will provide the date/time, current temperature, sunrise/sunset times, wind speed and direction, barometric pressure, a "feels like" temperature, an hourly forecast and a five day forecast.
You can transition between forecast cities at the bottom of the page. Four control buttons also sit at the bottom of the page that enable you to share the forecast, view forecast analytics, refresh the weather information and access WeatherSense's settings. Forecast analytics is a slightly more detailed hourly and five day forecast. It also includes a small chart showing the changes in weather activities during the forecast periods.
WeatherSense settings
Up under the three-dot menu are options to pin your forecast city to the Start Screen, set WeatherSense as your lockscreen app, view the help page and view the about page.
Settings with WeatherSense include:
Turning on/off your location services. When turned on a weather page will be automatically generated based on your location.
Units of measurement options.
Weather update options that include automatic updates, allowing the app to run in the background, and update your weather when you close the app.
Add or remove a forecast location (you can have up to three locations).
Miscellaneous options that include hiding the menu bar at the bottom of the screen, turning on/off the battery saver, turning on/off the splash screen animation, turning on/off sound, and turning on/off toast notifications.
When the battery saver option turns off the background updates for the lockscreen and Live Tile.
As far as voice commands are concerned, WeatherSense supports commands to tell the current forecast, tell the daily forecast and tell the hourly forecast. Just press and hold your Windows button and say "WeatherSense tell..." and you'll hear an audible rendition of the forecast.
All totaled, WeatherSense isn't a bad app but is in need of some minor renovations.
While I liked the background images an option to go to a Metro design would help the readability of the app. Either that or make sure your font color doesn't blend in too much with the background. You also lack any options with the live tile or lockscreen support such as tile layout choices or image options on the lockscreen.
I see WeatherSense as being a basic weather app for your Windows Phone that does have potential. It just needs a little fine tuning. There is a trial version available for WeatherSense that lacks a few features (voice commands, disable background updates, etc.) with the full version running $.99. WeatherSense You can find WeatherSense here in the Windows Phone Store. It is only available for Windows Phone 8 devices.
Weather Flow (trial/$1.99): If memory serves me correctly Weather Flow has been around just a wee bit longer than Amazing Weather HD. It is available for both Windows Phone 7.x and 8 devices and is another eye appealing option for your weather forecasts.
While Weather Flow lacks any radar imagery or weather alerts, it does have Live Tile and lockscreen support.
Weather Flow Metro and Realistic themes
The main weather page for your forecast cities has your current date/time, current temperature and conditions, wind speed and direction, barometric pressure, a five day forecast and an hourly forecast.
To change locations, just side swipe the screen and to change Weather Flow's theme, swipe up or down at the screen. Weather Flow has two themes, a rich theme that has an animated background image that illustrates your current conditions and a metro theme that lacks the animated background.
Navigational control buttons for Weather Flow are hidden up under the three dot menu and include options to refresh the weather data and access the settings. On forecast pages for locations other than your primary (listed first) location you will have a "Pin to Start" button as well. You also have links to view the about screen and view the help screen/report issues to the developer.
Weather Flow settings
Settings for Weather Flow are spread across four pages and includes:
Add/Remove locations.
Display options that include language, units of measurement choices, Metro background color (light/dark), theme choice, location services on/off, Time format, and refresh rate (manual, 1, 3, or six hours).
Live Tile display options that include metro or rich themes and five different tile layouts.
Lockscreen options that will let you set the weather information displayed to your current location and choose between four background image choices and three content layout choices.
Locations can be pinned to your Start Screen so you can keep tabs on multiple locations at a glance. And speaking of Live Tiles, Weather Flow has one of the more useful Live Tile displays out there with a nifty comparative display feature.
The comparative feature is only on the app's medium tile and displays what the weather will be like today, compared to yesterday. For example, if it didn't rain yesterday but you are due for rain today the tile may read "Wetter today" with a notation that an umbrella is a good idea. It puts the weather forecast in more practical terms. It is a useful feature that should be available on the large/wide tile format (hint, hint).
Weather Flow is an attractive, base line weather app. While it lacks radar images, weather alerts or a way to tap into a more detailed forecast, it makes up for those missing features by being an easy to read, user friendly weather app.
There is a trial version available for Weather Flow with the full version running $1.99. You can find Weather Flow here in the Windows Phone Store. Weather Flow is available for both Windows Phone 7.x and 8 devices.
WeatherMaster (trial/$1.99): In many respects, WeatherMaster is a simple, lightweight weather app for our Windows Phone 8 and 7.x devices. WeatherMaster provides a modest amount of weather information, has animated radar, and has a rather clean appearance. While it has Live Tile support and limited weather alerts, it lacks lockscreen support.
Much like every weather app, for each forecast city WeatherMaster will have a weather page that will display your current temperature and conditions, wind speed and directions, precipitation levels, humidity, barometric pressure, visibility, sunrise/sunset times, a "feels like" temperature, and six day extended forecast.
WeatherMaster Main Page, Navigation options, and Extended Forecast
At the bottom of the page you'll find four control buttons that will pull up a slightly more detailed forecast page, pull up a radar map, add a city, and delete a city. Additionally, up under the three-dot menu you will find options to access the settings, refresh the weather data, and view the about screen.
The detailed forecast page for a location will display a seven day forecast broken down hourly.
With either the detailed forecast page or the main weather page, WeatherMaster relies on weather icons to illustrate the forecast along with high/low temperature forecasts. It gives you a general idea of what to expect from Mother Nature but is a little lacking on the detail.
WeatherMaster Radar, Settings and Add Location Pages
The radar map has both cloud and radar layers that can be hidden. Major cities will also be displayed with the current temperature. As you zoom into the map (by touch) additional cities will appear and in tapping a spot on the map a pop-up window will appear noting the closest city and temperature. A "+" sign is in the pop-up window that will add that location to your forecast city list.
Settings are rather brief with WeatherMaster. One page covers it all and includes options to generate a weather page based on your current location, toggle between a dark and blue theme (the Metro option), Pin a location to your Start Screen, Select your language, Choose your units of measurement.
When you select to create a Live Tile, WeatherMaster will let you select which forecast city you want to pin. WeatherMaster has Live Tile support for as many forecast cities you have but only supports the medium sized tile.
WeatherMaster has a bit of appeal but does lack lockscreen support and the app could stand to have a little more detail in the forecast. WeatherMaster does have weather alerts but only in the form of an alert sign for windy days. Nothing for severe weather alerts.
WeatherMaster is available for both Windows Phone 8 and 7.x devices. There is a free week long trial version available with the full version of WeatherMaster currently running $1.99.
You can find WeatherMaster here in the Windows Phone Store.
Which is the best?
Weather App Live Tiles
While it's going to be hard to beat weather powerhouse apps such as Accuweather and the Weather Channel app, the Windows Phone Store is full of quality weather apps that delivers the core forecast information (and in some cases a little more) to your Windows Phone.
Of the four apps in our roundup, Amazing Weather HD is the more comprehensive option. It has eye appeal with both the realistic and Metro designs, it has Live Tile and Lockscreen support, and still radar imagery. Toast notifications on weather alerts and animated radar would help this choice be a little more complete.
Weather Flow may be the sentimental favorite but it's also a very capable choice to consider. It delivers a respectable amount of weather data, has a clean and attractive appearance, and Live Tile and Lockscreen support. But it lacks radar imagery and weather alerts.
WeatherSense has potential but there are issues with the design that makes the forecast data hard to read at times. WeatherSense also comes up short by lacking radar imagery, alerts, but it does have support for voice commands, Live Tiles and Lockscreen support.
WeatherMaster is the more abbreviated options in the roundup with the basic weather information presented in a clear and concise manner. The radar map is it's strength, allowing to to roam the map by touch and add forecast cities with a simple tap of the map.
Again, there are plenty of weather app options in the Windows Phone Store. Personally, I use Amazing Weather HD for my everyday app to get a snapshot of what to expect the weather to offer and Accuweather for those times I need more detailed information.
Feel free to share your weather app choices below in the comments.
George is the Reviews Editor at Windows Central, concentrating on Windows 10 PC and Mobile apps. He's been a supporter of the platform since the days of Windows CE and uses his current Windows 10 Mobile phone daily to keep up with life and enjoy a game during down time.
There's an app that allows you to put a photo on the lock screen with the weather.. What app is that?

I believe Amazing Weather has that option.

Weather Flow Has That Option Too.


Today widgets is great, just wish they could bring back the large font for the dates on the wide tile

Weather Sense does have weather alerts, that's what the toast notification toggle is for, its in your screenshots, you just have it off...its very handy, alerts every hour.
I actually find it best of all the apps myself, Amazing weather always crashes for me and the others are all a little so so...so think ill stick to WS although once breez gets alerts and lock screen support I might switch to that

You are correct.... after a while these apps tend to blend together and fortunately, the weather has been calm so there wasn't any real world testing on the alerts. Thanks for catching it.

no probs...but that bring up another point...its not just bad weather alerts...it will also say things like "Expecte to stay dray all day" so well worht turning on

Im sorry for being rude but can you tell me guys how this app can help you? My office wall is glass so i can clearly see the weather outside

Looking out the window, can you tell what the weather will be tomorrow?

How does the weather look tomorrow through your office wall? I need to pack for the cottage.

Uhm maybe ill give it a try, ny daily routine is kinda boring. Thanks for the heads up

Can you see the weather for tomorrow through that glass wall?

My office walls are walls.
I live in a city where it goes from 90 degree hot sun to storm-showers in the blink of an eye.... EVERY DAY.
I live in an area where driving 5 miles in any direction could mean its flooded over there while dry over here.
I could alwasy ask whats the point of the Burton app's snow-condition report since I have neither mountains or snow, but it seems like a question I could answer myself.

I live in Southern California and we have no weather.

My inner Bill Hicks applauds you.

wow, most arrogant post of the day!

"ew, what do those people choose to walk on the sidewalks....when there are roads to drive on?" -gabyap1390

Amazing Weather, the Weather Channel and Poynt are my 3 weather tiles. AW provides the days high/low with 3-day forecast on the back tile, WC provides the most awesome LIVE radar on a wide tile and Poynt provides the current temp, (its really a yellow pages app with a live weather tile as an option).

Obligatory, What! No (weather app name here)!

What! No Weather Radar Tile!

What? No (random app goes here)?

What! No weatherbug? The only app to use in rainy South Florida - many of the others don't even show chance of rain!


I was just in Florida for a week and Amazing Weather worked great and was very accurate :-)

It's been probably a year since I looked at it, it was one of the first ones I tried. However, checking the screen shots in the store, it seems to have a lot of features that it didn't before... I see rain and wind charts by the hour. I do a lot of boating and rain and wind forecast is important to me. I'm going to grab this app again and check it out, thanks for the tip!

I just retired my HTC Titan for the Nokia 925. I really liked that HTC hub.

I went from Amazing weather to Lock Manager which is everything I ever wanted in a lock screen. I still have to use Amazing for better weather information...
Now if only those two would merge...

Do you think Yahoo weather will ever get to WP? My wife has an iCrap and it looks pretty cool.

I've made an app with a similar idea, or at least it pulls images from the same group as yahoo weather. It has a free trial, right here: http://www.windowsphone.com/s?appid=6613ed8e-4185-4b0d-b0ba-a530ac174ad5
Let me know if there's stuff you'd like in a weather app!

I bought Amazing Weather when I had a Windows Phone 7 device. Been using it on my Windows Phone 8 device as well. However lately, I have grown to love the simble free Bing Weather app Microsoft put out. It only lacks a wide live tile option is the only annoyance I find with it.

I use Bing Weather medium tile now on my start screen, but I still have Amazing Weather HD configured for the lockscreen to see Bing daily wallpaper and the current/5-day forecast. Weather Underground (AWHD's weather source) tends to run a bit high in temps than actual, not sure why. Otherwise it is great.

Yeah I bought both Amazing Weather and Weather Flow back in December. I seemed to like the wide tile of Weather Flow slightly better but hated that it didn't have live radar. After many months of animated weather apps I went back to my metro roots and downloaded the Bing app for it minimalistic approach. I downloaded My Radar for it's excellent radar. Just wish someone would make an app that combines both features and includes toast notification.

What about Bing weather? I know it lacks lock screen support but I love that it gives you a 10 day forecast!! No other app gives you that far ahead forecast. Correct me if I'm wrong...

AccuWeather gives you a 15-day forecast. At least in the US it does.
nice animated radar maps as well.

M happy with bing weather!!!;)

I use two. I use Amazing Weather HD for the lock screen but Bing Weather for the home screen.

I use Amazing Weather HD as my main weather app since I love the wide Live Tile and how weather shows on my Lockscreen. However, in my area the forecast and temps are always 1-2 hours behind corrent conditions. I've let them know this a few times in the WP store but it's still not fixed. Wish it was as accurrate as Accuweather. I'd use Accuweather more if not for the damn ads. Let us pay to remove them!

I also use the Weather Radar Tile app to view animated radar and satellite images. Works great.

All of these app have their esthetics. I think they all are good. Then my question remains, which app is the best with regard to their accuracy in forecast? It, after all, is still a weather app.

I was just coming here to ask the same thing! I currently use The Weather Channel app as I find their forcasts to be pretty accurate, but the weather alearts don't seem to work for it and it never updates unless I open the app. I would like an alternative that functions better, but I don't want to get crappy forcasts at the same time.

I use AccuWeather exclusively and find it to be very accurate for the 3 locations that I use most. (East coast US)

I have been using Weather Flow since many months and its live tile updates regularly. Moreover it also shows wind speed, humidity and chances of rainfall in percentage all on the live tile

So many Wx articles, so many Wx apps. Here's my " news " on Wx apps... In the USA, get Weatherbug & Weather Radar Tile. Done & Done.

Weather Flow would be perfect if it had radar.

Weather Radar Tile is absolutely awesome. Only thing its missing is lock screen. For the lock screen, I use Weather Flow because it's the only one I found that can display weather as well as the Bing wallpaper.

I wish I liked weather radar tile but it pails in comparison to most if the radar implementations on iOS. WP doesn't have any great interactive radars. Weather Bug is probably the most passable when it comes to radar.

Weather view another good app, accurate for UK, and being activly developed with great openness to sugestions.
Using Weather to go at the moment, though as soon as Weather view has wide tile and current location then I'll be moving back.

I use Breez, Weather View, Simply Weather and Bing Weather. All free and nice designed!

Forecast and Breez are missing from this list

I don't know why weather master is in this list. This app does not get an real update since forever.

The most important feature is surely the accurace of the forecast? For Western Europe I have found the Weather View by Mobwerk to be unbeatble. They are getting their forecast from yr.no which are amazingly accurate, at least in western Europe, don't know about US.
I also like the white screen in Weather Flow. Stylish.

I would like something to support MTD/YTD precip observations. Weather Bug does this, but they don't offer an ad-free version, or a lock screen (not that I'm terribly interested in that feature.)



I just want an update to TWC.com app to add lock screen support.

The Weather Channel is the best! It's free, and has nice UI, and nice live tile.

i love the look of Amazing Weather and Weather flow but i live in small town in UK and it doenst find my location. I guess what ever its source its using isnt good for my location. Bing Weather does though so i use that. Just wish it had double wide tile and lock screen support.

You might consider Weather To-Go. It will doubtless find your small town, has wide tile and lock screen.

Weather Flow is just amazing barring the occasional blurred texts and weather icons on the lock screen. Aesthetically I find this app awesome with great font and live tiles. But I really like the lock screen of Amazing Weather HD and hate the font on the live tiles. Also the images on the live tiles for AWHD are horrible.

Forecast never seems to be mentioned on these kind of threads etc.

It may not be the best looking but seems to be very accurate though basic.

The strongest feature WeatherMaster have. It actually displays name and weather correctly in my country. Therefore it wins. In need of a update thou.

Do you of these update the live tile's location (and weather) without clicking on it?

Amazing weather user here from Weather Flow, it just is the app for everything and great looks to boot

First of all thanks a lot guys for the Amazing article, we are working on a small update to bring the App to the Chinese market through a full new App. That version will have the same name and all the features except the radar due to restrictions in that region. We are also adding Simplified Chinese and Hungarian languages as well as a small fix to the lockscreen in which weather images sometimes mismatched the current conditions. For those interested, we have a beta for both versions, we would really love your feedback especially if you're located in China to further test that version. Send us an e-mail with the subject [BETA] to beta@eizsoft.com

For just current radar MyRadar Weather Radar is excellent- simple and very fast. The only thing is its coverage is limited to the continental US.

Forget these... Try "forecast"

best umbrella 8 as I tried accuweather,the weather,bing weather,weather,weather live
As Umbrella 8 give right weather conditions as compare to these above apps.

USAToday is the best app for weather.

I bought both amazing weather and weather flow. But now just using Bing weather because no Putrajaya, Malaysia in amazing weather and weather flow.

Currently amazing weather for wp7 not updating live tiles.. Plz fix it developer.!! :(

I'm in love Breez...much simpler

Weatherbug, not on the list, is one of the few weather apps to both show chance of rain on its forecast panel and have a radar view. That said, it has no lock screen support, so I use Weather Flow just to generate a lockscreen and Weatherbug for actual forecasts.

Would be nice to know which service each of these apps use for their data. Is it proprietary (unlikely) or does it come from Accuweather, Wunderground, Weather.com...?

I switched from Weather Flow to Umbrella 8 just to change up my start screen. Doesn't take long to get sick of the limited amount of theme colors to choose from and Umbrella 8's use of Flickr images is great on live tile and lock screen. Still keep The Weather Channel on hand for it's accuracy. Speaking of accuracy, Accuweather may have nice images but the forecast never comes close for my area.

No love for HTC Hub? Awesome app & possibly the first (available at launch for me)... On WP7, no idea if on WP8.

Weather Flow and breez have my 2 favorite metro style tiles. I wish Bing weather had a metro option in its live tile.

I would think by now everyone is familiar with this same list of weather apps, which are evidently WPCentral's favorites. Its a pity such a report can't consider some other apps, for a change. Also extremely US centric. What a shame.

Accuwheather replaced weather channel for me, all but the annoying and honky ads and stupid ex wide flip tile that turns black and adds nothing, great app!!!

amazing weather HD all the way. kinda makes the others look cheap, nasty and pretty ugly

I like Vieather. The design of that app was one of the few factors that made me switch to WP8. Does anyone know any weather app that allows you to pin it to the Quick Status in the Lockscreen? I would love to just see the number there instead of all the extra information. And if the Vieather application developer stumbles by this, please add the following functionalities: Lockscreen option (even if it's just the Detailed Status or Quick Status), Detailed weather information for all the selected cities instead of just one default city (or at least the option to view them other than changing them to default first). Good Wishes, Salams...

I found Amazing Weather's current temperature reading to be off by about 3 degrees Celsius often compared to Nokia The Weather Channel app. I choose function over form

This one is free and has very nice reviews, please check it :D

http://www.windowsphone.com/s?appid=4c4478ac-df31-4373-b9ad-f277f089e77f

Cheers!
Windows Central Newsletter
Get the best of Windows Central in in your inbox, every day!
Thank you for signing up to Windows Central. You will receive a verification email shortly.
There was a problem. Please refresh the page and try again.