Kik Messenger joins the Nokia Collection, could updates be around the corner?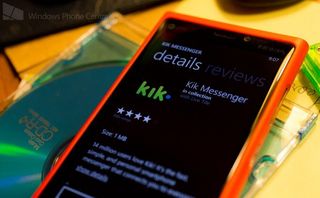 There are more messaging platforms and services than you can count. We've got Skype, WhatsApp, iMessage, Kik, BBM, and others all vying to rule the roost. Which is best really comes down to which one your friends and family are using. We're fans of Skype and WhatsApp around here, but a lot of folks dig Kik.
What's the latest on the app? Well curiously enough, it's now listed in the Nokia Collection. What's that mean? Let's find out.
History time - Kik on Windows Phone
Kik Messenger launched for Android, iOS and Blackberry in October 2010. After 15 days, the service had passed the 1 million user mark. It wasn't until June 2011 that Kik Messenger came out for Windows Phone. Later that year it was updated to take advantage of some of the newer features that Windows Phone 7.5 (aka Mango) brought, biggest feature being fast resume and contact list integration.
That was all that was really happening on the Kik and Windows Phone front until later in early 2012 when Kik was updated. That update brought longer conversations without interruption into the fold and the keyboard was improved for smoother typing. Sadly, that update was the last time Kik had any love on Windows Phone.
Head into the Windows Phone Store and you'll see that February 27, 2012 was the last time Kik Messenger was updated on Windows Phone. A lot of users have anxiously been waiting for the app to receive an update to take advantage of some of the new Windows Phone 8 features.
Earlier this year, the Kik team stated they had no immediate plans to develop version for Windows Phone 8. The community (and us) were a little disappointed to see an app everyone loves cease development for our favorite platform. We jokingly suggested that Microsoft and Nokia should get involved to help out with development for the small company.
At that point the community about gave up on seeing Kik for Windows Phone 8. The service recently hit the 50 million users mark in April and has successful funding to raise money for the company. But devoting resources to Windows Phone was too much for them.
The very last piece of Kik and Windows Phone news came earlier in the summer when the CEO stated that there was only one way for a Windows Phone 8 version to come into existence. Ted Livingston, CEO of Kik, said the app hasn't been updated on Windows Phone 8 because there isn't support for the Webkit standard. If Windows Phone ever supported WebKit we'd see an update for Kik.
As far as we know, GDR3 didn't bring any WebKit magic to Windows Phone 8. And we haven't heard of WebKit coming with Windows Phone 8.1 in the future. So why are we talking about Kik?
Nokia Collection?
Oddly enough, the app is now listed in the Nokia Collection. Why?
We're just speculating here, but we think Nokia might be getting involved. We'll of course reach out to Kik and Nokia for comments. By appearing in the Nokia Collection we might be seeing an update to Kik sooner than later with Nokia helping out.
We'd love to see Kik updated with proper Windows Phone 8. Things like doublewide Live tiles and Lock screen support are the obvious improvements. Improved notifications would be very welcomed and it wouldn't be hard to image the Nokia Imaging SDK being useful when sharing pictures.
Want Kik? Head to the Windows Phone Store to grab it, use the QR code below, or swipe to the right in our app.
Thanks for the tip Vincent G!
Windows Central Newsletter
Get the best of Windows Central in in your inbox, every day!
I saw this app in the nokia collection about 4 days ago.

Did you want a cookie? ;-) More importantly, did you send in a tip to WPCentral?

i would love a cookie actually. us starving students have little money to spend on luxuries such as cookies :(

It could be worse! Some of us students can only eat expensive (and usually awful tasting) vegan, gluten free cookies!

I get a kik out of this comment :)

I have switched to Whatsapp and will never go back to Kik.

They're not much better with the updates. They have gotten better recently however.

I love kik but it rapes my battery

That would be bullshit if it becomes a Nokia exclusive! We need kik on HTC and Samsung too. I have an 8X and I need kik just as much as my wife does even though she owns a Lumia 920.

Hey. Maybe Nokia paid up or volunteered programmers to devise a WebKit workaround. That's good for some limited, exclusive rights, in my book. Exclusive on Nokia for a bit is better than "no plans for Windows Phone", isn't it?

In the new year Nokia's devices unit becomes part of Microsoft anyway, and Microsoft has never kept their apps away from HTC or Samsung, so you might be in luck.

Everytime I looked at the kik tile, I was shaking my head thinking of how a high profile app like this, hasn't been updated for over a year. Introducing it to the Nokia Collection is a big sign of things to come.

I thought they announced their departure from WP. Very interesting, perhaps they're gonna pick it up again. Already using whatsapp, wechat, and line so don't think I'll need it anyway

Kik is very popular with younger kids here in NY. When switching my daughter to WP from Android she insisted on FB, Instagram and Kik.

I just want a kik app that has toast notifications

Off topic guys: about five days ago a rep from blackberry went into my workplace to pitch their dying OS. Conversation got to BBM and I asked about one coming to WP. He said blackberry offered it to iOS, Android, & WP but that Microsoft refused it. I was shocked! I asked him "Are you sure?" and he insisted that it was. After the conversation, I still thought he was full of $#it.

Whoa! You should put this in a forum to get more opinions on this

I would say your probably right.

Kinda makes sense. MS wants people to get hooked on Skype not BBM. Not saying that I agree, but it makes business sense.

I use WhatsApp to chat with my wife on her iPhone. Now that I understand the story behind Kik it all makes sense. The current version of the app sucks in comparison to WhatsApp. Kik is so bad in fact that it seems like it is a beta version.

Kik just isn't that good, would take a serious update to make it a viable choice

Am I the only person still using my carrier for text? I find it annoying when I log in to my pc(W8) and get flooded with IM's from FB. After AIM I stopped using instant messengers. Even with AIM I was only using it via text on my phone.

You are getting alone yeah. It would be futher ahead if notifications actually worked on Windows (yeah, W8 metro sux to)

You are certainly not alone. I don't use instant messaging because everyone's on some different flavor of it. iMessage, Kik, whatsapp, etc etc.
I'm fine with text messages they just work. I don't need to get my friends to sign up to anything...

I'm pretty sure people still use SMS on top of iMessage, Kik, WhatsApp, and BBM. It's great for keeping in touch in a different way (or with people from different countries). I use WhatsApp to send pictures and videos because most of my friends don't have MMS.

I don't know anyone older than 20 who still uses instant messaging.

I do, its nice especially if you want to do a group conversation (some peoples carriers disable the ability) and really nice for MMS.

I'm 30 and still use Aim & Kik.

I'm 40 and only use FB chat. I don't believe in getting raped by texting fees.

Try metrotalk, it works great

Whatsapp and viber for me is the best...

I've stuck with Kik since it hit WP7...still using it on WP8. Would be nice if it updated but I don't see any difference in performance.

Love kik but none my friends use it....
Hard to convince them to use and switch to kik

Am I the only one who do not get proper notifications with any of these messaging services? None of them alert me like SMS. Its aggravating to miss messages

http://windowsphone.uservoice.com/forums/101801-feature-suggestions/sugg...

I think it would be great if all messaging apps worked reliably through the messaging hub. You could still run them from the individual app itself I guess, but why would you want to!?

Hmm, it seems to have been de-branded by Nokia now.

And still no updated kik app.

And still... No... Maybe us. WP users should go aand give some feedback about this for Kik team? :/
Windows Central Newsletter
Thank you for signing up to Windows Central. You will receive a verification email shortly.
There was a problem. Please refresh the page and try again.