Kik Messenger joins the Nokia Collection, could updates be around the corner?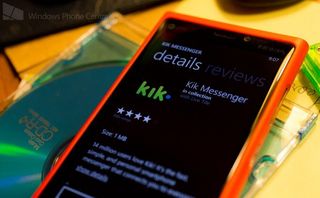 There are more messaging platforms and services than you can count. We've got Skype, WhatsApp, iMessage, Kik, BBM, and others all vying to rule the roost. Which is best really comes down to which one your friends and family are using. We're fans of Skype and WhatsApp around here, but a lot of folks dig Kik.
What's the latest on the app? Well curiously enough, it's now listed in the Nokia Collection. What's that mean? Let's find out.
History time - Kik on Windows Phone
Kik Messenger launched for Android, iOS and Blackberry in October 2010. After 15 days, the service had passed the 1 million user mark. It wasn't until June 2011 that Kik Messenger came out for Windows Phone. Later that year it was updated to take advantage of some of the newer features that Windows Phone 7.5 (aka Mango) brought, biggest feature being fast resume and contact list integration.
That was all that was really happening on the Kik and Windows Phone front until later in early 2012 when Kik was updated. That update brought longer conversations without interruption into the fold and the keyboard was improved for smoother typing. Sadly, that update was the last time Kik had any love on Windows Phone.
Head into the Windows Phone Store and you'll see that February 27, 2012 was the last time Kik Messenger was updated on Windows Phone. A lot of users have anxiously been waiting for the app to receive an update to take advantage of some of the new Windows Phone 8 features.
Earlier this year, the Kik team stated they had no immediate plans to develop version for Windows Phone 8. The community (and us) were a little disappointed to see an app everyone loves cease development for our favorite platform. We jokingly suggested that Microsoft and Nokia should get involved to help out with development for the small company.
At that point the community about gave up on seeing Kik for Windows Phone 8. The service recently hit the 50 million users mark in April and has successful funding to raise money for the company. But devoting resources to Windows Phone was too much for them.
The very last piece of Kik and Windows Phone news came earlier in the summer when the CEO stated that there was only one way for a Windows Phone 8 version to come into existence. Ted Livingston, CEO of Kik, said the app hasn't been updated on Windows Phone 8 because there isn't support for the Webkit standard. If Windows Phone ever supported WebKit we'd see an update for Kik.
As far as we know, GDR3 didn't bring any WebKit magic to Windows Phone 8. And we haven't heard of WebKit coming with Windows Phone 8.1 in the future. So why are we talking about Kik?
Nokia Collection?
Oddly enough, the app is now listed in the Nokia Collection. Why?
We're just speculating here, but we think Nokia might be getting involved. We'll of course reach out to Kik and Nokia for comments. By appearing in the Nokia Collection we might be seeing an update to Kik sooner than later with Nokia helping out.
We'd love to see Kik updated with proper Windows Phone 8. Things like doublewide Live tiles and Lock screen support are the obvious improvements. Improved notifications would be very welcomed and it wouldn't be hard to image the Nokia Imaging SDK being useful when sharing pictures.
Want Kik? Head to the Windows Phone Store to grab it, use the QR code below, or swipe to the right in our app.
Thanks for the tip Vincent G!
Get the Windows Central Newsletter
All the latest news, reviews, and guides for Windows and Xbox diehards.