Killer Instinct's Shadow Lords story mode launches, Definitive Edition on sale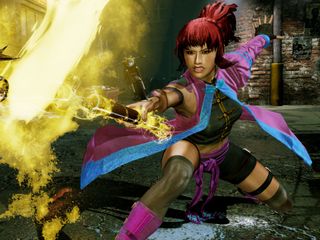 Developer Iron Galaxy and publisher Microsoft have launched the massive Shadow Lords story mode for its free-to-play fighting game Killer Instinct on the Xbox One and Windows 10. In addition, the Killer Instinct: Definitive Edition is now available for the Xbox One.
The Shadow Lords update is the final one in "Season 3" of Killer Instinct and will allow players to assemble a team of fighters to defend the Earth against an invasion from the alien Gargos. Iron Galaxy has posted a long list of features that are a part of Shadow Lords, which include adding new abilities to your fighters by calling up Guardians. collecting loot and rewards, and accessing new Mimic skins for your characters. In addition, the update also includes a bunch of balance changes and bug fixes for most of the game's fighters.
If you have never played Killer Instinct and want to get all of the game's content at once, plus some extras, Microsoft has launched the game's Definitive Edition for the Xbox One, priced at $39.99 (opens in new tab). The disc version of the game includes of the fighters and content that have been launched in the last three seasons, plus the game's soundtrack on CD and a code to get an exclusive gold Gargos skin.
See at Microsoft Store (opens in new tab)
Windows Central Newsletter
Get the best of Windows Central in your inbox, every day!
Windows phone Os Q: Why do people still have faith in Microsoft bringing apps to windowsphone10 & giving the Os atleast some respect by being somewhat near what the competitors have to offer from Software side ,Apps in windowsphone8.1 are dead or dying backstabbed everyone on the upgrade promise,apps?

Question: Why did you bother coming to this site and then posting this comment? Go to a Blackberry site if you want to "kick a guy when he's down". Their market share is even less than Windows. Personally, I like the Windows mobile interface the most. I've used iOS and Android, but neither worked as well as Windows does for me. If you need the currently popular app that no one will talk about a month later, then it may not be the platform for you, but it works for me. Android's permissions aren't granular enough without rooting or installing potentially malicious third party apps, and iOS is too locked down. Windows mobile is the perfect balance between the two. If Windows mobile stops being viable for me, then I might consider Android just because the hardware is better, but I do trust iOS's security more despite recent patches.

Is it possible? : Instead of uploading 2 links and writing windows link and xbox link
And simply write Microsoft store with one link as stores are unified Posted via the Windows Central App for Android

It might be, but the mobile/tablet link launches the app store with the app listing right away. I'm sure the same would happen for the Xbox link if you were on this site through the console.

Tapping on a game in xbox beta app opens the main store instead of in app store

Meh....looks kinda gay to me.

Meh...you need to grow up.