The Kineti offers a new look at a Windows 10 living room PC design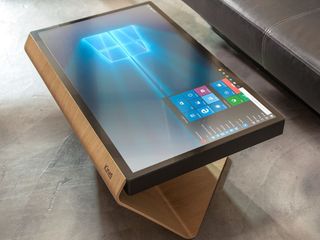 With the recent rumors claiming Microsoft could be developing a Surface-branded all-in-one PC, there's already one company that has come up with a fresh idea on how to design a Windows 10 AIO. The France-based Kineti recently launched its 42-inch touchscreen PC that's designed like a coffee table.
The company's website shows that the Kineti's touchscreen is waterproof so it can be used like a regular table to place drinks on its surface. The screen itself is 1920x1080, and inside it has an Intel Core i5 processor, 8GB of RAM and 120GB of storage.
The company's official video shows how owners could stream the Windows 10 screen on the Kineti onto a big-screen television in their living room, and the table itself can be adjusted so the screen sits an angle for activities like Skype calls and more. The company is already selling the Kineti for €4,997.
Thanks to *Nicolas8 for the tip!
Hey windows central i pressed send button, it posted two time

Such a dumb comment needs to be shown twice.

Hopefully this is no where close to what the mythical living room surface will be...if it exists. Not speaking for others, but I don't need a replacement coffee table that is a consumer version of the original Surface (PixelSense?). It needs to be in the form of a TV replacement. Give me an early version of Iron Man's Jarvis in the form of a multi-fuction TV...and I'm listening.

It seriously needs that original Surface/PixelSe nse table which were truly designed for tabletop PC. Just having a regular desktop environment with this form factor is like the old days of tablets with desktop.

Cool. Now can it show a different desktop depending on which couch you sitting.

Windows Hello butt-print authentication, coming soon?

That's funny. Authentication by rectal scan. ;)

And you thought Sheldon was pi$$ed off when you sat in his spot before.

I have been saying this for years.. "Everyone has a unique rectal signature"

Nothing great in it ... Useless

Why...? Might keep your coffee warm when it overheats from installing a new insider build.

Pfft ha didn't expect that

I was wondering if this cool device is worth more than €4000, but now your idea made it really worth the money

LMAO xD Most expensive mug warmer...

Run benchmark and I might able to cook eggs and bacons. :p

It's gimmicky, not totally useless.

Um does this not remind everyone of the original surface concept?

Yeah, but the original Surface / PixelSense offered more interaction with real objects. This is literrly a standard PC in table with a few "special" apps. Sad.

Yeah, tabletop PC concept isn't new as the the original Surface table does already, but it got specialized environment suited for tabletop PC. Sadly, this is just running regular desktop that's not clearly designed for this use case.

It reminds me of all those cheesy "this is what the house of the future will look like" things from the 1970s. I wonder if it will also come with a robot housekeeper... I'm glad people are trying new things, but I'm not sure how well this one was thought through.

Have to agree with you there about the 1970's "vision of the future" kind of feel XD
In all seriousness, I actually think this is pretty cool, however the specs you're getting for the price is a little off for me. It's the kind of thing you'll admire from afar, appreciate the design, but never really spend money on. If it was cheaper, like the cost of your average table, with a slight premium for the computer inside, then I'd seriously consider having this.

Pretty sure you could pick up a more lightweight touch-enabled TV, added touch-sensitive toughened glass to further strengthen it AND a i7 rig (slimline OR hidden) for much cheaper.! ...anyone spot where they hid the cables for that thing (it won't be entirely wireless!!)

Inspired from the surface hub maybe?

I'd guess it's inspired by the old Microsoft PixelSense, or Lenovo's tabletop tablet-AIO.

Funny you mentioned Microsoft PixelSense which was originally named "Microsoft Surface", but then changed due to MS name their tablet line "Surface"

Or the Corning "Day in the Life of Glass" videos!

only worth buying for me if i had it in my home office and no kids

Cool concept but mostly redundant for anyone with a modern tablet or phone.

Not if your at home in the living room, you can steam this table to a tv. and so on, you can steam it to and screen in the house, it becomes your media hub.

Tasks that are mostly redundant for anyone with a modern tablet or phone.

Imagine leaving the house and coming back learning that your kids reprogrammed the thing... Posted via the Windows Central App for Android

Specs are terrible, except for the waterproof part and price is way too high. Like the design.

At least people are trying to push the envelope. It is currently too expensive for the average consumer though.

How much money has Fruit Ninja made?

Stopped watching at "many new applications which we a keeping secret for now..."

Clearly aimed at people without kids. That would look amazing with jam smeared all over it.

So true. This thing would get decorated with pb&j or milk within a few hours in my house.

How do you keep your other waterproof surfaces clean? Do you not wipe up after jam smears?

I dunno. There are times I would really have liked to smear jam on Clippy. "You want to know if I wish to 'update body formatting' in the middle of typing a paragraph?!" [Places coffee mug directly on top of Clippy.]

I wish. For the same specs in a laptop it would be about £400-500 (about $750? honestly with how the £ is going I'm not sure what it would be in $ ._.). Its definitely not worth €1000+ but if it was $49, I'd be rolling in laptops for the same specs

Even though its not exactly groundbreaking, I would still have one as it looks amazing!

Brilliant idea. More innovation like that please!

So what do they use to send the video to the TV?

I want this so bad. Pricey, too bad.

What a nice gadget, and a terrible name!

Looks cool but is anyone in France who is not a tax-free EU beaurocrat or sypathetic corporatist able to afford that? (much less own a home like that)

Lovely idea actually. Almost Star Trek NG like. I am waiting (perhaps i should get off my butt and do it) for me to come home and have multiple pc type of devices that all have a 'shared' interface like setup. So you can continue or connect to any of the device or 'extend' to them. PC/TV/Wall/Tablet/Phone/Hololens/Radio...you name it...connected. 'Computer...' errrr ooops 'Cortana...' enter command of whatever you want, with multiple devices with multiple mics, it would know where i am and which screen i want to see it on. When i wear my MS Band, it would also know when i move around the home without having to 'wake' it up via voice. VISION PEOPLE.

Only if there is a way to tilt the screen and use it to watch movies from the couch

There is. Watch the video.

Surprised that they picked a name so close to the "Kinect." Microsoft's lawyers are likely observing that one...

No! Can't you see they didn't add the C?!?!?!!!!1!!!! /s

I doubt MS cares. Kinect is dead.

What a horrible ad! Yuck!

This seems like something that continuum is designed for. Surely that would be a significantly less expensive option. Hell, you could probably make a continuum dock-table at home.

A dumb (but, touch enabled) terminal would be much more future proofed - allowing continuum/casting from any device. ..be *much* cheaper too

That would be very cool to have.

Remind me the old "Microsoft Surface" desk, not the surface tablet, the one before windows 8 event born.

Their marketing team needs help -- "more powerful than a tablet, and as robust as a real coffee table" ...and they said the table was magical.

If they can put the table-top computer on a table with standard height I can see a coffee house spreading out a handful of these babies around for customers to use. Starbucks? Are you paying attention? : O )>

That's the point many of the commentors have missed, it's a great presenatation tool for buinsess.In business you have to wow your clients, and tablets, phones or laptops no longer belong to the 'arcane' everyone has them but no-one has this. It's cheap for presentation device.

Does it play Mrs. Centipede like at the bowling alley!

For me this is the ultimate disk for studying!!

5,000 Euros!!! High end Surface is cheaper

This could be a thing if it was cheaper. Great to play virtual board games, like the Windows version of Carcassonne, for example. Well, just like the original Surface.

What made the original Surface Table, and the current Surface Hub special is dedicated, purpose built software. You can't just throw a desltop/laptop based OS on a big horizontal touch screen and leave it at that. There was some news/sports organization that tried that and it bombed. I could see myself wanting something of this sort thing, but it would need to do something that would be useful if my coffee table did it. It can't be just laying my monitor flat.

Because you can never have enough Windows 10!

Didn't Microsoft demo this like 10+ years ago?

ya welcome the original serface. no one purchased it.

That thing would cause neck ache

That thing would cause neck ache

Wwwwwwwwwwoooowww! I want

This + board games = dreams come true

That is a VERY low resolution for a screen that size

Are you ready for a change? Looking for a new job? No annual fees! This is very simple anyone can do it! You don't need any experience! Go Here:==>.........please..http://WWW.50TIMEEXTRA.COM

This is incredible idea And a perfect way to show Windows 10 in its fullest. Good to see companies take windows and the idea of surface to a whole new level instead of the boring same ol same ol.

I think it may work well in a business waiting room, with the likes of floor plans for houses, or suites in office blocks that people can look through/play about with...
Windows Central Newsletter
Thank you for signing up to Windows Central. You will receive a verification email shortly.
There was a problem. Please refresh the page and try again.